"To shift your life in a desired direction, you must powerfully shift your subconscious." ― Kevin Michel, Moving Through Parallel Worlds To Achieve Your Dreams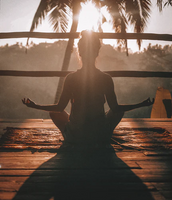 Jared Rice
Our human subconscious has its own language. It speaks in symbols and mental frames and metaphors.
Even if you use negative sentences such as, "Don't think of an elephant," you still end up thinking about the very thing you're told to avoid thinking.
The mental frame of seeing an elephant gets invoked. Regardless of the command to do the contrary. In fact, we're unable to comply with the command. And that we cannot not think of an elephant.
I'm told we write in the language of our subconscious, and our sentences are also easier to read, if we compose the lines in the affirmative
And that negative phrases work only at the conscious level, and they cease to have their utility at the subconscious level. So you want to avoid negative phrases should you want to speak to the subconscious.

🍎
Previous Posts
Twinkling Along With Joseph
John Boyd's OODA And You
Grand Story + Story + Facts = Meaning (Advanced Writing Course Materials)
I Missed The Gorilla... Did You See It?
Whoever That Said "Fear + Manipulation + Domination = Witchcraft" Is A Superlative Genius
Tom Robinson's Predicament
Time Once Lost: She Once Was An Angel...
Amazing, The Original Myth Explains The Second Myth
When Words Failed...
When Conmen Marry...
Heraclitus: You Can't Step Into The Same River Twice, Can You?
Mimetic Theory: Is This The Best Way To Understand The World?
Absolutism Vs. Relativism, Which Side Are You On?