The Apostle Paul did what he had to do to spread the message of God. I realize that that is what I have to do; I have to bite the bullet and overcome my shyness. — Chuck Norris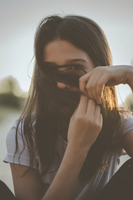 M.T ElGassier
Shyness
Shyness, although it may sound counterintuitive, is a form of pride.
It comes from trying to defend one's own opinion regarding oneself (from being challenged by others). The shy person shrinks from contact with others as a defense mechanism.
God, however, gave us not the spirit of fear but of power, love, and self-control (2 Timothy 1:7)
Superiority Complex
Superiority complex, too, is an attempt to hide the real feeling of mediocrity. Psychologist Alfred Adler described the superiority complex as a defense mechanism, for feelings of inadequacy, in his early 20th-century work.
God gives grace to the humble and opposes the proud (James 4:6).
Final Analysis
Both shyness and superiority complex have something to do it pride, the cause of the fall of Satan.
What do you think about my conclusions?
"Yep!" or
"Bwah-hah-hah!"?

🍎
Previous Posts
Twinkling Along With Joseph
John Boyd's OODA And You
Grand Story + Story + Facts = Meaning (Advanced Writing Course Materials)
I Missed The Gorilla... Did You See It?
Whoever That Said "Fear + Manipulation + Domination = Witchcraft" Is A Superlative Genius
Tom Robinson's Predicament
Time Once Lost: She Once Was An Angel...
Amazing, The Original Myth Explains The Second Myth
When Words Failed...
When Conmen Marry...
Heraclitus: You Can't Step Into The Same River Twice, Can You?
Mimetic Theory: Is This The Best Way To Understand The World?
Absolutism Vs. Relativism, Which Side Are You On?