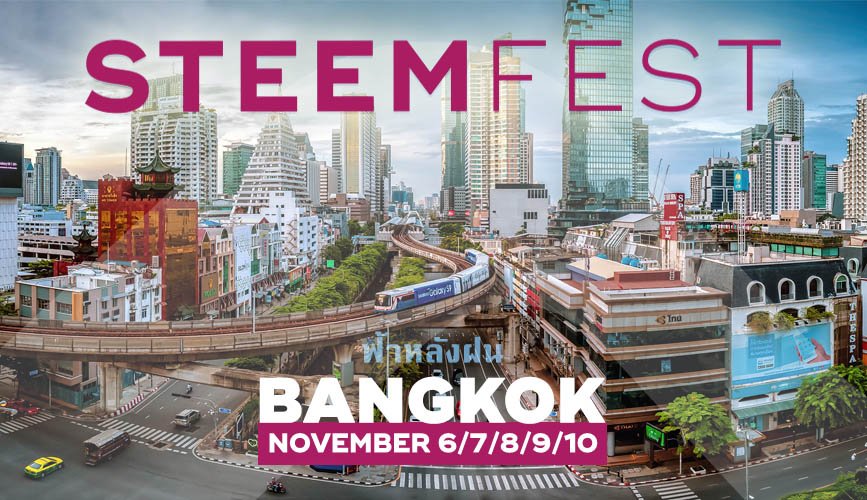 So you decided to go to Steem Fest at the very last minute?
Did you win a ticket and just prepared everything over the last week?
Have you heard about the #roadtosteemfest idea just a few days ago?
Didn't you know that everyone who joins on at least 75% of this posting trend will get a surprise the last day of Steem Fest?
Well, this is your chance to catch up and make all your posts about the Road to Steem Fest!
This week's topic is catching up!
This week you can post about each and every weekly topic of the Road to Steem Fest! It will help you to share something about yourself, it will help other people to feel as if they already know you before meeting in person in Thailand, it will help everyone to break the ice and when the big event happens, we'll all be like a group of friends that is more like a small family :)
So, what are you waiting for? Check out the previous prompts, get your laptop out and start writing! You have one week to catch up on the TEN topics, that's going to be a hell of a posting week! Let's get the Steem Fest hype full force!
If you want you can do a post about all of the topics OR you can do a post for each topic, as you prefer!
Take a look at each post and **if you haven't made a post about a topic(s), this is you chance to put it out there for the blockchain to witness and the other attendess to read about you!
Small set of rules:
You have until Sunday, November 3rd to catch up on all the topics!
This is only for Steemians who are attending Steem Fest!
Use the tag #roadtosteemfest and #blocktradescontest so we can all find the posts and get to vote on our posts to help out our funding for the trip.
Remember...
...everyone who joins in on at least 75% of the topics, will be eligibile to win a big surprise in Bangkok.
---
Thank you everyone who makes a post about this. Any vote or resteem is appreciated, since all the liquid rewards from this post will go to fund one lucky Steemian's Steem Fest 4 entry ticket.
This is a @blocktrades sponsored contest organized by @ocd-witness, if you like what we are doing here, vote for both witnesses :)