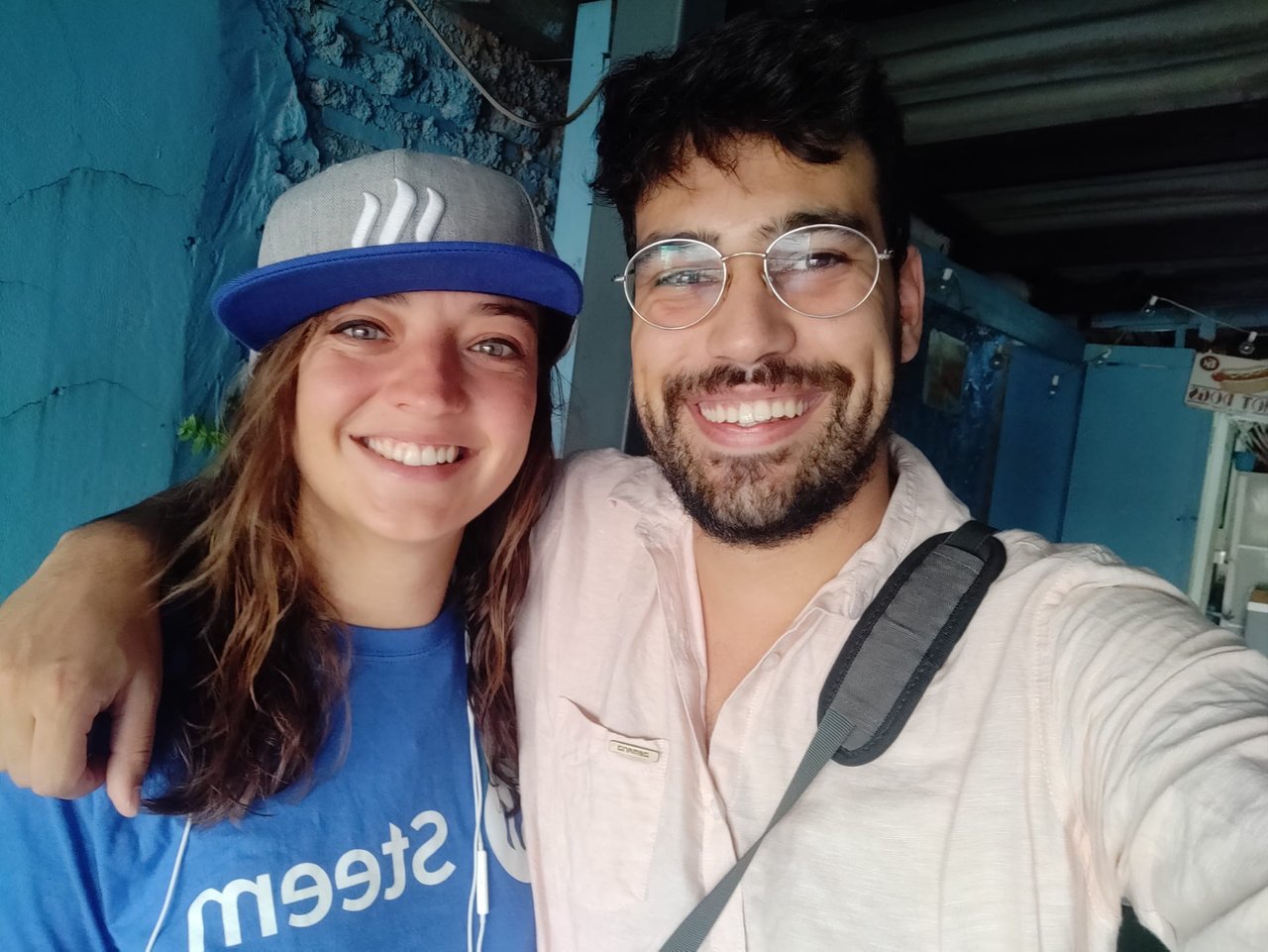 Dear my beloved fellow steemians! - I know Steemfest already ended on Sunday, but as you maybe can see in other reports or know from your own experience, it is always really busy being here and not really easy to find some time to keep you guys updated. In fact I am still enjoying the Steemfest after chill with some fellow steemians at the little beautiful island Koh Chang and am headed to a little meetup in a few hours.
But first things first! On monday the day of departure finally had arrived, I did my steemitworldmap post and literally left right after that to the airport to catch my plane. - Escaping from the freezing cold Germany to Bangkok, keeping summer alive a bit longer and meeting all this lovely already familiar and new faces.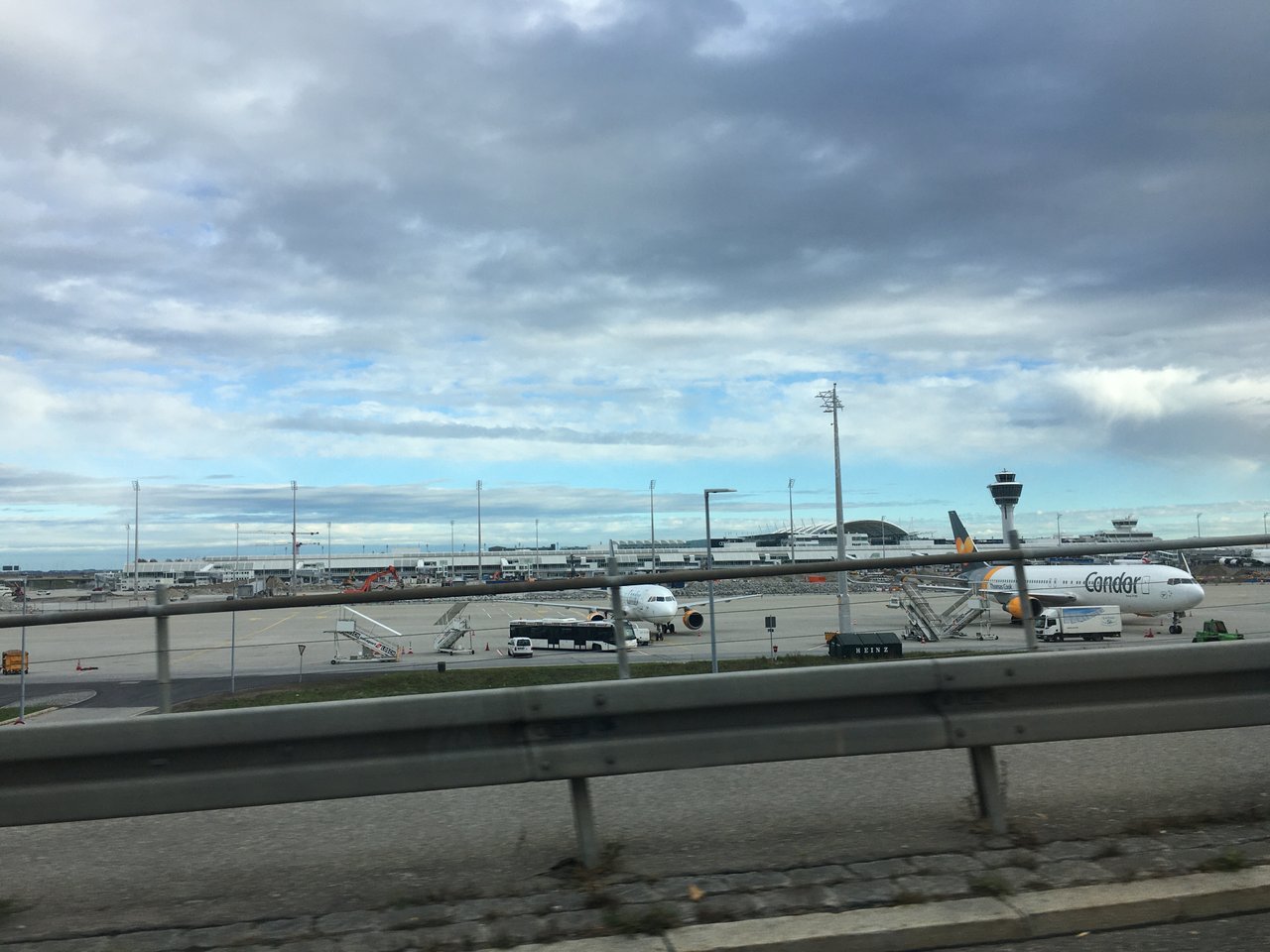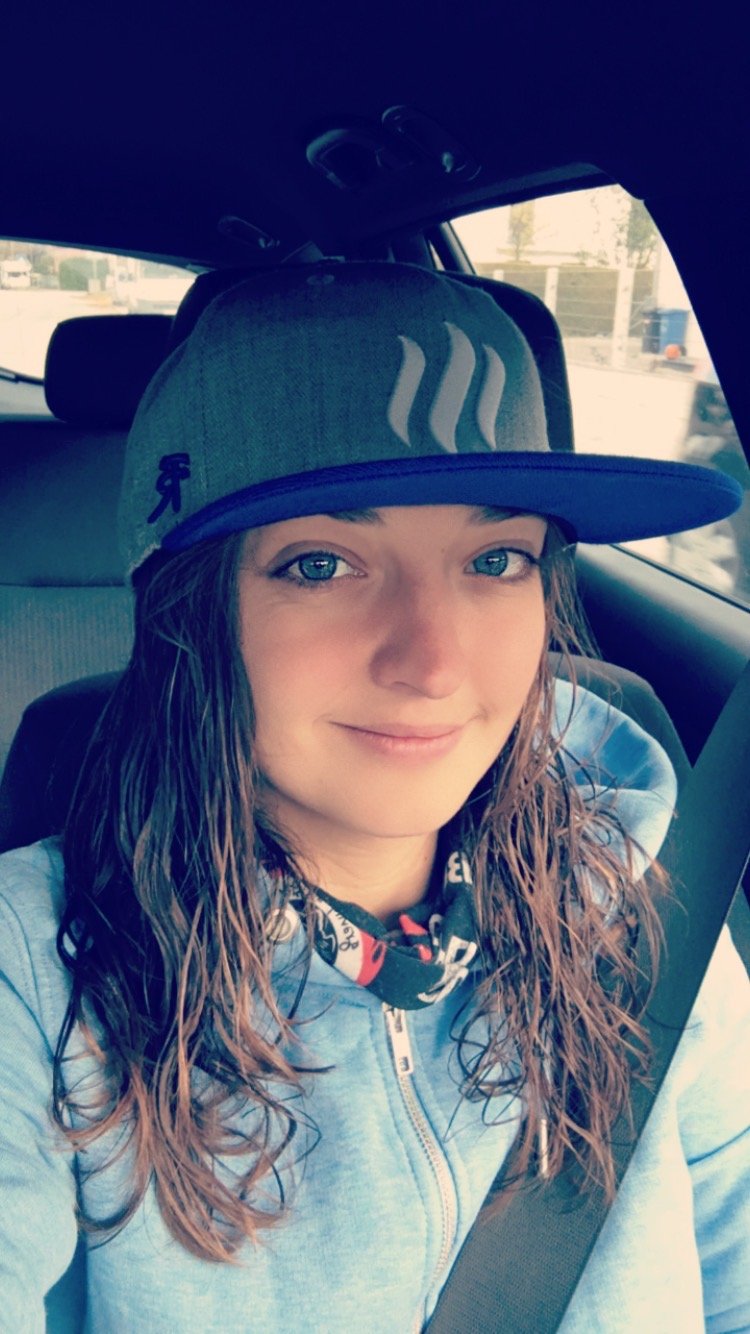 At the airport I had my last German lunch: Kebab - and then already had to go through security, to the gate and to my seat!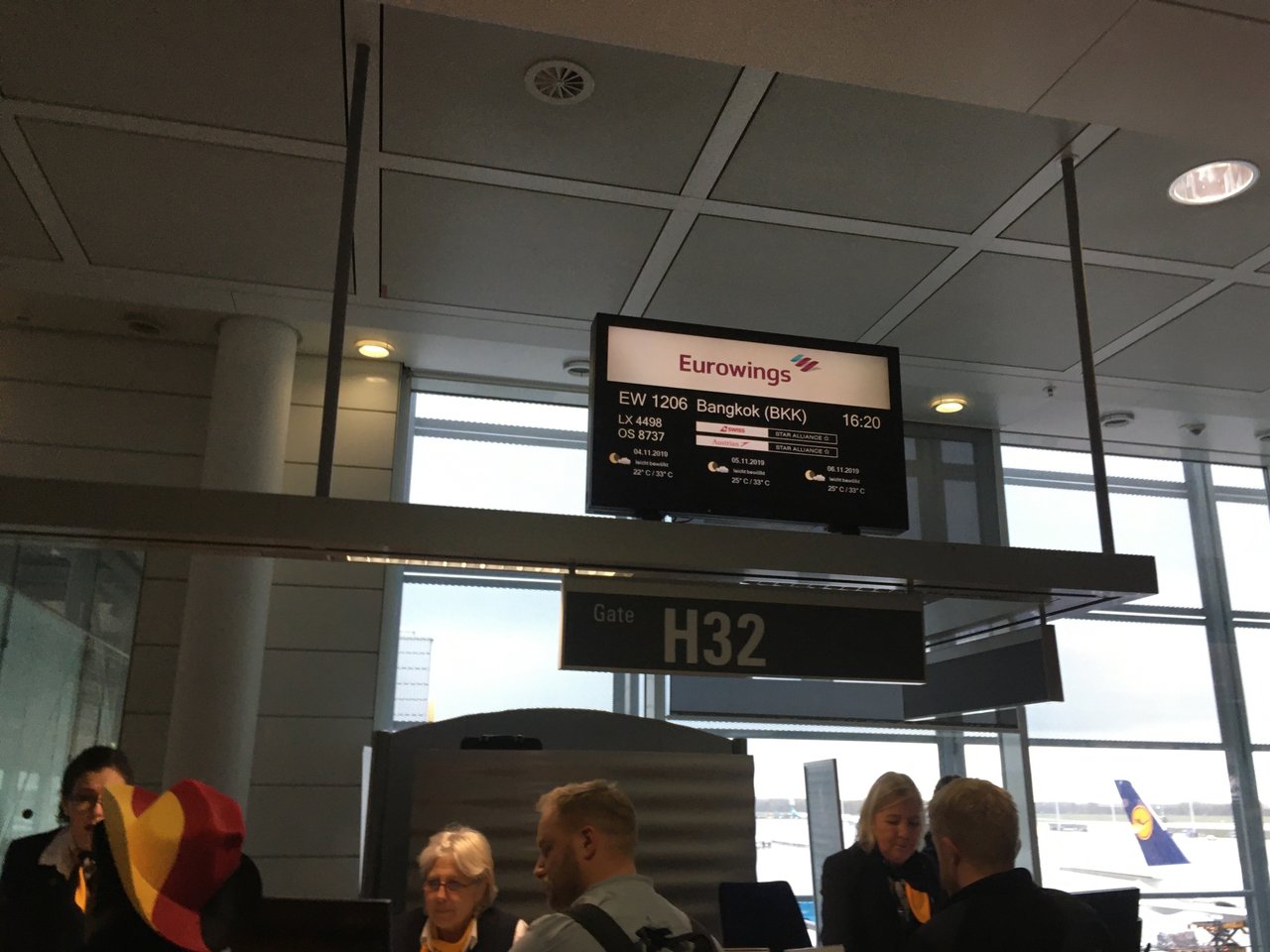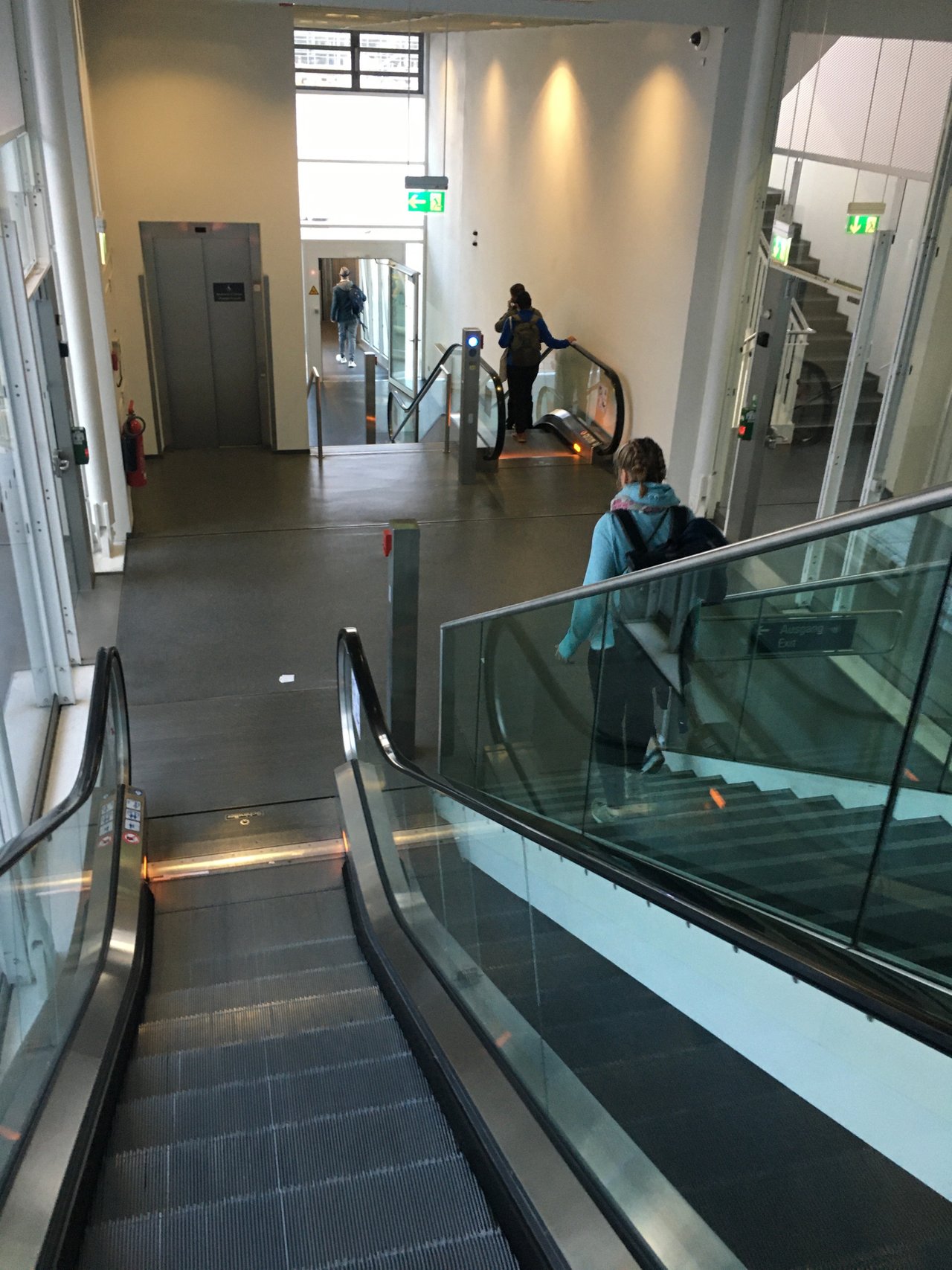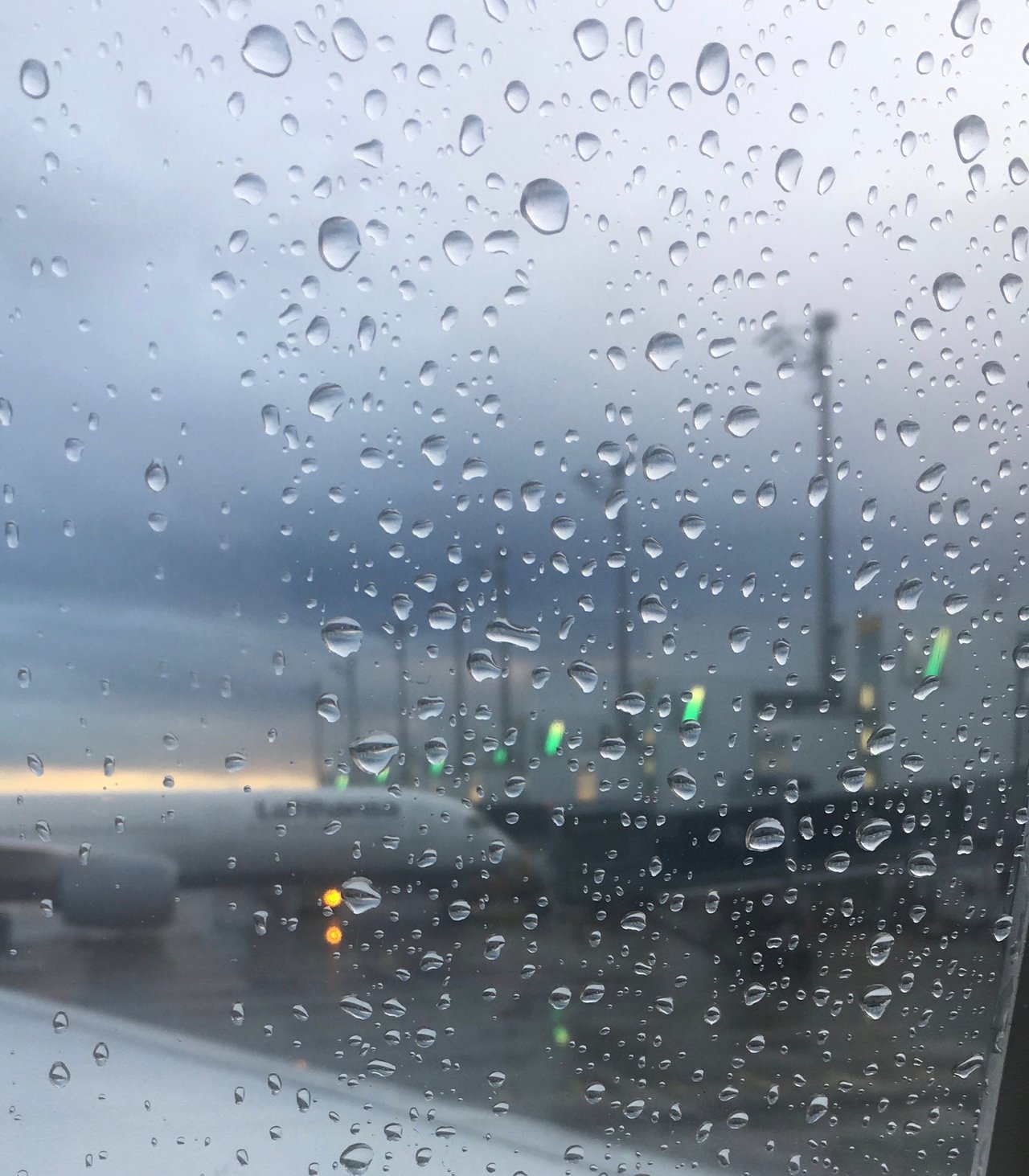 From Munich to Bangkok it is a 10,30hrs direct flight, so I had a lot of time to watch movies. Unfortunately I couldn't sleep whatsoever so I was pretty tired when I arrived the next morning in Bangkok.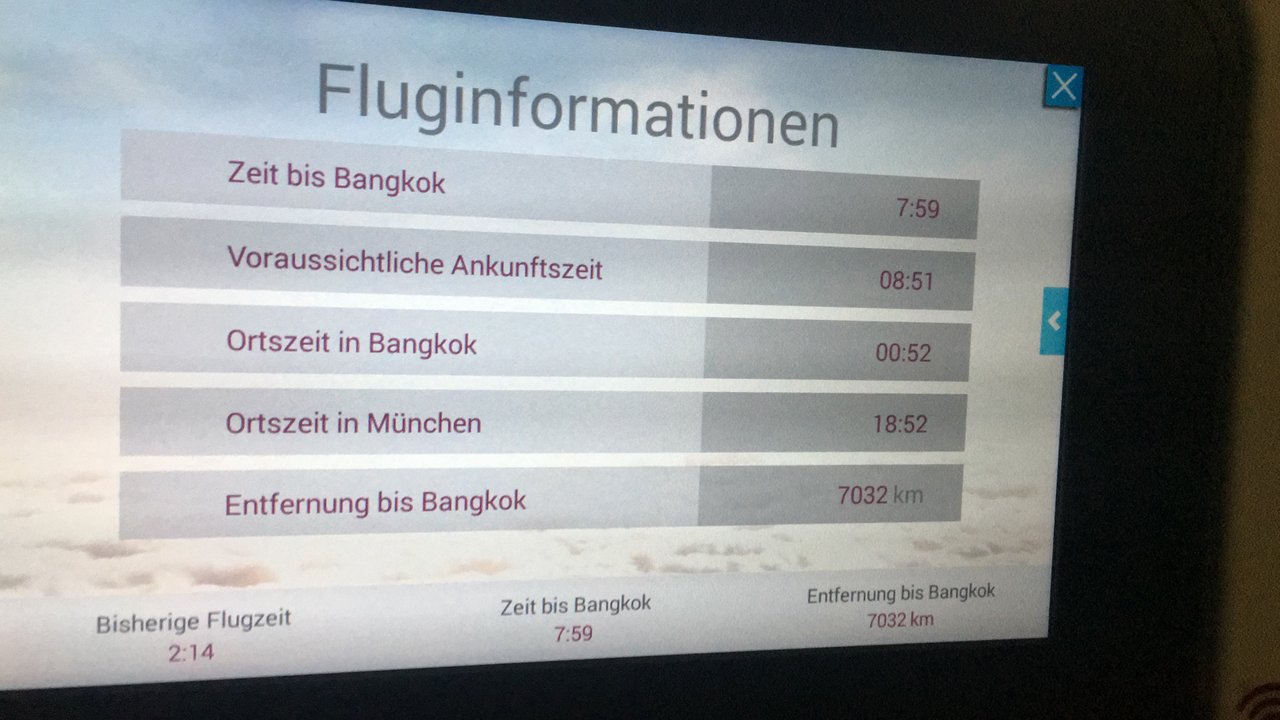 Next task: Get a sim card, get some cash, find a taxi and go to the hostel ;)
It took me around 1 hour to exit the plane, find my luggage, go through Immigration and customs and then be officially in Thailand.
The steemfest telegram group was going crazy by then! Everybody was arriving in 30min - 1 hour intervalls. Some of them already had met transiting at a previous airport, others met up at this one to share a taxi or train ride. A lot of us booked a sim card in advance and had to pick it up at the airport following @gtg s recommendations.
An easy task one would think. But when you are super tired, without sleep for more than one day, have jetleg and you dont know the airport much. - Not that easy.
There were people selling sim cards on almost every corner already at the luggage pick up, but the one I booked was apparently on the bottom floor next to the train Station haha so I had to walk a lot again, take a few moving stairs and find it.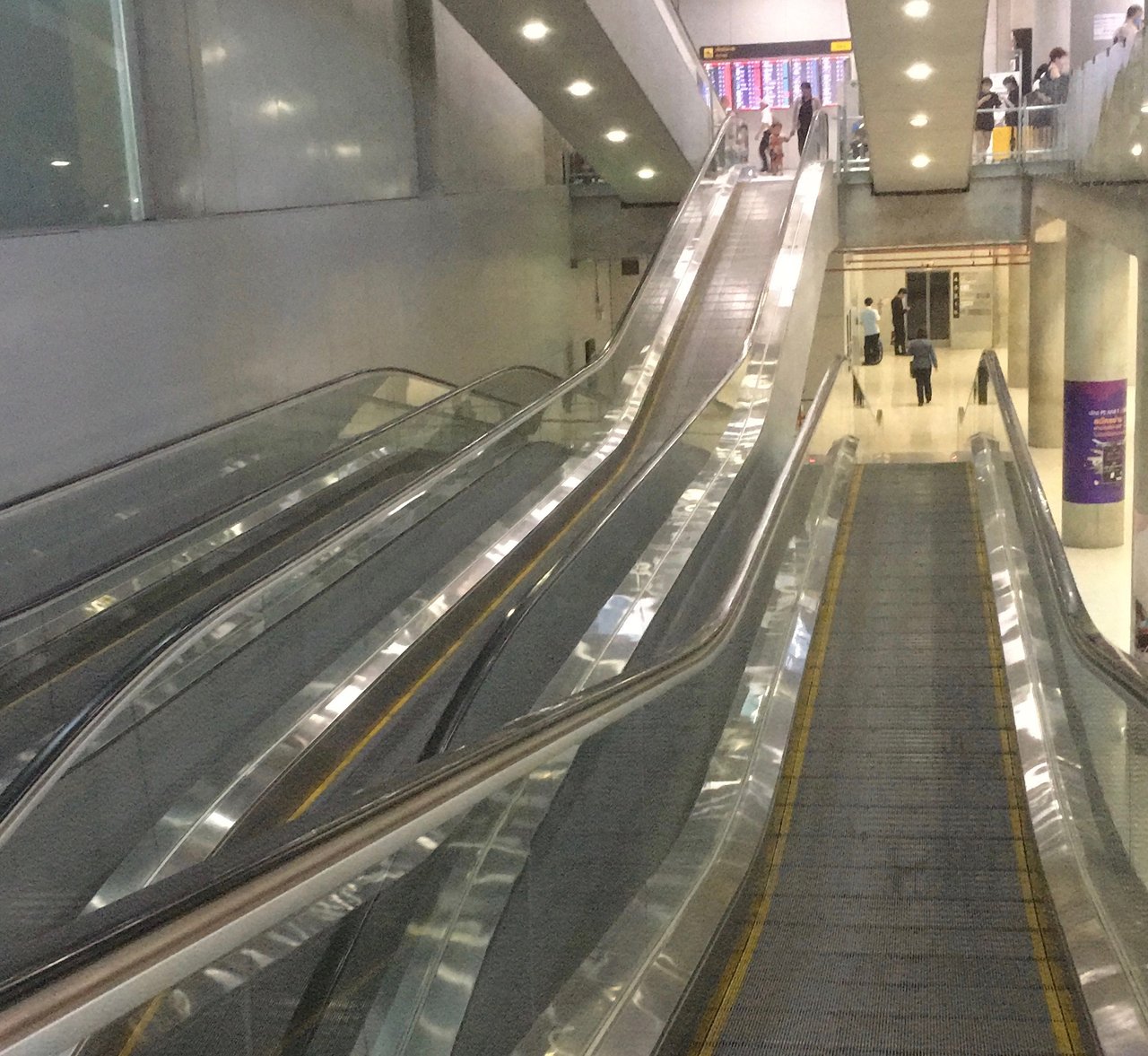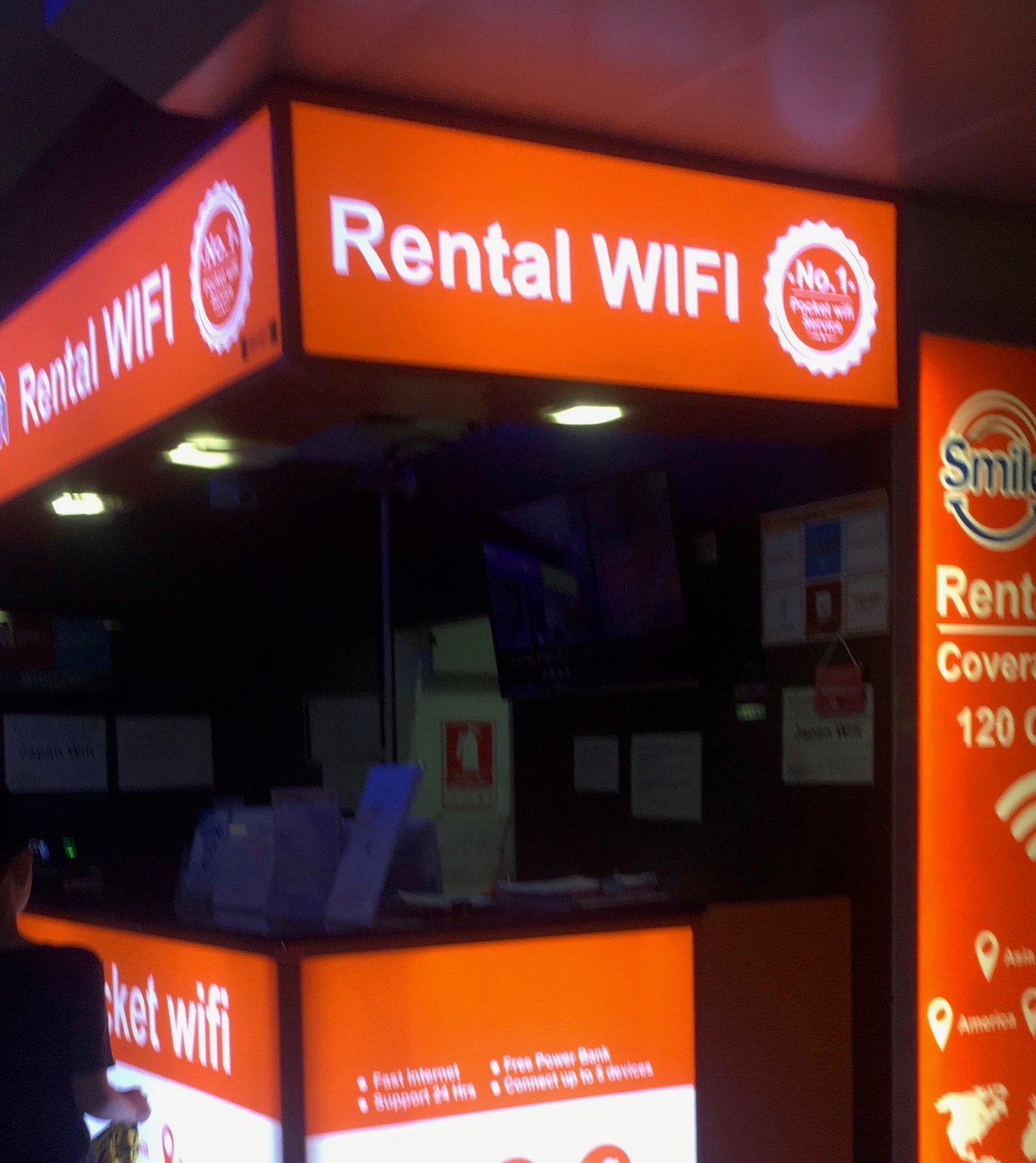 Being able to use internet, I went back to 1st floor and found a taxi to get to my hostel, where @martibis already was waiting for me.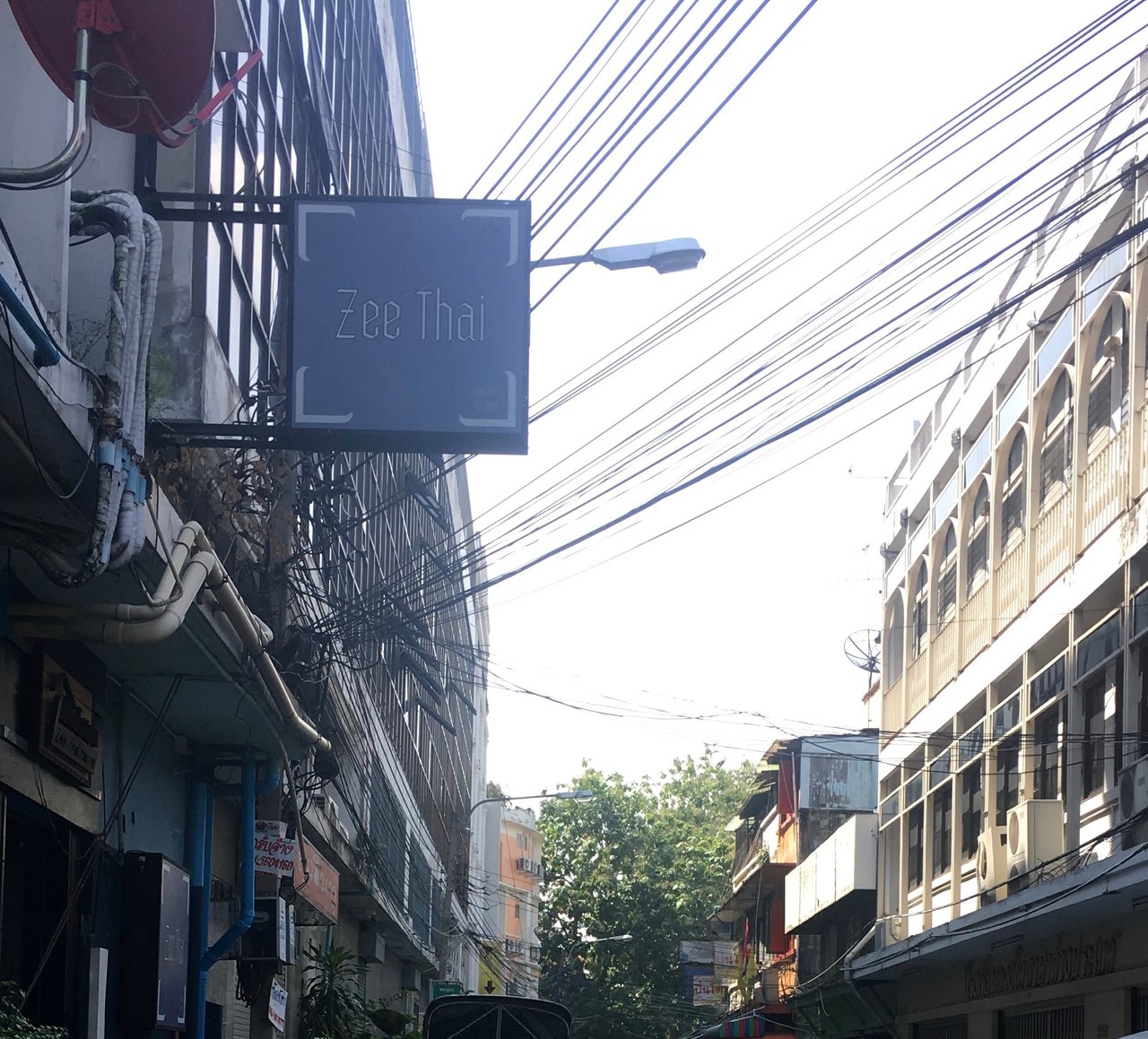 The ride had been pretty long, as my taxi driver said: No traffic? no Bangkok! Of course he also totally rippen me off.. but I was so tired that I didn't really care, and he was a lot of fun! He did tell me which taxi to take the next time tough, explaining the different colors, prices and conditions they should have, probably because he did feel a bit bad about overprizing me and wanting to make sure it doesn't happen to me again ;)
Of course when I arrived I instantly went with @martibis to grab some street food at our favorit place, just around the corner - The 30 Baht place. As you might Imagine, it is called like that, because everything only costs 30 Baht.
I had Pad Thai and Mango smoothie, @martibis fried Rice and watermelon smoothie. - It just felt so good to be back in the heat and of course finally get some real great street food!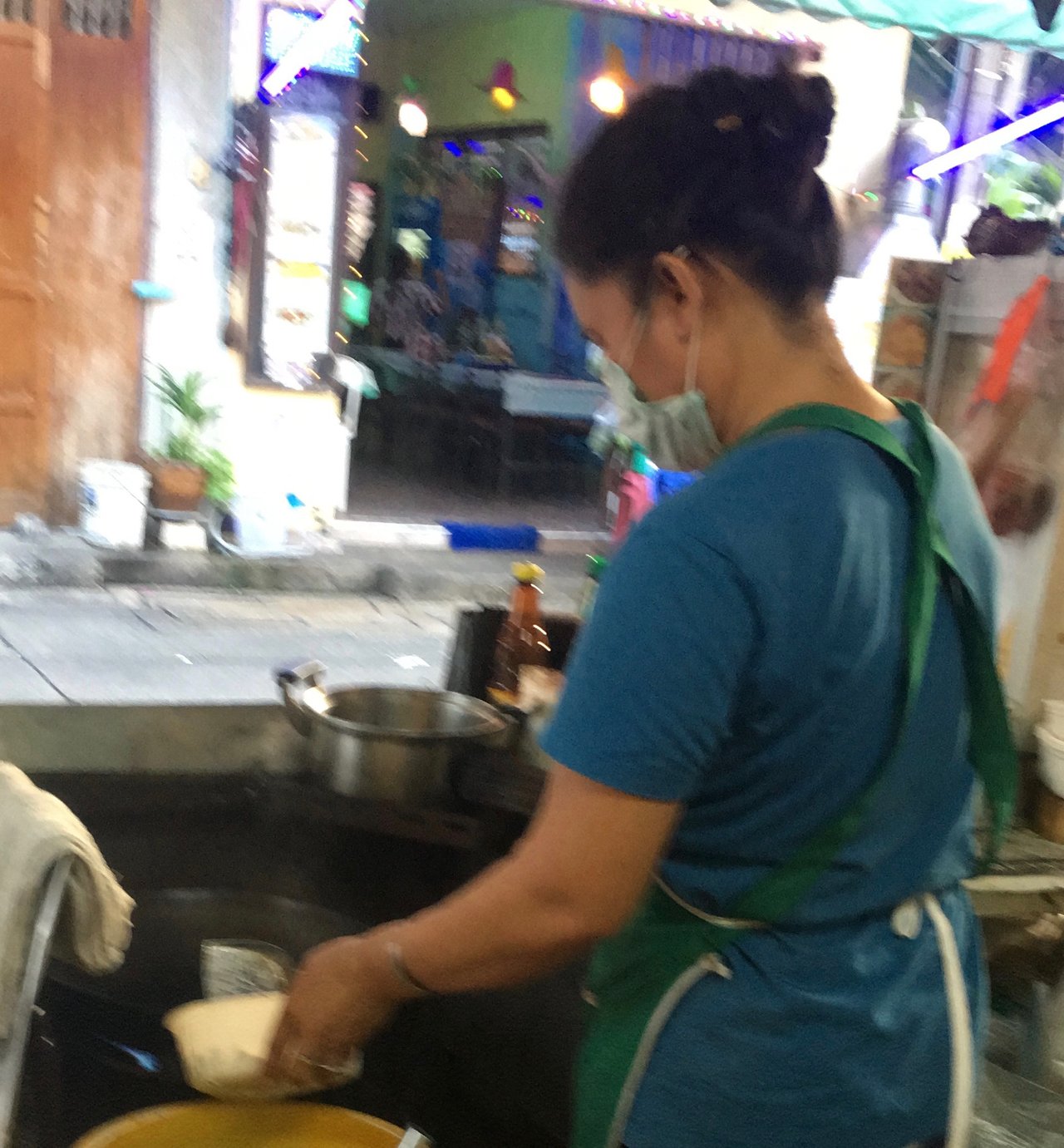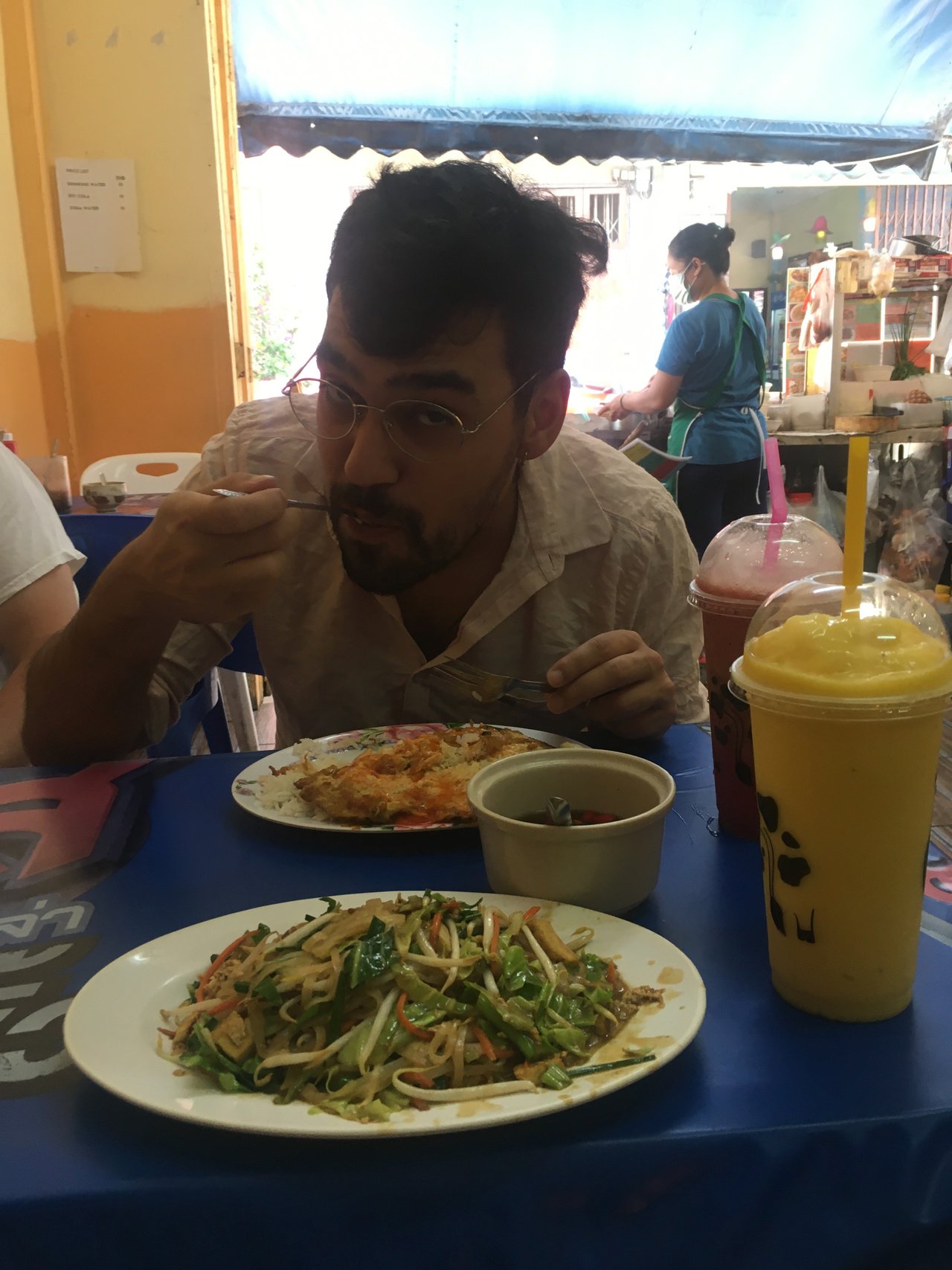 From there obviously I went streight to my confortable hostel bed to sleep out my jetleg!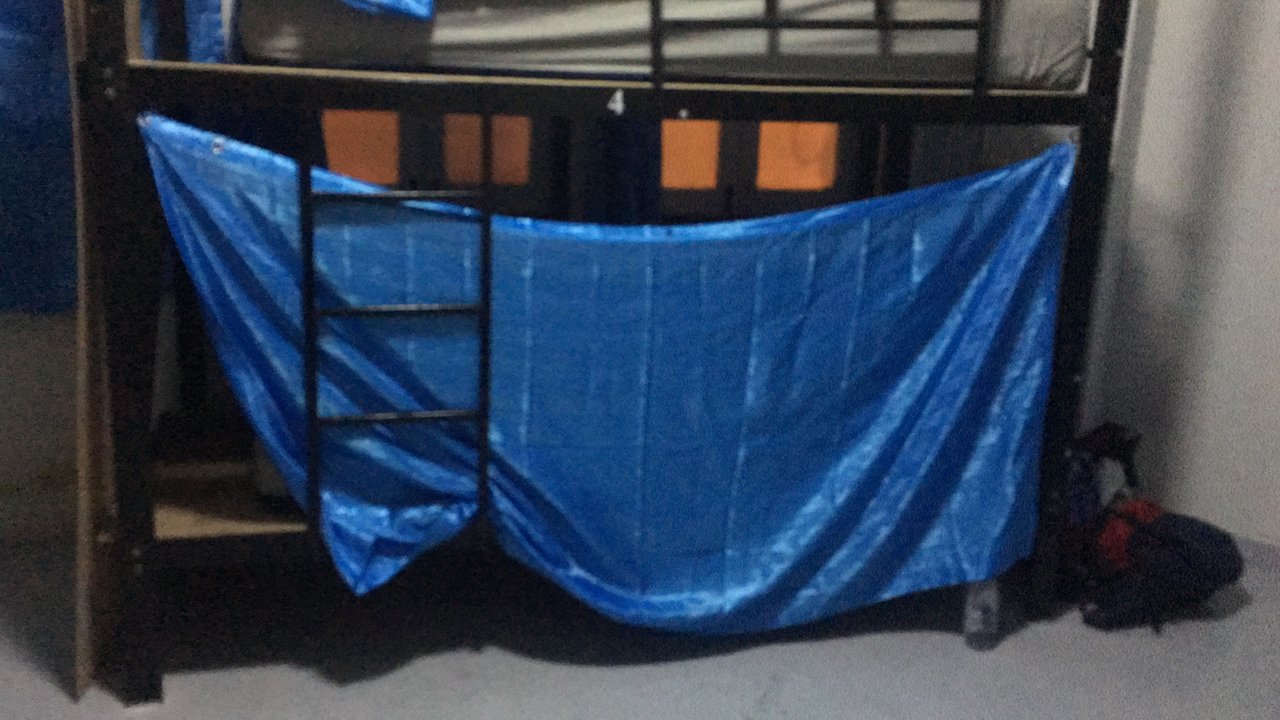 The next morning started like the last day ended. - with awesome Thai food.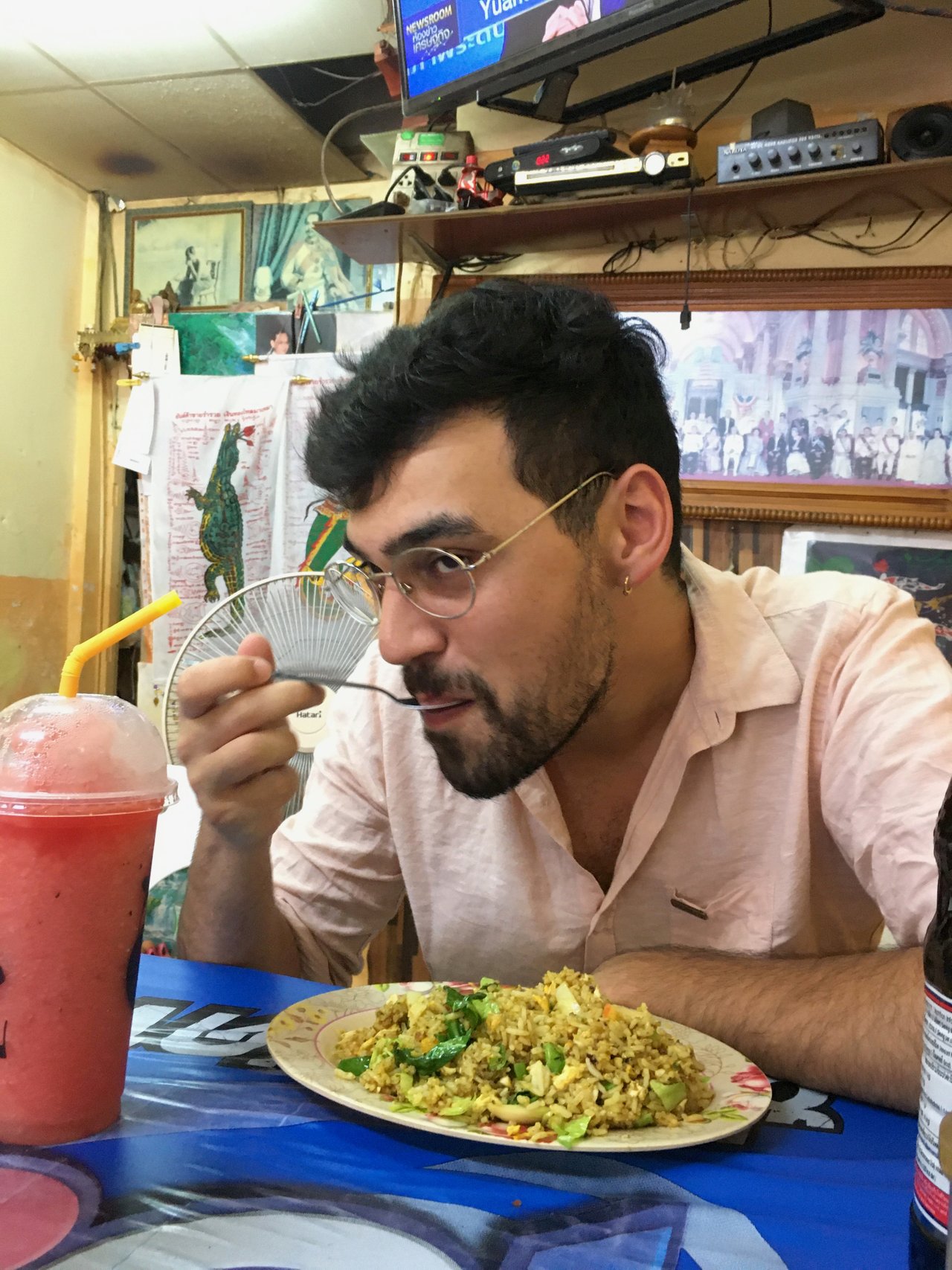 From there we got ready and headed streight to the Prince Palace Hotel, where we could chill at the pool, while more and more steemians dropped in getting ready for check in.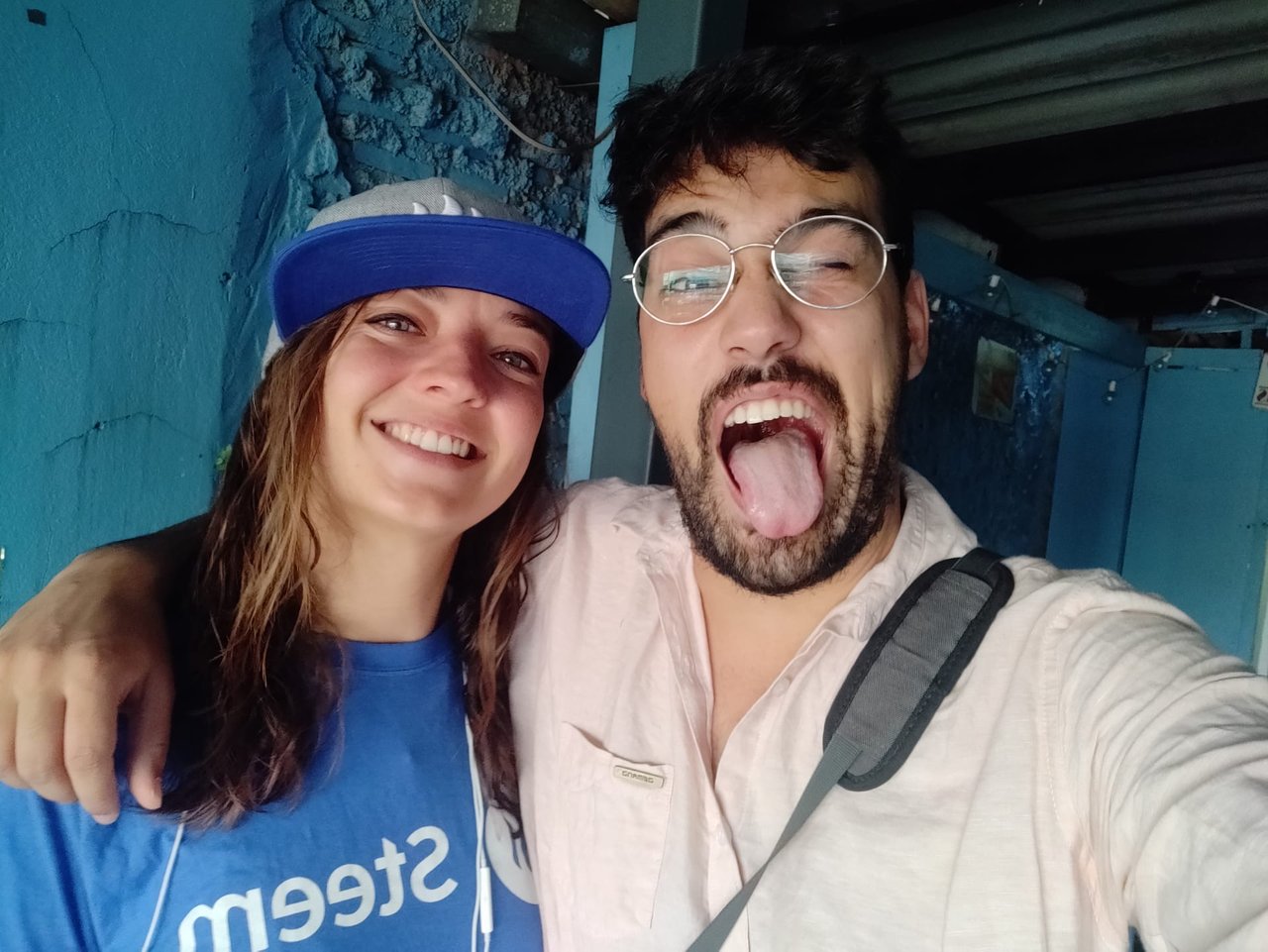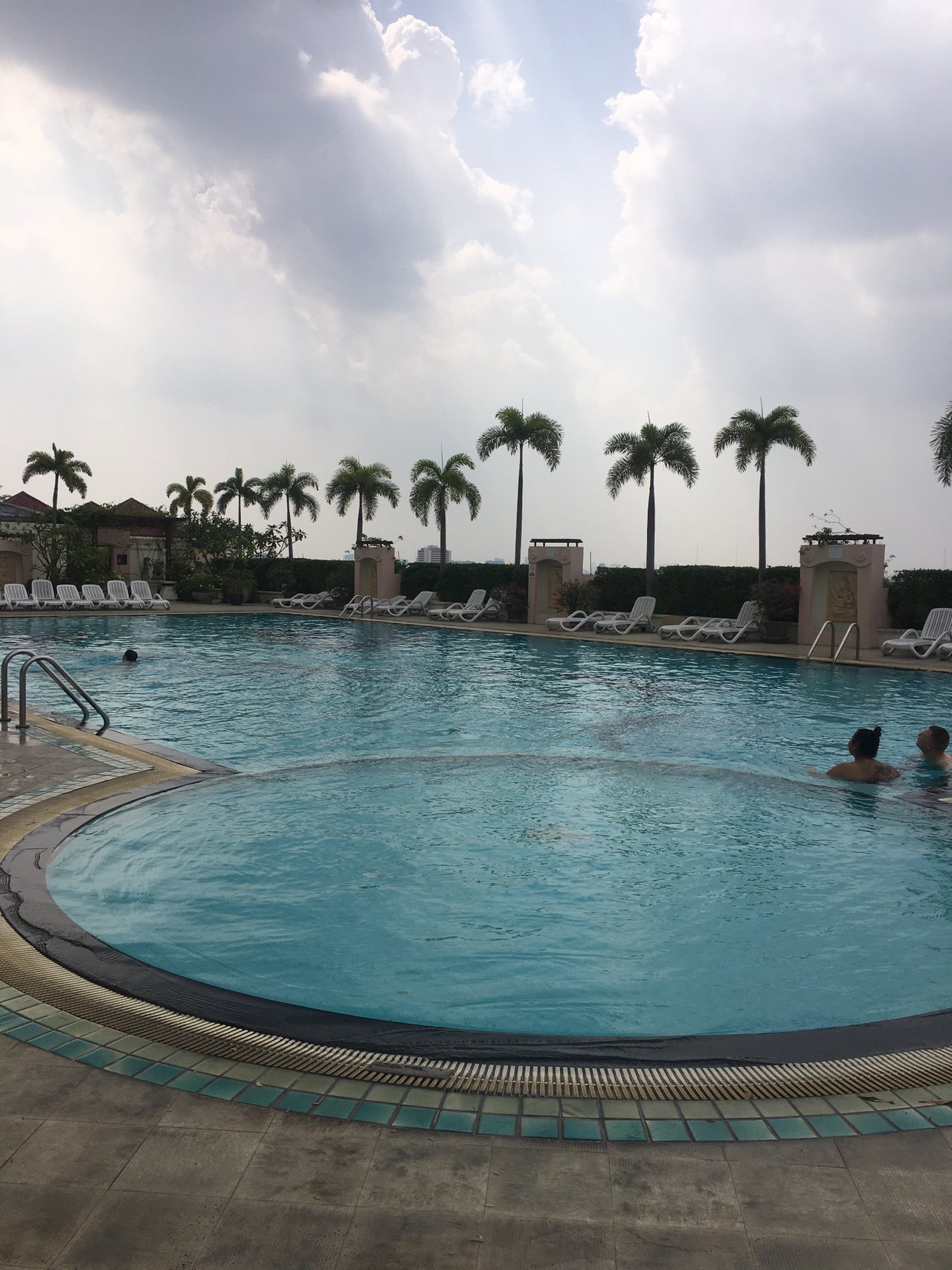 Of course we jumped in the water to refresh ourselves and tried to catch some tan already ;) - @gtg, @anomadsoul @livinguktaiwan @travelgirl and a few others were already there to enjoy the view.
At 15:00hrs the check in began and everybody got their welcome bag, t-shirt, badge etc. handed out from our great steemfest orga team leaded by @firepower.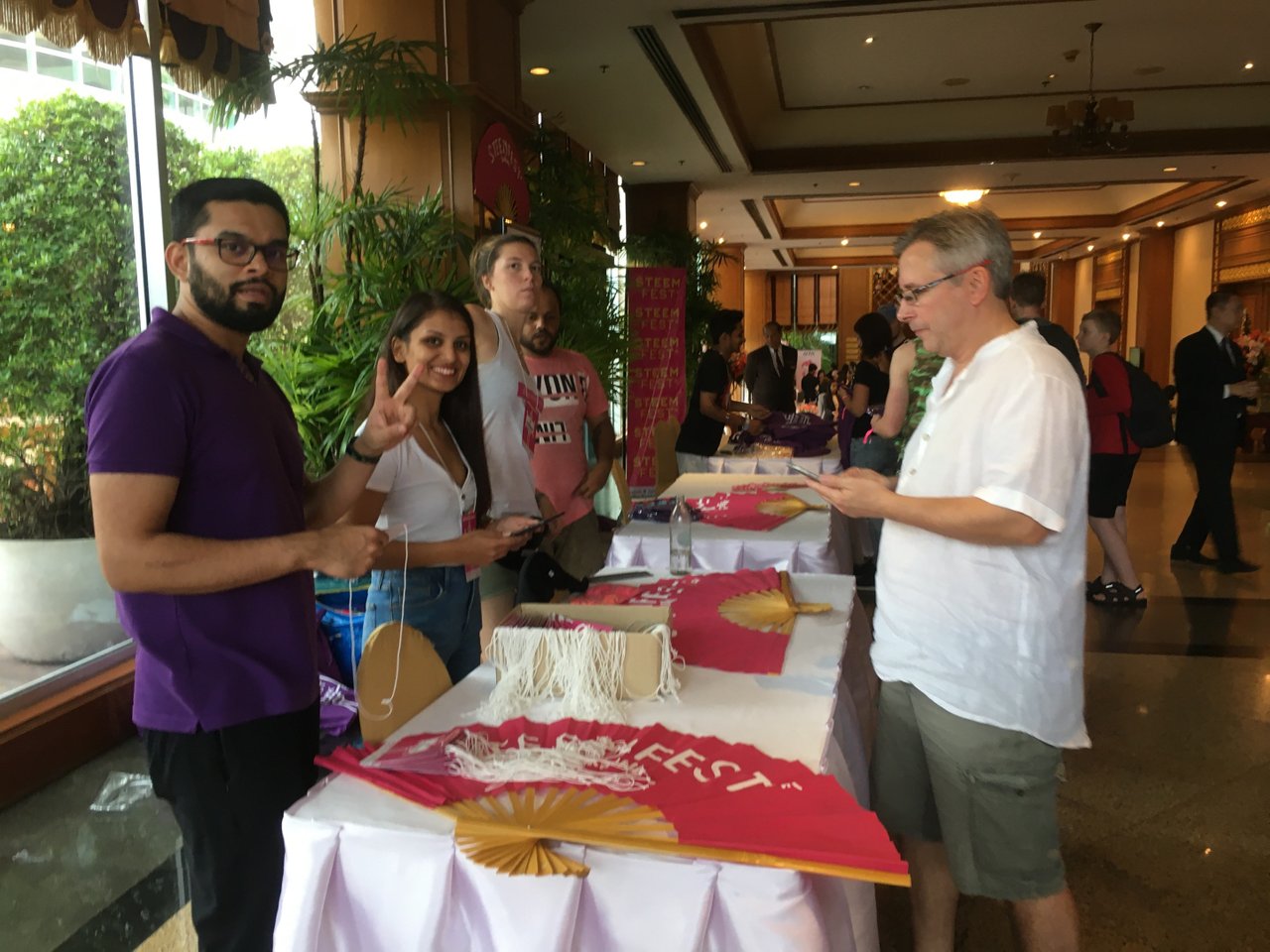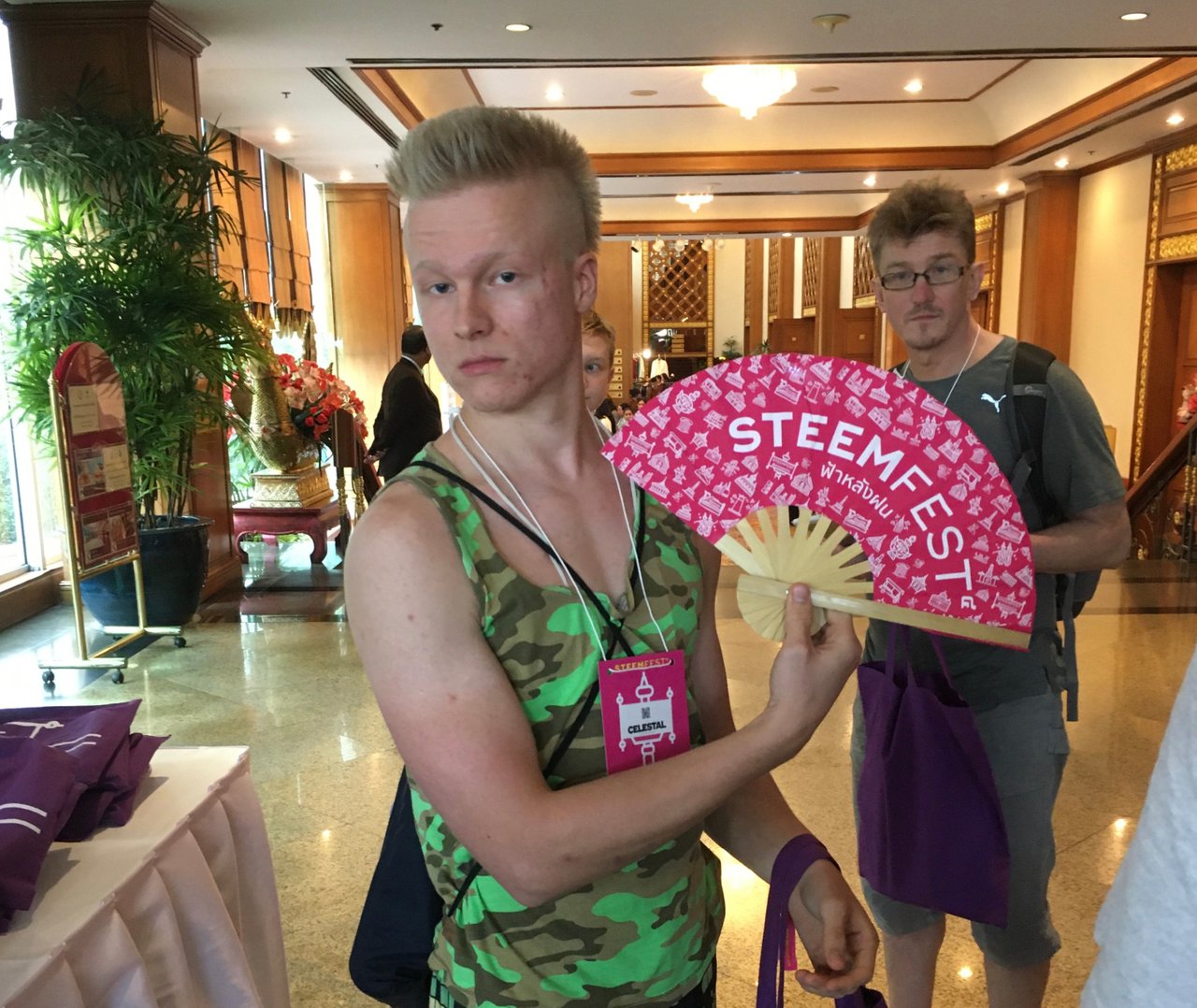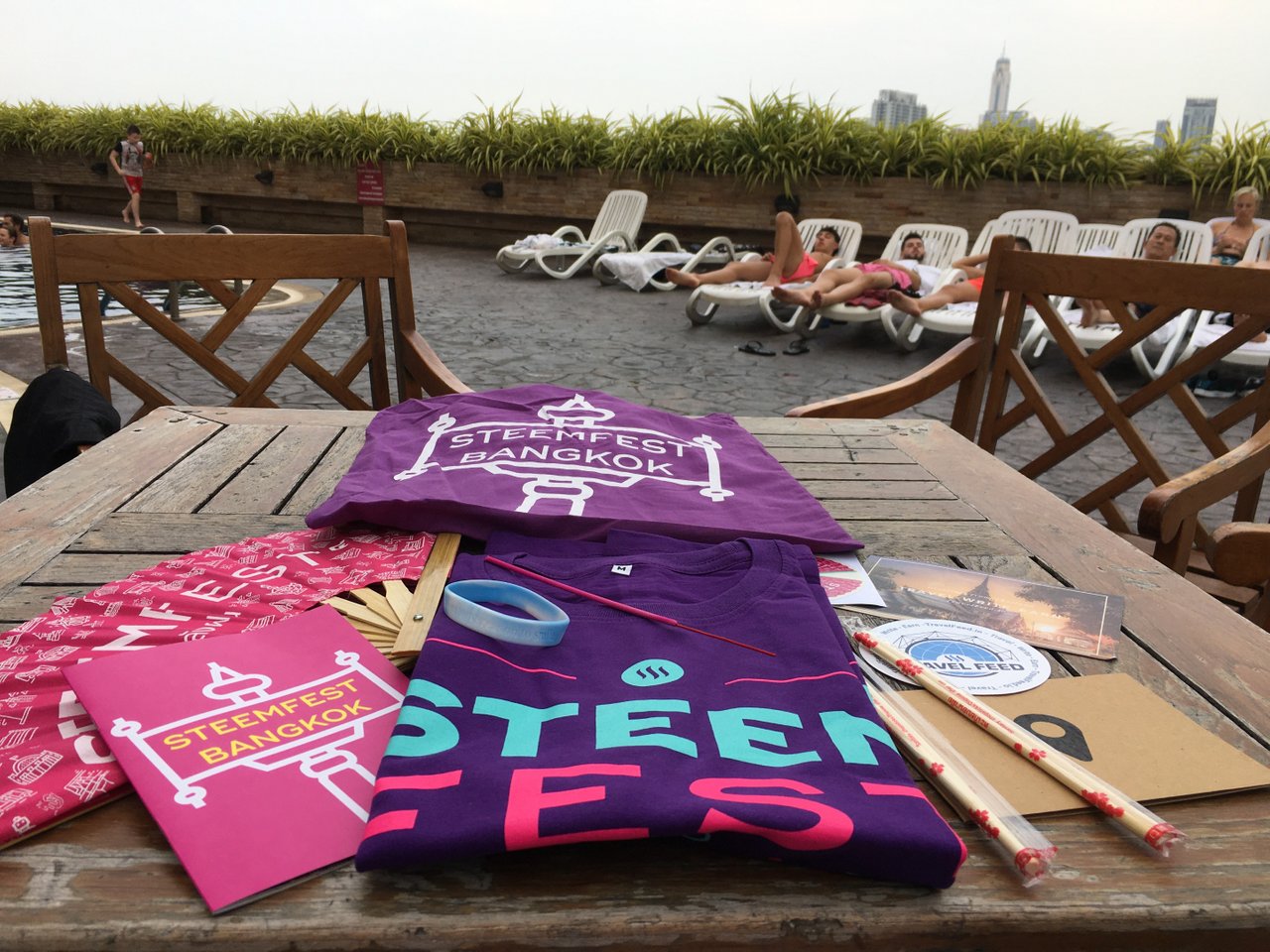 From there it got easier to engage with people you may don't know in person yet, because they had their badge on and you know maybe you already know them from the blockchain, but not in person.
So now more and more people were coming in and we started to get hungry again. We still had some time until opending drinks started at 20:00, so we went out together with @roxeanne and @martibis to get some streetfood just around the corner.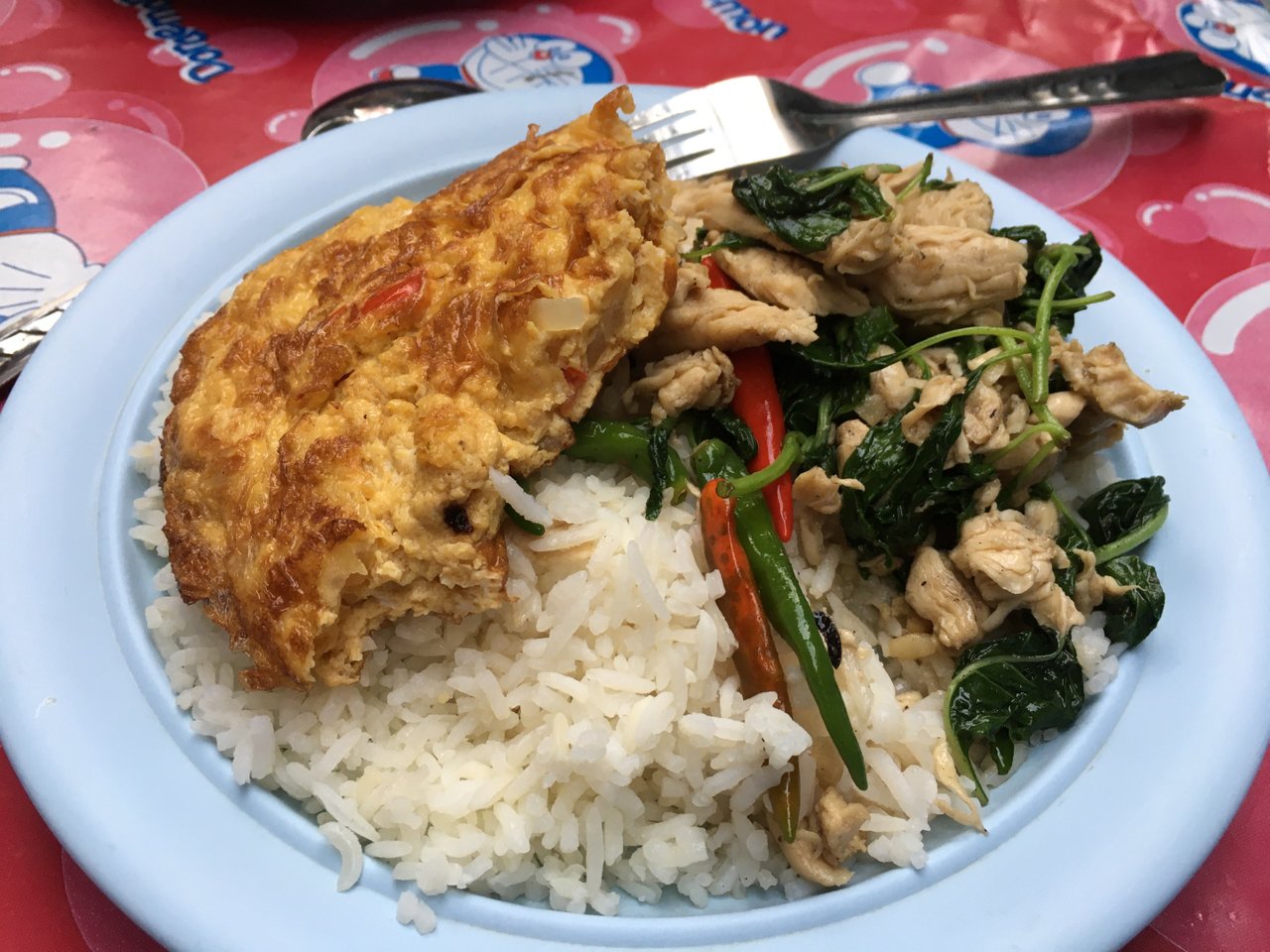 With full stomach and charged battery we went back to the event. It started to get dark outside and the view over Bangkok was just stunning.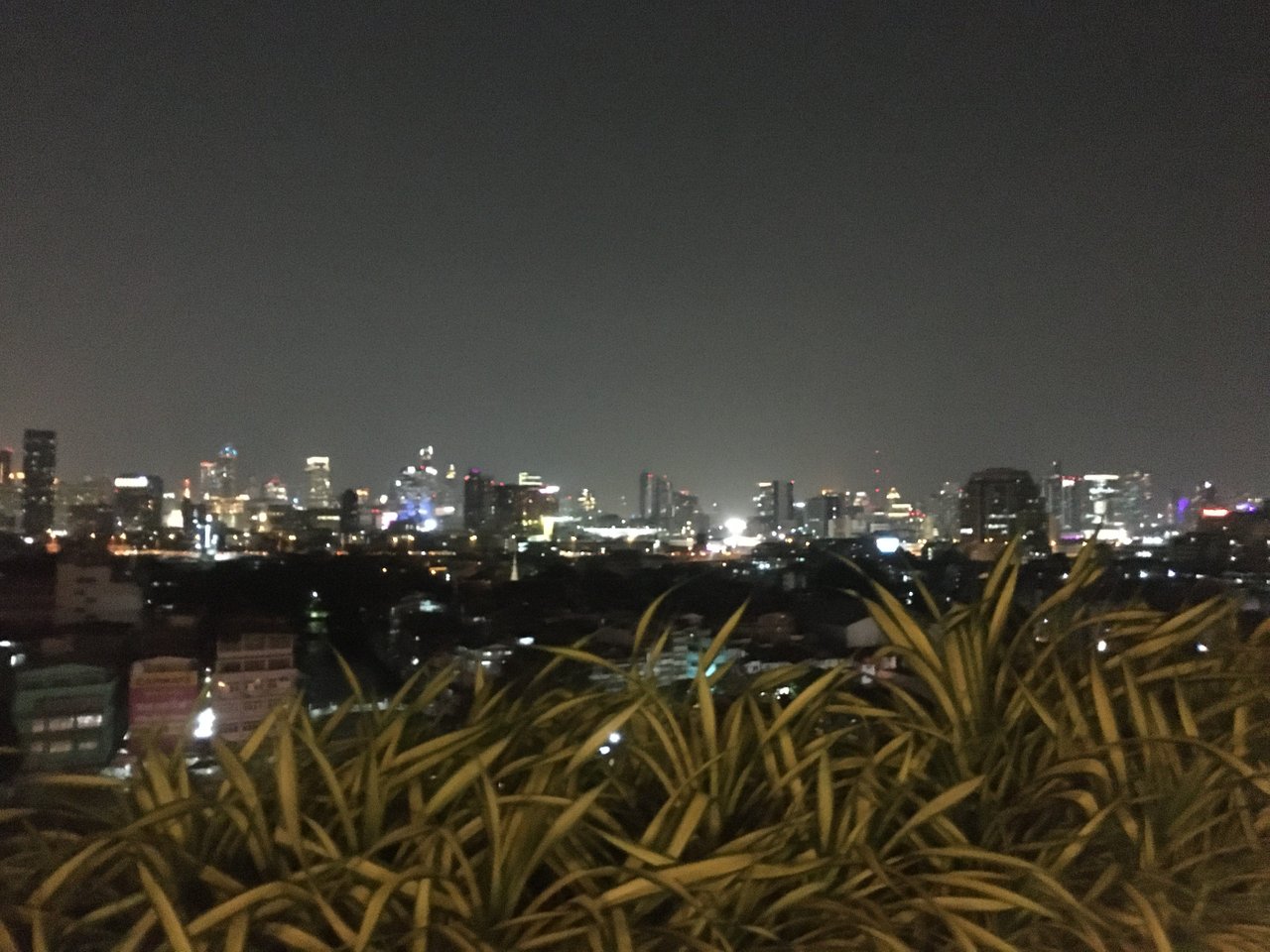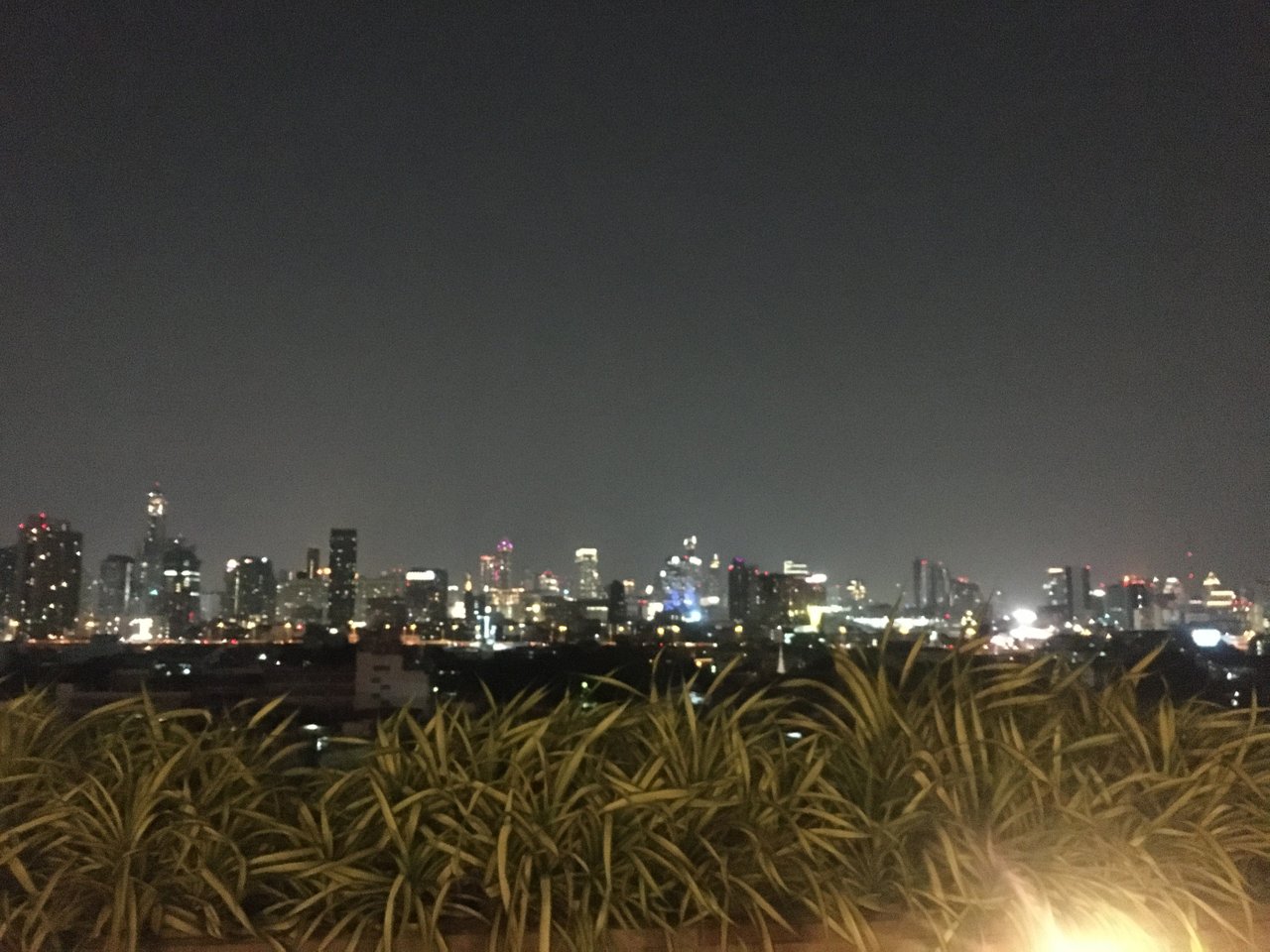 Of course we jumped in the pool again because it was just really hot and humid outside.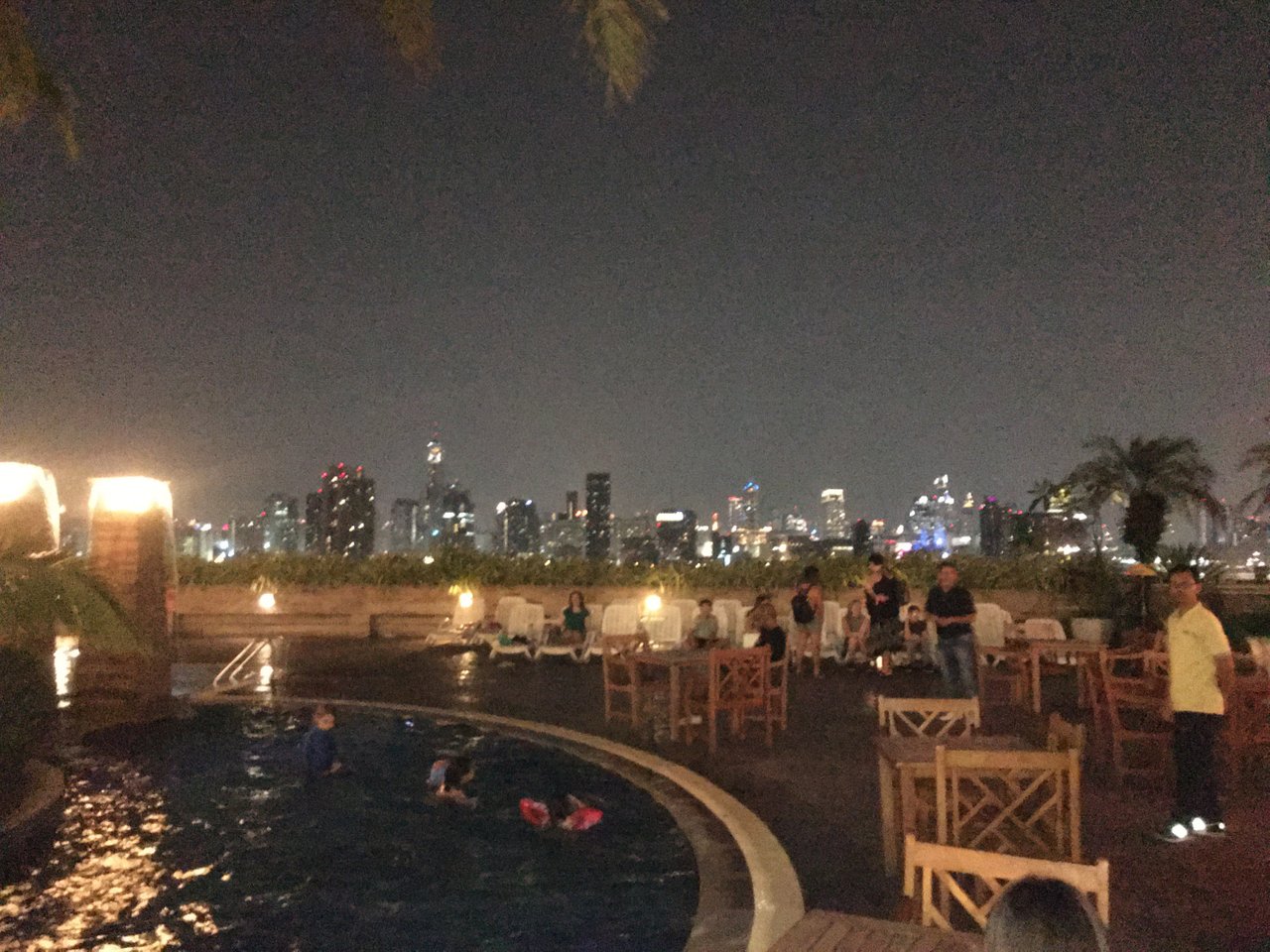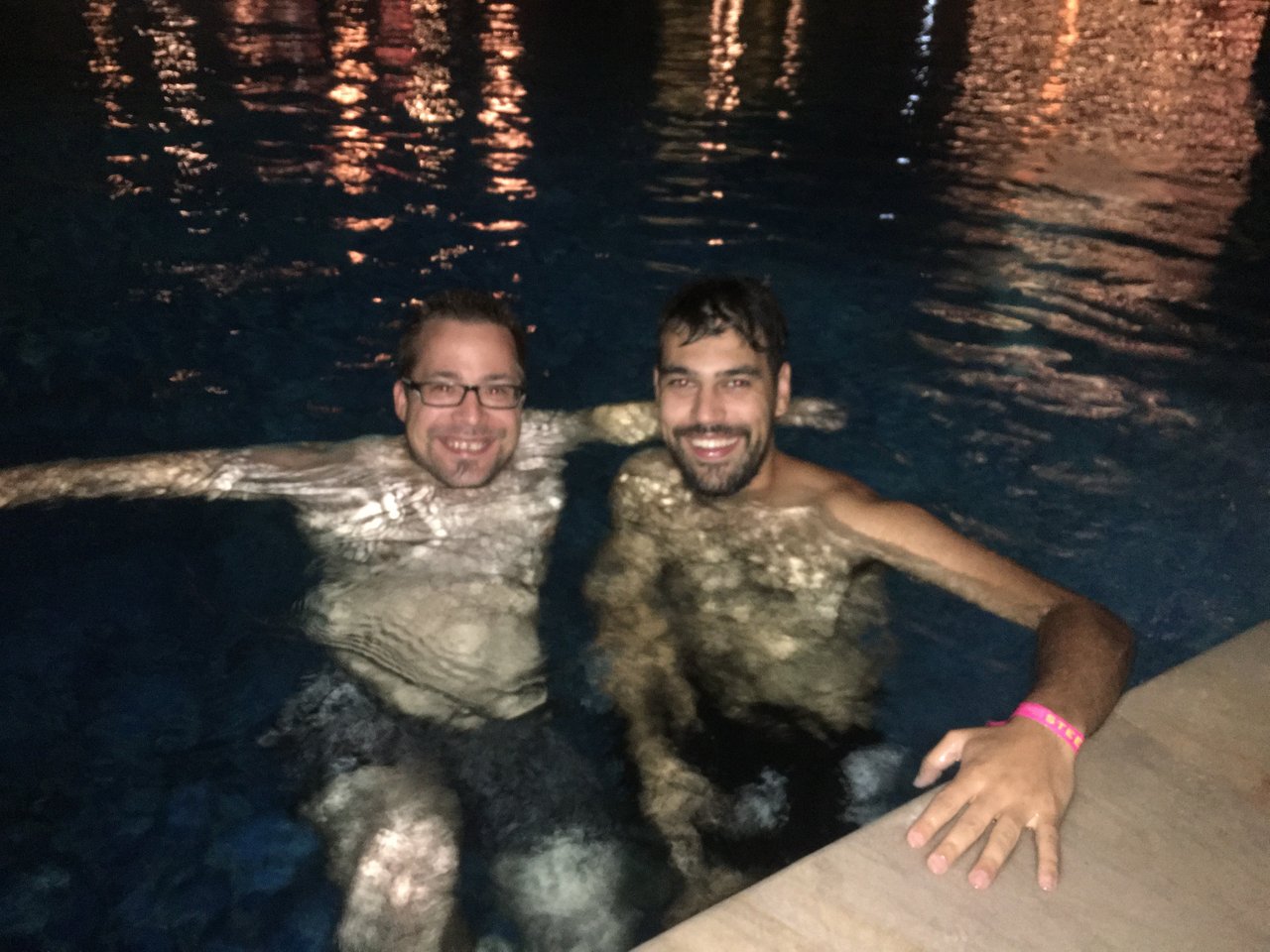 And then the event officially started at the opening drinks! - Which also meant that the badge scanning started ;) - I already did 80 in the first night, which I think is pretty impressive.
It just felt super good to be back at steemfest again and see so many familiar faces. I was suprised though how many I didn't knew yet! - I guess in Krakow there was just not enough time to get in touch with everybody.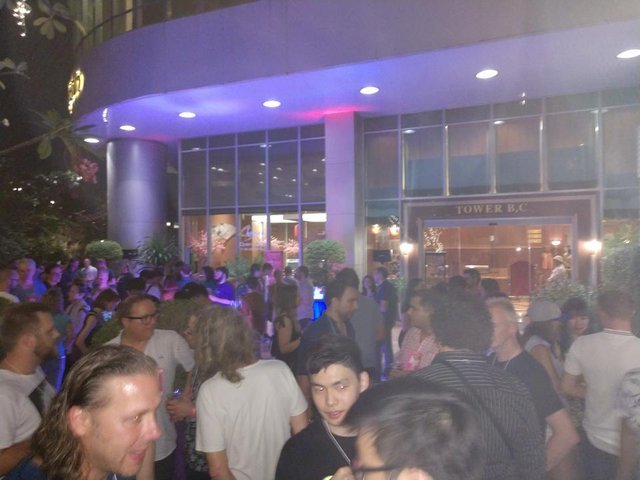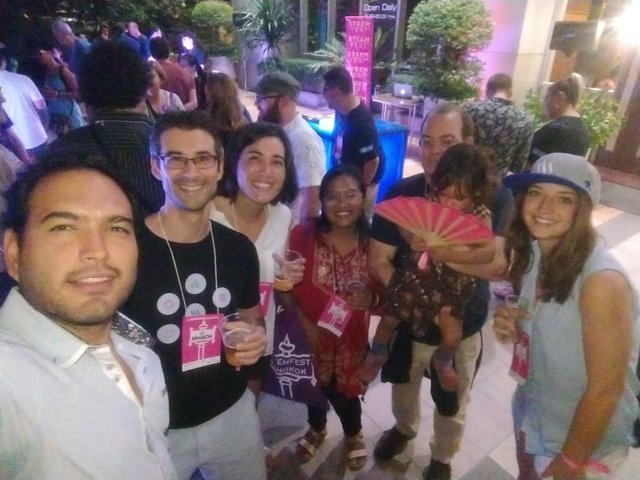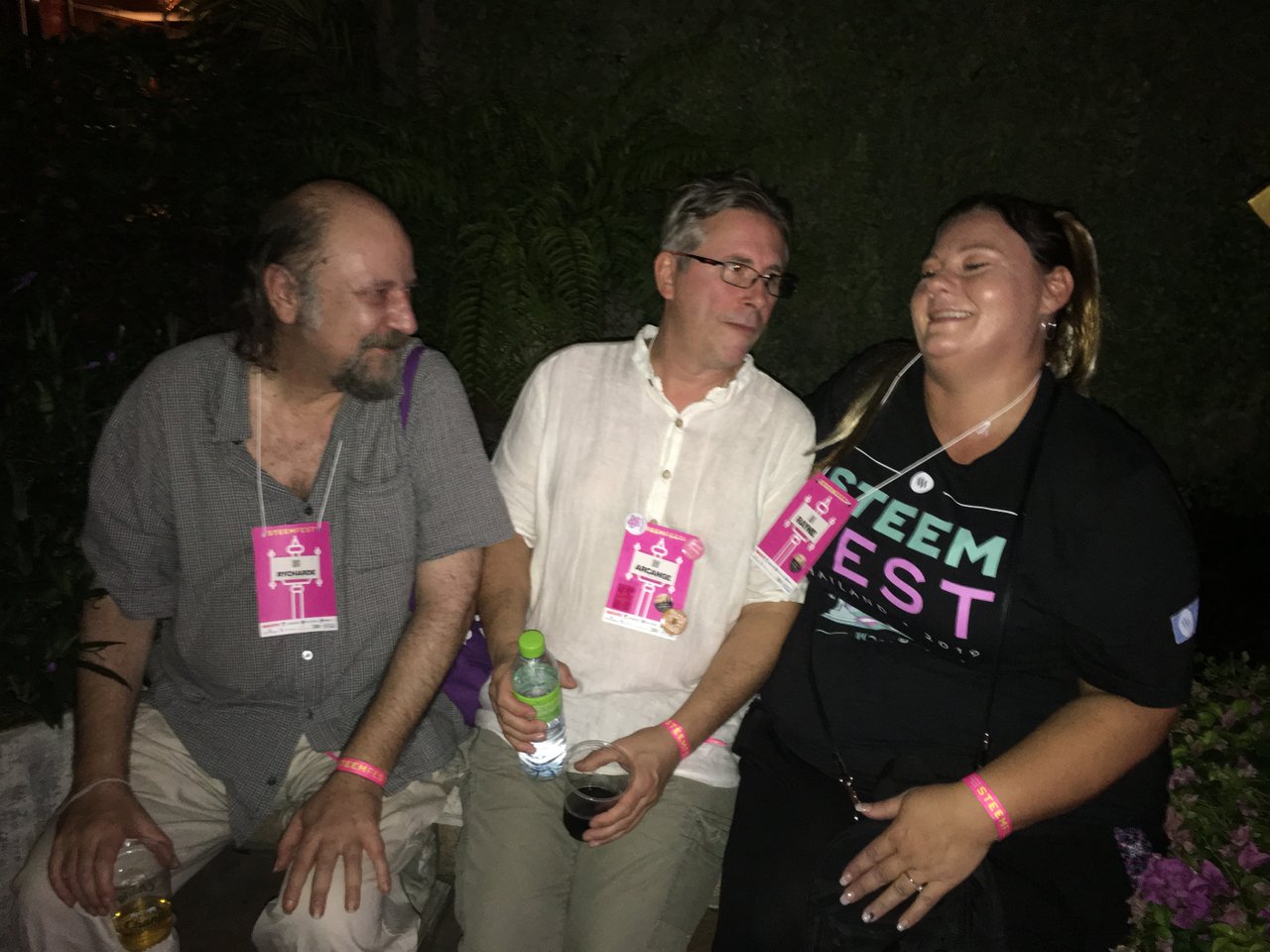 We could choose between thai rum, wine and soft drinks. Also we had little snacks again that were delicious.
As you can imagine, meeting all these people and scanning them, I totally forgot to take more pictures of the evening because it was just great to actually enjoy the time and see what others have been up to the past year.
I stayed quite long and went to a market afterwards together with some fellow steemians.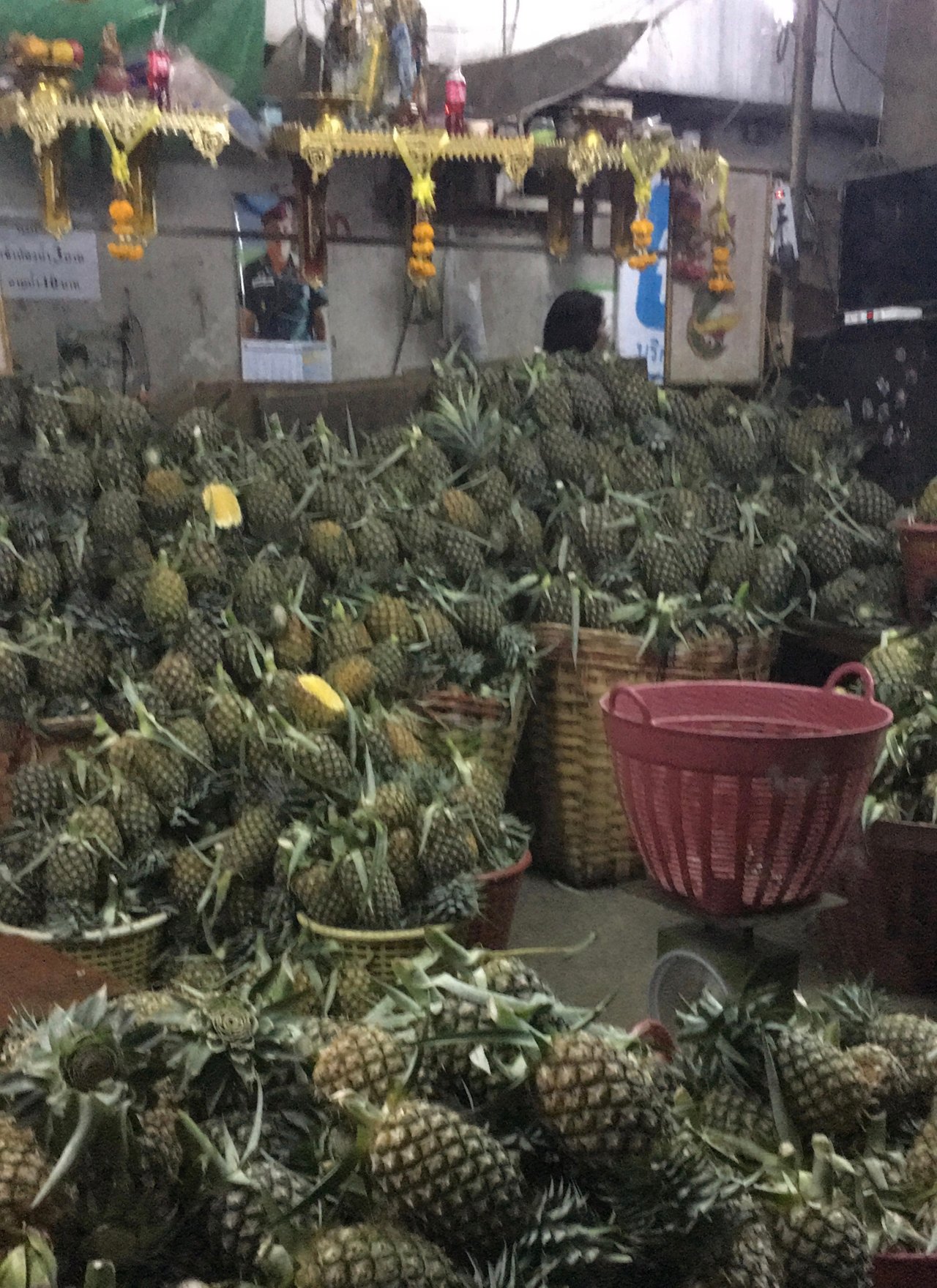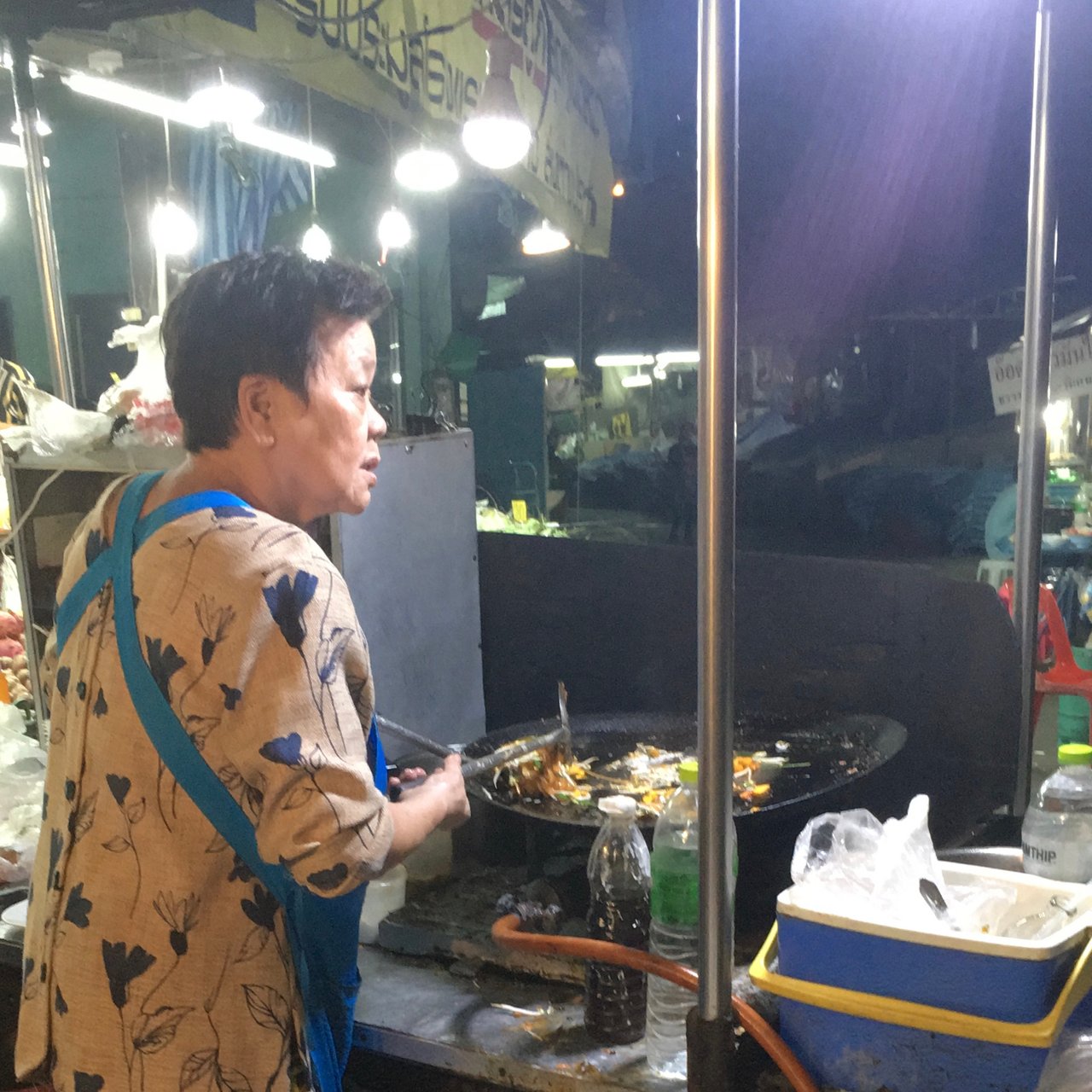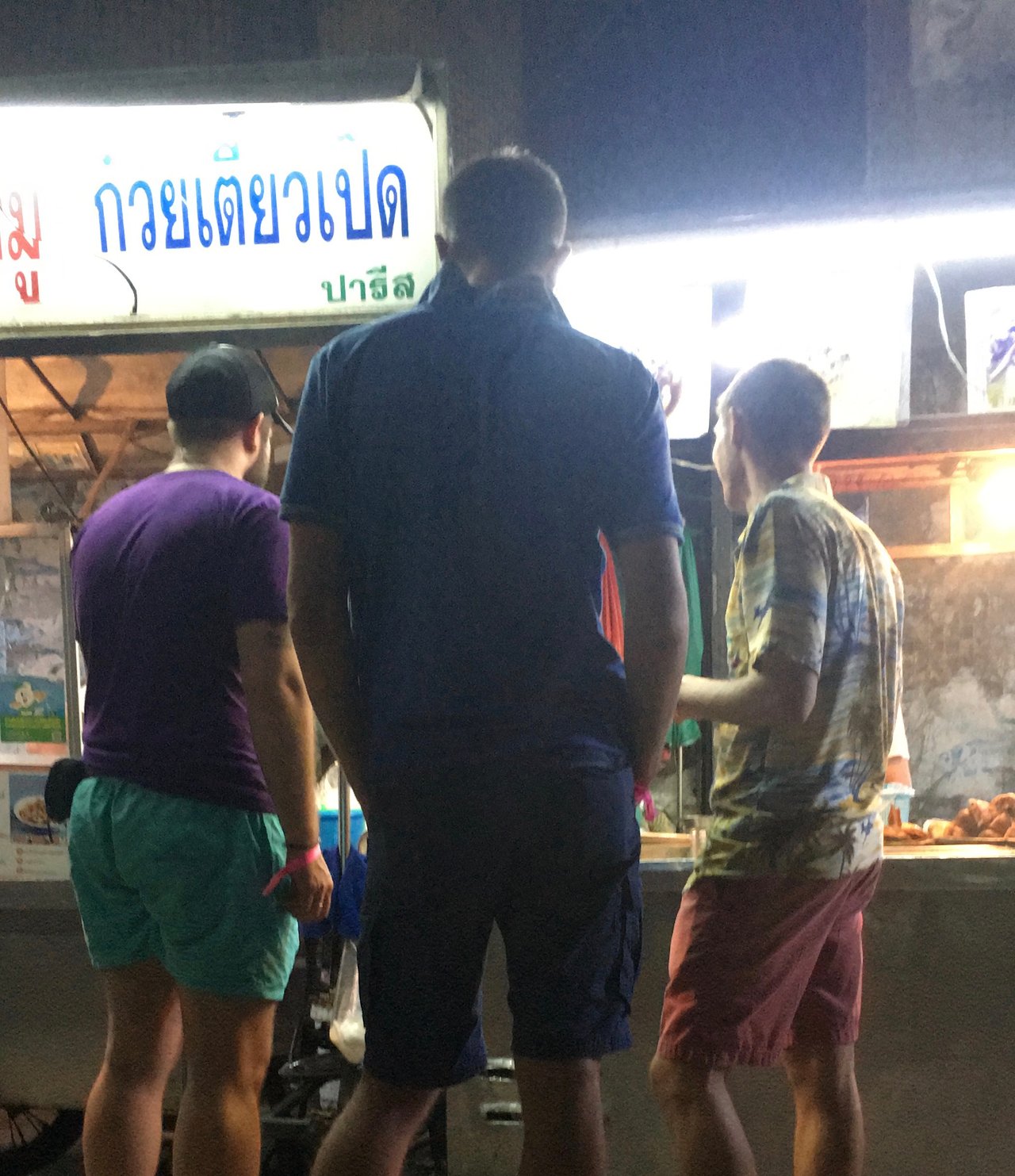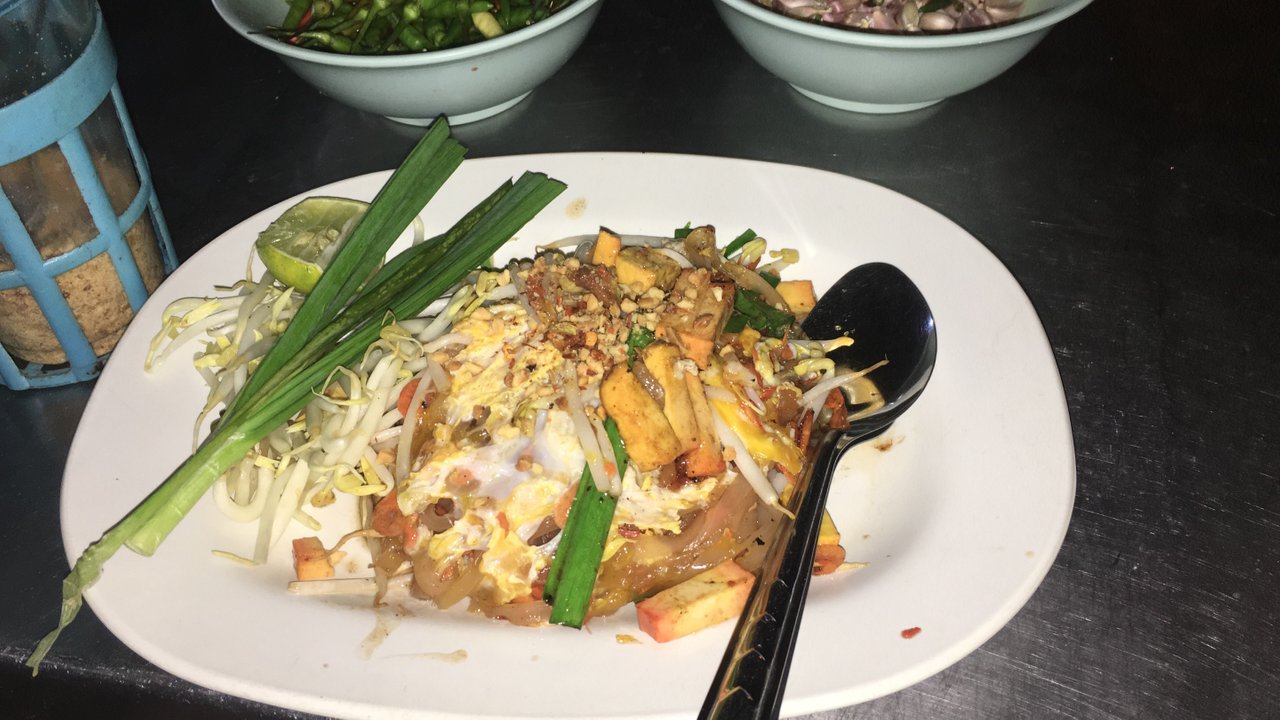 After that I just took a taxi back home and fell in my hostel dorm bed.
I really have to get going now to our last little get together here on the island.
As always I hope you enjoyed reading my post. Soon I will write more about the following days to make sure you know what we were up to at the conferences, activities and so on. You will read about how I did at bowling, lost some steem at poker and won it back at pool and then hopefully I see you next year /(again)!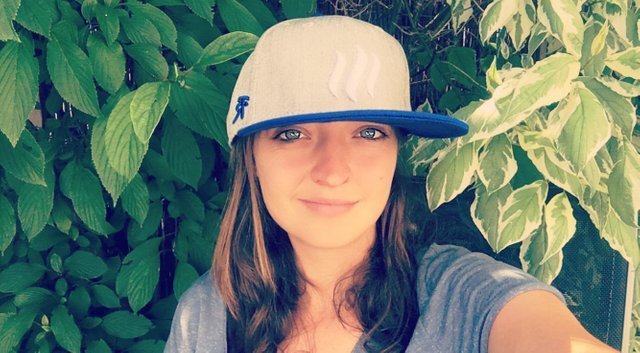 Cheers,
Liz