I made an explainer style video for @dTube a couple of weeks back, which can be seen here (if you're bothered to watch it)
It was produced and submitted over a ridiculously short 24hr(ish) period as part of the @steemonboarding contest thingy, sponsored by @blocktrades.
I don't know what it is about my work and tight deadlines, but I seem to give them to myself quite regularly. Even though there was two whole weeks to make it and submit it. I gave myself 24 hours.
There's something about working under pressure that makes the stakes higher and perhaps makes it all more exciting and focussed..?
---
Anyway, I said after submitted the video that I would write a bit about how I came to shoot it, what the circumstance and ideas were etc.
Over time I've made a few explainer videos for STEEM based DApps. See
Actifit, STEEM in 60 Seconds and some for Andre Gray Football Academy
I've developed a bit of a knack and a format to making them.
Usually it's a really simple breakdown and snappy visual demonstration of what the DApp is, what makes it special and how it works - usually compacted in to 2 feisty minutes.
That 2 minutes is taken from a few hours of scrabbling about last minute to get interesting/relevant shots, usually in my kitchen or living room, or around my neighbourhood...
With this latest video for @dtube I shot a lot of clips which were focussed on my camera itself - with dTube being about, y'know, videos.
It all gets a bit Inception-y at times, with cameras filming cameras, about cameras etc
Something I was drawn to immediately though as a theme for working this video around was the aesthetic of the colour spectrum that swirls around the glass of the lens as lights passes across it. It seemed like a fitting visual for a subject about videos.
It works as both a stand alone clip and as a segway in to a new area.
So I got on my thinking cap and eventually rigged up my Canon C100 and a 16-35mm lens with my GoPro, clipped on and stuck dead-centre...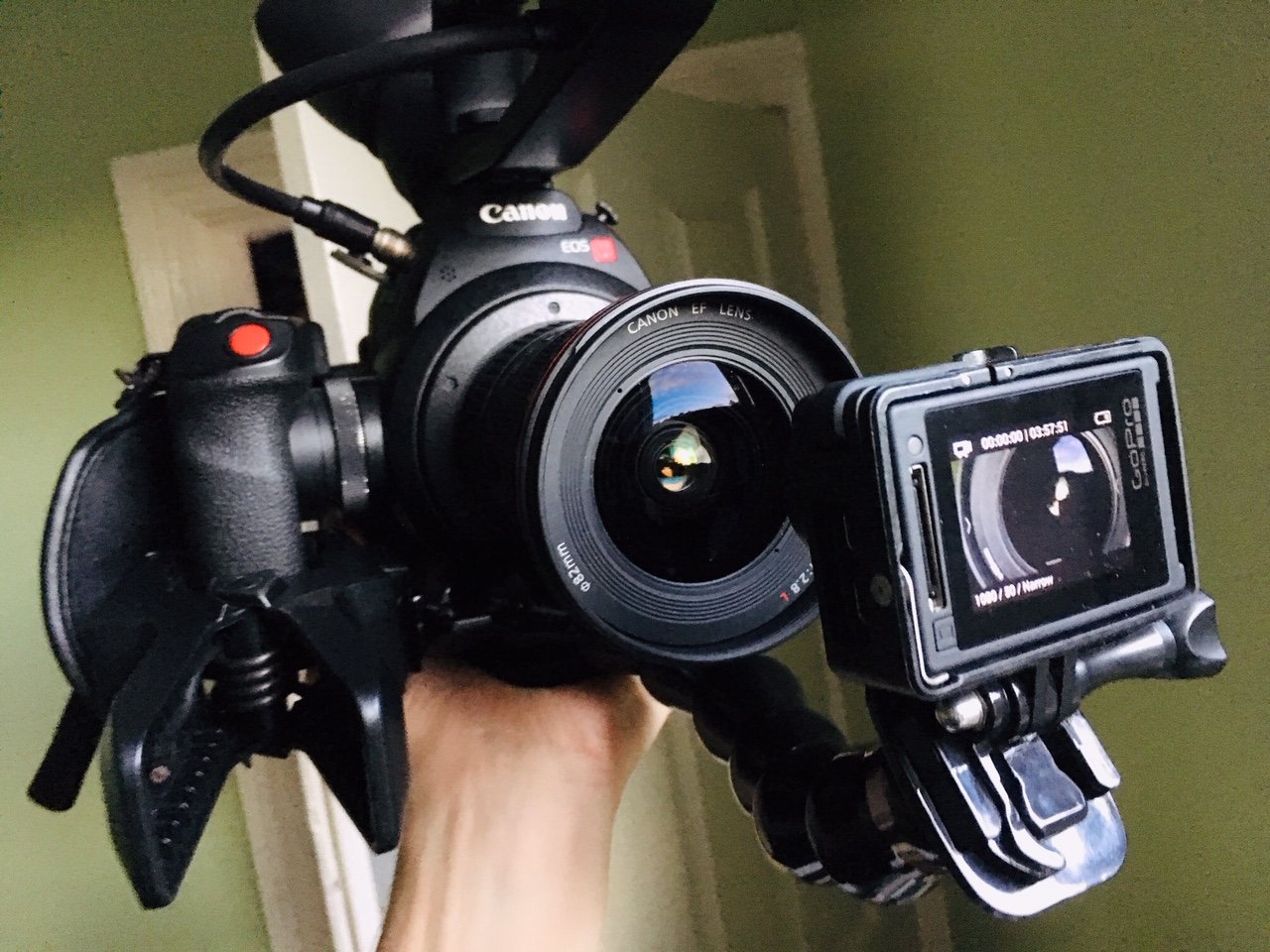 It's a rather hashed-together setup, but I feel it did the trick.
I was pleased with how this came out, especially spinning around in circles to give that rolling light effect. That clip played a fairly big part of how I wanted the video to feel.
I utilised the 'GoPro on the camera' look for a few other montage shots in the video too, ones where I'm holding and using it as it moves along fixed on one aspect, whether it be the handle or the lens as I go about using it..

Another element of the video are the moments where the various cameras are spinning against a background.
This was shot in an ad-hoc way in my kitchen against a white backdrop, which I lit in a moody grey style.
There were two lights up - one casting a backlight from high above picking out the shape of the camera body (of which you can see the tripod stand in shot too) and another in front of the camera body to the right filling the subject but also marking out a little halo/vignette line across the lower of the backdrop, which gives it some texture.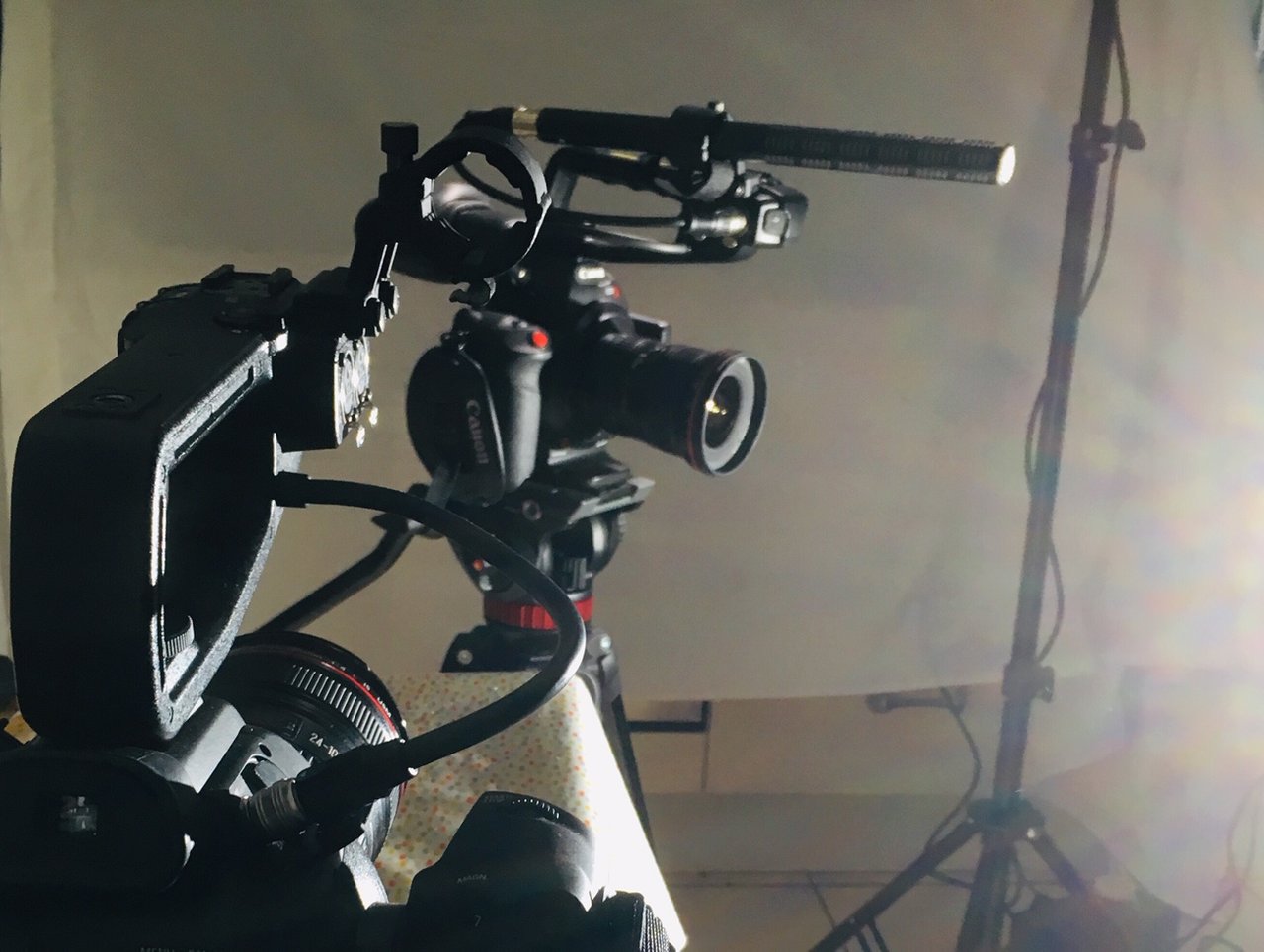 I recently bought a new trusty Manfrotto tripod which has an incredibly smooth fluid head which essentially allowed me to endlessly spin it around in circles 360..so I ended up spinning it the video and cutting it with other cameras on there too, for example the DSLR and the GoPro all interchanging to the music all the while shooting it with my other camera.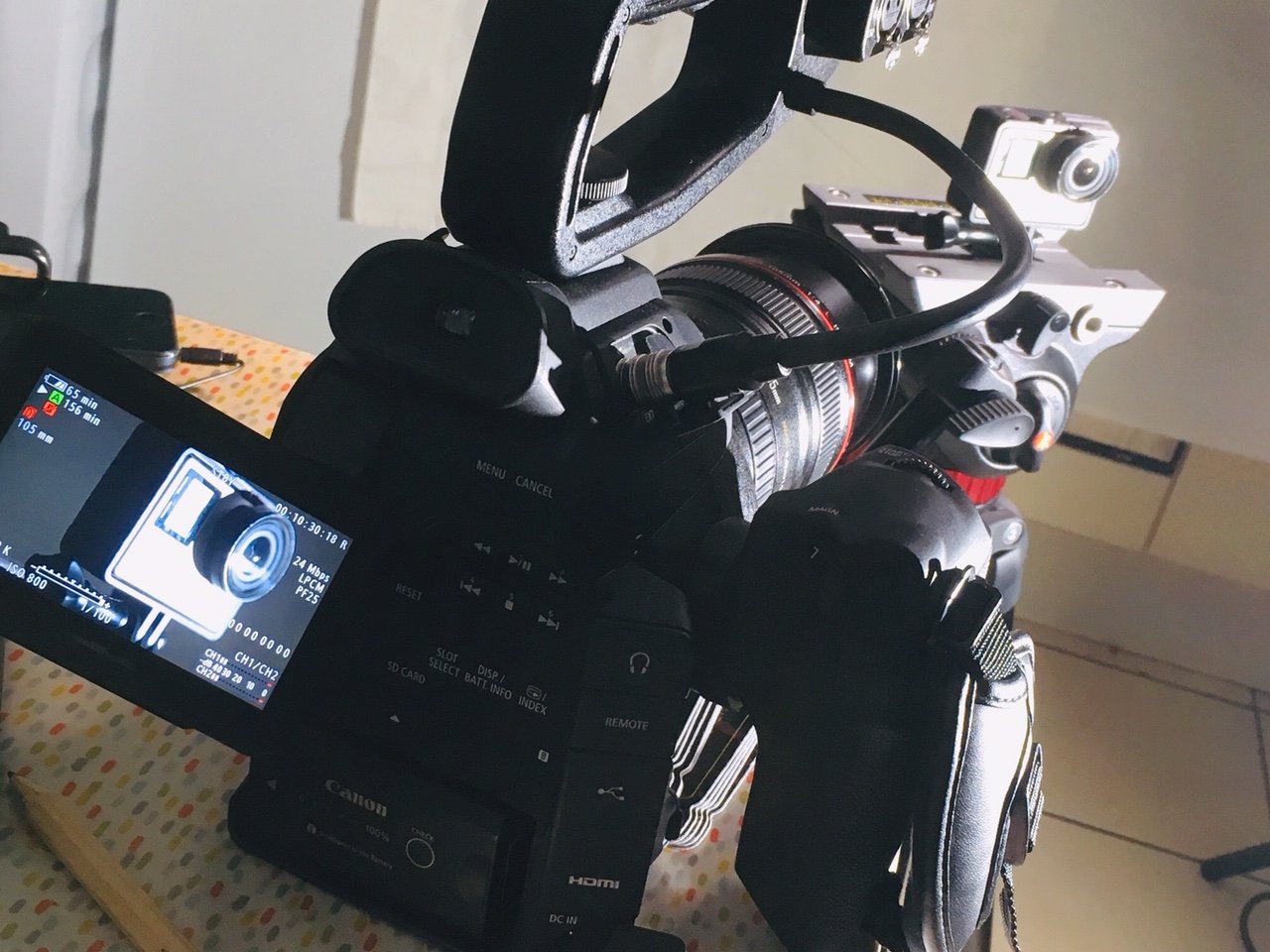 This was actually one of the first ideas I had for the video; for different cameras to spin around and interchange in the cut as it flashed along. It wasn't used as much as focal point as I first imaged but I'm happy it made it in to a section and wasn't wasted.
The last element of the video was also shot, hastily, in the kitchen - which was the talking head parts which forms the basis of the narrative of the video.
Again this was shot against the existing backdrop setup from the cameras, but I had to re-shuffle to make way from the correct field of view, focus, and make sure the mic was in position. Here's my point of view from when I was talking away :)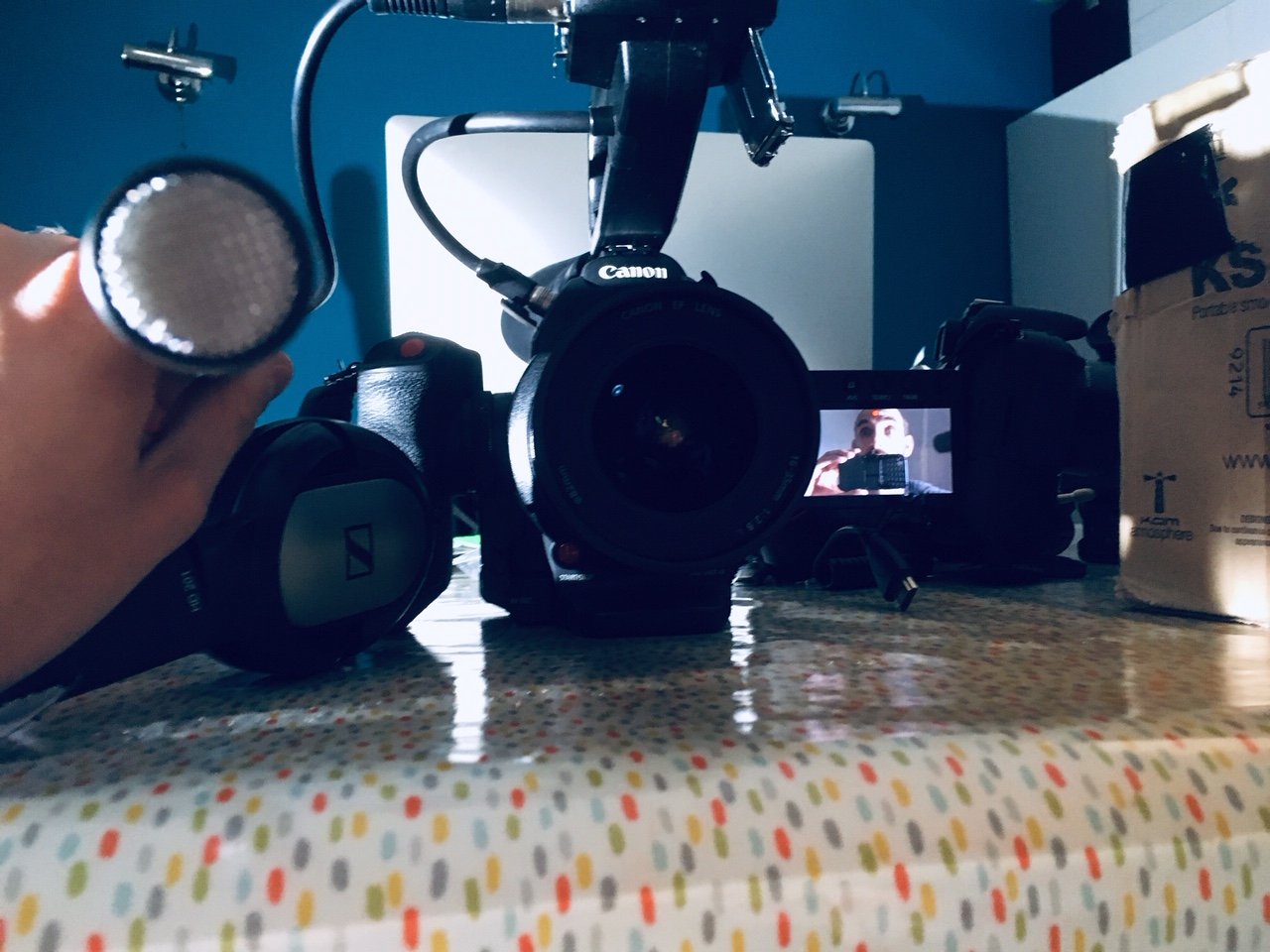 There wasn't much of a script in mind, as most of the talking to camera pieces I just riffed, such as the intro and outro, but a lot of the detailed talking about the features of the dApp were recorded in more of a scripted and detailed way as part of the voice over to tell the story.
This was key to video actually being understood.
Lastly, there were plenty of screen shots of the website in action in there, which I simply filmed from my iMac screen. I prefer to actually film the screen rather than do a super clean screenshot. The textures, focus, and colours (to me) seem so much more tangible than just using software to capture the action.
I'll end this post on a shot of my edit screen at approximately 2am in the morning of the deadline.
My eyes were tired and blurry and my mouth was dry. I was definitely ready to submit and go to bed :)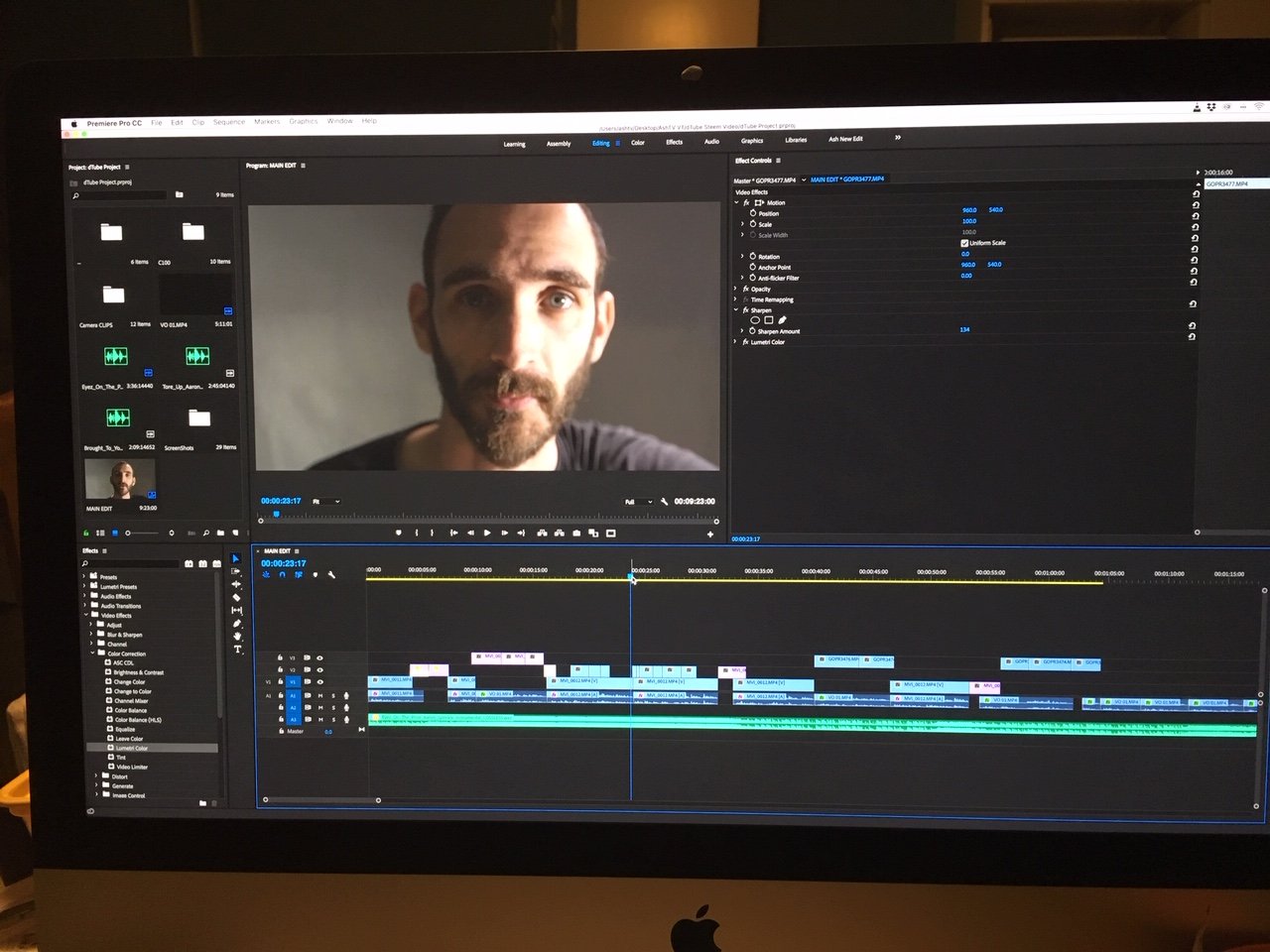 Thanks for reading and supporting my video work :) Cheers from @ashtv