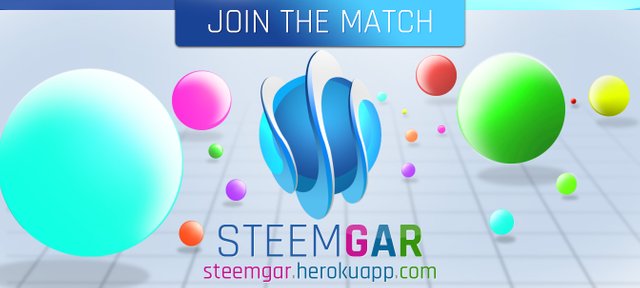 After a long hiatus Steemgar is back online operating on Steem blockchain. If you don't happen to know, Steemgar was one of the first projects that brought gaming to Steem blockchain. It seems using Steem for gaming has finally catched on in a big way and all I can say it's about time and I can't wait to see how complex games can get here. However, looking at the current gaming applications on Steem blockchain, Steemgar seems to still offer something unique that other games here lack. What is that you might ask?
Real-time, exciting and fast paced multiplayer gameplay where your skills matter most!
See for yourself in a example from Agar

As you can see, you aren't just clicking things and waiting for something to happen most of the time and no, you just don't get to watch your cards battle for you etiher. Instead you're the one in control and battling against other players in Steemgar, not your hired gangsters, spaceships or monsters. Is it more challenging? Yes! But at the same time it's also insanely rewarding feeling as you survive an intense battle as a top player! Steemgar is one of the few games that actually has managed to make my hand shake or pulse rise, it can get pretty intense, but you have to try it yourself to believe it! The experience of course isn't 100% same in Steemgar compared to Agar, but it's pretty damn close. In some aspects even better. Let me explain...
In Steemgar you can win real value with your skills. Winner gets Steem dollars and those who end up in top 5 gets upvoted by the service and hopefully by other players as well for being a good competition.
Steemgar is similar to battle royal. Each match lasts 5 minutes and every player gets 2 respawns.
There's a ticket system: Every match requires a ticket worth of 0.1 SBD from the player. So everyone in the match will have something to lose and to win! This will result in tough, competitive and fun matches for all.
If you've already read enough you should head to Steemgar websiteand also to our Discord
See you on the battlefield!
For those who are still here
Steemgar is looking for sponsors and partnerships! If you visit the site, you can see there's a space reserved to showcase each sponsor/partner. If you feel this is something you'd be interested in, feel free to contact @igster at the Steemgar's discord channel. Or if you might have some other ideas, you can always throw them at me, don't be shy.
More details about Steemgar
The service uses Steemconnect to handle your keys. Steemgar doesn't store them anywhere. Keychain integration is being looked into.

There's a new match every 12 hours. Hopefully as the service establishes itself more here, we can increase this number.

Each match requires a ticket. The player slots for each match is limited to 30 right now, meaning as soon as you know you'll be playing in the next match, you should make a payment to enter to ensure you get to play. You can pay hours before the match start and at minimum you should send it at least four minutes before.

Steemgar is meant for solo play. Teamwork is not allowed and will result in being banned. We hope to ensure the game is fair for everyone! The main goal is to have fun after all.

Everyone is equal! You can't buy anything in Steemgar to do better in game. Zero, nada, none!

Winner gets his Steem Dollar reward as a share from the ticket pool collected for that particular match, this means winner will get more Steem dollars for each player who joined the match! So share the word and enjoy bigger rewards! The minimum reward for winner will always be higher than the ticket price for the match.
To celebrate the new launch of Steemgar, the cut for the service itself will be lowered until further notice. Below you can see how the number of players in match affect the rewards for the winner
Match of 1 player: 0.15 SBD reward
Match of 5 players: 0.42 SBD reward
Match of 10 players: 0.82 SBD reward
Match of 20 players: 1.62 SBD reward
Match of 30 players: 2.42 SBD reward
That's about it in short. There's more information available at the site and in our discord.

I personally hope we get to experience many exciting matches together!
What are you waiting for? Show your skills and take the rewards with you at:
https://steemgar.herokuapp.com/