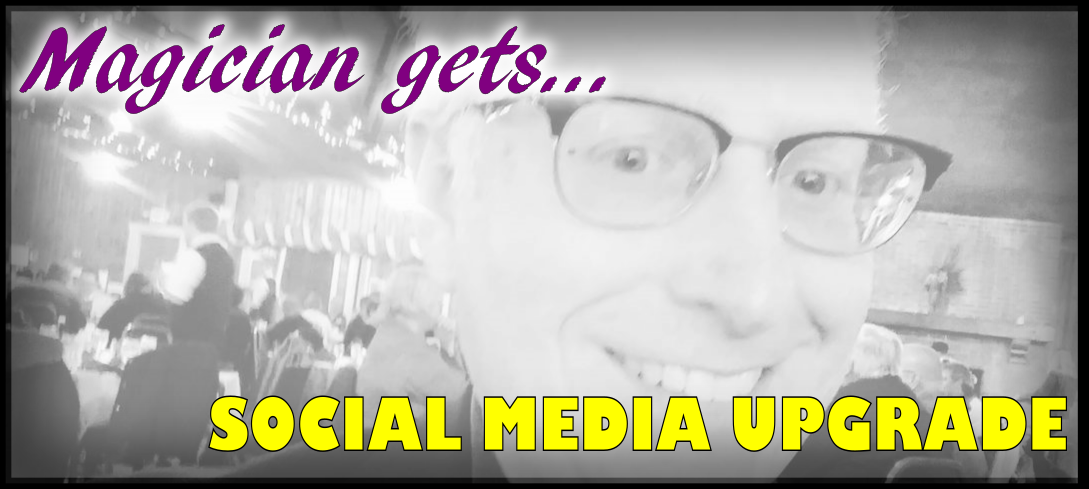 I'm going to be honest with you. I've never done this sort of thing before.
Six years ago, I upgraded my hobby in magic, to doing it professionally part-time. I found that there's a real need in my community for someone to do these sorts of events. I got a hat and started busking at festivals to improve my chops. I performed private parties, and gradually expanded my repertoire. My magician business is really going like gangbusters, but mostly by my reputation from reviews on expensive gigging services like Thumbtack and Gigmasters. I had to admit that I was not so good at seemingly simple things, like Facebook promotion.
One part of the business that I always was terrible at was the marketing. On stage I am confident and fun. My "character" of a magician is mostly just that, a projection of what I'd like to be. In private, I am introverted, so "tooting my own horn" does not come naturally to me. So, when it comes to social media promotions, and have an irrational avoidance of it coming across as "spam"... even to people that have signed up to get updates from my business page on social media. After 6 years of this, I had only a few dozen followers in Facebook.
Furthermore, I had just scored my biggest gig yet! I will be the headlining performer at a bar doing a comedy magic night. This is a bar in rural Indiana, but a big score for me! It's less than 5 miles from where I grew up, so I'm pretty excited about performing for my home-town crowd.
I needed someone that has gone down the social media road before and could do it. I wanted to worry more about the art of entertaining my audiences, and less about the art of marketing.
Then, enter @keciah. She and I had both signed up for the Steem-based coalition, the Steem Freelancers Guild. We struck up a chat in the forums there. As it turns out, she was pretty experienced in social media. She's promoted her own blog on social media, and has thousands of followers herself.
Admittedly, this was pretty weird — hiring some stranger on the Internet. However, Kecia listened to my ideas, and came up with ideas of her own. That back-and-forth conversation made me confident that she could do her stuff! I asked her to propose a work plan, and I countered with a slight modification plan of action and price, and she agreed to it.
Somehow, handing it off to Kecia has made reaching out to my audience much simpler. Hiring her took a big load off my shoulders. Keciah just posted "my" first Facebook post, and we had some instant engagement and shares by my audience. It's gone swimmingly! She followed that up with this Instagram post today. She's not done yet; she's still got one more Facebook post and one more Instagram post later this week. And we've got yet more posts planned for next week!
If you're interested in "social media" or "magic" or any number of crazy odd-jobs that you could use help on, there's probably someone out there to do it. There's probably even someone on here who will even do Steem that can help you out. All you need to do is keep an eye out for the #steemgig, #freelancing, or #sfg tags.
Credits