Have you ever played a board or card game and thought, THIS COULD BE BETTER!? You're probably like me, sitting on the next great game idea. You knuckled down and pieced together a good prototype. Your friends love the game, and you've heard whispers of "Kickstarter" with your friends. You want to take your game to the next level.
You've got the passion to make it come together. What you now need is a neutral third party who shares your passion of tabletop gaming and has an actual university WRITING DEGREE. You need someone with a passion for games to look over and improve your work.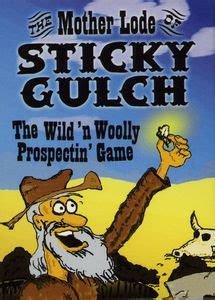 My published card game, The Mother Lode of Sticky Gulch. Design, illustrations, publishing, marketing, and all done by me.
Why I'm qualified.
I have over 25 years of published playtester credits notched into my belt. My playtester and rules review credits started in 1991 with the venerable "Cosmic Encounter" from Mayfair Games. Since then, I have playtested dozens of published games, including the 2016 Kickstarter mega-hit Gloomhaven and its sequel. I am a 10+ year veteran of the playtesting convention Protospiel. I've owned my own game company, and displayed a booth at Gen Con, publishing and selling my own card game, The Mother Lode of Sticky Gulch. I'm one of the few people in the games industry that has multiple game designer and game illustrator credits in the BoardGameGeek database.
What can you get from me?
I know the roadmap to navigate through the game industry, and can help guide you with your next game project. I can offer editing and rules-crafting assistance, or even bring your game to my regular playtester group. I will mentor you through every part of of the process—initial ideas, prototyping, publication, marketing, and beyond. I have connections with publishing houses, professional game illustrators, and all the inside game industry connections to make your game a success!


Service
Cost
My personal
rules template
0.1 SBD
Review & quick
advice about rules
0.5 SBD
Editing session
1 SBD for 30 minutes
Playtest and full write-up
5 SBD
Mentor session
5 SBD first session,
2 SBD thereafter
Of course, if you are a member of the Steem Freelancers Guild, I'll give you a 25% discount on the prices above. That's just how I roll!
So, if you are thinking about publishing your own game, or just want to make it better, bring the playtester experience to your project today.
The more you know….
Credits
Steem Freelancers Guild logo designed by @Grow-Pro and used by permission
Header otherwise designed by author
Special thanks to user LenaDr, and others from @TheWritersBlock for editing advice.
Logos below of the Freelancer's Guild and The STEEM Engine Initiative owned by the respective groups.