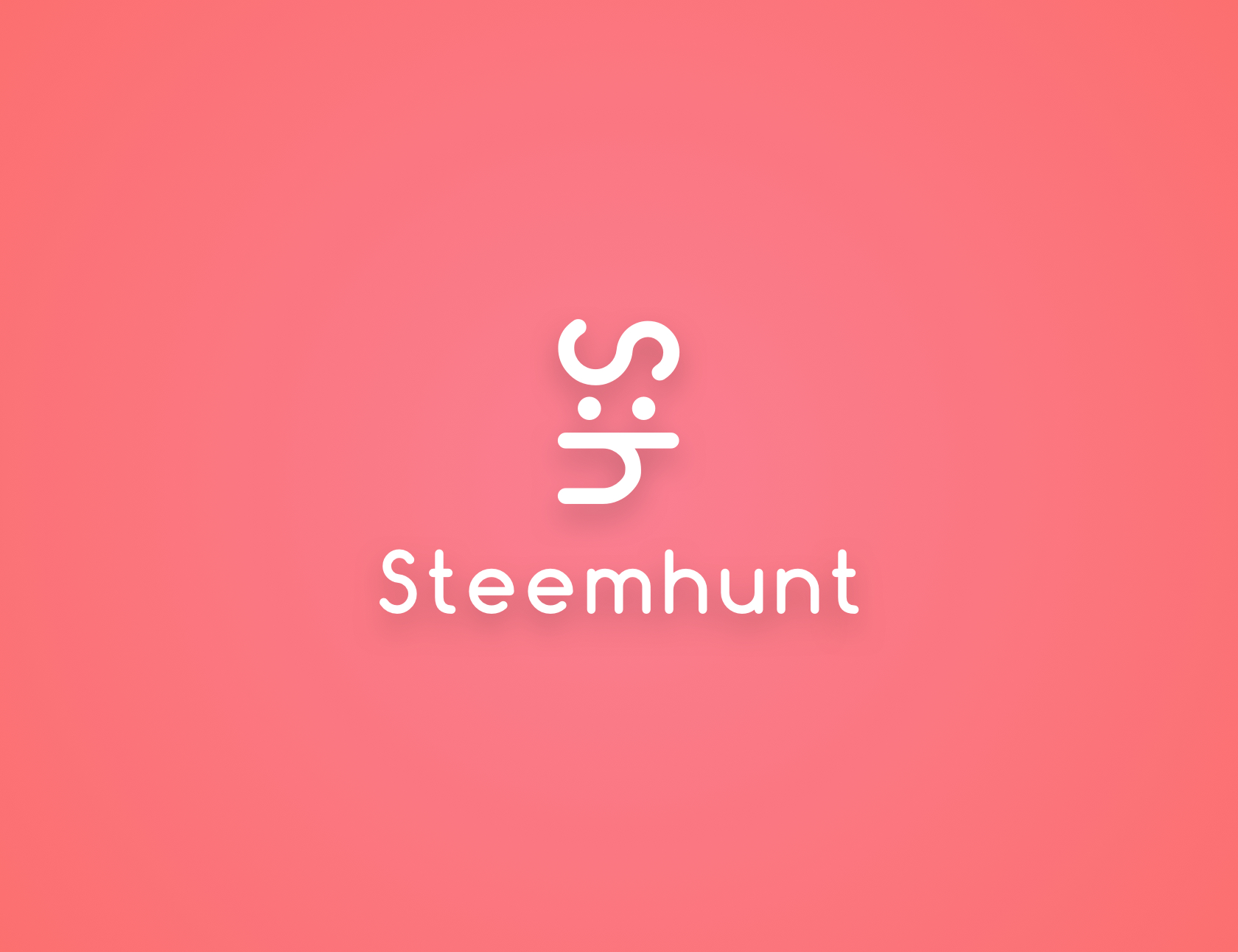 Hello hunters!
Today, we finally announce the new ranking system on Steemhunt - ABV (Account Based Voting) Ranking System.
Background
Steemhunt is built on top of Steemit which uses a stake-weighted voting system. The philosophy behind this system is that the highest SP holders will behave in the best way to support the value of the platform. It was intended to enhance the linkage between the quality of content and its reward. As Steemit also experiences the same issue, the stake-weighted voting system is failing because top hunting posts are occupied by upvoting from bid bots, subscription bots, curation tails and self-voting, which is irrelevant to the hunting quality.
To create the ranking board where the most valued hunting posts can have higher rankings, we decided to change our ranking system to the account-based voting system.
Introducing ABV (Account Based Voting) System
The basic idea of ABV is "One vote is one vote regardless of how much Steem Power the voter has." This means that the hunting posts with the most upvotes will have a higher ranking. This new system has five important pillars.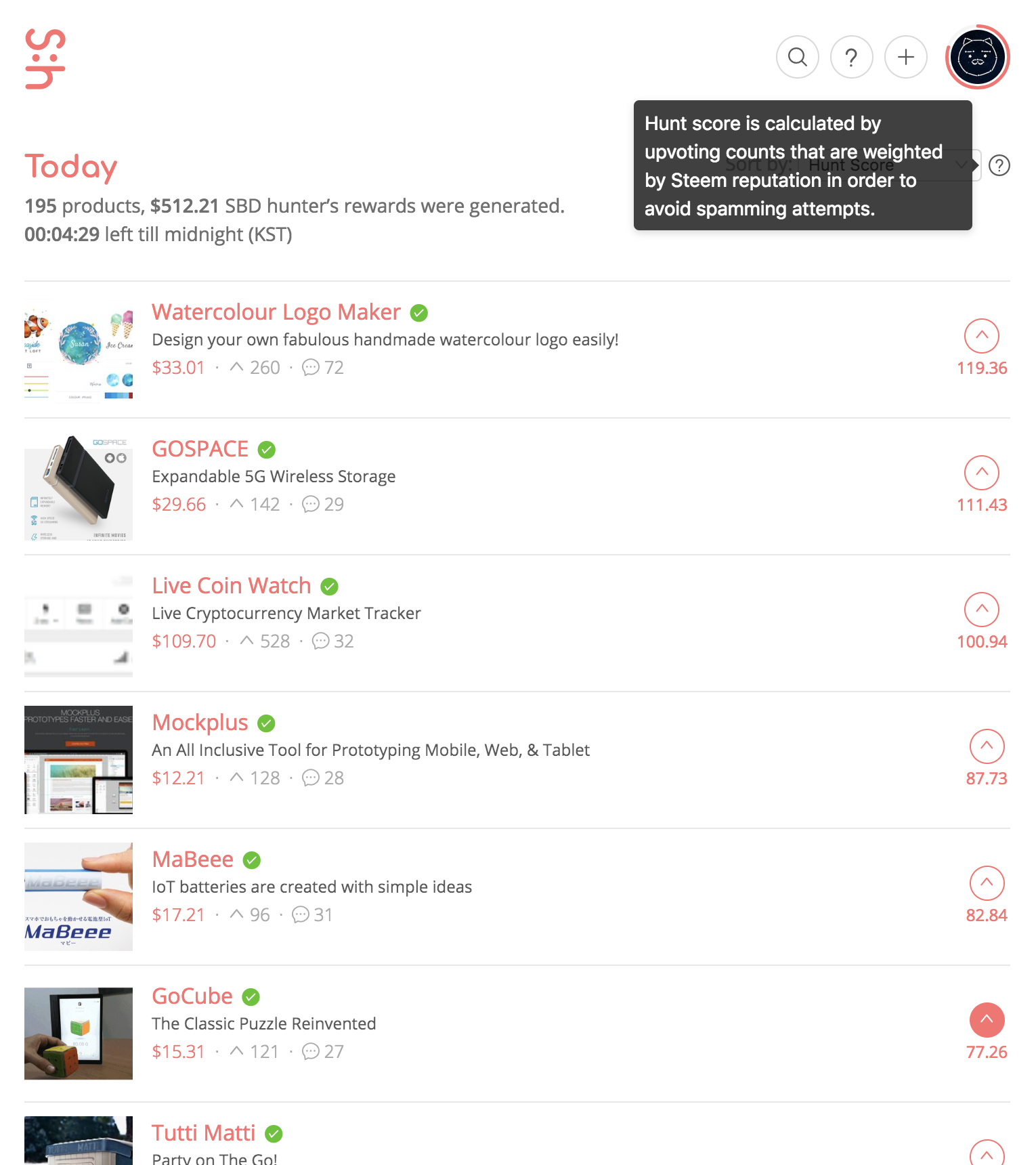 1. All hunters have 1 score per upvote.
Regardless of the voting value, every hunter has 1 score to upvote based on their set voting power. For example, if you upvote a hunt with 100% voting power, it will be counted as '1 score.' If you set 50% voting power to upvote, the score will be 0.5. So, the hunt scores are not relevant to the amount of the upvoter's SP.
2. Self voting is not counted.
In our scoring system, the upvoting score from the owner of the hunting post won't be counted. You can still increase your payout value of the post, but it is not possible to increase the hunt score by self-voting.
3. Only upvotes via Steemhunt website are counted.
We've noticed that hunters with many followers or curation tails have more upvoting counts even though most of the upvoters are not hunters. We don't think this is fair, so we have made changes to our system. The hunt score will be calculated by the number of upvotes made only via the Steemhunt website. In other words, your hunt score will be added only when the real hunter has upvoted you post.
4. Steem reputation score will be weighted to prevent fake voters.
One big issue with the ABV system is that it is far easier to create multiple alternative accounts and try to upvote on their posts, which will obviously affect the ranking. To prevent this abusive behavior, we decided to utilise the Steem reputation score with voting weight based on the score level. The weight will be multiplied to the hunter's voting score as below:
~ 34 => voting weight x0
35 ~ 44 => x0.5
45 ~ 54 => x1
55 ~ 59 => x2
60 ~ => x3
This is designed to minimise the voting impact from new alternative accounts. Hunters with a reputation of less than 45 will have a 1/6 reduction in voting impact than hunters with a reputation of at least 60.
5. Blacklist
Steemhunt will run a blacklist to prevent abusive users from disrupting our ranking system. Abusive actions are highly prohibited in Steemhunt, and any users who attempt any of the following abuses will be blacklisted:
Asking/accepting vote for vote offer
Buying/selling hunter's upvotes
Creating/joining a guild for vote for vote activities
Running a contest or giveaway to get more upvotes on Steemhunt
Running alternative accounts that are used only for his/her own hunting posts
Any other actions that the Steemhunt team deems to be abusive
If the user is blacklisted because of the actions listed above, the hunter's voting weight will be x0 for 30 days. This means that the user's upvoting won't affect the ranking for 30 days.
Alert System
To keep our ranking system clean and fair for all hunters, Steemhunt will run two main alert systems.
1. Bounty Rewards for Reporting Vote4Vote Attempts
If you find some users trying/running/accepting Vote4Vote actions, please report them via our Discord channel with a screenshot of the evidence. Then you will receive 1,000 HUNT tokens per blacklisted account. For example, if you report a Steemhunt Vote4Vote chat group where there are 10 hunters with screenshot evidence, and they are all blacklisted, you will receive 10,000 HUNT tokens as a reward (1,000 x 10). You can report them via the following ways:
Join our Discord channel - https://discord.gg/mWXpgks
DM to @project7 or @tabris with 1) the case description, 2) the screenshot evidence, and 3) your Steemit account name to be rewarded
After the investigation, we will send the HUNT token reward to your account
2. Detection Algorithms (coming soon)
Steemhunt will also run an automated algorithm to detect the abusers who use multiple alternative accounts to upvote only for his/her own hunting posts. Our detection algorithm will continuously notify us of the possible abusive users via the following methods:
Using IP address and Cookies to detect one user who owns multiple alternative accounts - Steemhunt constantly utilises the combination of IP classification and Cookies to analyse whether the upvoting actions of one hunting post are made by the same user with different accounts.
Cross-Diversity Index (CDI) - We will create an algorithm to detect Vote4Vote actions by using cross-upvoting diversity index. This will be a quantitative measure that calculates the diverse upvoting history of hunters by cross-checking all accounts. If some user groups have a CDI lower than our standard, Steemhunt will automatically flag the user and potentially blacklist.
Voting Criteria
Steemhunt is a COMMUNITY-DRIVEN COOL NEW RANKING BOARD. This means that our community members decided that the product is cool enough to be ranked high by their upvoting actions. This is one of the most important differentiated values from Product Hunt, which features only a small number of hunting posts by the team's subjective criteria.
To maintain the quality of the ranking board on Steemhunt, it is highly important for all hunters to know what products deserve to be ranked higher than other products. In Steemhunt, we hope hunters upvote more "Cool" and "New" products considering the criteria below:
Is the product "Cool" enough? - When a hunter decides to introduce the product to our community, it must not be a generic product. It should have some killer features that make people say "wow." So, you should upvote a hunt only when the product wows you.
Is the product "New" enough? - Whether the product feels new to community is very important. However, the "new feeling" can be different to everyone based on whether the person already knows about the product or not. So, please do not upvote products that you think are already well-known to the public.
From now on, you are completely free to use bid bots
Since our ranking system is irrelevant to the upvoting value, all hunters are COMPLETELY FREE to use bid bots, subscription bots, curation tails, self-voting, etc. The default ranking chart will be based on the hunt score from the ABV score system, so bid bots will not affect this. In fact using bid bots will benefit the Steemhunt community because it increases the overall hunter reward. So, we welcome you to use these!
THIS NEW ABV RANKING SYSTEM IS EFFECTIVE SINCE JUNE 14TH, 2018 KST.
...


Please follow @steemhunt account and join our chat channels (Discord is more active):
---
Steemhunt
A place where you can dig products and earn STEEM.
Steemhunt.com
Support Steemhunt with Steem Power Delegation:
500 SP |1000 SP |5000 SP |10K SP |20K SP |50K SP |100K SP
More information about our Sponsor program is here
More information about HUNT Token Airdrop is here
Support Steemhunt by following our curation trail