Yes, that's 10k, 10000 dollars... @booster, @fyrstikken, (and anyone that cares about steemit being abused) you might wanna pay attention to this... As seemingly after a month of ongoing abuse of your voting bot, more specificly your frontrunner guild, it is still in the process of being abused. And heavily so!
Along this post I will be exposing the #1 Abuser and how he/she has managed to take an estimated 10k dollars in a month's time.
Many different users have taken advantage of this abuse, myself included. To be fair, I did it to a minium and lost some money in the course as well, due to the bot itself being bugged and giving me half of its votes when used legitimately. This also being the reason I whasn't sure whether to make this post in the first place. Anyways, this thing is getting pretty ridiculous, to the point where its right in hindsight... Just a single look at the transactions being sent in, and the obvious is to be noticed instantaneously.
Let's start shall we
So to start with the obvious, take a look at some of these recent transactions being sent in towards @booster.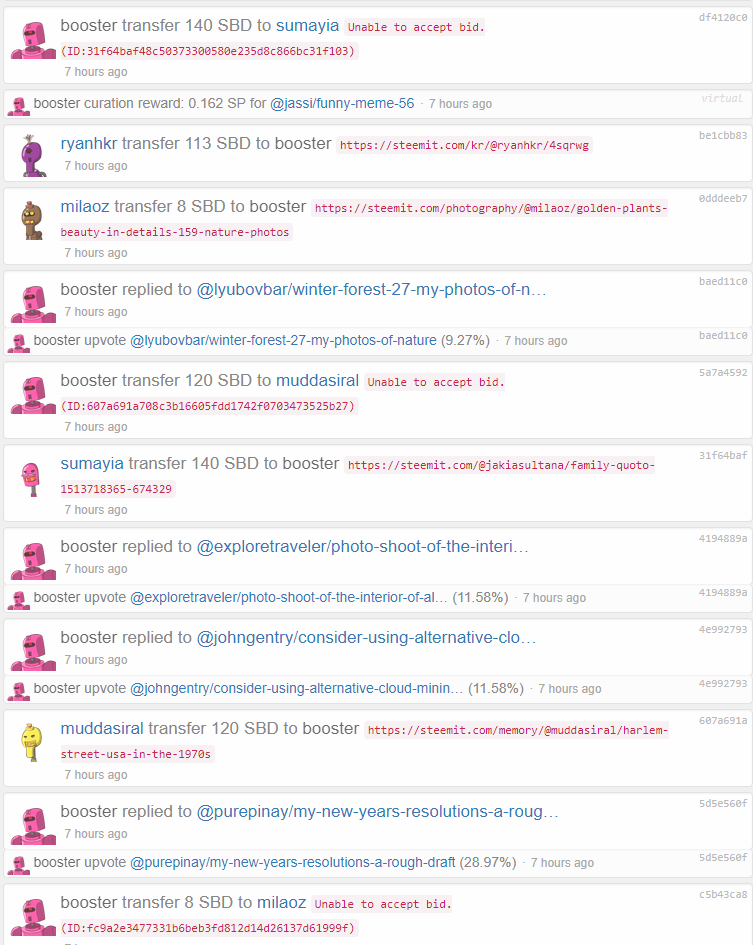 @Booster is a bot with a current vote value worth circa. 188$. This means sending in a 100+ SBD transaction for a vote would be far above the chance of gaining a profitable ROI (return on investment). There might be someone crazy enough to do so, but 3 different persons in a matter of less than a minute of one another... that means something is off.
The second thing is the fact that the transactions get sent back.
Go ahead and take a look at the post, which at the time of posting this is at 70 dollars of vote value. Currently this is one of the highest vote-values gainable (total pool), and basicly gotten for free by using the abuse. With that being said, it used to be almost double of that.
How the abuse works
Don't worry, it can't be abused any more than it already is. So explaining in detail how it works won't make it any worse. And hopefully this way it will be looked at and understood by the owner, @fyrstikken.
The @booster bot has a frontrunner guild tide to it, which has the purpose of giving pre-accumulated votes from users who signed up for it. So that once the bot itself starts voting they get curation rewards for it. This pre-voting is also one of the things that made the service so profitable for its users. Sadly, this abuse is now taking those votes away towards the abusers, and away from its legitimate customers.
In time the abuse seemed to have slightly changed, it used to screw up @booster's votes in some occasions, giving just half of its vote power in a cyclus (so instead of 100%, 50%). This however doesn't seem to be the case anymore as of now. I have noticed some more changes, which if requested so I could go into more detail about. For now lets stick with how it currently works.
Step by step this is how it works
Wait for booster to start upvoting, once it starts voting (and as long as its in its voting cyclus), send in sbd/steem
Get refunded due to @booster not being able to handle transactions while voting
Be the highest bidder in the period of time (voting cyclus), and get "rewarded" by the frontrunner guild
It's as simple as that. Second or third place might still get votes, but fairly less compared to the highest bidder. Again, this used to work slighty different when I first encountered the bug, as along time the abuse seemed to have changed somewhat. During so Iv'e seen some of the greatest frontrunners being drained rather quickly. The biggest ones being @done and @bcc, giving combined votes of almost the current reward pool of 70 dollars. But they at last seemed to have noticed and left the frontrunner guild.
Now let me introduce you to the most nifty abuser of the month! (congrats to you?)
@sumayia or @bright-side, @arnobtogor25, @antor, @antor143, @rihadkhan, @mrpabel, @jakariashikder, @jakiasultana, @zakariashikder, @hasibur, @promita, @photographer2, @sorgo
Yes, I suspect all of these accounts to be of one and the same person. I likely still missed a few. Honestly it's hard to keep track... Just check the transactions between the accounts going forth and back from one another. Which most likely is done so to avoid suspicion in case one gets noticed.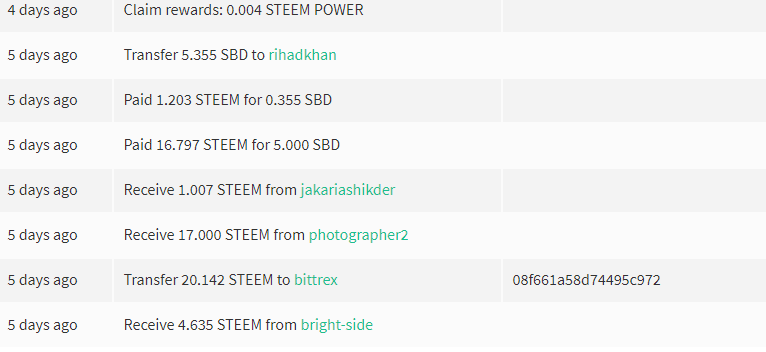 As this person has at least 15+ accounts, it's also very hard to predict how much abuse has precisely been done by this user. But seeing as how high the rewards have been in the last month with @booster alone, combined with the current Steem dollar being so high, it's safe to assume a sum of 10.000 dollars this month is a solid estimate.
A lucrative business one could say...