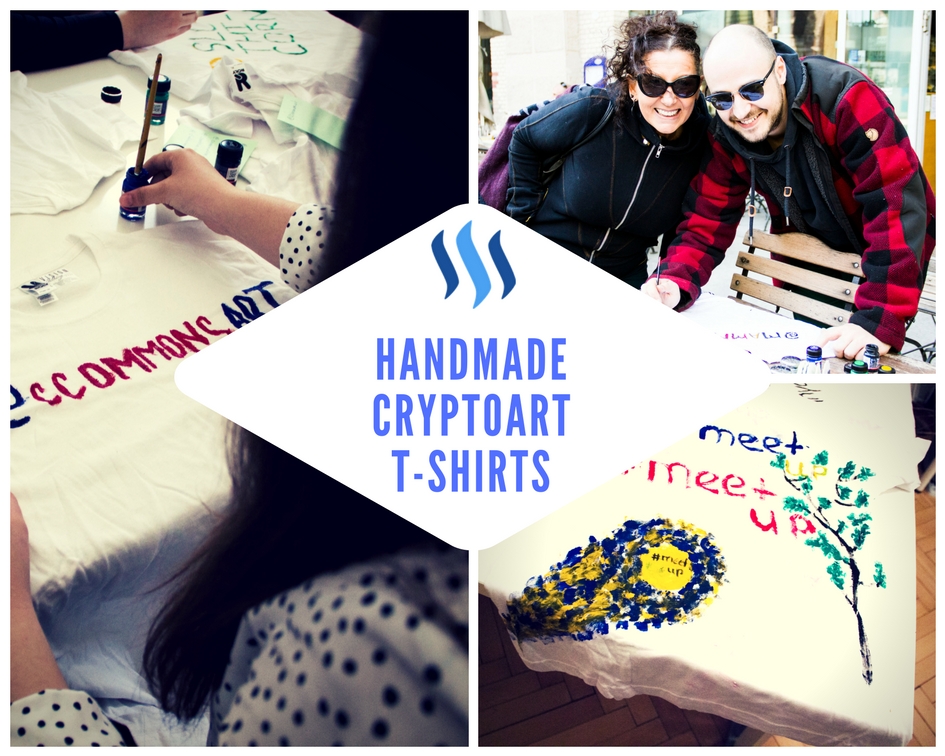 Tomrrow and for the next two weeks with the help of @ccommons.art & friends, @globalschool participants will hold a serie of #cryptoart @workshops in Vienna to co create a serie of original handmade t-shirts with the participants of the "steem and eos com-lab".
As Juli, one of the 8 participant of this 3rd cycle of 2018 at the @globalschool loved the idea of developing a handmade t-shirt popup designer studio to support contributors of community projects such as #creative-commons, @ccommons.art, @globalschool, @inyoursteem or the recents @frameworks, @workshops and @solidarity.
Get a handmade t-shirt to support co-creation
This article is an @ideamachine community project proposal co-written with the aim to support notably #slothicorn, #creative-commons, @ccommons.art, @globalschool, @frameworks, @inyoursteem, @workshops, @hackathons and @solidarity contributors.
Why?
To make the support of creativity & entrepreneurship empowerement accessible with a form of reward for the supporters with one of a limited serie of handmade
#CryptoArt
t-shirts and its 7 days of bidding.
Help initiate self-sustained rewards systems to reward #creative-commons, #ccommonsart, #inyoursteem, @globalschool, @frameworks, @workshops and@solidarity contributors.
How?
Bid min 10 SBDs. Regularly these next weeks we will share a serie of new creations on which you can bid on from their early stage of creation. Put in reply your bid in SBDs with the name of the t-shirt. The biggest bid will receive the T-shirt.
After a week, the highest bidder will be announced by a post on @inyoursteem with further explanations and the final results. When the transfert is done, you'll receive your original handmade t-shirt with a little surprise from us! =)
Select your t-shirt
Early stage of creation of the 1st serie. Other pictures of next stages and results will follow in next posts.
---
This serie of 4 t-shirts is not finished yet, they will be finalized this Tuesday or Wedensday. We'll keep you updated!
---
---
More to come soon...
---
Participatory budgeting proposal
Generating rewards to support creatives
If you all agree and love the idea, below, you'll find a proposal on how the min 10 SBDs bid can be used.
Equipment costs
4 SBDs to ensure to replace the stock of t-shirts (offered to the project by
@generationeuropa
) with newones to ensure new
#cryptoart
@workshops
participants to enjoy! The amount should cover the t-shirt, logo(s) prints, paint and logistics costs, such as sending the t-shirt and considering the flucutation of the steem value.
Community empowerement
6 SBDs will be shared between the different accounts
@ccommons.art
,
@inyoursteem
,
@globalschool
,
@frameworks
,
@workshops
and@solidarity.
Steem power delegation
50% of the amount above the 10 SBDs will be invested in SP to power the various community projects.
The other 50% of the amount above the 10 SBDs will be sent to
@solidarity
to ensure a good cooperation with
@inyoursteem
helping steemian in need of urgent help.
Your participation in a co-creation of a t-shirt will raise its value! Join us one of these days!
What do you think about this proposal? I am looking forward to read your inputs, see you participating and supporting this initiative!
with a lot of love,
Jean