This might just be the simplest recipe I'm submitting for SIC ever. I made it not once, but three times though, due to my dissatisfaction with the results my first two rounds (all the photo proof tags state the same date, because I saved my li'l piece of paper =D).
The first time, the smoothie consistency was not thick enough; the second time, I forgot to include bananas (the week's theme food product!!) in my topping.
Thank God I was able to finally get everything just right at the third try. And just in time too!! Thanks to the repeat attempts, the supermarkets being closed for two public holidays, and a week of work shifts, I'm typing this out just hours shy of the deadline. Yikes!
DISH NAME (Breakfast Main)
Red Berry Banana Smoothie Surprise Bowl
Having gone through a smoothie craze phase in my teens, I've made my fair share of smoothies (those that you drink outta a cup). This one comes with a twist though. I'm finally going to take my skills to the next level by making a smoothie bowl!!! It's a first time for me, but it's not too complicated. I just need to have a thicker smoothie base than normal.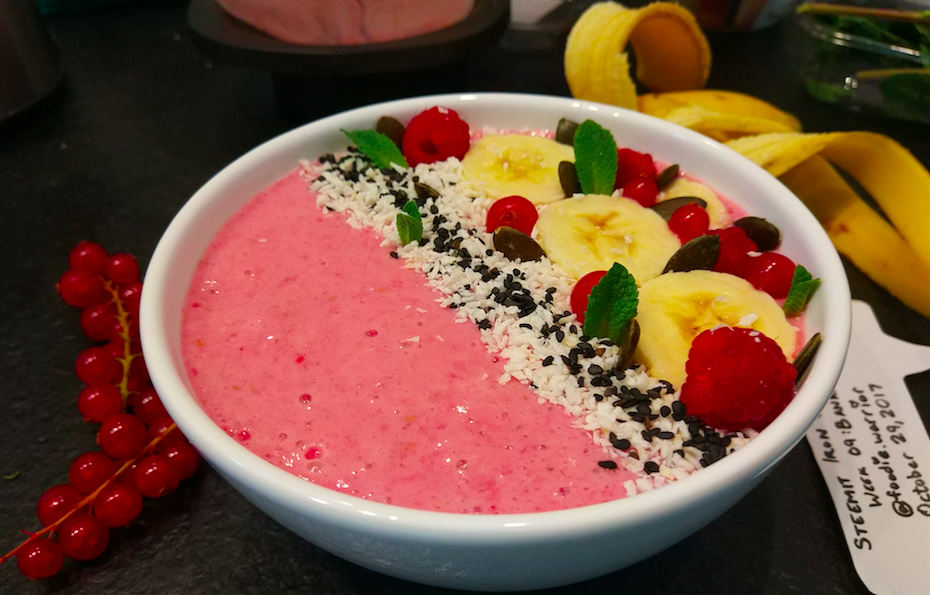 Component #1: Strawberry Banana Smoothie Base
Why does a Smoothie Bowl need a thicker smoothie base? Firstly, you want to be able to eat spoonsful of the smoothie without sloshing liquid everywhere. Secondly, you'll want to be able to place artsy-fartsy, insta-worthy decorations and toppings and have them stay put without sinking while you whip out your camera.
Flavour is also very important to me. The frozen berries that I used were the ones I'd hand-picked at a farm during peak strawberry season and frozen in ziplock baggies. I also chunked and popped a deliciously ripe banana into the freezer each night before I made a smoothie. Frozen banana gives smoothies an incredibly creamy and smooth texture. I still added in small amounts of creamy liquids to allow the blender to work more smoothly and to impart a light fragrance to the smoothie.
Ingredients Used in Strawberry Banana Smoothie Base
Frozen Super Ripe Bananas
Frozen Fresh Strawberries
Full Cream Milk
Coconut Milk
Sweetened Condensed Milk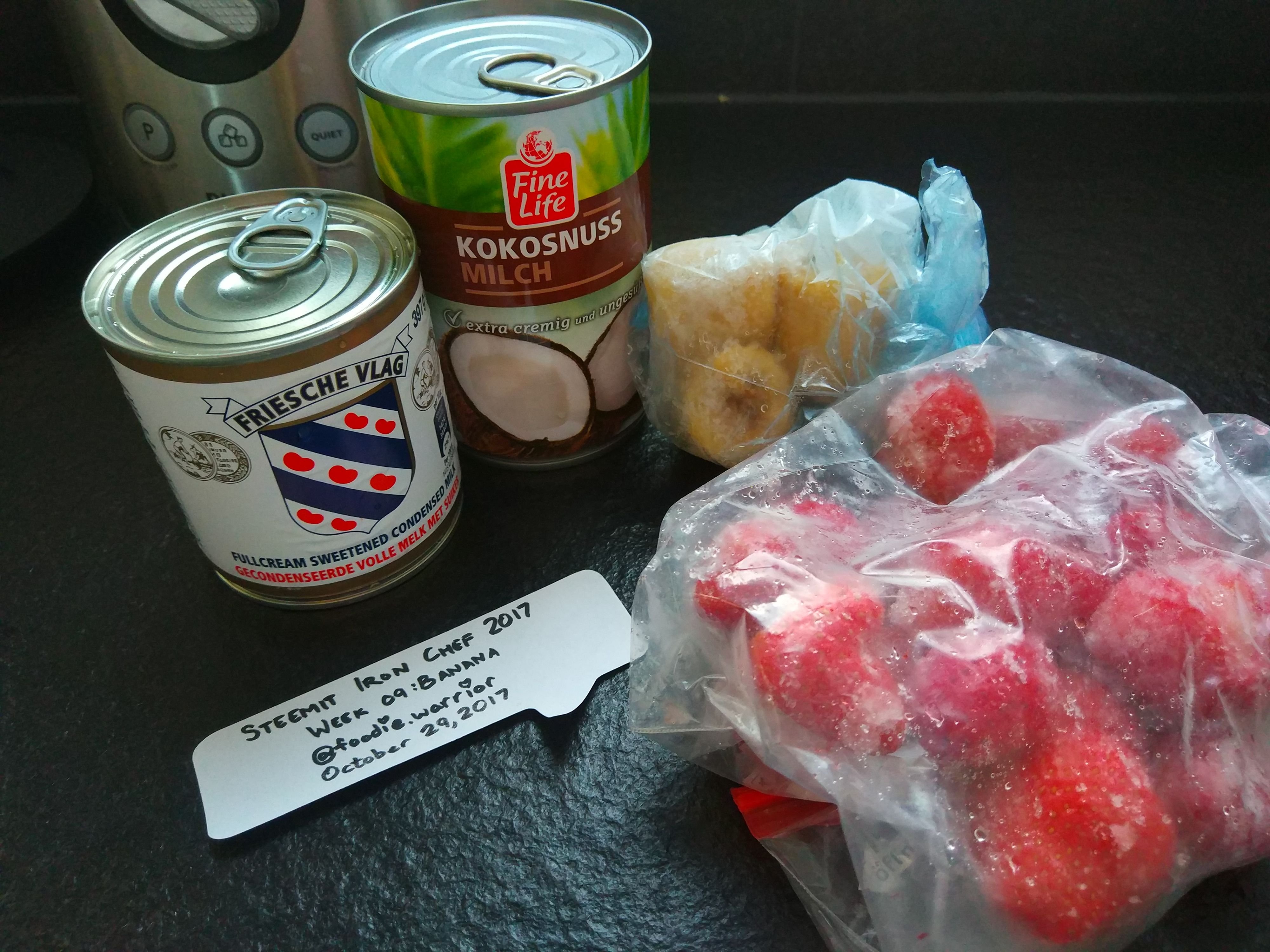 How to Make the Strawberry Banana Smoothie Base
Put everything into a blender and blend till smooth.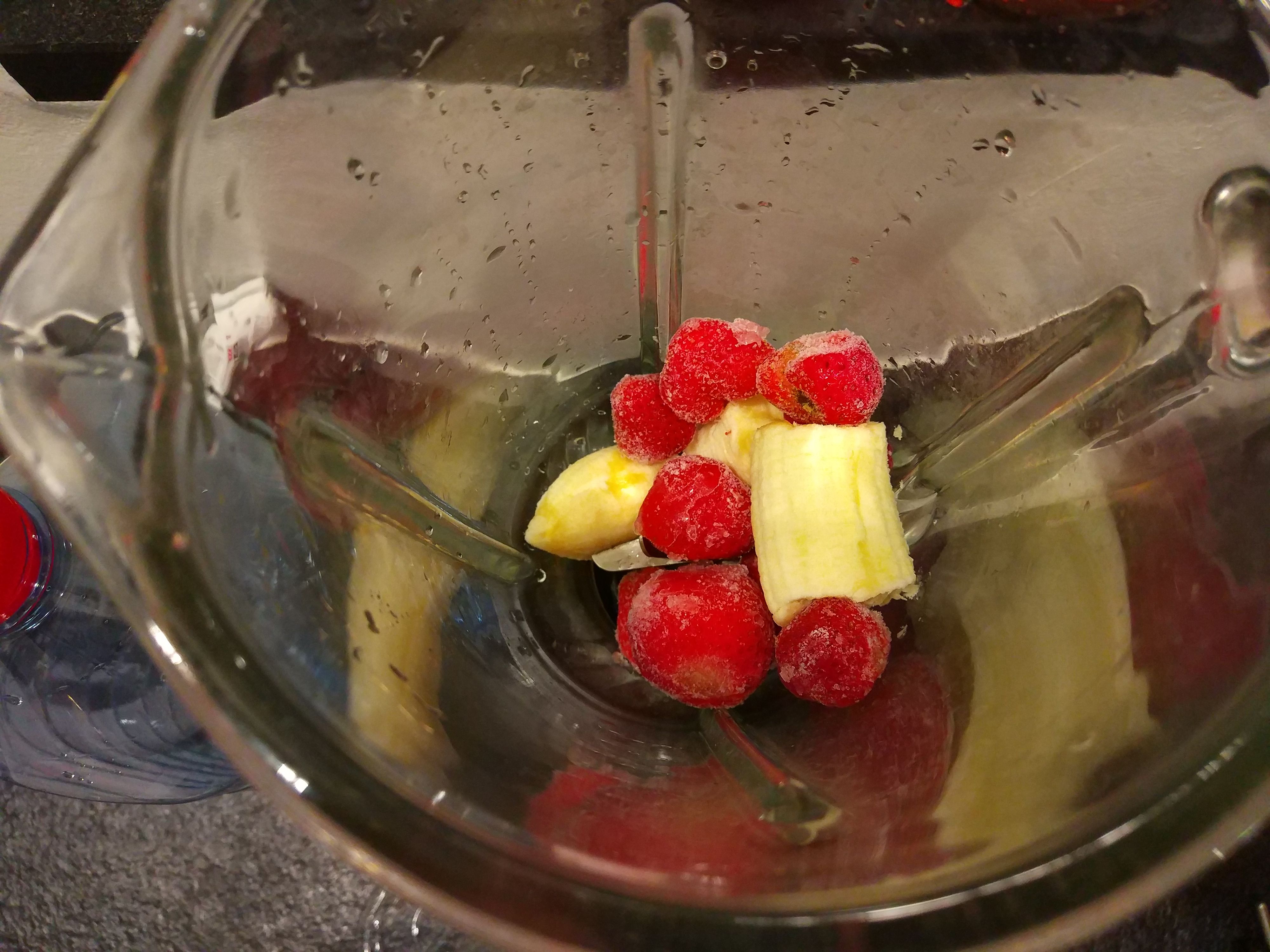 Component #2: Topping & Surprise
My impression of a smoothie bowl is somewhat based on the experience of having a bowl of muesli. I'd like a lot more other textures and crunch to accompany the thick Smoothie Base.
Therefore, I placed a decoration of nuts, seeds, and berries in a bowl before pouring the Smoothie Base in. Then I decorated the surface of my Smoothie Bowl as well with more seeds, coconut flakes, and fruits.
Ingredients Used in Topping & Surprise
Dessicated Coconut Flakes
Black Sesame Seeds
Pumpkin Seeds
Fresh Raspberries
Fresh Red Currants
Fresh Banana, sliced
Fresh Mint Leaves
Whole Walnuts
Sliced Almonds
Peeled Pecans
Peeled Hazelnuts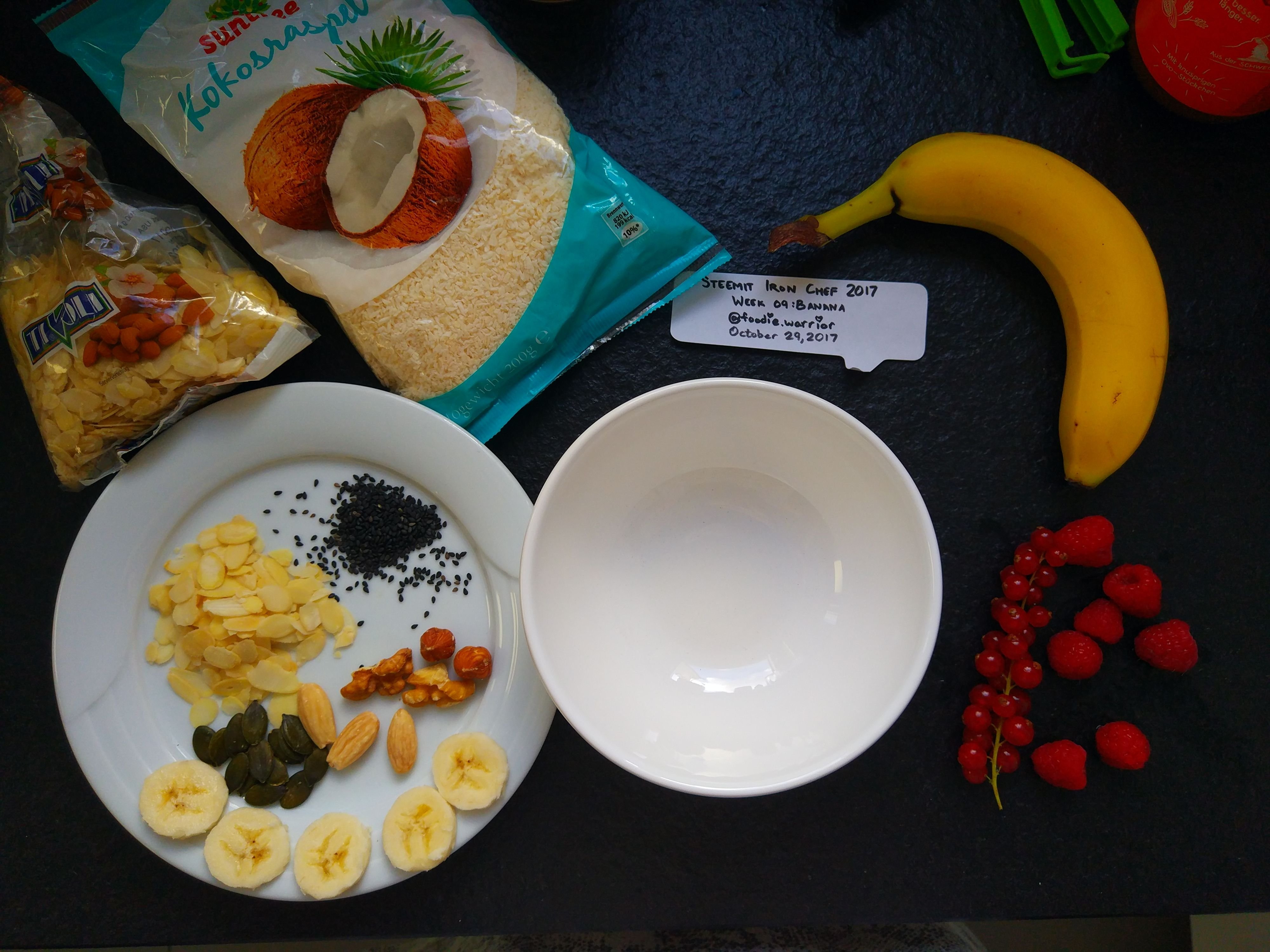 How to Make the Topping & Surprise
Carefully decorate bit by bit.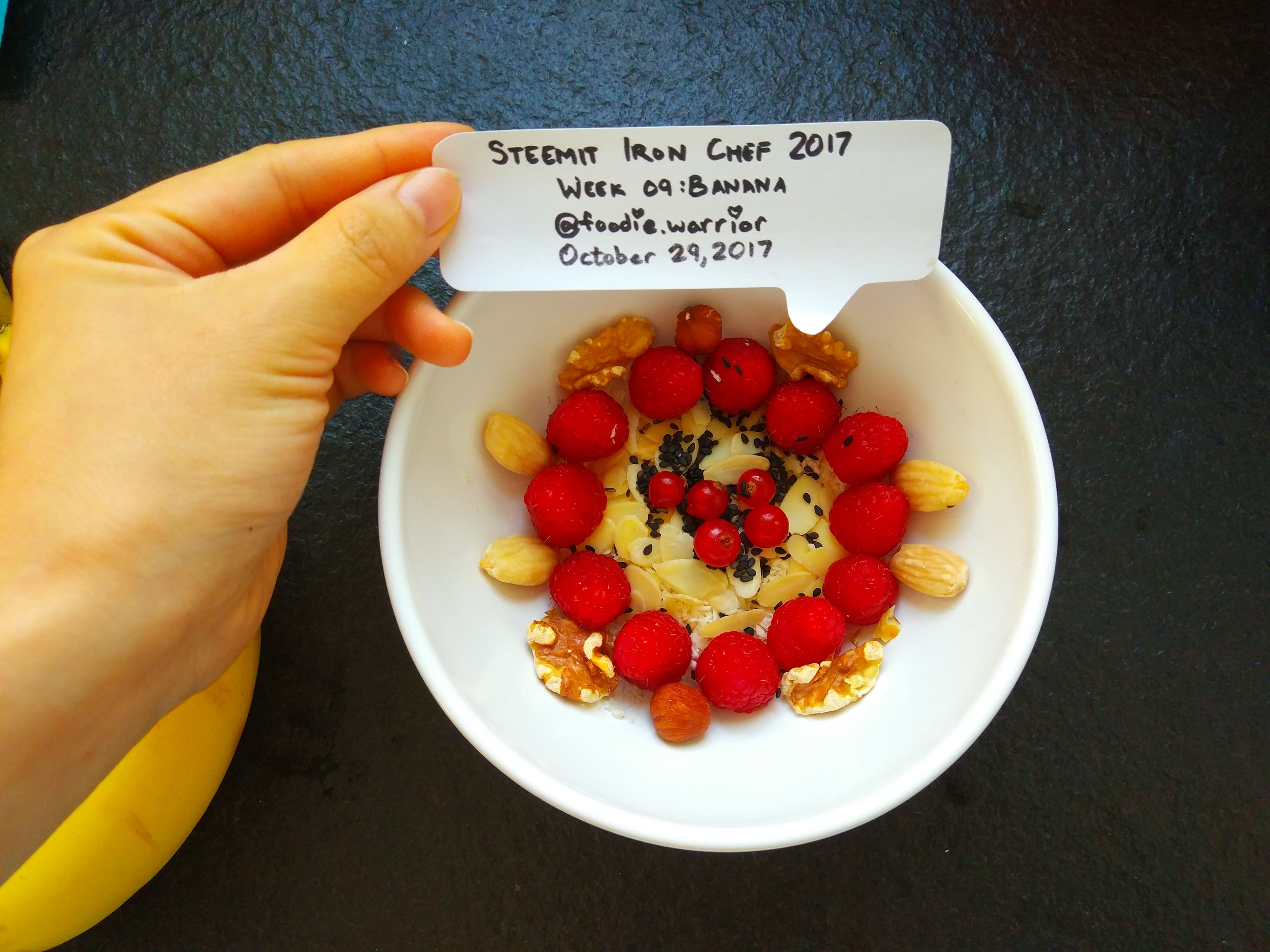 End Product!!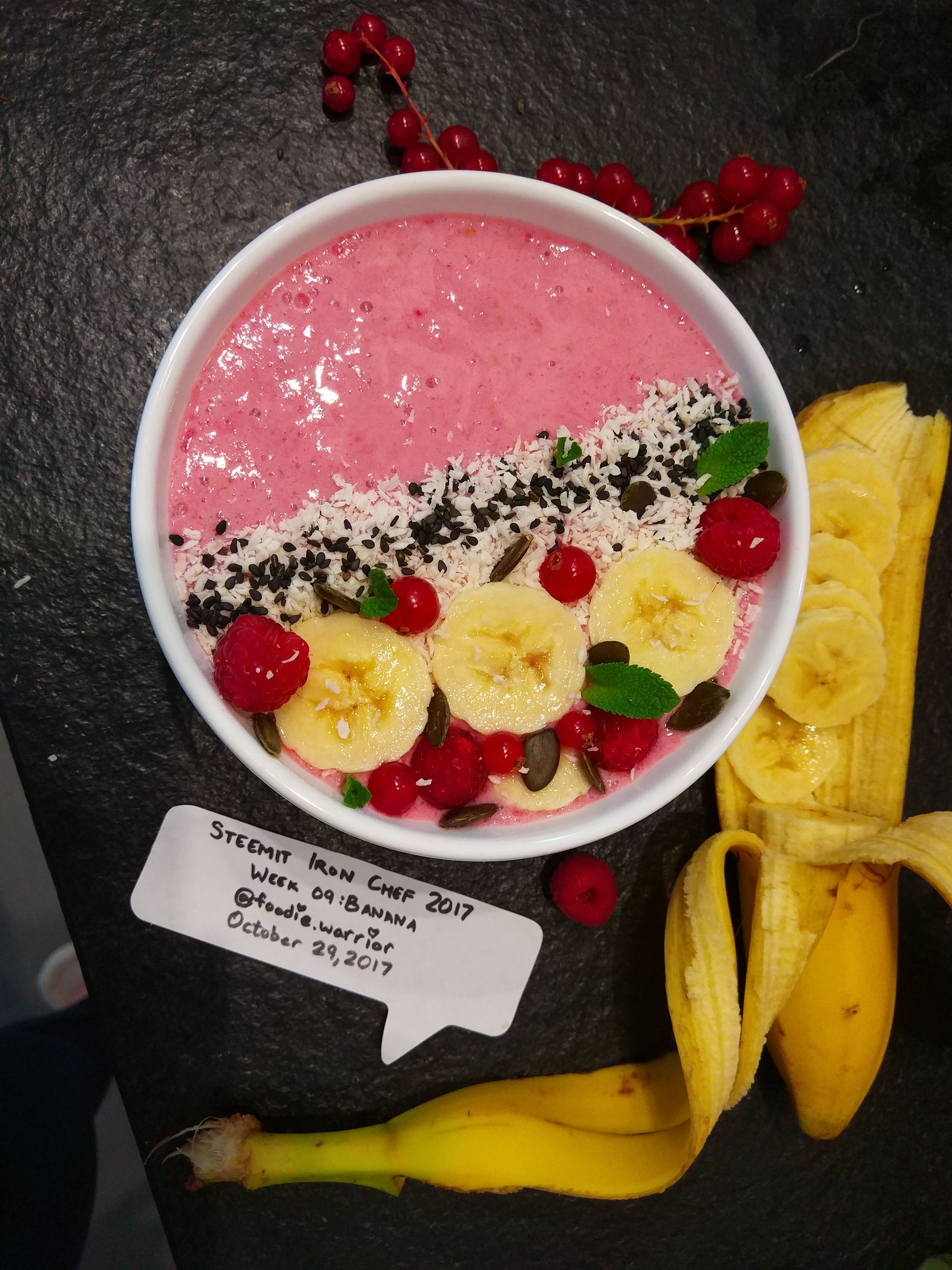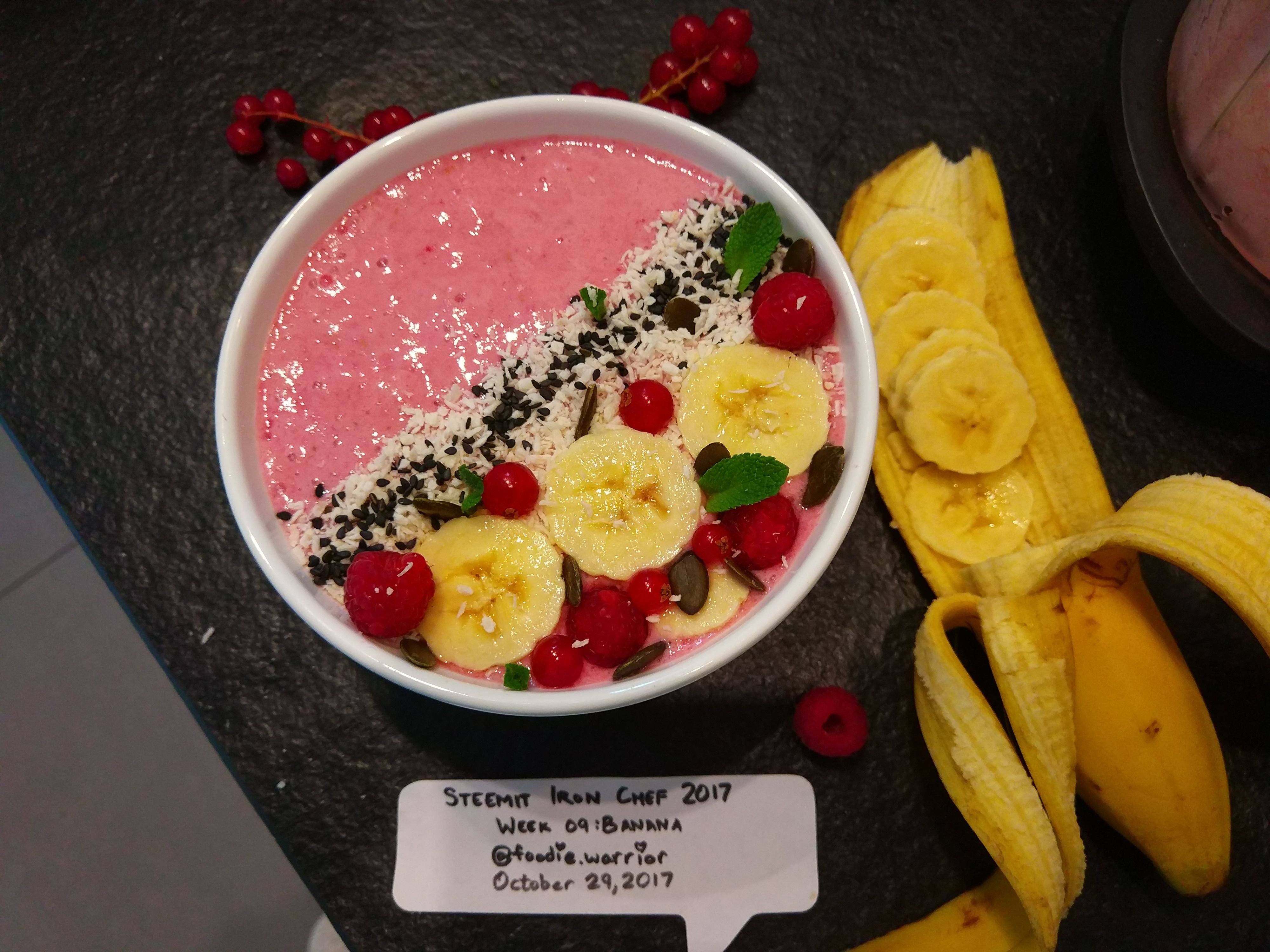 Satisfied?
YEAHHH!! =D