I came down this morning to see a dumpling-making delegation in the kitchen. I'm the sort of person who won't thrive in a working kitchen. The reason? I like my space, peace, and order whenever I cook. Since I had to prep my dish in a stressfully-messy environment, the photos are few and far between.
DISH NAME (Side Dish/Appetiser)
Eat A Potato Mountain in One Bite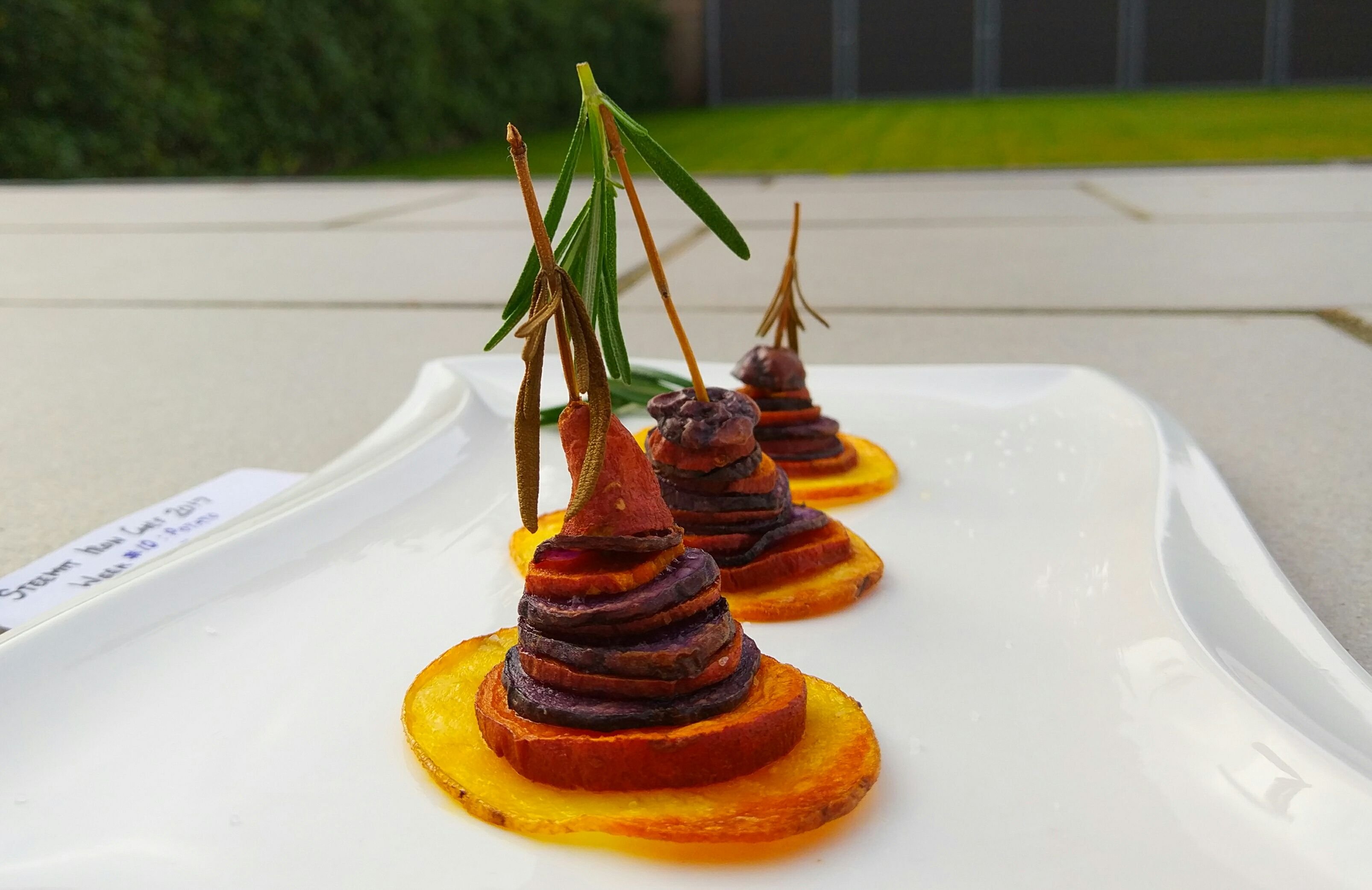 Potato, rosemary, butter, salt, and high-quality olive oil always spell success for my tongue. The addictive rosemary potatoes that I regularly make don't look attractive enough to belong in a SIC entry. I wanted to use similar ingredients but present them in a more refined manner.
With that in mind, I came up with this one! =)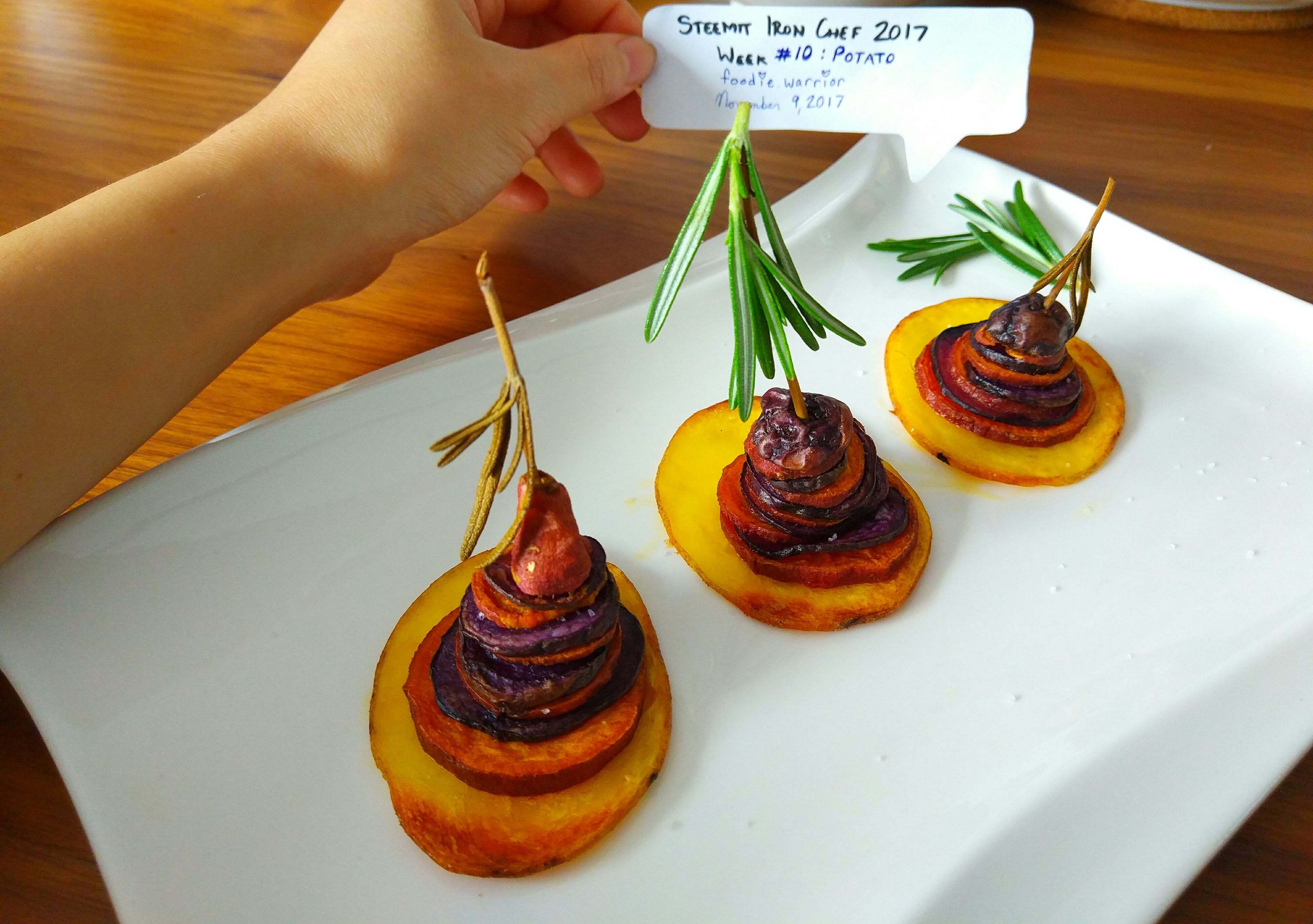 Component #1: Potato Slices
Potato slices make up each little mountain. I used three types of potatoes in this dish — regular local yellow potatoes, orange sweet potatoes, and blue potatoes.
Now, the ideal thing to do would have been to make a trip to the grocery store to pick out uniform potatoes that could build a beautiful potato mountain easily. A look into our potato drawer revealed that we already had three types at home — albeit all oddly-shaped ones!!! I didn't want to purchase more potatoes when we had so many, so I simply made do with slicing bits from suitable parts of the potatoes according to my needs.
The leftover bits? I scattered around the tray and drizzled with more seasoning to make homemade oven-baked potato crisps for the rest of the family to enjoy.
Ingredients Used in Potato Slices
Yellow German Potatoes
Blue Potatoes
Orange Sweet Potatoes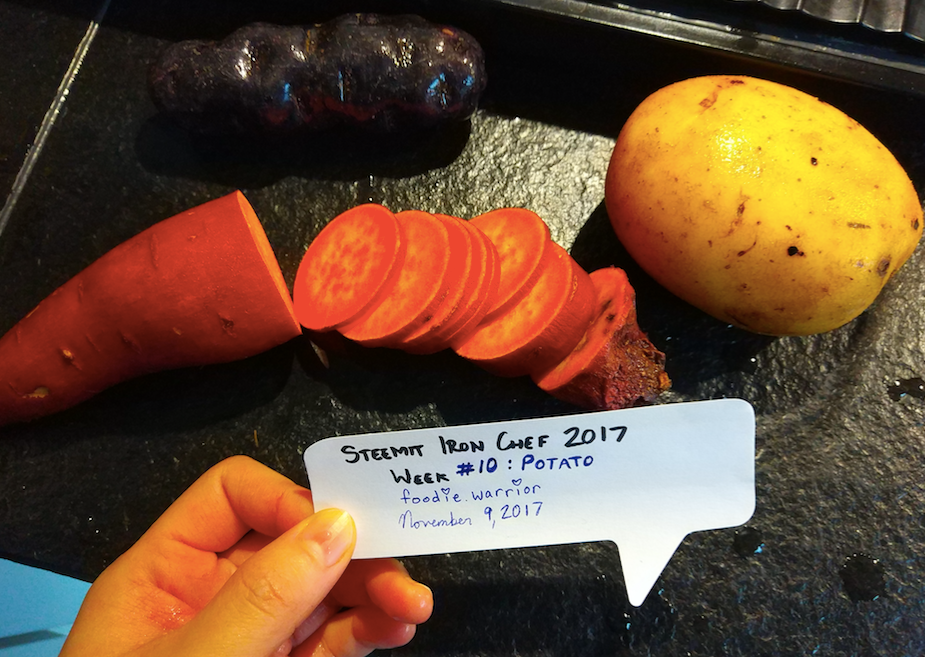 How to Make the Potato Slices
Wash and scrub all the potatoes. Slice in thin slices.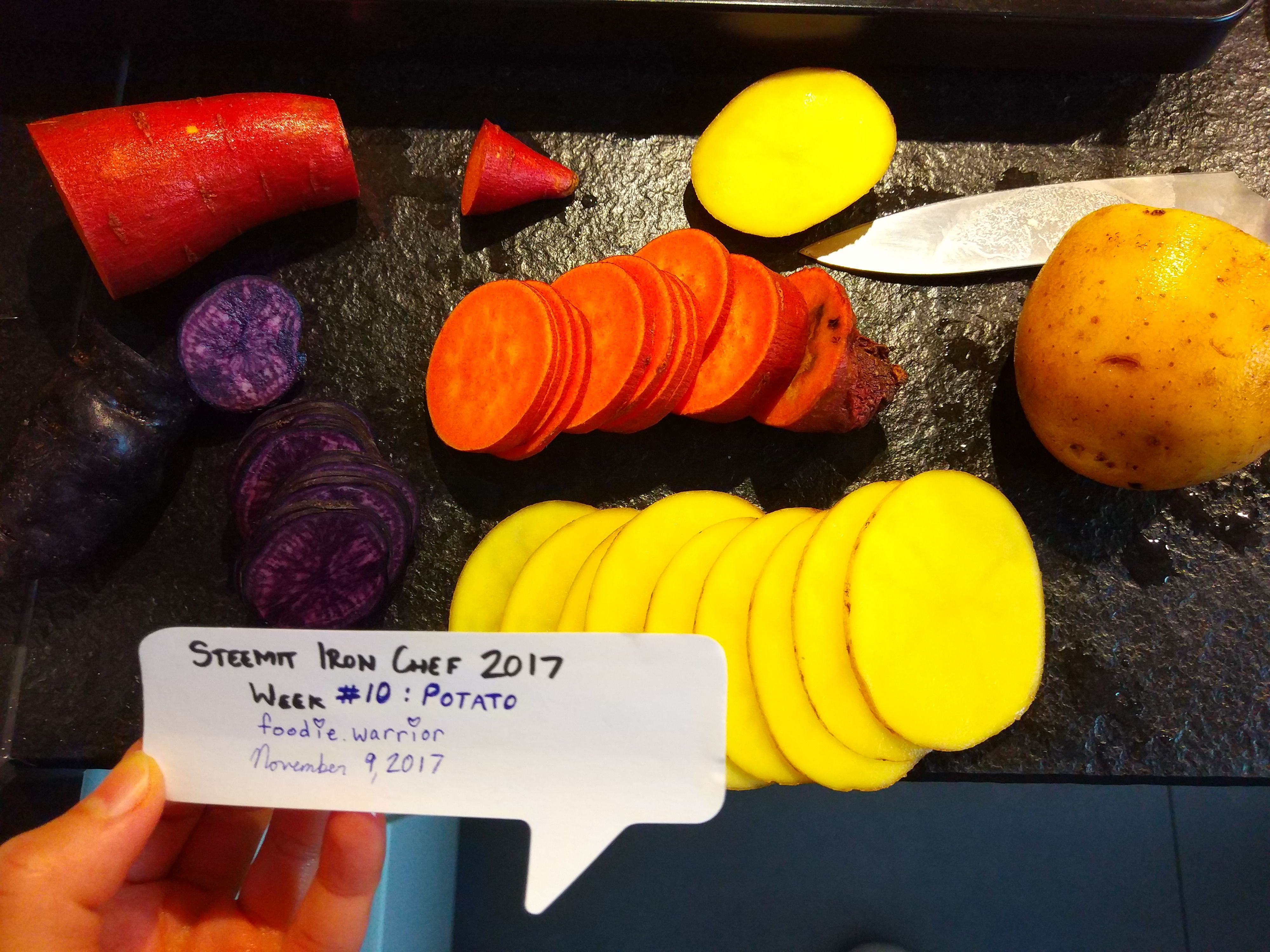 Component #2: The Seasoning
Each potato slice was brushed with an olive-oil and butter combination infused with fresh rosemary leaves and seasoned with salt and smoked paprika powder.
Then the stacks were assembled and stabbed through with a metal skewer. A fresh rosemary stalks was inserted into each hole to hold the stacks together during baking.
Ingredients Used in The Seasoning
Unsalted Butter
Extra Virgin Olive Oil
Fresh Rosemary Leaves
Smoked Paprika Powder
Sea Salt
Fresh Rosemary Stalks, majority of leaves removed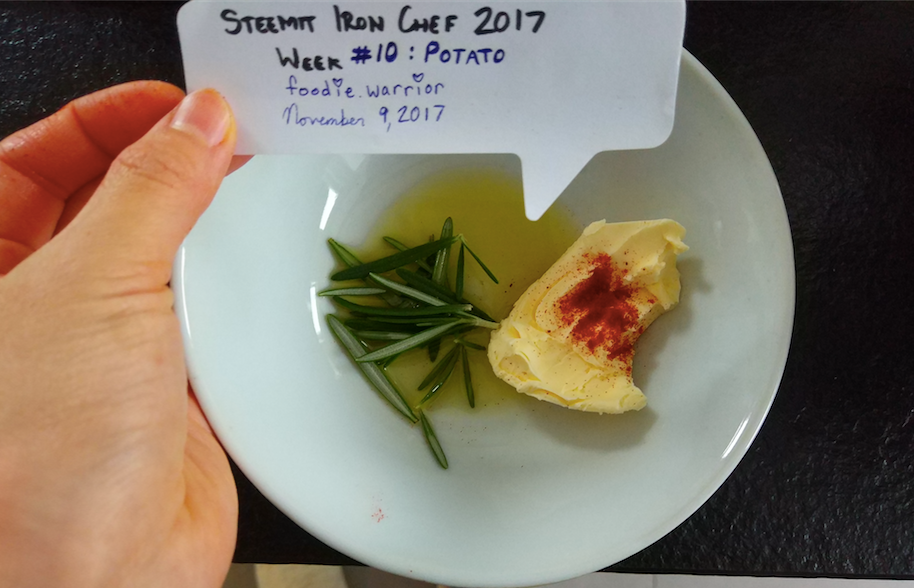 How to Make the The Seasoning
Combine all ingredients except for the Rosemary Stalks. Microwave at short bursts till butter melts. Mix together.
Brush the mixture onto all the potato slices. Assemble potato stacks, picking a large slice for the bottom and progressively picking smaller slices as you build up. The goal is to build a pyramid form with the stack.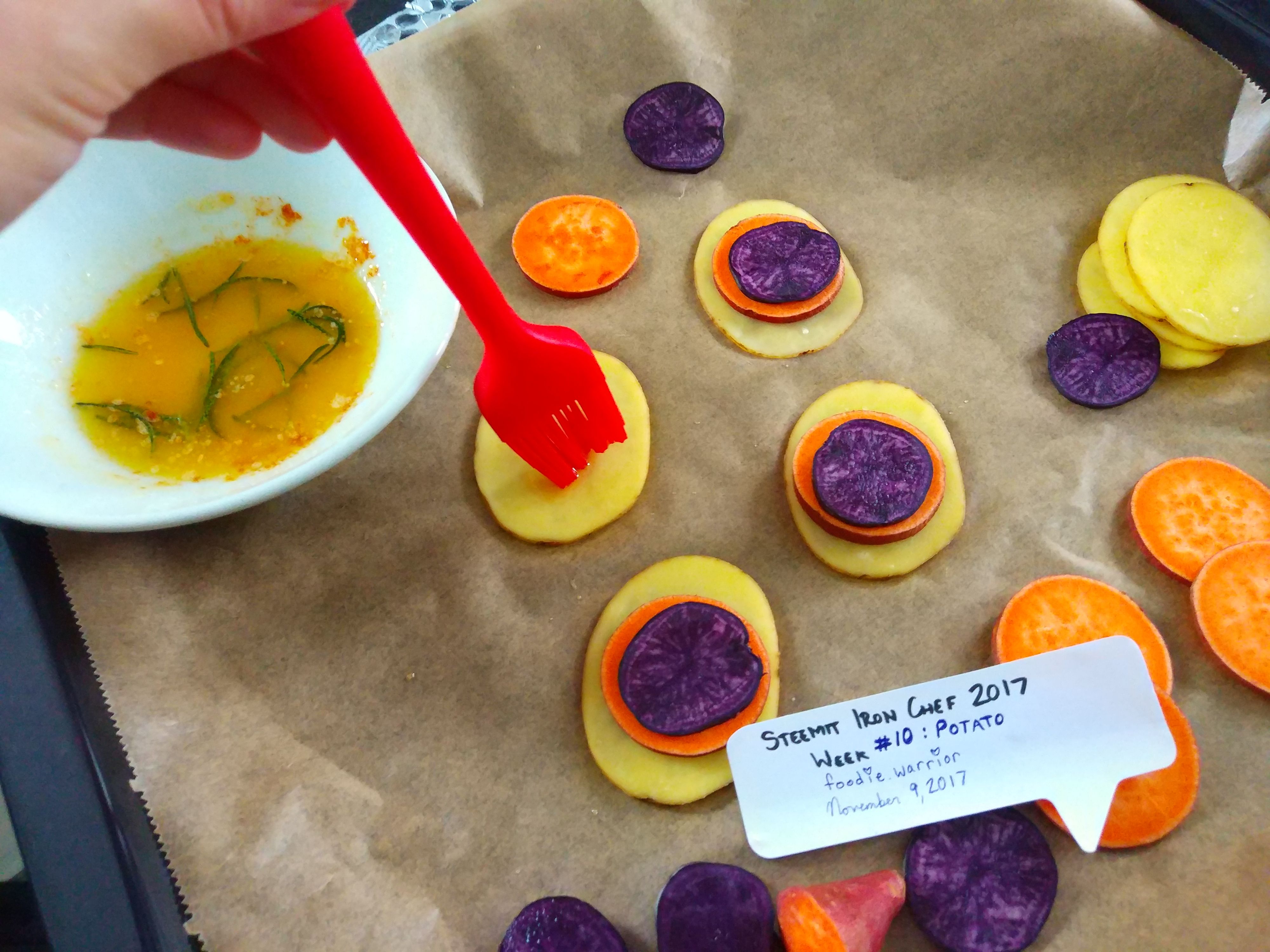 After the stacks are assembled, stab a vertical hole into each stack using a metal skewer. Insert a Rosemary Stalk into each hole and trim the top using a pair of scissors.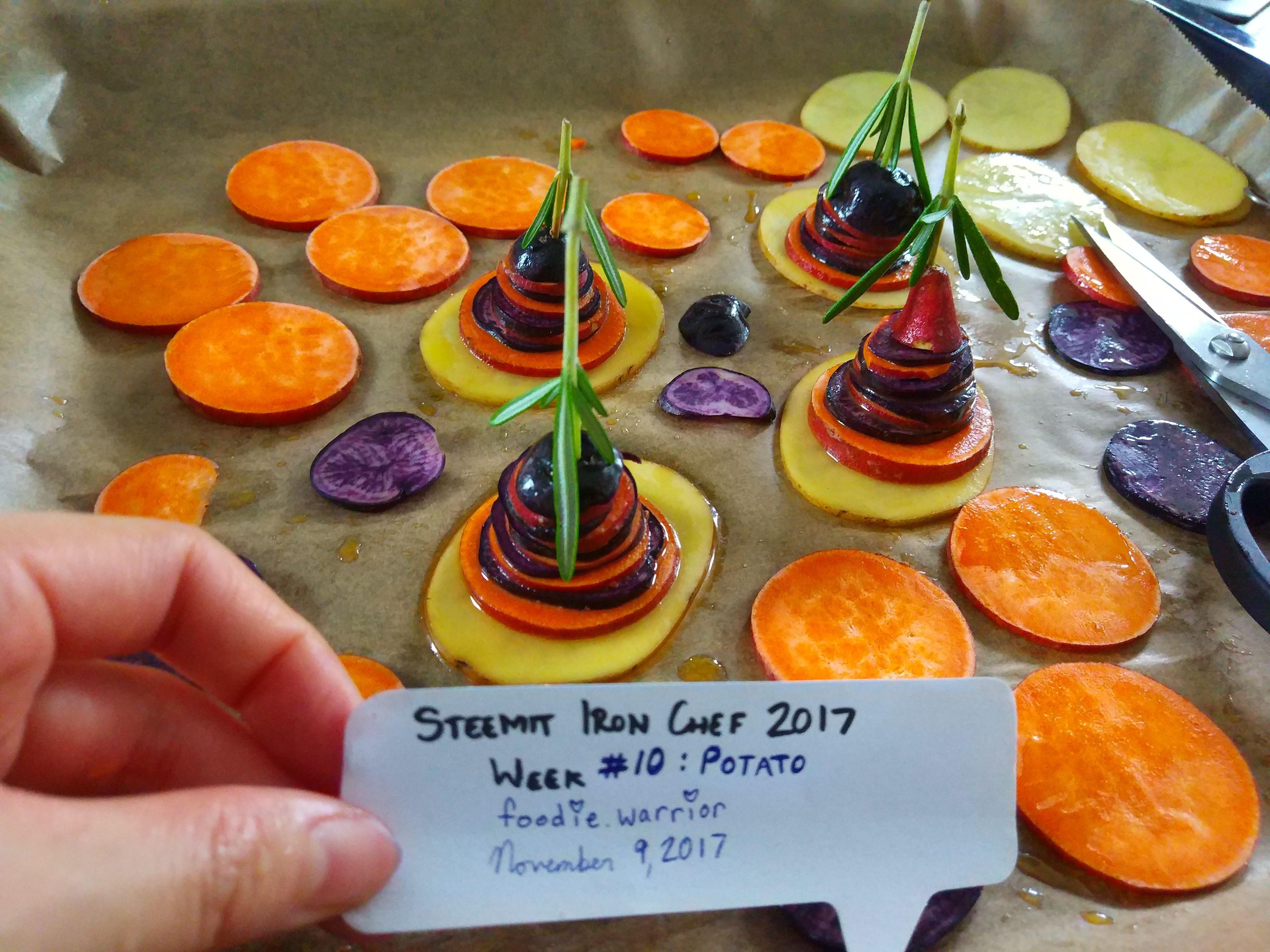 Here's the End Product!!