How does one create an intensely-strong mushroom soup and make it look appealing?
That dual-barrelled question faced me this morning when I contemplated making a delicious mushroom soup for lunch. Liquid stock dials back the strength of mushroom aroma, and muddy soup is not the definition of 'enticing'!
I would need to somehow intensify and preserve the naturally earthy flavour of the mushrooms, and then add a barrage of suitable toppings to inject a little colour and texture into the dish.
DISH NAME (Appetiser/Light Lunch)
Intense Mushroom Soup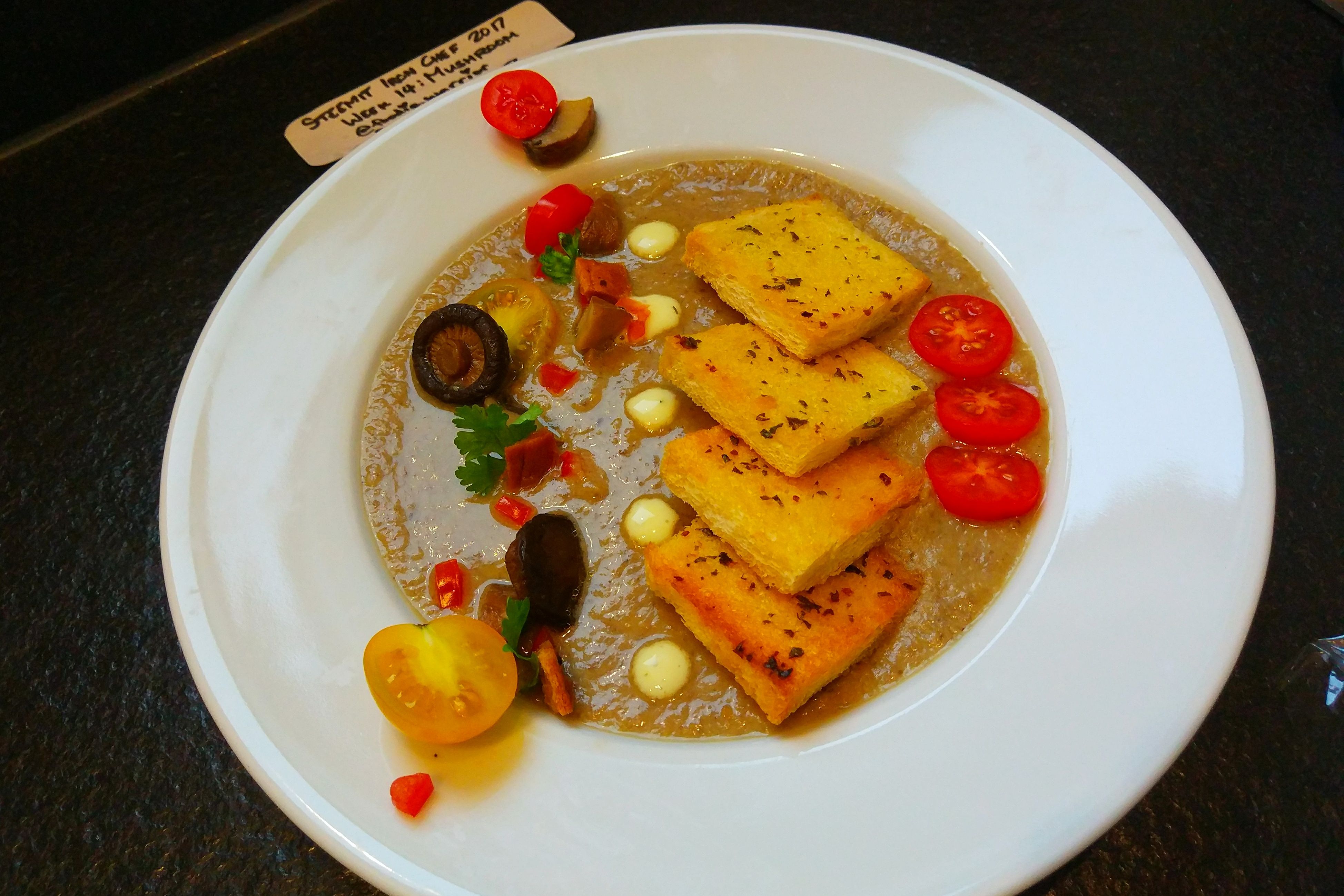 Component #1: Intense Mushroom Soup
Cooked briefly in a pressure cooker, this soup achieves a solid punch of mushroom flavour without the requirement of extra flavour additives. The addition of dried Chinese mushrooms and a little soy sauce lends some 'umami' to the soup as well.
Ingredients Used in the Intense Mushroom Soup
20gm Dried Chinese Mushrooms, rehydrated in boiling water for 15 min.
700gm Brown Button Mushrooms
500gm Potatoes, thinly sliced
4 Shallots, minced
4 Garlic Cloves, minced
15gm Extra Virgin Olive Oil
30gm Unsalted Butter
2 cups Roast Stock
2 cups Chicken Stock
1 Tbsp Soy Sauce
2 Dried Bay Leaves
1 Tsp Dried Thyme Leaves
2 Tsp Sea Salt
1/2 Tsp Black Pepper, freshly ground
Juice of Half a Lemon
2 Tbsp Mascarpone Cheese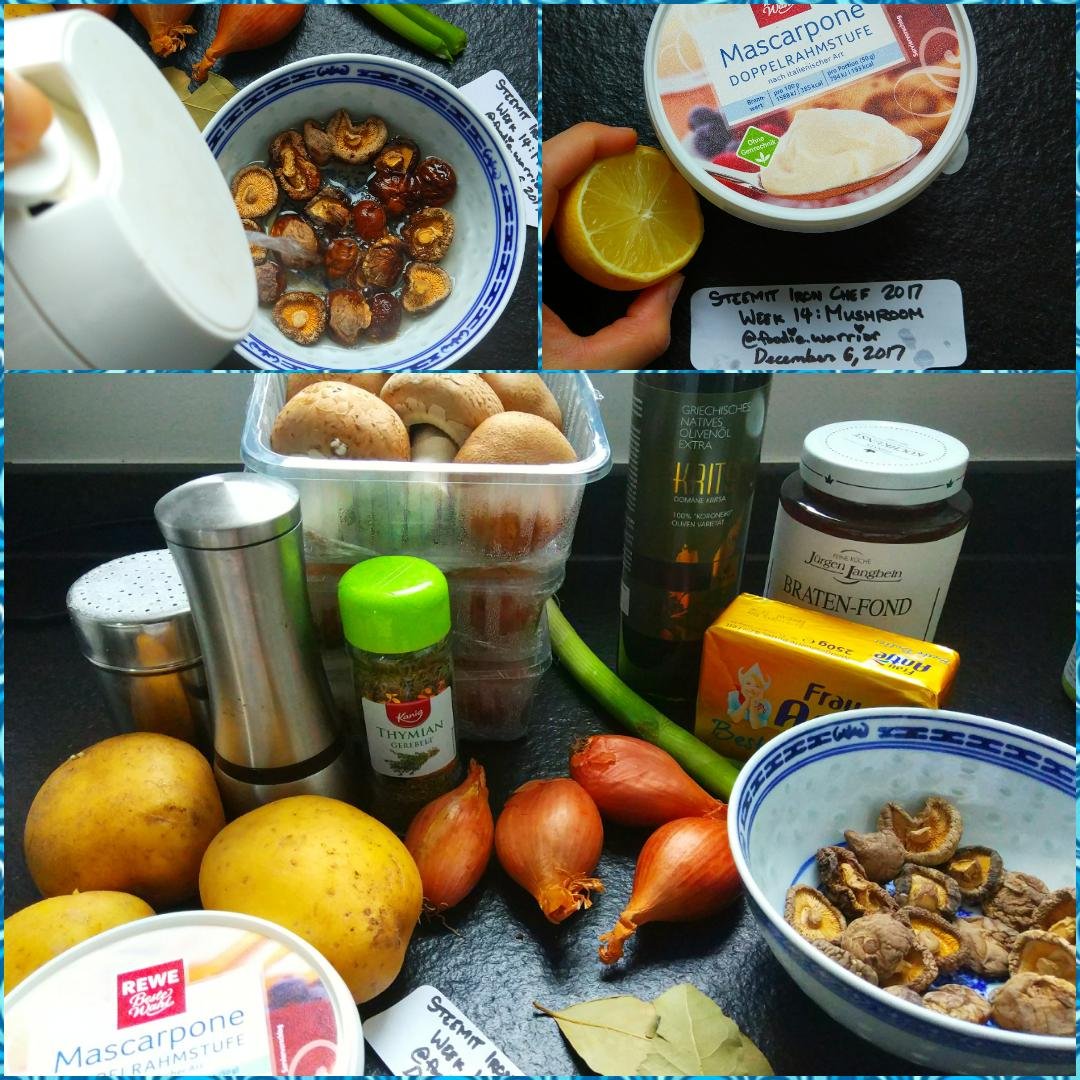 How to Make the Intense Mushroom Soup
In a pressure cooker, stir-fry olive oil butter, onions, and salt, till soft (3-4 minutes).
Stir in remaining ingredients (except for mascarpone cream and lemon juice).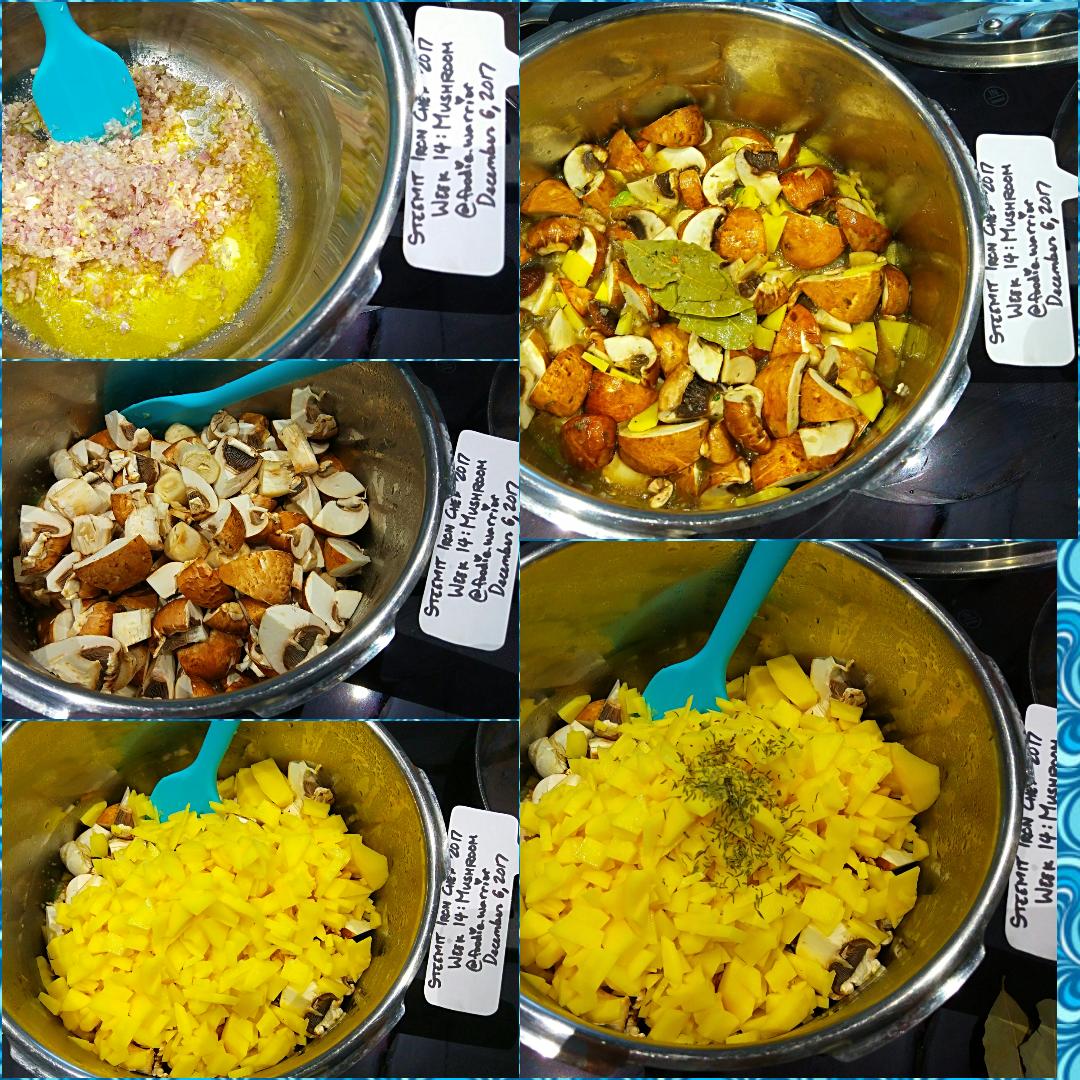 Cover the lid and lock it in. Cook on high heat for 10 minutes. Let the pot sit for 5 min before using the quick release to release all the steam.
Remove the bay leaves from the soup and puree with stick blender. Stir in the mascarpone cream and lemon juice.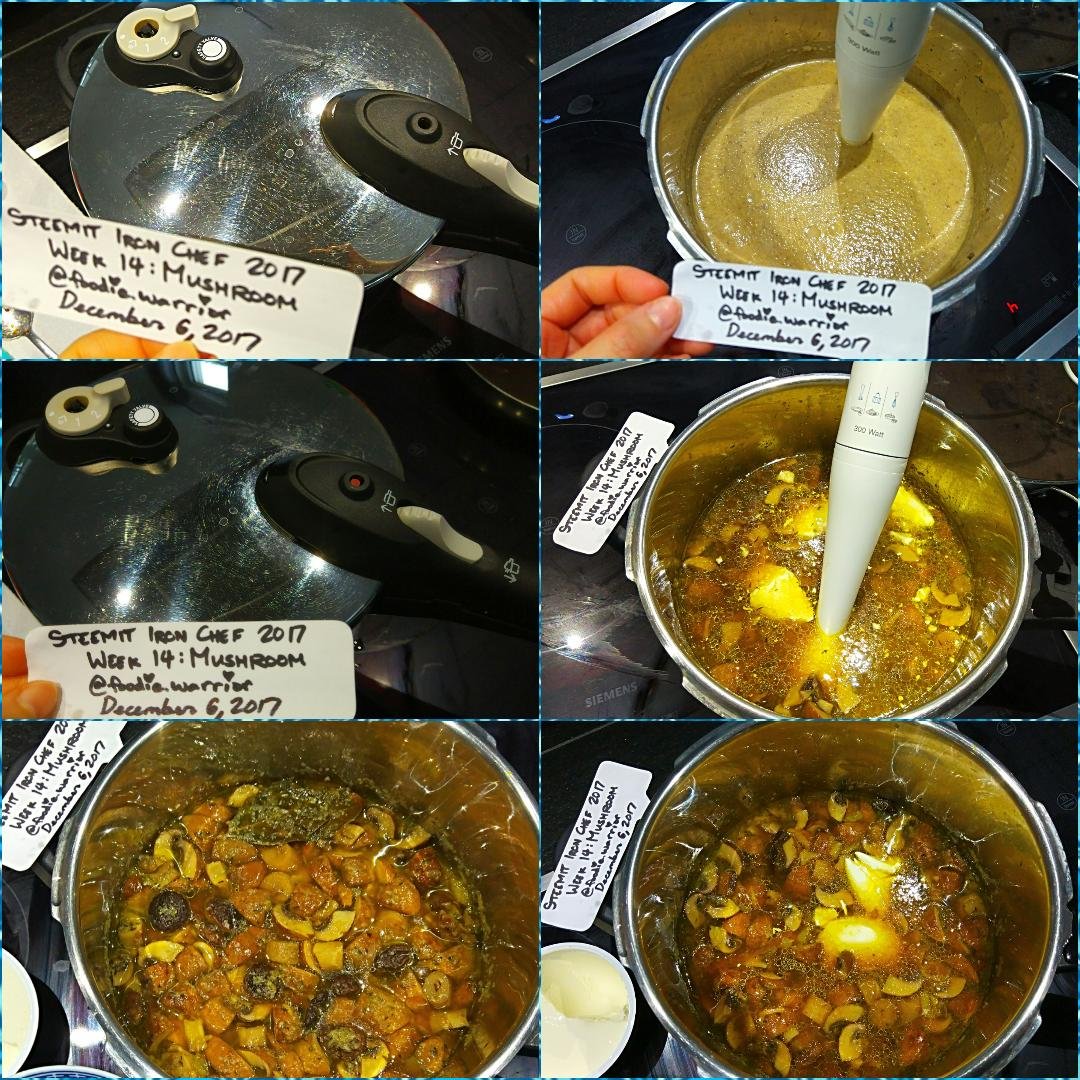 Component #2: Toppings
These toppings were picked because they add a little acidity, texture, colour, and flavour to the soup.
Herby Butter Croutons
Brown Button Mushroom Slices (from the pot)
Whole Dried Chinese Mushrooms (from the pot)
Date Cherry Tomato
Yellow Tomato
French Salad Dressing
Coriander Leaves
To make the Herby Butter Croutons:
Trim and quarter six slices of stale sandwich bread. Melt homemade Herby Butter and brush across all the squares and trimmings. Bake at 180° till toasted.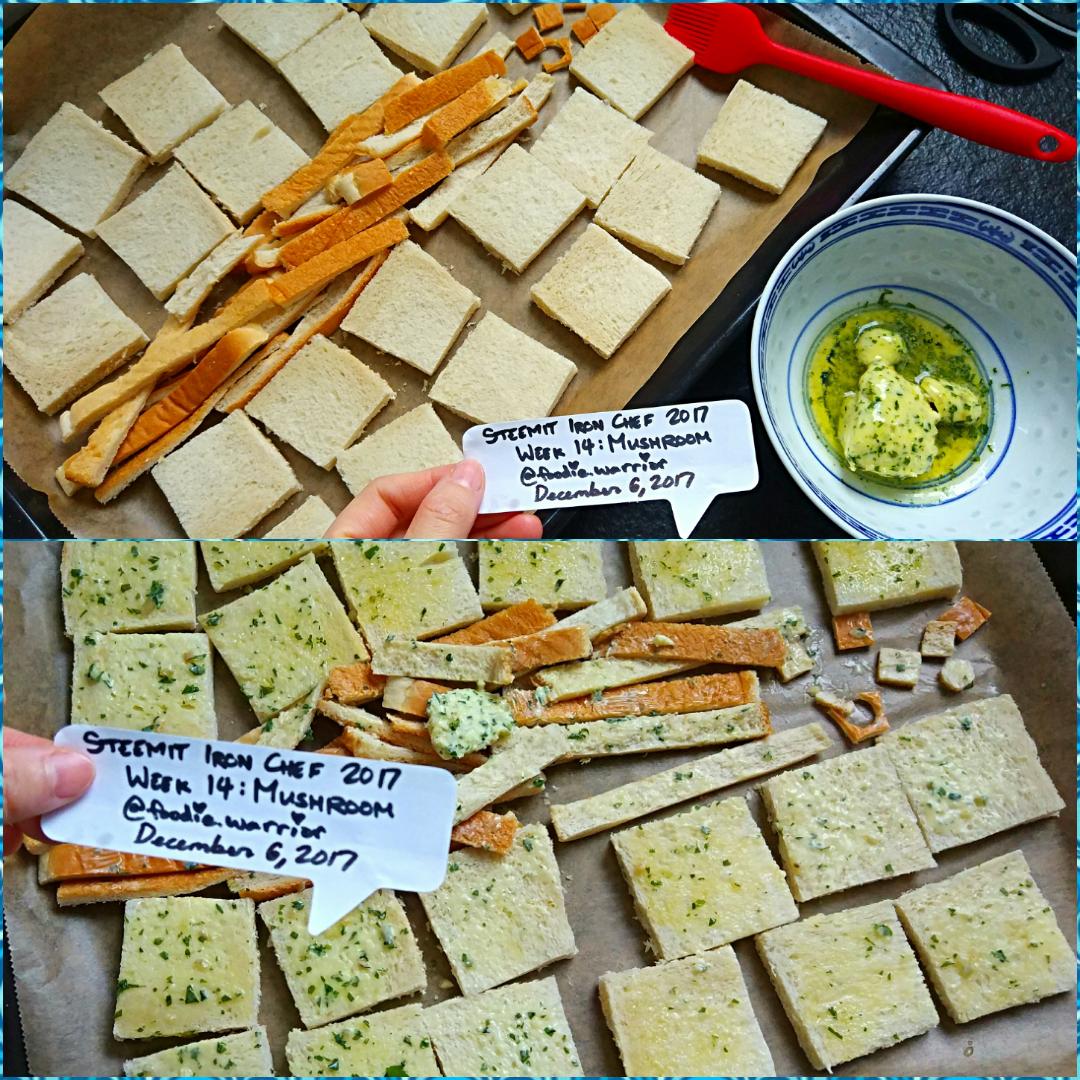 Assemble the Plate!!
Ladle some soup onto the the plate. Arrange the toppings carefully on top of the mushroom soup.
Ta-dah!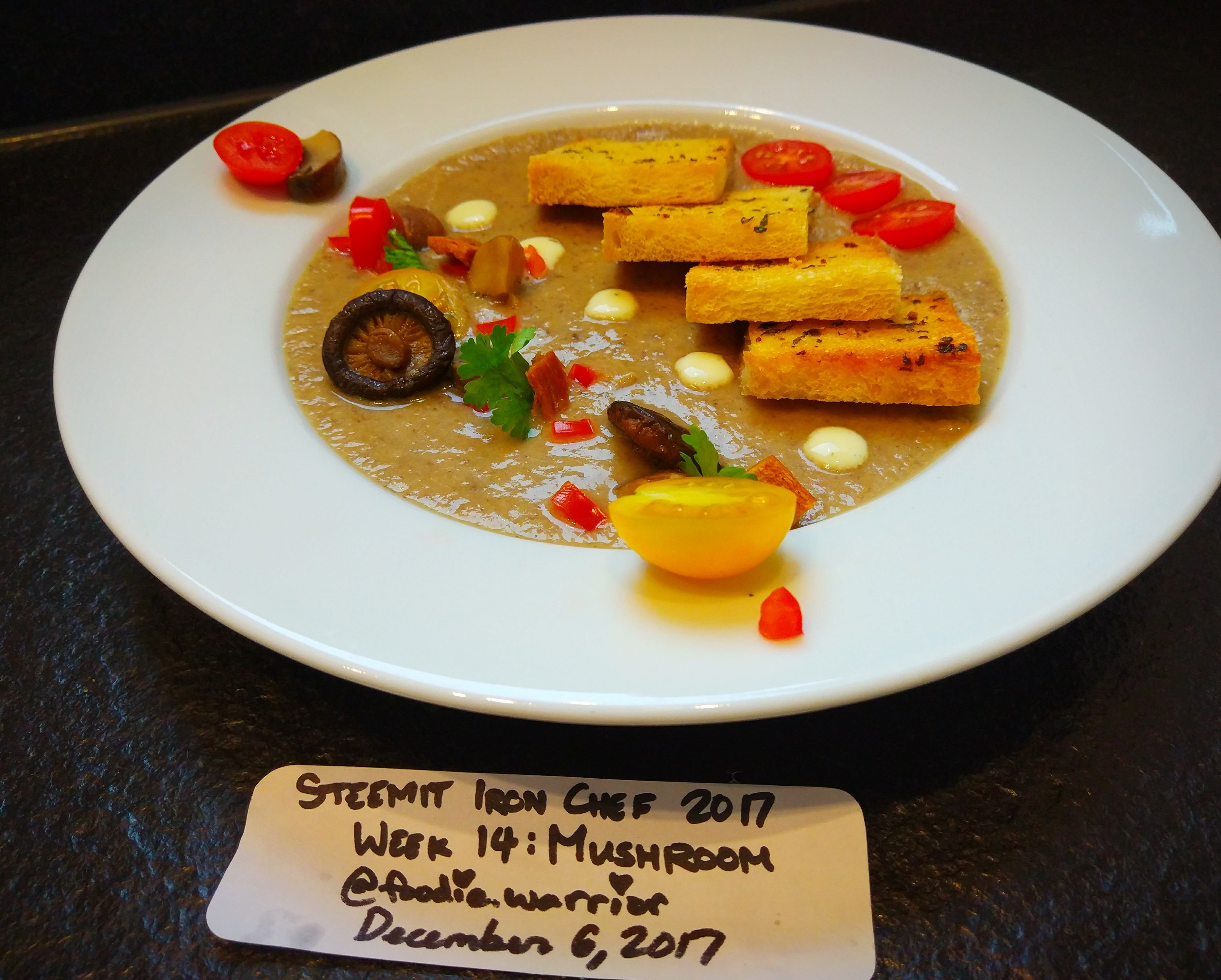 Enjoy!!