On this final series, we will focus on the Medium Bots (Min Bid 0.5 to 1.5 SBD). There are a total of 12 Medium Bots that were reviewed. However, from those 12 Bots only 8 will be tested as I have excluded those Bots that have not complied with @grumpycat compliant rules.
This post is the final series of 3 that I will teach you about using the different type of Bots. I have classified them according to their minimum bid, they are:
Xtra-Small Bots (Min Bid 0.01 to 0.05 SBD)
Small Bots (Min Bid 0.1 to 0.25 SBD)
Medium Bots (Min Bid 0.5 to 1.5 SBD)
Big Bots (Min Bid 2 to 5 SBD)
Bot ROI Testing - SBD Payments vs Upvotes Value
For the purpose of testing, I will first post this blog and then test the selected Bots by sending the minimum bid. Please find below the tabulation for all those bids placed on selected Bots and the upvotes value received from each Bot. The blue highlighted Bots were having positive ROIs with a minimum of 200% return, whilst the red highlighted Bots were not. Medium Bots look positive except for the 2 red ones, so you might consider using those blue ones.
List of Medium Bots (Min Bid 0.5 to 1.5 SBD)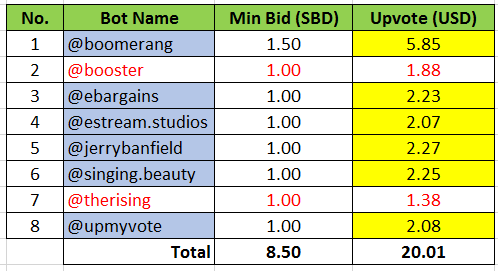 List of Medium Bots (Non-Compliance to @grumpycat)
Do avoid using these bots below as you would not wish to be visited by @grumpycat that will cause you unnecessary inconvenient.

Conclusion
You can see the results from the tabulation comparison between Minimum Bid (SBD) VS Upvotes Value (USD). Based on this testings, the blue highlighted Bots were having positive ROIs with a minimum of 200% return, whilst the red highlighted Bots were not. It's now up to you who you wish to choose as your favorite bid Bots.
Consistent posting and commenting are keys to climbing faster. There is no shortcut to success, being persistence and consistency are the key characteristics of a Great Steemian.
Aside from your consistent postings, the post must have a Dollar value. A 0.00 post value won't help you much to push your RP & SP upwards and also not good for your image. It is advisable to use Xtra-Small Bots and Small Bots for those with low SBD. There's also Medium and Big Bots. This round of testings I used Medium Bots that will need between 0.5 to 1.5 SBD per upvote. I urge you to explore this option to assist you in your RP and SP upward movements. I am not a Bot Expert but have much experience in using them. Word of caution, kindly be advised that bidding of upvote Bots have its own risk, it is not fully guaranteed. So please enter at your own risk.
Happy Bidding! Happy Steeming!
---
The Steem Bot Tracker
The list of Bots above was obtained from the Steem Bot Tracker. Kudos to @yababmatt for creating this very beneficial website that has provided one of the best tools for the benefits of all Steemians.
Before using any Bots, please observe the following guidelines:
Bot Compliance (Max 3.5 days post-age): To avoid being visited by @grumpycat, please check the bots that you intend to use whether they comply to the Max Post Age of 3.5 days. You can check this on the Bot listing at the Steem Bot Tracker website. See the red circle, must be 3.5 days and below.


User Compliance (Max 3.5 days post-age): Don't use bid bots if your post-age have exceeded 3.5 days.

Min Bid: If you send less than their minimum bid, your bid will be returned. Just to caution you that some bots will not return your invalid bid. So better be careful.

Vote Value: Those bots with very small vote value perhaps can result in a negative ROI.

Vote Calculator: Also a good habit to first check the Bots through the vote calculator tool available on the Steem Bot Tracker. As shown below this will not be your exact return but just make sure it doesn't show red. Green is good to go (see red highlights). You must send soonest after you see green on the calculator, as perhaps by the time you send your bid someone else already bid that round which can give you negative results.

---
How Much To Bid?
You can bid up to the max bid of each Bot but for the benefit of our exercise, as I am targeting beginners we shall use the minimum bid amount. There are a 20-30 minutes wait after you have posted any post before you will be allowed to use those Bots. Some Bots allow 0 Minutes, please refer to the list in the Bot Tracker Tool for your reference. Most Bots are on a 2.4-hour cycle in order to power up to 100% before they start their voting activities again.


How To Transfer?
Just open your wallet, select Steem Dollars and a box will appear. Key in the desired Bot's name. Enter SBD amount that you wish to transfer. Copy the post link address that you wish to upvote, paste to the memo and click Submit.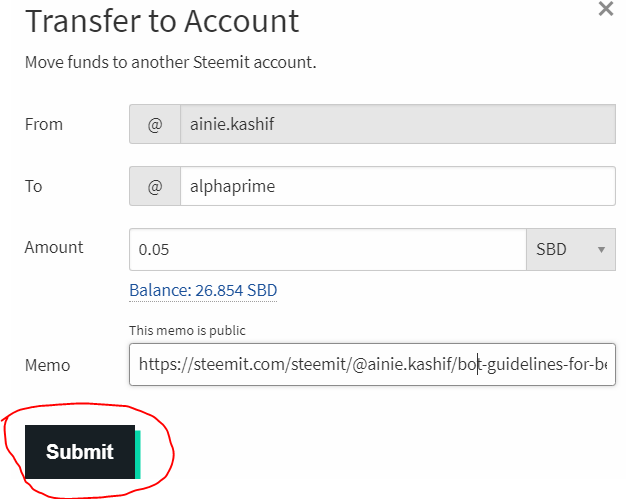 ---
My Other Post on Bot Guidelines
---
I hope you learn something new today. Take Care and Stay Blessed!
Yours truly,



-