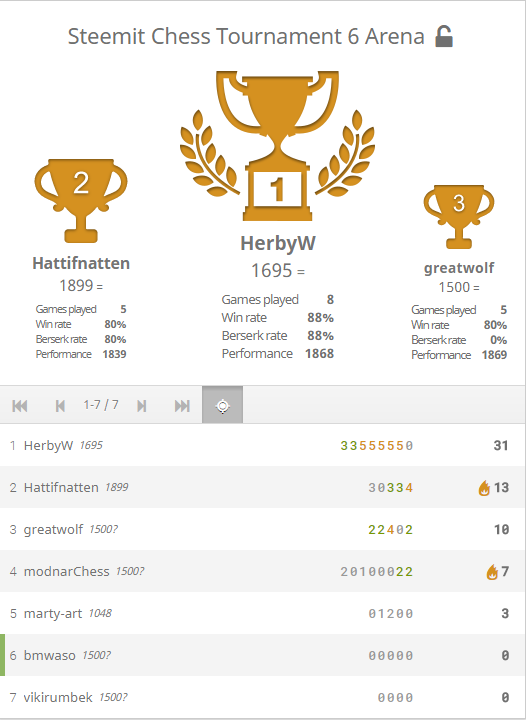 This was an exciting and competitive one!
The 6th Steemit Chess Tournament Concluded and it was success, this time we counted with the participation of @schamangerbert(HerbyW), @kooshikoo(Hattifnatten), @greatwolf, @marty-art, @modnar, @bmwaso and @vikirumbek.
The tournament participation is steadily growing for what I am grateful for. Thank you to everyone who came to participate and compete!
The prizes money was delivered! Congratulations to the winners!
Three Times Champion!
@schamangerbert(HerbyW) returned winning yet another chess tournament scoring a total of 31 points which is record so far in our tournaments, however with the absence of his usual rival @krasimirkolev he may now have found 2 new very fine challengers in the face of @kooshikoo(Hattifnatten) and @greatwolf both of whom showed to be very strong and skilled chess players.
Is worth mentioning that this time @schamangerbert(HerbyW) got somewhat lucky in the opponents draws as he played only 1 game vs the runner up @kooshikoo(Hattifnatten) and no games vs the 3rd placed @greatwolf. In the meantime 2nd placed @kooshikoo(Hattifnatten) and @greatwolf clashed 2 times between them and traded wins.
Congratulation to @schamangerbert(HerbyW) for winning yet another tournament lets see if he can retain the winning streak next tournament or if he will finally be dethroned.
The Newcomer!
@kooshikoo(Hattifnatten) in his 1st tournament with us managed to surprise us with very strong game and 2nd place finish with just 1 defeat out of 5 games. Winning majority of his games on berzerk mode and even defeating the eventual tournament winner in his last game, he definitely impressed. The only game that he lost was vs the 5th Chess Tournament champion @greatwolf.
Will @kooshikoo(Hattifnatten) be capable of dethroning @schamangerbert(HerbyW) from 1st place? We will have to wait and see next tournament! Very well played @kooshikoo(Hattifnatten) hope to see you next tournament too.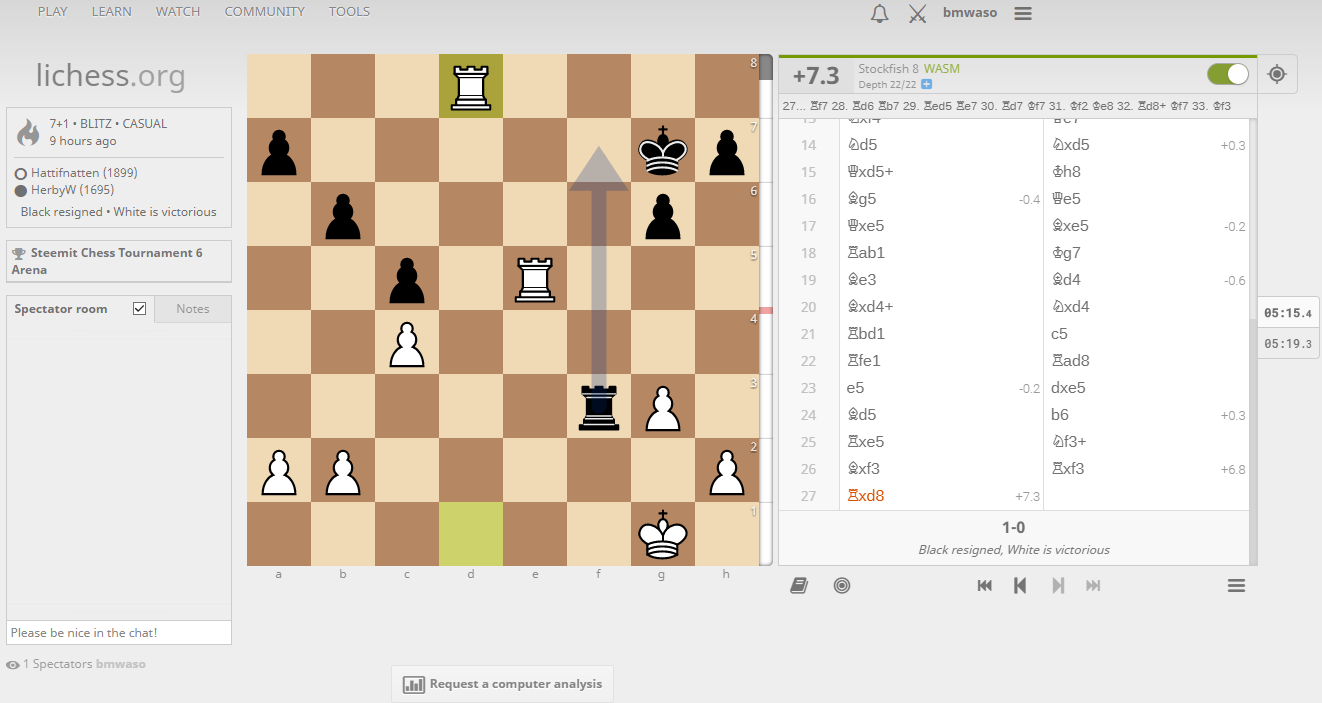 @kooshikoo vs @schamangerbert. @kooshikoo(Hattifnatten) with whites showed that it's not impossible for @schamangerbert(HerbyW) to be defeated.
Aiming at the top!
@greatwolf once again showed that he is strong chess player and that he is capable of fighting for the 1st place every tournament no matter who is playing in it. After winning our last tournament, this time he finished on 3rd place but it could easily have been 2nd place or even 1st place again if he had more luck in the opponents draw. Out of his 5 games he lost only 1 game vs 2nd place @kooshikoo(Hattifnatten) and won vs @marty-art, @kooshikoo(Hattifnatten), @modnar and @bmwaso.
We will have to wait until next tournament to see if he can win the chess tournament once again. Well played @greatwolf and hope to see you next tournament.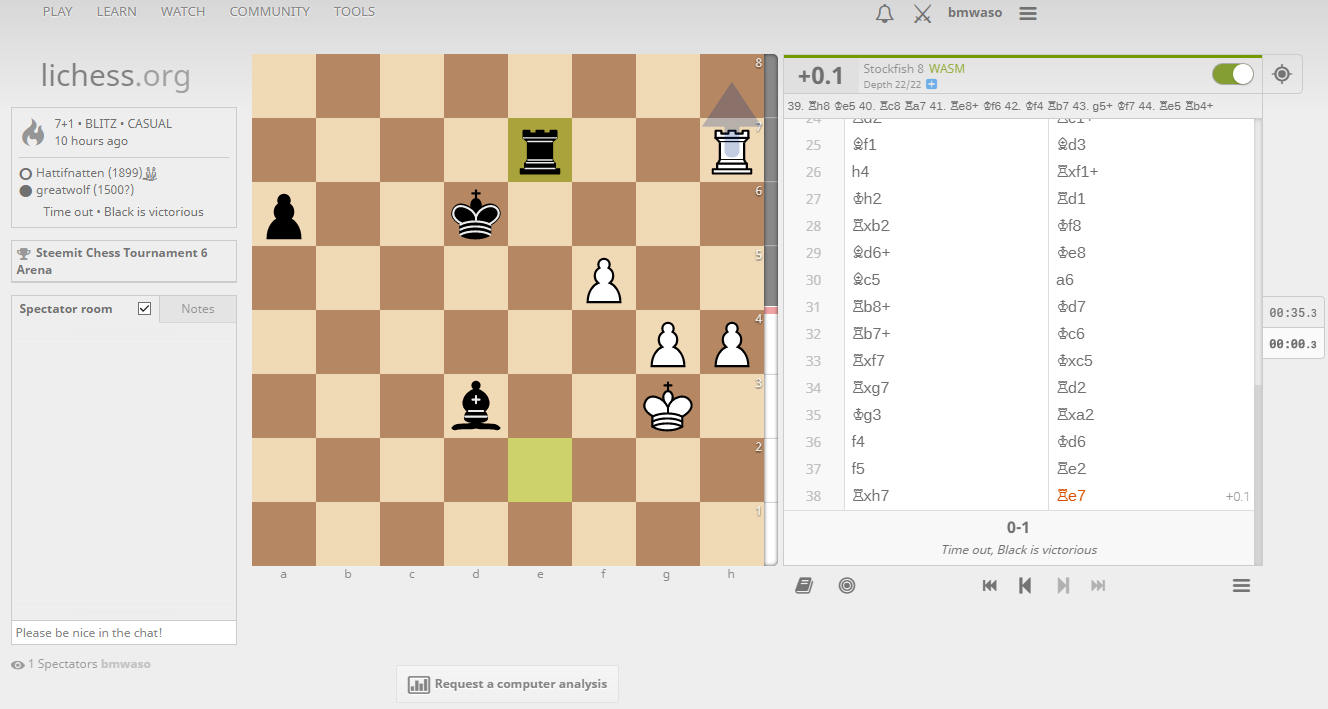 @kooshikoo(Hattifnatten) with the whites trying the berserk mode vs @greatwolf. However he got surprised by @greatwolf and lost the match.
---
@marty-art and @modnar had some interesting games between them and @marty-art gave a fight to some of the big dogs, however he wasn't as succesful as last time. It was fun to watch you guys play. Hope to see you compete again in the next tournament.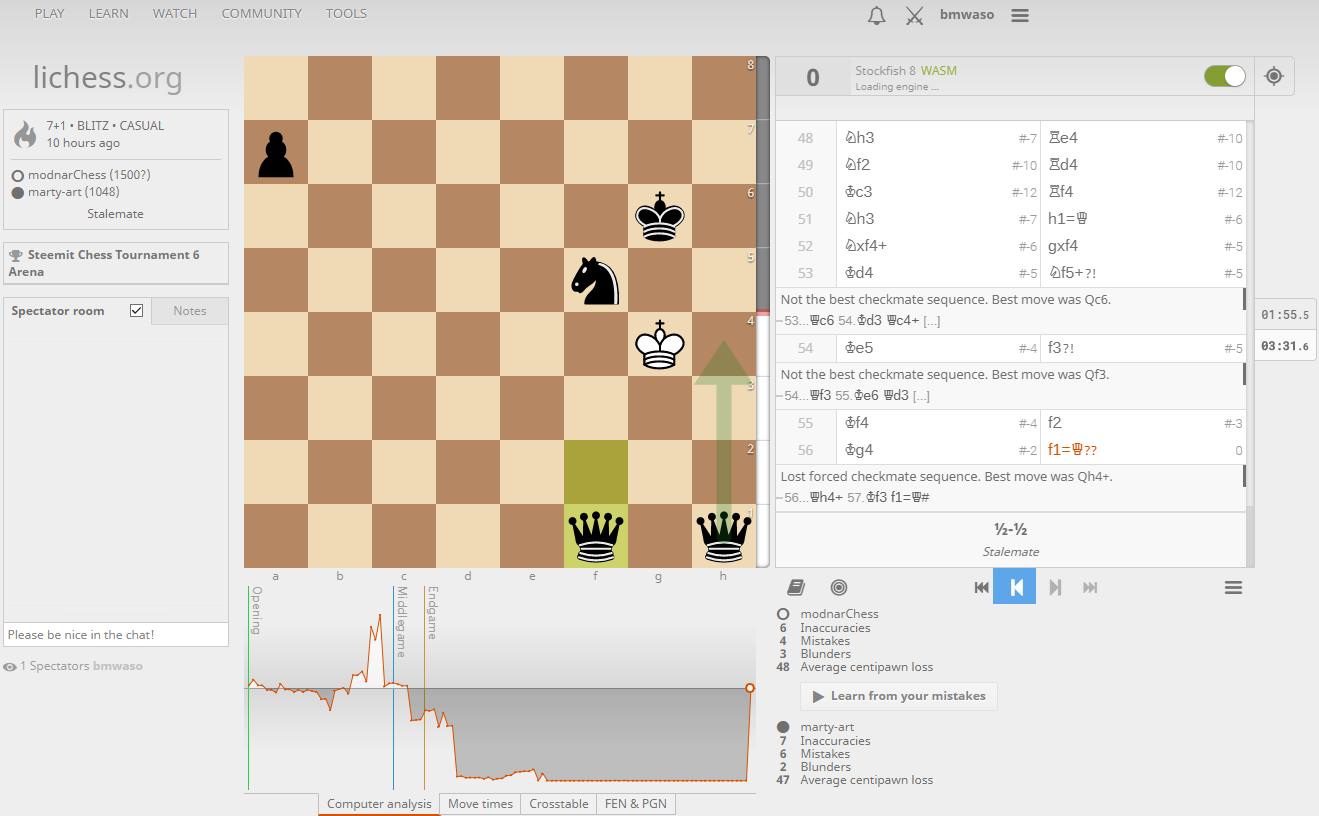 Another stalemate between @modnar and @marty-art! However this time it was @marty-art who couldn't finish the job even leading in every aspect of the game.
You may review all the matches HERE.
---
This tournament counted with 6.6 SBD prize pool! Update on the prize pool for next tournament will be posted the following days.
---
Any of the funds gathered by this post will be used to fund future tournaments & contests! I will be writing an update about next tournament soon, so stay tuned up!
---
A Special Thanks to @marty-art for Providing the Awesome Chess Pictures and to @schamangerbert for the Promoting and Financial help!