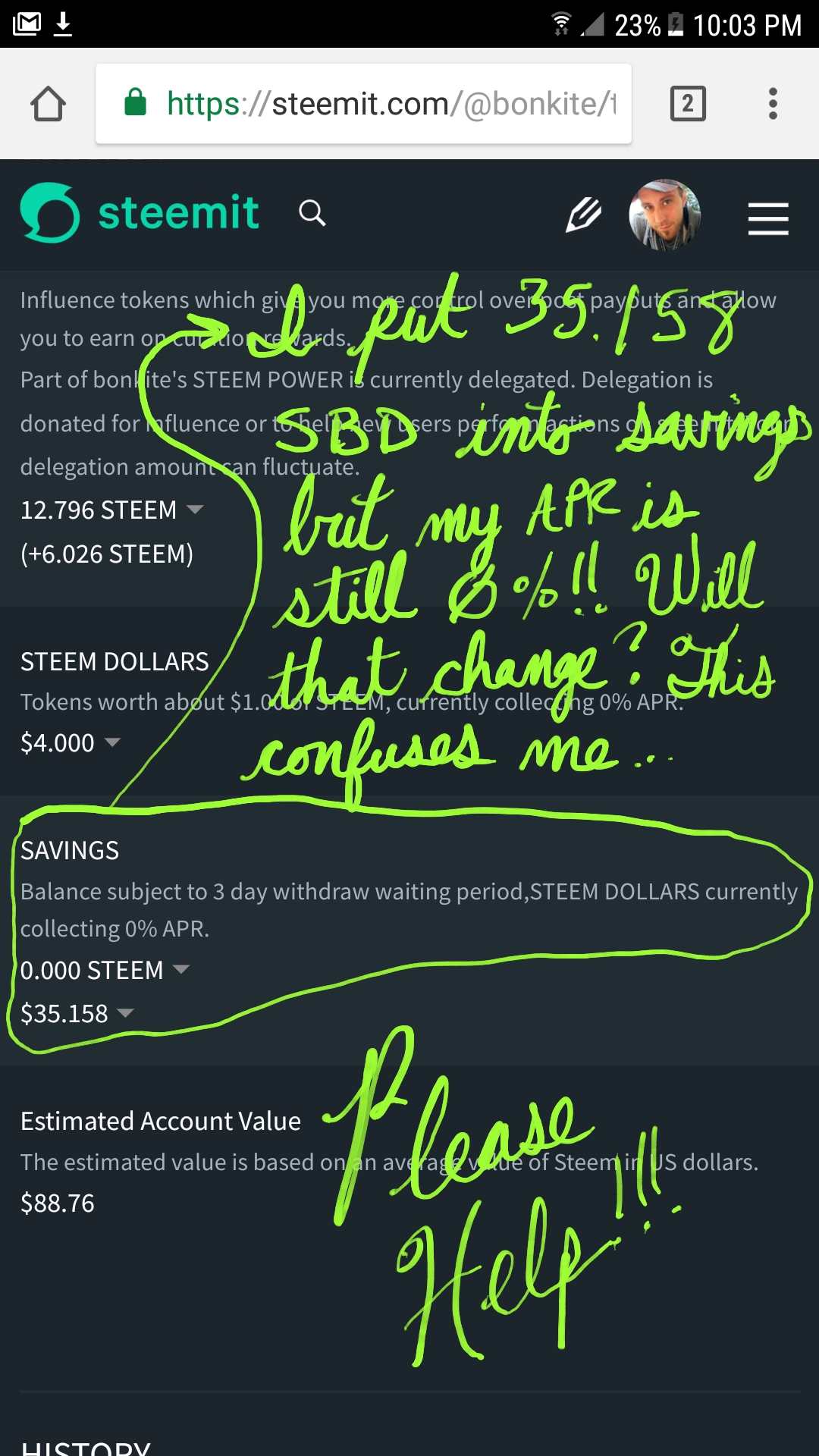 Steemit question from a nubcake!
I put 35.158 SBD into savings a little while ago expecting my APR to change from 0% to anything above 0% LOL... I know some things have changed over time and a lot of the videos on YouTube that I have watched to learn about stuff are probably no longer relevant. I do remember somebody saying that there used to be a 9% interest rate when you put your coins into savings, but I don't see any interest rate being shown and I just want to be certain, if my coins are going to be stuck in savings. Seeing as there is still a 3-day penalty period for withdrawing your coins from savings, what's the point of putting your coins into savings if there is no reward and only a penalty? I'm kind of confused by this more than anything atm... I know I have more questions but none of them are coming to mind at the moment because this one is perplexing the heck out of me! I'll post another blog if I can remember the other questions.
---
The Crypto Alchemist
Weapons Grade Media
°•°•°•°•°•°•°•°•°•°•°•°•°•°•°•°•°•°•°•°•°•°•°•°•°•°•°•°
STEEMIT FTW!!! Don't forget, if you like my content:
UP-VOTE & FOLLOW ME PLEASE! <3
☆☆☆☆☆☆☆☆☆☆☆☆☆☆
Other Posts By Me:
STEEMIANS!!! MUST READ THIS!! - So how much should SBD REALLY be evaluated at? $1,125? If you only knew...
STEEM & SBD BACK UP!!! $5.25 HIGH TODAY!!! CHOO CHOO TO THE MOON!!!
The Great Victor Hugo - An idea whose time has come cannot be stopped by any man or any army! Crypto IS that idea! Bitcoin - Currency? Or Monetary Jesus!
EXECUTIVE ORDER: National Defense Resources Preparedness - The most disturbing legislation written into law in my lifetime
TODAY IN CRYPTO - Library of Babel predicts BITCOIN'S FUTURE!! THE FEBRUARY 8TH BITCOIN PROPHECY!!