Two days ago i posted about going out to transfer some money and get some steem to gamble a little.
Predictable as usual i probably ended up losing some money, but atleast i was strict with myself this time, and actually powered up quite alot of steem. both when i was on a roll and when i was losing.
I figure with the price of Steem being so low now when im powering up my steem, i hopefully want start selling with the first price increase, and hopefully get some more of the groove of posting here on Steemit back.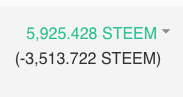 As you can see i actually have alot of STEEM now. when i wrote my last blog post i was at about 2300 steem powered up, so i have managed to add 3600 steem theese two days! most of what im delegating is to @tipu and @sbi
I have also become a @tipu curator which makes it more interesting to browse trough the NEW tab.
Lastly to the @sbi giveaway i will give one SBI share to the person that can comment with the most interesting gambling or steemgame post now. and i will give 2 shares to the article writer (It is allowed to nominate oneself.)
Hope you guys have a great weekend!