Honestly, I'm not a blogger before I joined steemit. Although, it has been a childhood dream to be an author for a self-help/motivational book. I used to write poems in High School and College. And I used to write love letters also, when email and cellphone have not been really a necessity. I used to write letters to friends way back in college almost everyday too. And I realized how I missed writing, when I joined steemit.
And now, as I go along being here for quite a while. I'm almost six months on this platform, I came to know steemit more, and like it better. I figured that steemit is more than a blogging site and definitely far more than an earning instrument. Steemit has taught me to become better, let me count the ways...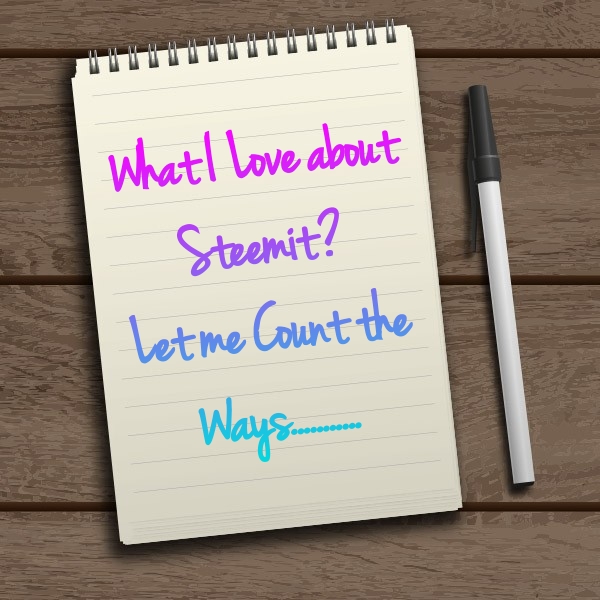 USE OF THE ENGLISH LANGUAGE
We Filipinos are one of the English speaking countries in Asia, if not the only. Almost all Filipinos, even the uneducated ones, can understand and might say a few English words from time to time. We have imbibed the use of the English language, that we have developed the so-called "Taglish" meaning Tagalog and English. Tagalog is our main language. However, in the recent books many Filipino words have been adapted to the English words already. Though it saddens me, but it's just how the way it works, we cannot express ourselves in pure Tagalog any longer like we used to. There are times that we are lost for words, that we tend to say the English word instead.
Anyhow, even though we get accustomed to the use of the Language. I cannot say that I'm always grammatically correct. But because of steemit, I became more conscious of the use of the language, especially in grammar. It is like re-learning grammar class- nouns, pronouns, adjectives, tenses, etc. Every once in a while, I asked Google for help, which is better used, as I have forgotten all the rules which were hundred of years ago. Lol! Online Thesaurus, is such a best friend these days, when it seems that what I'm trying to say is redundant. A little "call a friend" from Thesaurus.com does the trick. And it's also good to note that there is an automatic spell checker, because sometimes I get to missed a letter in a word and the checker helps me undo it. Punctuations, are also a problem. When I'm so engrossed in writing, I tend to type and type without even noticing to pause. So when I re-read it, it feels like I'm in a track and field competition.
RESEARCH
Steemit makes me do what I always wanted, Research. Maybe, you think I'm odd. But yes, I'm frustrated Researcher. I like to look for answers to my many questions. I learned to bake and make fondant cake out of my own research, without any training. I learned to make DIY skin care products because of this skill of mine. And so, when I'm always on the look out for topics on my next post, I try to do some research on the topic. I do not like to edit what I read, that is why I tried my best to explain to my readers what I have found out or read about in simpler terms, the way I understood it. Making post on a regular basis, is like being a College Student trying to pass a reaction or term paper in school. It simply feels going back to school, less the pressure, of course.
LEARNING OPPORTUNITIES
Steemit is like an Encyclopedia. A vast, and wide array of knowledge can be Found. Every feed, is a learning resources that can add up to anyone's information bank. It is in our own discretion, whether or not, we succumbed to whatever that we read and see. Honestly, I rarely scroll my Facebook page nowadays. When I do, I simply reminded myself that I get to gain more knowledge here than in Facebook. Well, of course there are still pages that I'm hooked. Like Tasty, which shows video on food, that I'm passionate about. It is like a discipline to myself to make the most out of my time. If I had to spend an hour in FB, I would have travelled from one FB page of friends to another liking and commenting. What did I gain? I say nothing. But I I spend an hour here on steemit scrolling going to my feeds, I would have travelled in some parts of Europe or America or Asia. I would have learned that Bitcoin and Steemit is down, so if I have money maybe I could buy some. I would have been inspired by stories and motivational post of some steemians. I would have interact with some of you, gained friends from other parts of the world. Upvote your post and help this community grow. Thereby, helping myself as well in growing in this platform. Some would have followed me, and would have upvote my future posts. And I would have earned those upvote in the future. Hahaha. But kidding aside, it seemed to me that these are the advantages of comparing the time spent between FB and Steemit. I don't know with you, but these just crossed my mind. And I think it is so much better.
HELPS ME GROW AND BECOME A BETTER PERSON
Every time I write my post, I tried to give my best shot. All throughout the day, I find a topic that interests me that I could talk about. I read about these topics, especially when it is more technical. Then I draft it, read it several times edit it before posting. When I do this, I feel I'm not just posting content. I'm the reader as well. I try to convince myself of the knowledge I have imparted. Because when all things fail, I need to be my own follower. Who would follow me? If I do not like to read my post in the first place. Or if I have not convince myself of the topic I'm talking about. So before I write a content, I need to put my best foot forward. If I don't give my 101%, then I'm not giving value to me first and foremost. So, we have to think before we click post. Did I give value to myself from this post? At the end of the day, it is not only the blog that will be remembered, it is also the author, who puts value to the content.
As I make more and more content, I initially learn from it. I believe it is not the content anymore that matters, but what I learned during the process. I'm re-learning the things I already knew, but failed to put action to. I have read many books over and over again, however I failed to follow what is written. If I write a content about them, then again remembered, and fuels the fire inside me. We need to realized that we do not post, just to earn rewards here. Yes it sure is fun to get paid. But isn't it more rewarding than learning more? So make sure to post quality content, not just for rewards, nor for your followers, but more importantly for yourself, for your growth.
WHAT YOU REAP, YOU SOW
For every effort, time, and dedication you put in steemit. There's a reward waiting. It may come in SBD's or SP's. It may also come with more followers, trending page, up votes from whales. Sure it is overwhelming to get up votes, but I'm more inclined to get comments from people who barely knew me or haven't followed me. And make an interesting discord of ideas. It flatters me, because I know they have read my content. The value of the reward we receive, varies from our own perspective of what is important. Are you in for the money? Or are you in to make a better world?
You see, we are all catalyst of change. In this world full of uncertainties, we need to become a bigger and better person. We could touch someone else's life in steemit without knowing it. So whether or not, we do came across someone whose lives we touched. Let us remained to create value, not for them, but more importantly for us-ourselves. Because nothing and no one can change unless we do. And no change can happen unless we put our time, effort, heart and soul and our 101% in every thing we do.
Just keep on Steemin'!