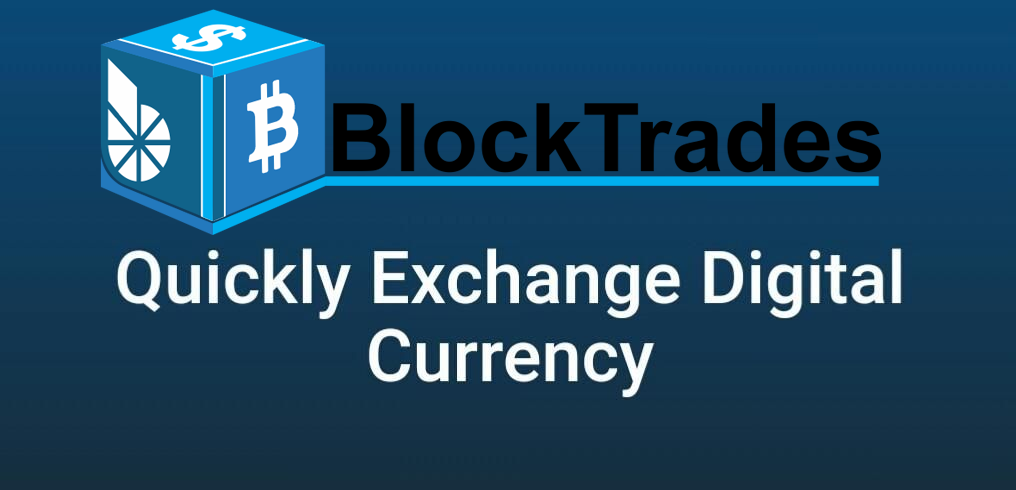 Dear Steemit Friends,
As someone who helps to manage a number of communities within Steemit and Discord, I often get asked for recommendations on ways people can maximize their earnings and particularly for non-US countries such as the Philippines, how to best withdraw their funds and convert to local currency. For the most part, people tend to use popular exchanges such as bittrex, Bitstamp, Coinbase, and other less known exchanges.
The challenge with using some of these exchanges is that they can often be slow to process transactions and are most of the time very expensive and inefficient. Often times users may run into issues (especially in the case of Bittrex) with wallets being taken offline and other general issues that end up delaying transactions and almost always often end up with the user losing funds due to the fluctuating value of cryptocurrencies. Only in very few cases do people end up benefiting from sudden spikes in price, since the disruptions tend to happen when the value of currencies is falling.
When issues occur with withdrawing funds from Steemit to exchanges and I am asked what the solution is, my recommendation is unfortunately always to verify through blockchain where the transaction is stuck and then contact the exchange for support. This is also assuming all of the information submitted for the transaction is correct. I usually follow that up by recommending that people should use Blocktrades as their primary tool for purchasing, transferring, and withdrawing funds from Steemit.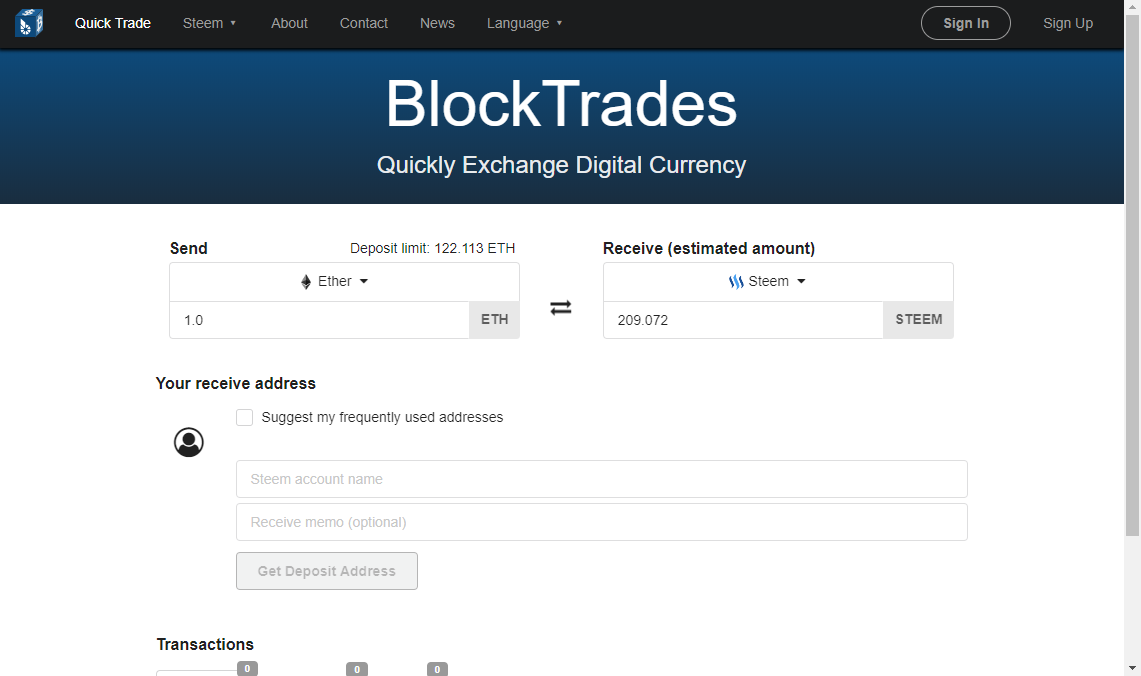 The team at @blocktrades has done an amazing job at creating and updating the site to ensure simple, smooth, and fast transactions. It is often times one of the most reliable currency exchanges that I have found and I always find myself using it and referring others to use it because of its simplicity and ease of use.
Specifically for the Philippines, below is a step-by-step walkthrough of how to withdraw funds from Steemit using Blocktrades. This walkthrough can also apply to other geographies.
Step 1 - Specifically for withdrawing SBD/STEEM from Steemit
Select the type of currency you want to send from the "send" drop-down (In this case we will select SBD - Steem Dollar)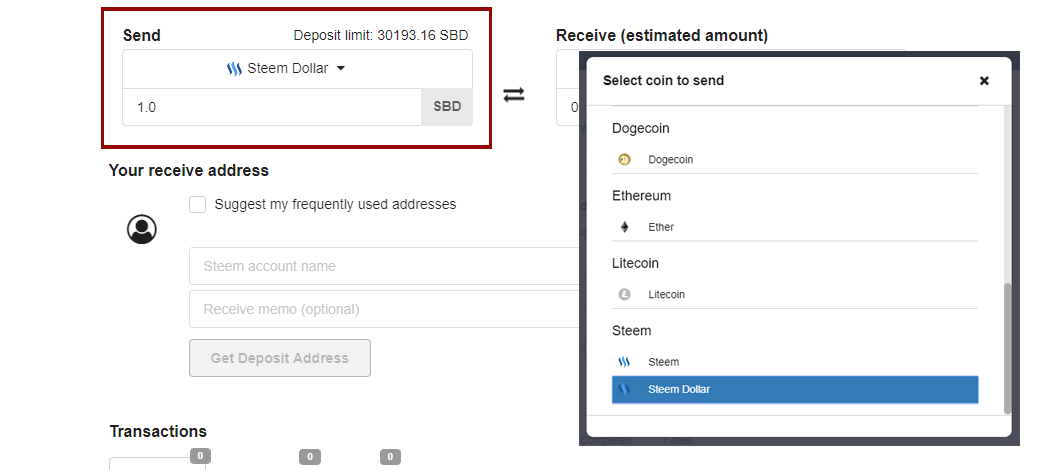 Next Select the type of currency you want to "convert" to in the "Receive (estimated amount)" drop-down (In this case we will select BTC since most people and withdrawl institutions have BTC wallets). You can also select LTC/ETH if you would like for faster transactions, but it really doesn't make that much of a difference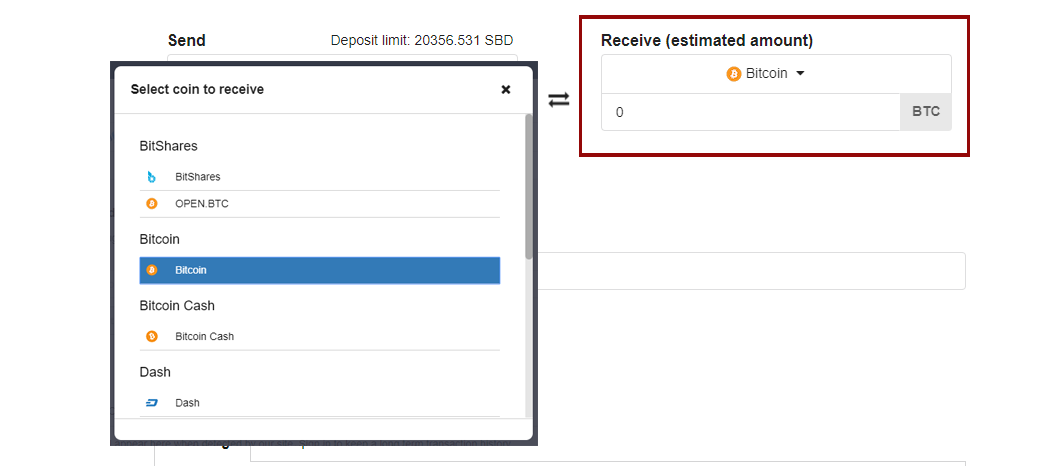 Next Input the Amount you want to withdraw in the Send box and the amount should automatically be converted to your preferred withdrawal currency in your Receive (estimated amount) box (In this example we will withdraw 25 SBD, which at current rates equals roughly 0.00727779 BTC).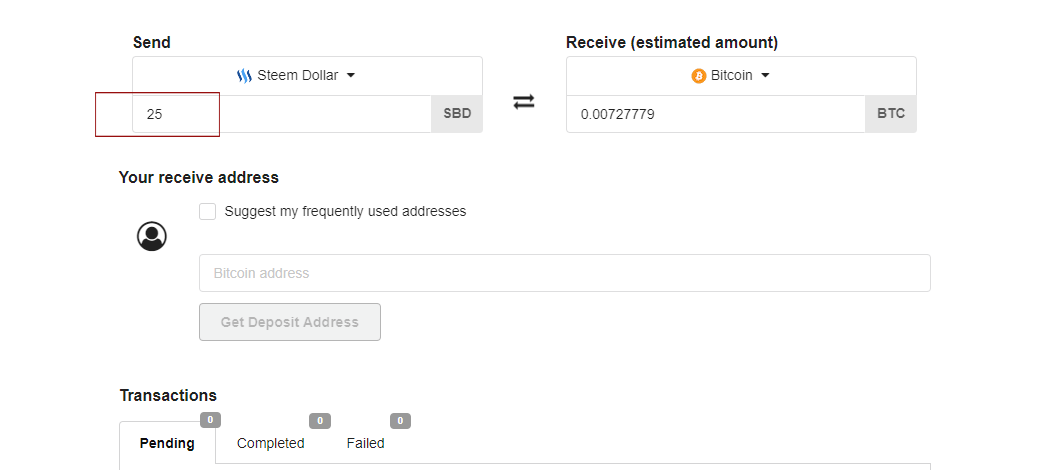 Step 2 - Get Your Withdrawl Address (if you aren't in the Philippines and using coins.ph then skip to Step 3.
In this example we will be withdrawing to coins.ph, but users in other geographies can simply do the same thing using their preferred wallet service or exchange.
Log into your coins.ph account or create an account if you are new. Heads up, the coins.ph links are my referral links, so if you use it, I appreciate the support!
Once logged in, you will be at your account homepage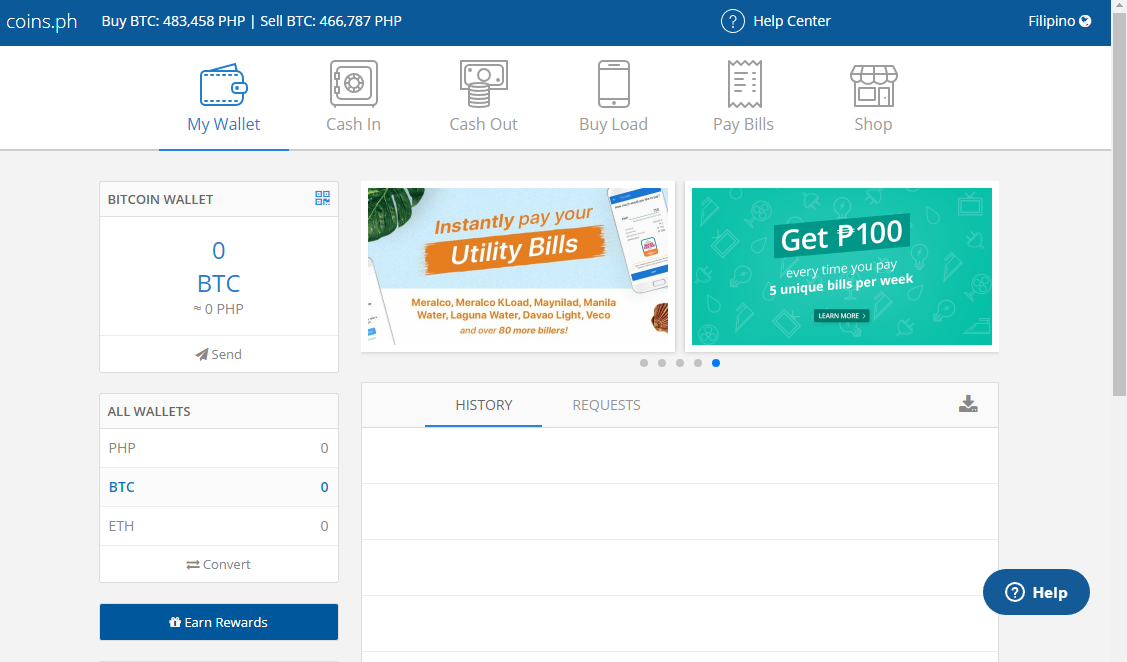 To get your BTC Withdrawal Address that you will use on Blocktrades, simply select your BTC Wallet and click on the barcode at the top right corner of the BTC Balance box.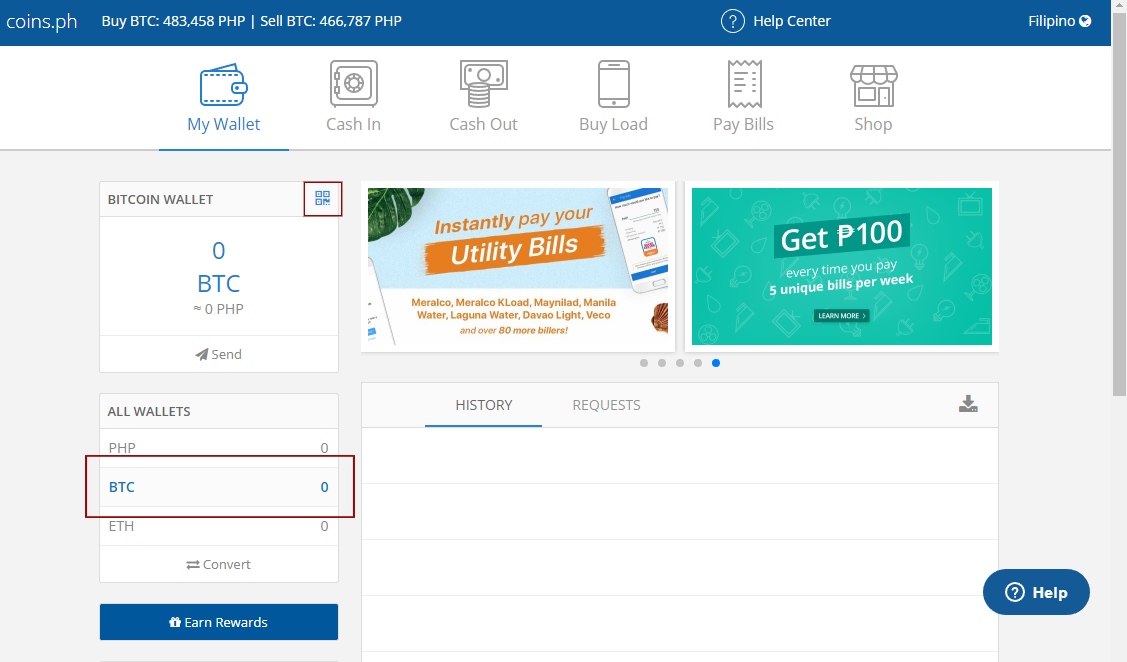 Once you click on the barcode, you will get a popup with your BTC Wallet Address similar to the below screenshot (feel free to send me some BTC if you would like 😃)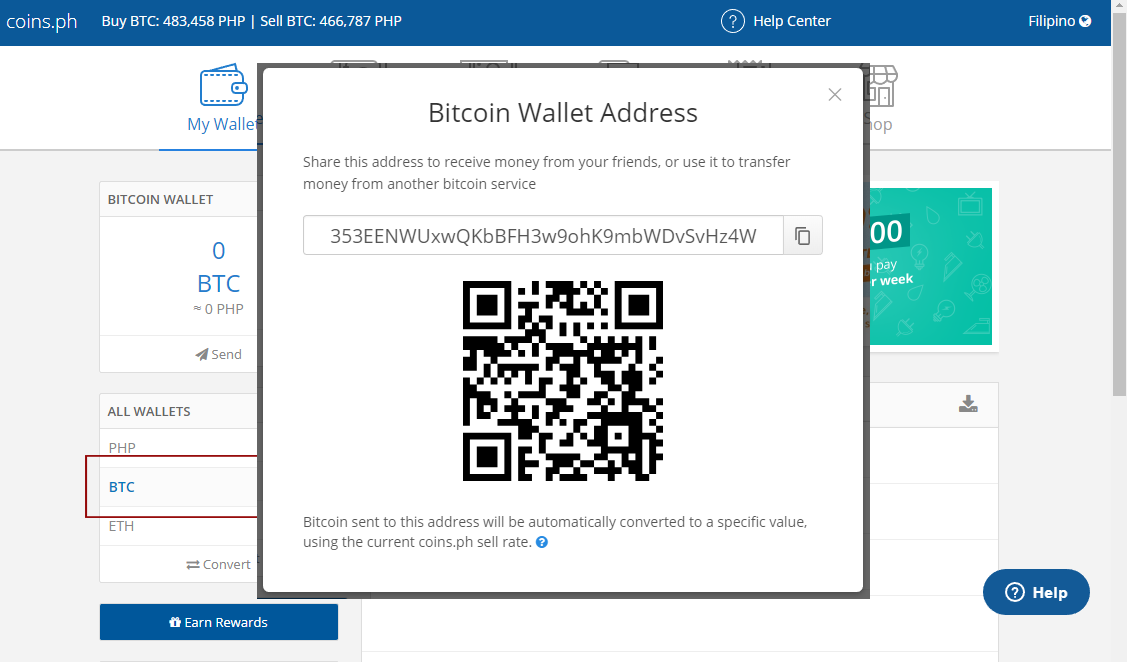 Copy the address and paste it into Your Recieve address on your Blocktrades page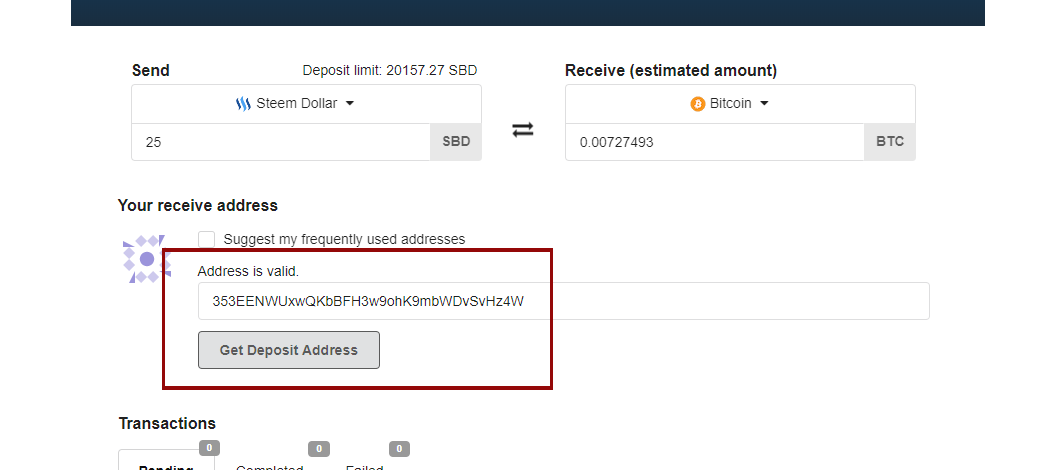 Blocktrades will confirm and let you know if the address is valid or not. Once the address is confirmed, click the "Get Deposit Address" Button and that takes us to Step 3

This is Optional but if you want to simplify and skip the process of Transferring/Converting your SBD/STEEM to BTC and then converting your BTC to PH Peso in coins.ph, you can simply use your PHP Wallet Address as your Blocktrades receive address and coins.ph will automatically convert your the BTC that you receive/convert from Blocktrades as soon as it receives the BTC funds. To do this, you follow the same steps above, but select your PHP Wallet instead and copy that address into Blocktrades.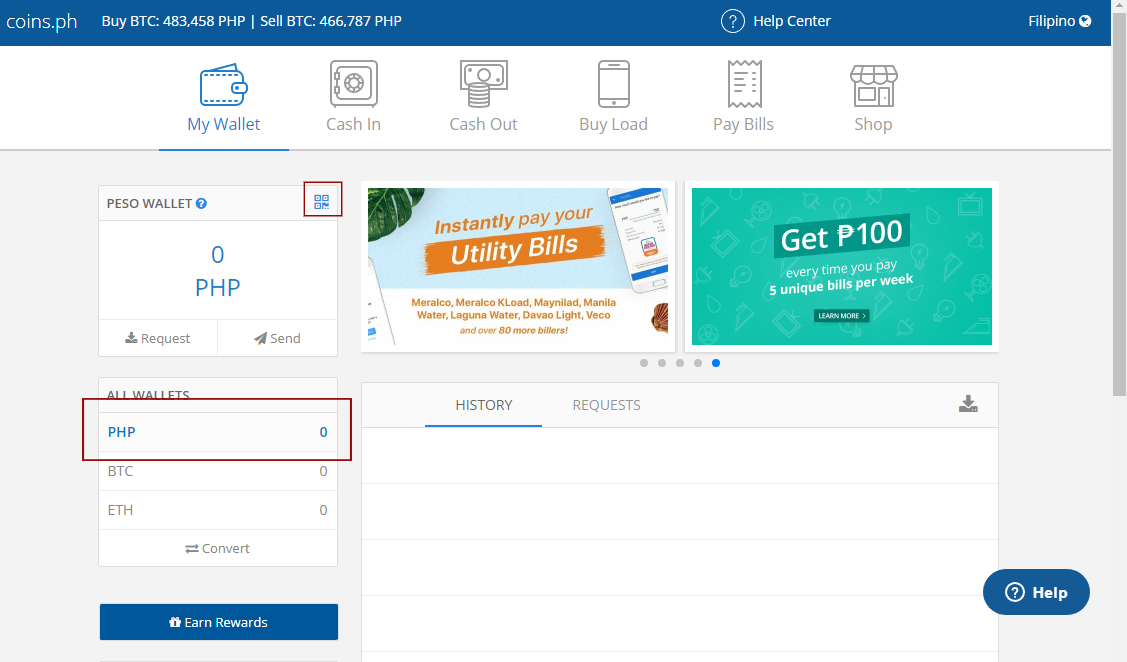 Step 3 - Input your Steemit Information and Execute the transfer
Once you have clicked the Get Deposit Address button, the site will bring you to a new section that will allow you to execute your transaction using Steemconnect or to Manually transfer the funds to an address in order to automatically execute the transaction.
Note: you can use Steemconnect to make it easier, which will require you to use your private active key to log in through Steemconnect (which is completely safe)
I generally choose to go with the Manual Transfer option since I tend to like to be in control of all my transactions. In this example I will use the Manual Transfer option.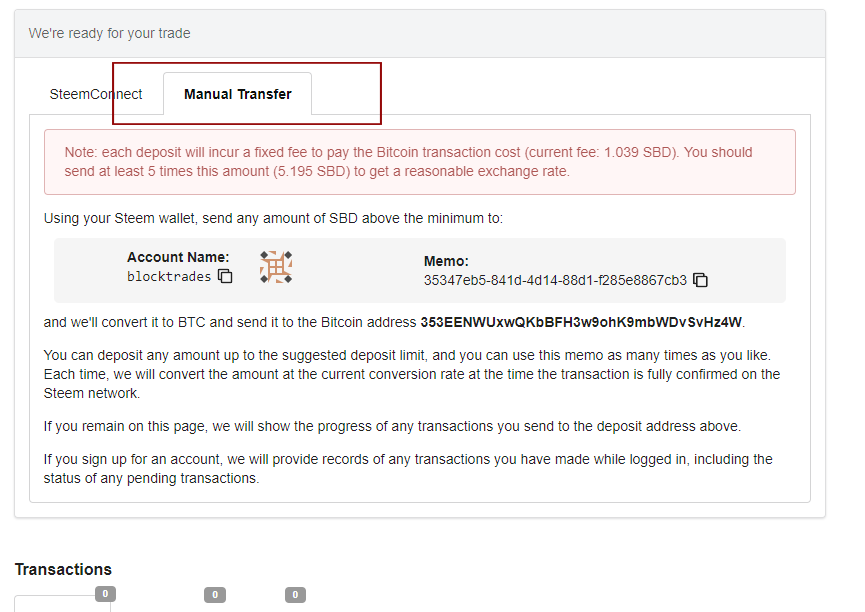 Take note of the Account Name and the Memo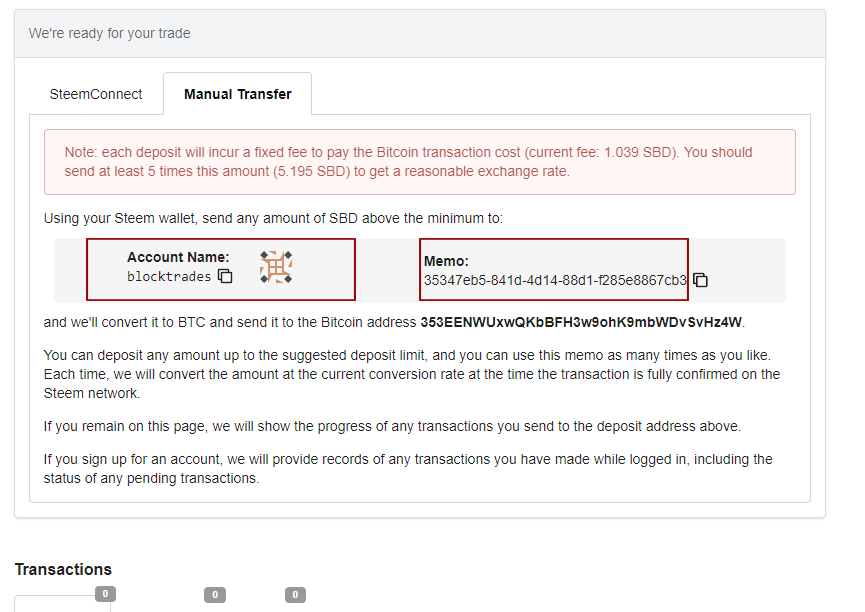 ---
What is great about using Blocktrades is that they charge a fixed fee (in this case 1.039 SBD) so no matter how much you send/convert, the fee remains flat. What that means is that you should save up your SBD/STEEM and do a "one-time-big-time" transfer of funds rather then more frequent small transfers as the fees will add up.
---
Step 4 - Send the funds for conversion and deposit
If you are doing the Manual Transfer following step 3 previously, the next step is to go to your Steemit Wallet and send the appropriate funds to the Account Name with the Memo that you took note of previously (Make sure you are sending the correct funds that you specified - SBD or STEEM)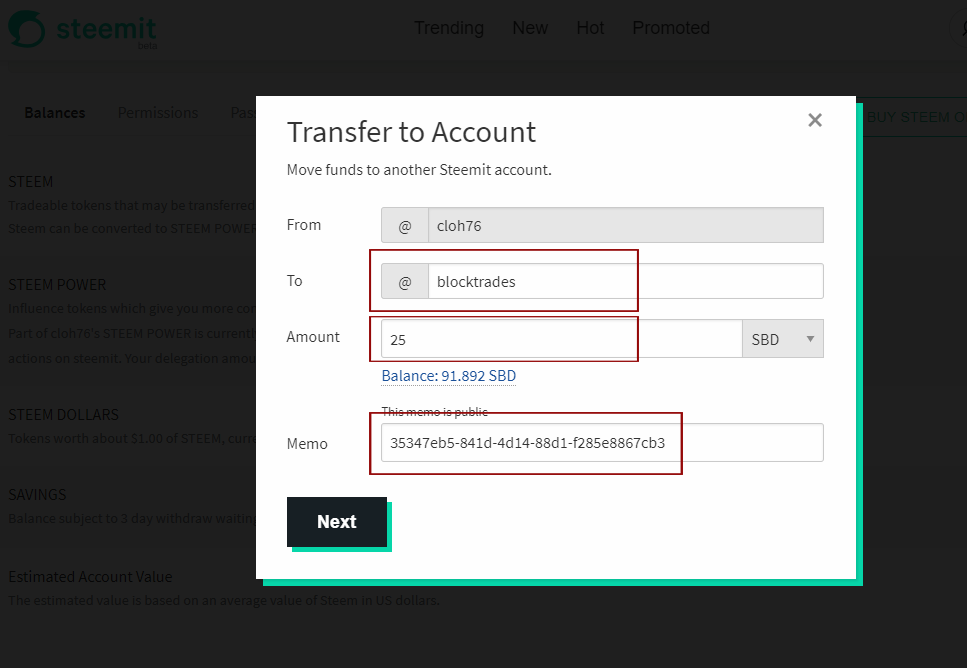 Ensure the information is correct and Click Next.
Once complete, you can follow the status by looking at your Transactions at the bottom of the Blocktrades Page. It will automatically update as the conversion and transfer processes. Once it is marked as Complete Your funds will have been sent.
It generally takes about 15-30 minutes for the funds to be deposited into your wallet and then you can use whatever means you generally use to withdraw the funds. For coins.ph users, you can transfer directly to your bank account or remit through several other facilities. When withdrawing in the Philippines and the US, it generally takes me 1 day to transfer/convert/withdraw funds from Steemit. Both Blocktrades and coins.ph work very fast!
Withdrawing your funds from Steemit can often times be a challenging and complicated task, but using Blocktrades to access your funds and transfer between your various accounts, exchanges, and wallets simplifies the work. I hope you found this guide helpful and informative.
If you have any questions, issues, or concerns, please let me know. I would appreciate you leaving me a note in the comments section below. If you found this post helpful please consider upvoting, resteeming, and following me in order to see more of my daily posts.
If you have more questions, please feel free to contact me on Steemit, Discord, or Steem.Chat at @cloh76 or @cloh76.witness