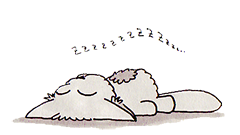 Attention - I have to stop Cuddling!!
or at least I'll have to do it in secrecy for now!
and by flagging I mean down-voting EVERY comment made in the past 4 days!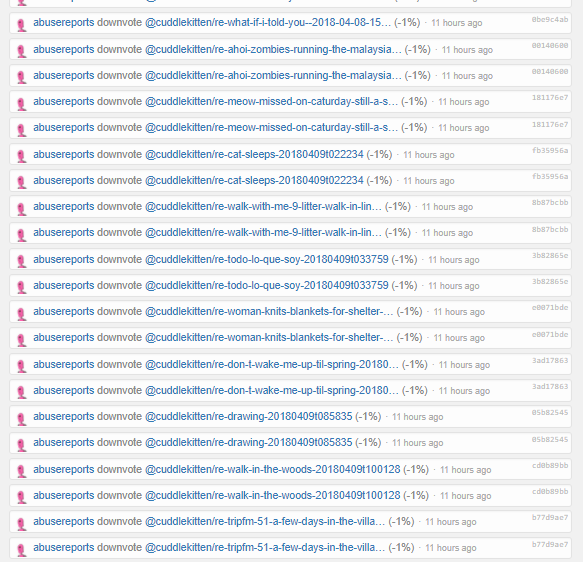 I am not sure WHY exactly this is happening...
I am only being told to stop the "naughty actions":

I am not sure how @cuddlekitten ended up on @abusereports' flag-list in the first place. I'll have to assume it's somewhat related to the new steem-sincerity API classifying @cuddlekitten as a top-8 biggest spammer on steemit?!
I've already talked to @andybets about the situation on multiple occasions and he pretty much agrees the classification to be inaccurate and due to a very limited set of training data for his AI.
But I actually do not know if these two situations are related at all, maybe it's just a coincidence in timing?!
To prevent further reputation damage I am putting @cuddlekitten to sleep for now.
@abusereports doesn't have a public appeals process that I know of. It is being operated by @nextgencrypto (@berniesanders) and @emrebeyler, so I'll have to try reaching out to them, Wish me luck... I am not quite sure where to get a hold of them. If you have any pointers that may help me get to the bottom of this, it will be much appreciated!
While this situation unfolds, a lot of you cuddle-buddies have helped negate most of the reputation damage done by the flags with your upvotes. I'll have to especially give Thanks to @steempty for the major support as this unfolded, to @reddragonfly for already being vocal about the situation and to @reggaemuffin for helping this post become visible again after being auto-flagged, too.
---
P.S.: in the meantime @cuddlekitten is delivering cuddles to her buddies again, but she has been muted in order to prevent any new comments from continuously being auto-flagged. I hope this gets solved soon. I have contacted both @emrebeyler and @nextgencrypto via steem.chat and I am awaiting their reply.
UPDATE: 3 hours after making this post the steem-sincerity API has stopped listing @cuddlekitten under the top 500 spammers, instead she now receives a 0.87% human score, which is equally inaccurate! I guess writing a single post can convince the AI to change it's judgement from wrong to equally wrong but less harmful?!
UPDATE: 4 hours after making this post, reaching out to @nextgencrypto on steem.chat, he removed @cuddlekitten from the flag-list of the @abusereports bot. I will unmute @cuddlekitten again. If there are any more concerns about the kitten-bot being a spammer, please, do not hesitate to reach out to me.
UPDATE: 6 hours after making this post, automatic flags are still happening and all kitten-bots have been muted for now to avoid further reputation damage. not sure if @abusereports changed their mind or if the "un-listing" just takes time.
FINAL UPDATE (hopefully): another two hours later the "un-listing" finally took effect - cuddling continues, let's get fluffy again. I hope this was the last update on the matter!
---