Hello steemians,
I am changing my way of posting with a new concept!
When i see a comment on my post that inspire me to write a detailed answer, i will upvote the comment to thank the author and i will answer with a new post to add visibility and share our thought together.
So continue to comments my post to let the talk going! Community talk :)
I will pick some of your subjects for my next posts!
Each day is a suprise and i never know in advance what i will talk about, it's exciting!
I will probably not be able to do it everyday because i am loaded with work but i will try my best.
Here we go: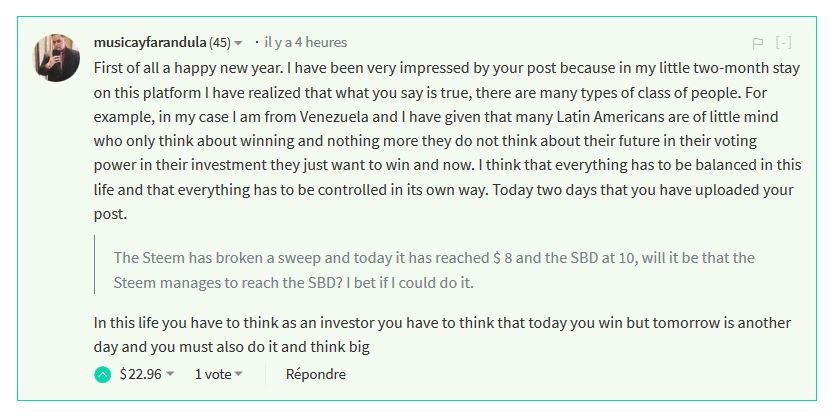 First thank you for your kind words and your comment musicayfarandula!
The tricky thing about steemit and i think i've never mentionned it here before:
Steemit is a gateway to cryptocurrencies, most new users are probably attracted by the rewards system and the cool concept of winning money simply being active on a social media paltform.
Nowadays most people spend a large amount of hours on social media for FREE.
In fact not totally free, just have a look at the revenue generated by twitter, snapchat, facebook...
Social media is a huge business running on top users that never see a pennies extracted from their data, energy and social activities.
Modern slavery as usual, big company keep making profits from users with no fair distribution whatsoever and everybody thought nothing different could be done before blockchain technology and steemit!
More often than not, i am sure new steemit suscribers don't even know what blockchain or cryptos are.
They come first for the rewards, then they try to cash out some money, oops how does it work?
They have to search for informations, register an account on crypto exchange...
Finally they slowly discover the concept and revolution of cryptocurrencies and i believe they progressively change their mi nd as soon as they understand how it works and what is the purposes.
Slowly they develop close link with others steemians, love to share, take pleasure participiting in this great community and learn more and more about all kind of subject reading good contents everyday.
I am sure more and more knowledge they get more and more they believe it is a revolution and want to be a part of it, buy some steem, post and earn some tokens, hold and power up as much as possible because they see the long term potential of steemit.
The price of steem start to reflect the adoption effect.
Steemit is a troyan horse to boost crypto adoption.
Crypto community often talk about the killing app that will fuel the crypto mania rocket, i think it is steemit!
Thousand of persons suscribe to steemit everyday and discover our crypto world!
Have a great day :)