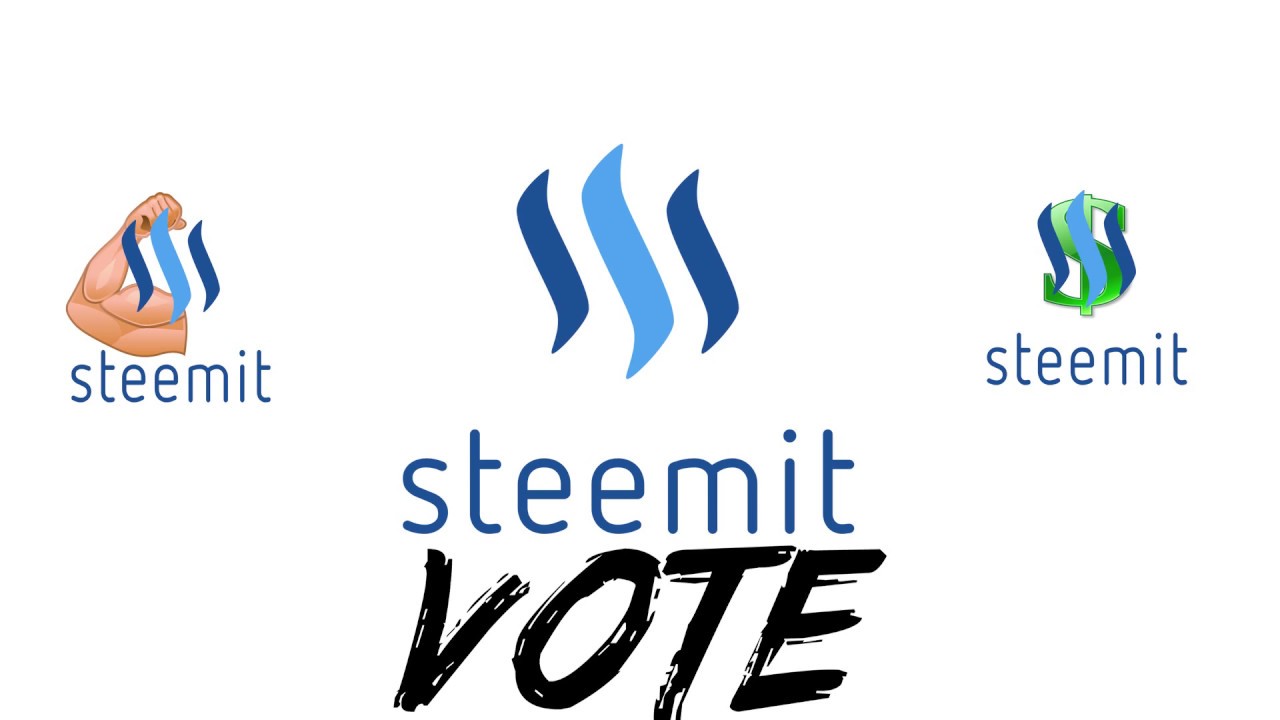 As introduction i let you read my post about how could we upvote to help steemit growth:
https://steemit.com/steemit/@damarth/how-could-we-upvote-to-help-steemit-growth
Nowadays price of steem and Steem $ (SBD) increase sharply and adoption rate accelerate , a lot of money is now involved in steemit economy.
Even if i already have stated six months ago that my optimal voting strategy has 33% of my votepower going on myself and in average last few months i have voted for myself less than my optimal strategy, i often receive complain about the fact i upvote my comments.
In this post i will explain you how steemit ecosystem works and why it is totally normal and acceptable to vote for ourselves and hopefully quarrel will vanish.
There is different class of users on steemit network and unfortunatly i see more and more frictions.
To simplify i see three mains class:
.the authors and contents creators
.the investors
.the speculators
In fact These class are ridicoulus because as soon as authors get rewarded and hold steem or SBD they become a shareholder and an investor of steemit platform so they are incentivized to help the growth of the platform.
But you know human mindset like to make diffrence and create imaginary boundaries and quarrel for no real reasons.
I am in the fourth class, what ? you said there is three class?
Well as you understand these class are bullshit and we should not create false barrier.
Yes i am an author, i welcome new users with comments, i post when i can and i am also an investors as i bought steem tokens with my hard earned money and powered up, i vote and reward good contents, finally i am a speculator as i trade the tokens.
                        Investors mindset

Ask yourself : What give value to steem tokens?
When i talk about steemit and introduce people to discover the technology they often ask me this question :
Who buy steem token and why?
Actually this is a great question because if you can't answer it then you can't understand how steemit economy works.
The simpliest answer is SPECULATION, some people think steem token price will increase and they will be abe to make profits.
They bet with their hard earned money and take a financial risk because they expect to make profits.
Some people keep their steem liquid and don't power up they prefer to trade the token on the market, i call them speculators.
They are very important because they bring liquidity and volume to the market wich permit to everyone to sell or buy the token easily with minimum spread.
As soon as speculators power up and can't withdraw all funds for 13 weeks they becomes investors and shareholders.
It is a huge risk to lock funds for such time to motivate this moove they get curration rewards and become participants to the platform success.
Actually steemit generate no revenue , there is no buy back strategy with profits so all the steem earned from authors are sold on the market are bought from investors and speculators.
As you see authors can't really complain against investors because without investors and speculators the price of steem would be 0$, authors would earn nothing, most of them would not be so activce and the platform would have a very low adoption rate compared to today because there is a strong correlation between the price of steem and adoption rate.
Have a look to the great Penguin Pablo steem stats report and study how the stats moove regarding tokens price evolution:
https://steemit.com/@penguinpablo
More the price of steem increase , more authors get rewarded, more it create a free positive adverstising loop for steemit and adoption growth faster.
           Why authors should not complain about investors behaviour?

-Without investors and speculators steem token has no real value.
-investors take all the risks to make profits. To gain money they need steem token price to increase so they have to act in a way that help the adoption of news users and usecase of the tokens.
-Authors take no financial risk, they only risk to loose some time posting on a social media platform and not get rewarded for it. Look like it was not a big deal posting for free on facebook, twitter etc...
Investors have all the reasons to help steemit network to grow, help adoption, voting for good contents...
So Why the hell some investors vote for themselves? Yes why because it give less rewards to authors and it is not the best for adoption right?
Think deeply about it!
An investors need to be constantly motivated to hold the token and not selling quickly to lock profits.
=> distributing some of the rewards to ourselves help to keep holding the tokens. = less sell pressure = higher steem price.
=> It also show to authors and new users that there is some positive effect to buy steem tokens and not only wait for rewards.
=> Investors sell less tokens because they profit a bit more from it = less sell pressure on steem token = higher price for steem = more profits fro everyone.
=> motivate new users, speculator and authors to buy steem to vote a bit for themselves = more buy pressure = steem price increase...
=>when price of SBD is high (2x+ higher than streem price), SBD price increase doesn't profit so much to investors or authors but mainly to SBD speculators, when investors vote for their comments they get some steem $ and can add sell pressure to SBD price and buy back steem tokens with the profits as result steem price increase and everyone profits.
You could tell me it's the same if an investors vote for other people comments, not really because nothing insure us that the profits from SBD will be reinvested on steem and finally profits to everyone.
It is quite normal that when SBD price goes to 17$ while steem is priced at 3$ investors want to exploit and help to eqilibrate the situation.
This is the reason why at the moment i upvote a bit more often my comments and i upvote authors a bit less, i help to regulate the difference of price between SBD and steem adding sell pressure on SBD and i buy steem with the profits wich benefits to everyusers of the platform.
Ok but what happen if all investors becomes greedy bastards and start to vote only for themselves ???
Is it the end??
No because steemit ecosystem protect everyone. If investors stop voting for authors, adoption will fall, valu of the network will decrease to oblivion and at the end investors will loose everything!
At one point SBD price will go under steem price and there will be no more exploitative strategy everybody can return to what i think is the equilibrium strategy. (33/33/33)
                   Author mindset:

Authors want their work to be rewarded with fairness.
As stated before when authors get rewarded they automatically become a shareholder they also have decisions to make:
If they quickly need cash to live or don't believe steem value will increase they will directly cash out their profits nobody say anything about it, they are free to do whatever they want even if it create sell pressure on steem price, decrease the valu of steem token and everybody get rewarded less at the end.
But if they believe steem adoption will keep going up , they believe steemit technology is revolutionnarry and give financial power back to everyone , then they become investor and power up!
There is some greedy authors aswell attracted for some quick profit who permanently post shit, create multio account and constantly try to trick everyone in order to get rewards.
But i don't care , why? Simply because long term these people don't matter, over the time everyone see what they are doing and they will not profit much and for long, it doesn't really impact the platform.
On steemit we get to know each over, we finish to like contents creators and it is a pleasure to vote for them. As investors it is a pleasure to read good contents and rewards them. It feel good to give money to people that deserve it.
Scammers posters will never get anything significative.
One special word for authors that post great contents and doesn't get the rewards they deserve, don't loose faith, be patient, stay active and develop connection with other steemians, it take time to be valued as you should simply because there is so many new post and authors per day.
Step by step your work will be rewarded, no doubt about it :)
To conclude , each participants to steemit ecosystem is a decision makers, the ecosystem will always find an equilibrium wich profit to everyone in the long term, it is a very powerful system and it is one of the biggest reason why i believe so much on the success of the platform.
With this post i try to explain you different scenarios case of abuse and exploitative behaviour from differents interest coming from all participants of steemit economy to let you understand that action create reaction and at the end you can toy with all possible scenarios and finally be insure that steemit ecosystem is protected by Game theory.
https://en.wikipedia.org/wiki/Game_theory
If SBD isn't too high compared to steem , you could decide to downvote some investors that only vote for themselves for a very long period of time to be sure they don't exploit the system too much while others investors stay balanced with a 33% strategy but at the end keep cool because nobody can really abuse the system without risking to loose more than what they could win.
Risk reward and expected value are simply not positive when somebody try to abuse the platform long term.
Happy new year to everyone!