Recap:
In my previous post, I looked at the quarterly churn rate of the users based on their voting. You can check it at:
https://steemit.com/steemit/@dbdecoy/steemit-churn-rate-and-engagement-level-an-analysis
The Next Quest
I thought of finding which country is the most influential or engages the most on this network. Sadly, Steemit blockchain is not stringent about storing the geolocation of its users. In fact I came across a whale who has described its location as 'Milky Way Galaxy' 😂 . Good luck with spotting this whale without hacking. So I decided to take up the next most important component after location - Time to find when the network is the busiest with its voting. I am not taking up posting and commenting yet as voting is the primary incentive for rewards I will include them in a later post.
Tools Used
The data being used is still from the ever reliable steemsql.com. I have connected Google sheets to it for pulling up the data I need. For Analysis, I decided to use the Tableau Public BI tool as it is free and has the ability connect to the Google Sheets. You can download it from https://public.tableau.com
The Method
The process involves pulling up the timestamp column of the TxVotes table in the steemsql server based on the Vesting Power of the users and aggregating it on hour and day. I decided to split the data based on Vesting Power so that It would be easier to know when the Influential users are around. A quick rehash of the user classification based on Vesting Power:
| Vesting Balance | Coinage |
| --- | --- |
| Above 1000 MVests | Whale |
| Above 100 MVests | Orca |
| Above 10 MVests | Dolphin |
| Above 1 MVest | Minnow |
| Below 1 MVest | Plankton |
Fun Fact: We have a new minnow amongst us.
The steemsql server has it's timezone set to GMT+2 hours, I have adjusted the timings to GMT so that it is easier for everyone to comprehend the time being displayed.
Charts
My previous article did not carry any charts, so I decided to spice up things a bit. Using Tableau, I connected to the google sheet and pulled up the dimensions and measures required to get a chart of the Voting patterns on a particular hour in a weekday. Here are the results:
Sunday & Monday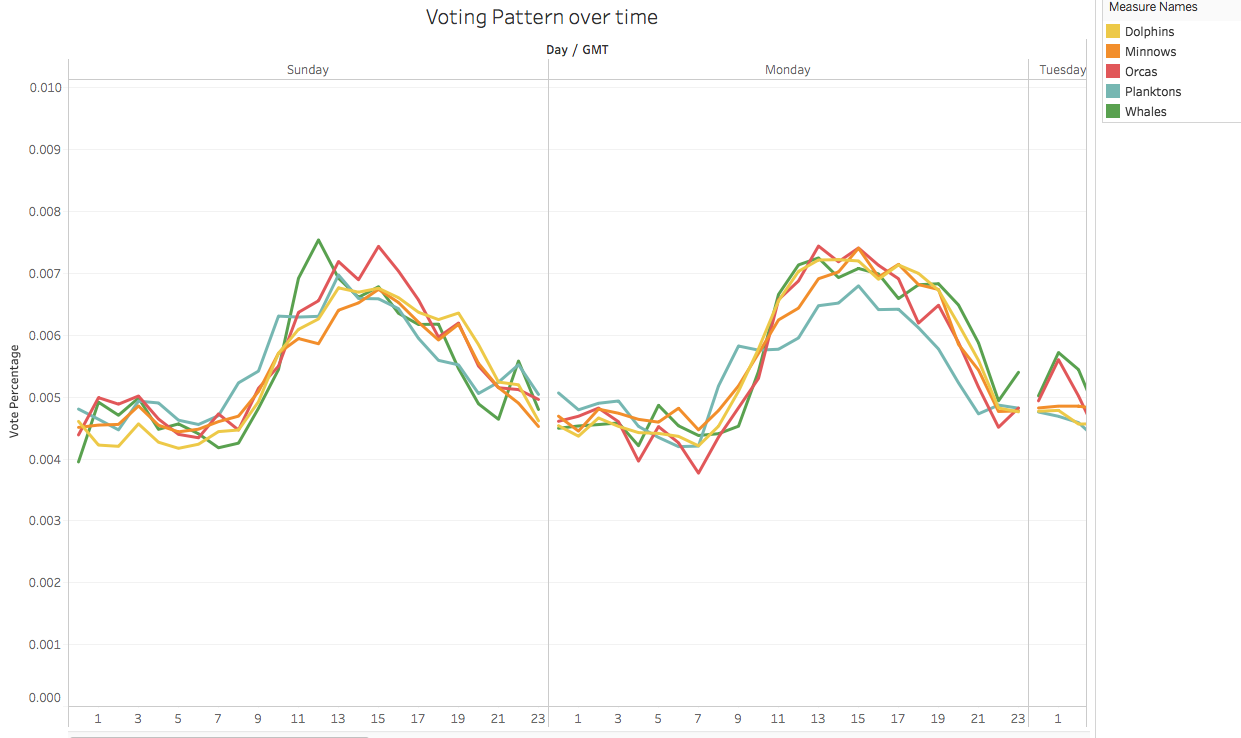 Tuesday & Wednesday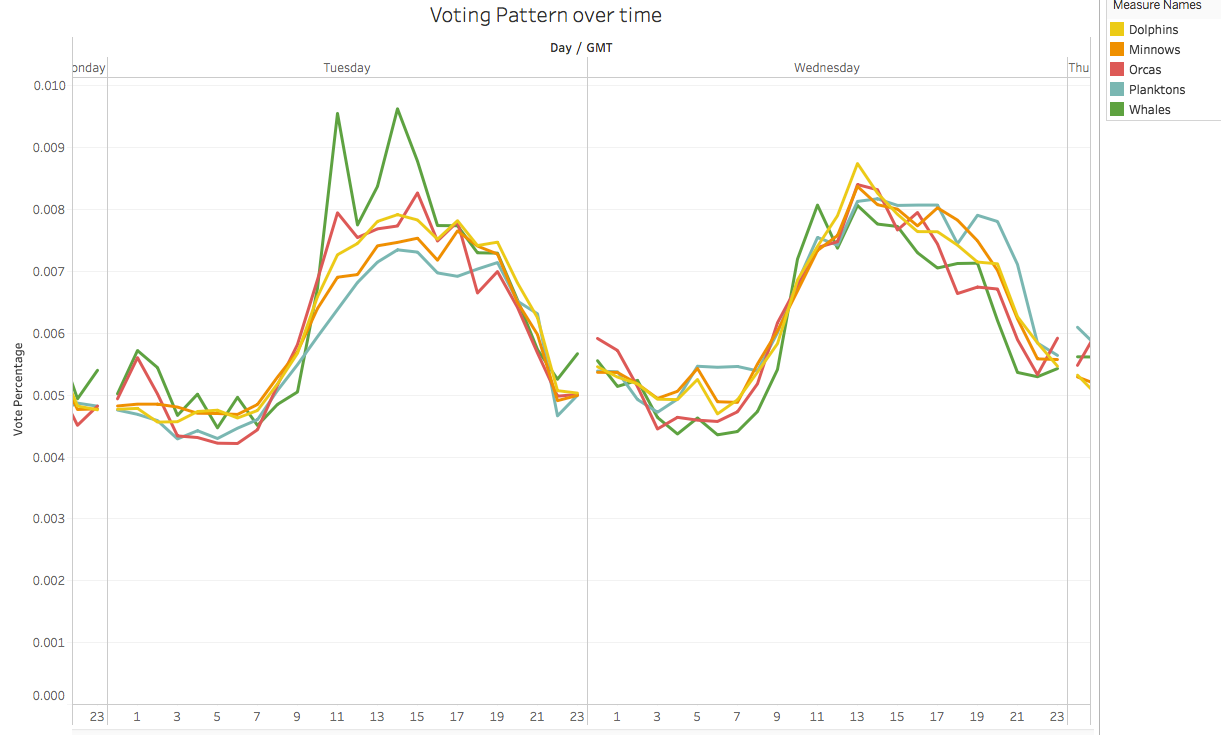 Thursday & Friday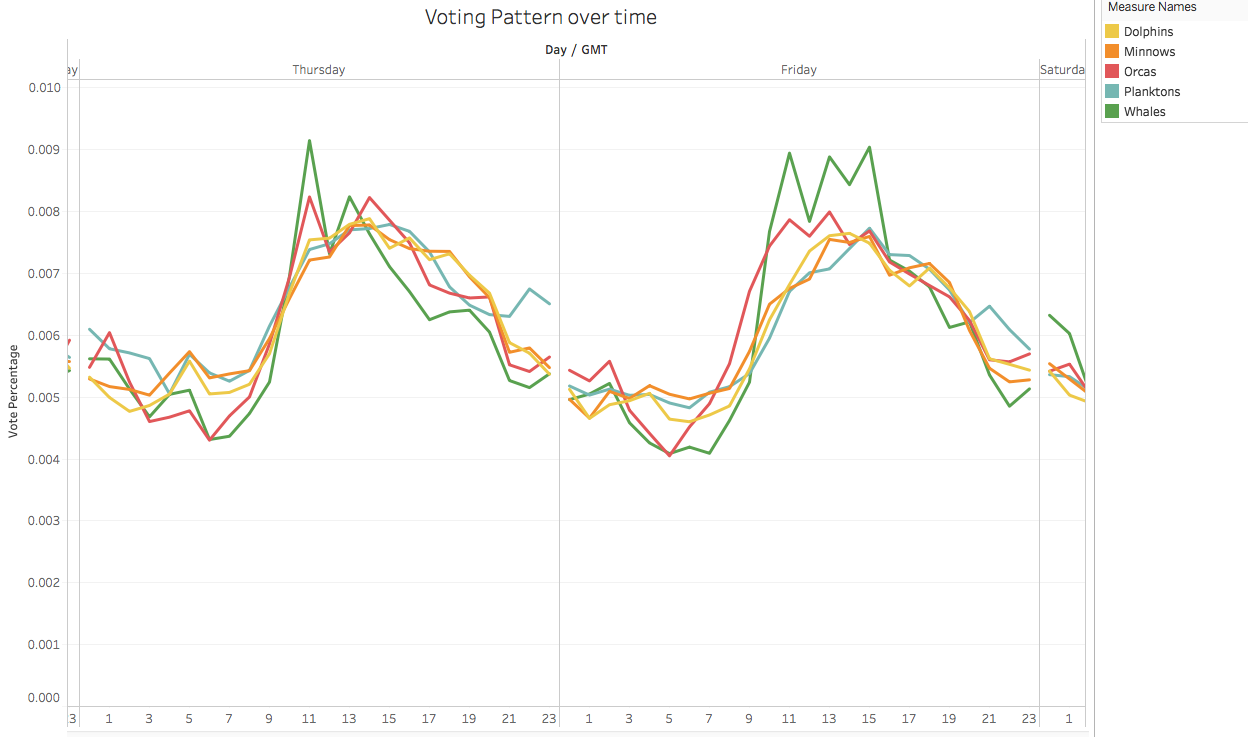 TGIF Again & Saturday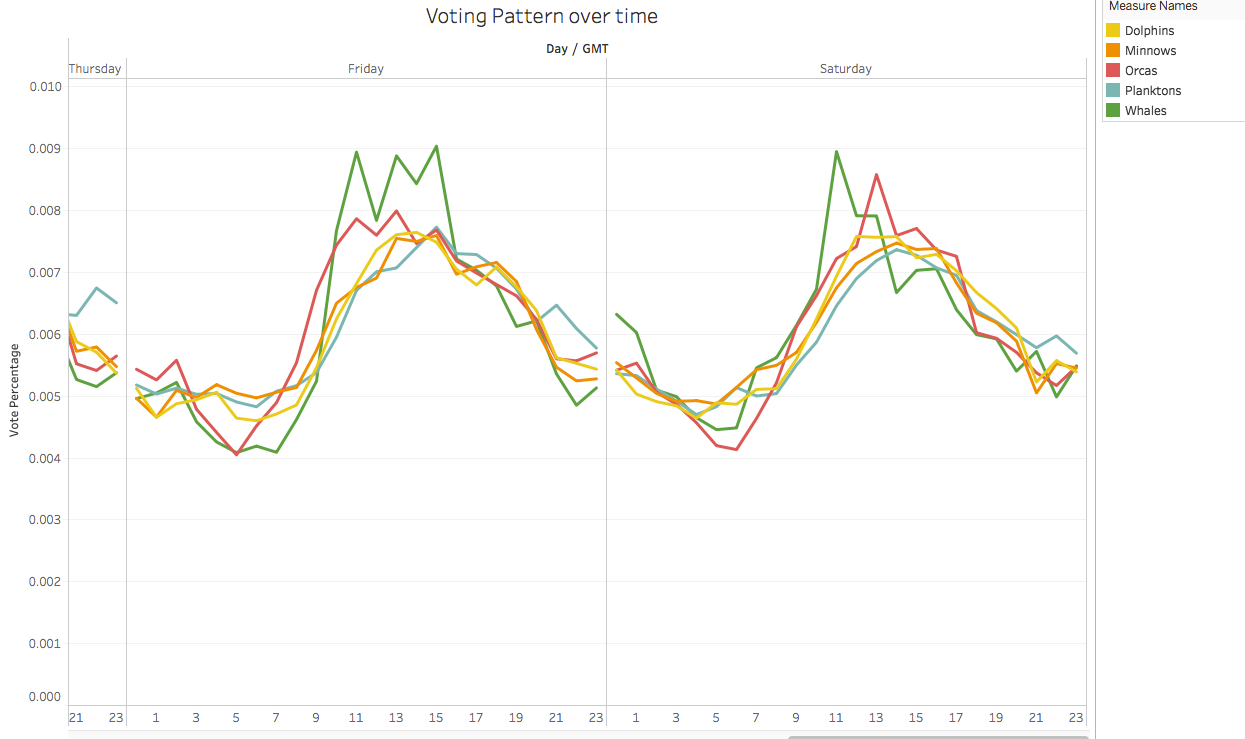 Observations
The users are busy voting between 0900 hrs GMT to 1700 hrs GMT.
There is a lull in voting during other hours.
The activity graph looks similar from Tuesday to Friday.
Lesser number of Votes are registered on Saturday, Sunday and Monday (Monday blues and weekend delights!)
The Whales and Orcas are an exception to this as they are active as usual on Saturdays.
Whales are really grumpy on Wednesdays compared to other active days. Good luck to Wednesday posters!
Whales are very generous with their votes on Tuesdays and Fridays (Authors make a note to give your best on Tuesdays)
Planktons really need to catch up with others's voting habits as they are lagging behind 80% of the time.
Whales are the forerunners when it comes to voting.
Take Aways
First and foremost schedule your posts between 0900 to 1700 GMT to get maximum exposure using a service like streemian.com.
Post on Tuesdays or Fridays and you may get lucky with the whales.
Newbies should improve their voting habits to increase their voting power. Steemit is a give and take system after all.
Sunday and Monday are the days with lowest voter turnout.
I am posting this article at 10 AM GMT 😇 🙏
Join the fabulous Steemit Blogger Discord community:
https://discord.gg/e5XFZKa