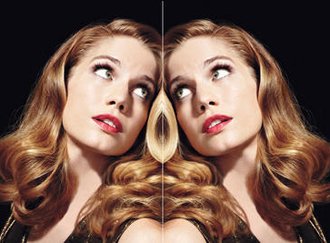 Sometimes you can judge a book by its cover. Appearance predicts behavior in surprising ways—some of the time. The connection between looks and personality is the ultimate chicken-or-egg question. And it plays out on every face you meet.
Several years ago, a woman named Brook White appeared on the reality TV competition show American Idol. White was 24 years old, blond, and strikingly pretty. When she sang her song, "Like a Star," she struck a familiar chord among some viewers. White said nothing about her religion, but Mormons, members of the Church of Jesus Christ of Latter Day Saints, were certain that she was one of their own.
"She has the Mormon Glow," one blogger wrote, referring to the belief that the faithful radiate the Holy Spirit. White mentioned that she never drank a cup of coffee or watched an R-rated movie—signs of a Mormon-like squeaky-clean lifestyle. But the "glow" clinched it, and it turned out that her fans were right. "I didn't know I was setting off the Mormon radar," White remarked later in an interview with The Arizona Republic.
Soon after, psychologists Nalini Ambady, then at Tufts University, and Nicholas Rule, at the University of Toronto, set out to test the Mormon glow. One way to do this is to see if even non-Mormons can detect it. The psychologists began their experiment by cropping head shots of Mormons and non-Mormons and asking undergraduate volunteers whether they could pick out the Mormons.
They certainly could—and in just a glance. While random guessing would yield 50 percent accuracy, as in a coin toss, the volunteers accurately identified Mormon men and women 60 percent of the time. (Mormons themselves were only slightly more accurate.) This means that "Mordar" isn't foolproof, but it's statistically significant—about as accurate as the ability to tell if a face looks envious or anxious.
"Thin-slicing" is the term that Ambady and her colleague, Richard Rosenthal, coined in 1992 to describe the ability to infer something about a person's personality, character, or other traits after a very brief exposure. Thin-slicing relies on a brain network that includes the fusiform gyrus, which perceives faces, and the amygdala, which filters that information for anything that might be useful or threatening to survival.
To determine what exactly triggers Mordar, Ambady and Rule cropped photos beyond recognition. Some faces had only eyes or hair. Could judges identify Mormons from these features alone? Fail. Others had only noses or mouths. Nothing. Other faces had no features or even an outer shape. Just a patch of flesh, basically. Success.
"What the judges were primarily picking up," Rule explains, "are cues of health in the skin." The tone and texture of facial skin reflects immune function. "We have a system set up to assess others' health for mate selection and disease avoidance," Rule says. "This can be co-opted for social purposes as well —such as detecting religiosity."
Mormons don't drink or smoke. They enjoy community support, which relieves stress. They live 10 years longer than the average American. Holy Spirit aside, their skin may glow because it's healthier. While the judges likely knew that Mormons are clean-living, they weren't consciously aware when categorizing faces that they were associating religious purity with good skin. It was a gut feeling.
Over evolutionary time, the ability to quickly extract information from faces has given us an edge in predicting character and behavior. It helps us to discern who's sick and whom to trust, who's flirtworthy, and who might blow up at a moment's notice. To get a sense of others' religiosity, sexual orientation, promiscuity, aggressiveness, competence, intelligence, and even trustworthiness, you might think that you should focus on how they act, not how they look. But then you'd neglect your swiftest insights.
Snap judgments about faces are not fail-safe, but they are far too accurate to ignore, especially in moments when danger may loom. And the consistent above-chance rate (often 60 percent or higher) at which we correctly extrapolate character traits from facial features taps into core questions of identity: Are appearance and behavior linked by underlying biological processes such as hormones—or do beautiful visages and aggressive miens elicit lifelong treatment that reinforces an individual's behavior? It is the ultimate chicken-and-egg question, and it plays out on every face you meet.