The 27th of December 2017 was the day I discovered and joined Steemit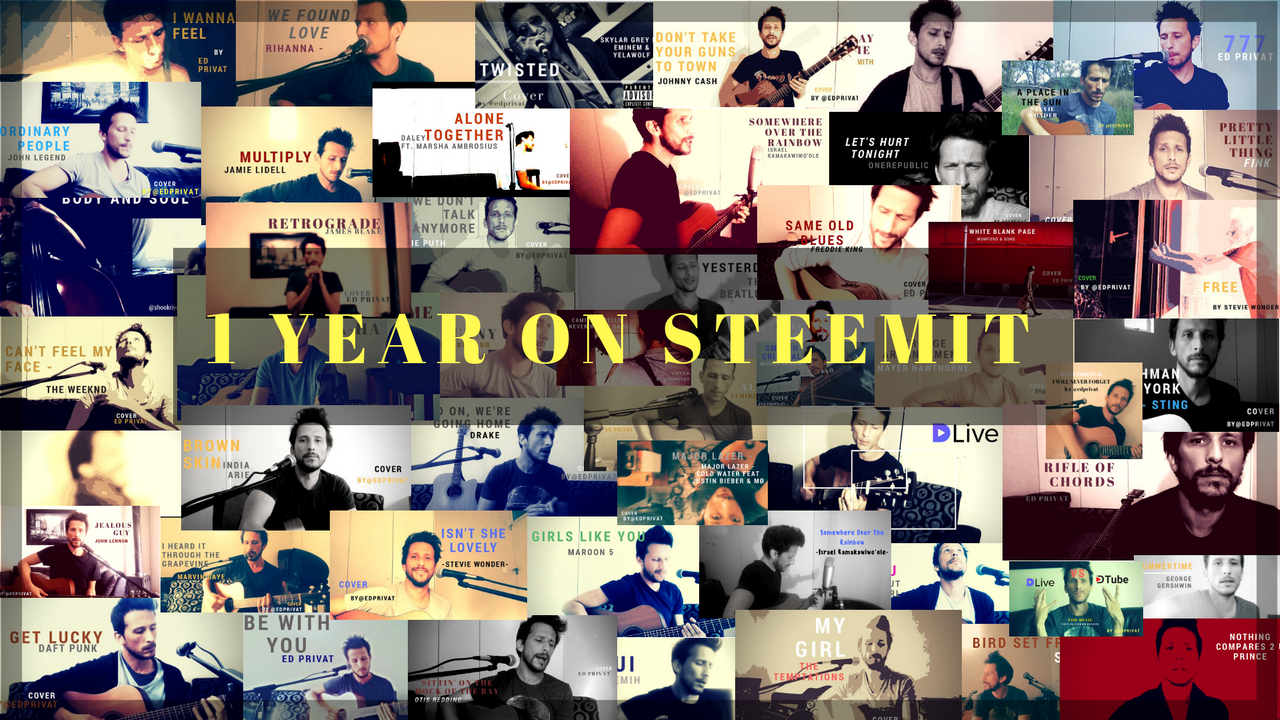 Dear Steemit,
Exactly year ago I arrived on this crazy place full of so many interesting personalities, and I got to admit, I would have never expected a social media to have a positive and profound effect on people's lives.
I was like a lot of you anti-Facebook, anti-Instagram, anti-Youtube, of course I had an account like everyone else because as a musician that's what we're supposed to do, but quite frankly I was never really interested in talking about my life, or even exchanging with people, I've grown very distrustful of the mainstream media in the last 10 years, of course these big corporate control the information, through social media, I felt very disconnected with the world.
So when I heard of Steemit through alternative media, I was curious to check it out, and it took me probably another month before truly getting the grip on what that place was all about.
At first, I remember being envious of the big payouts, and not really understanding its economy, more importantly I was hearing conflicting opinions about it (scheme reputation, relaunch, flag war); I have to admit that all fear dissipated when I received my first payout.
I remember the feeling when seeing that number at the bottom of the page, the rush, it took me another week to really become hooked, once I managed to cash out some of that reward I knew it was "For Real"
Remember a paragraph above when I told you I was distrustful?
Well, you have no idea how much, I wouldn't believe that actual money was being exchanged until I got it in my bank account. It was surreal, I almost felt guilty, like that money was not deserved.
That's actually why at the time I started doing song request with SBD giveaway, so I could give back some of that very real money to people on the blockchain.
It was a way for me to deal with that guilt, I really thought that I had a secret contract with god and I needed to give back, otherwise there won't be any payouts anymore.
I even started becoming very superstitious about the time I post, thinking it would have an effect on "why I got the big vote" this time around.
But how much money did we all make in December and January?
Let's just say that the excitement and payout was such, that we all decided to dedicate ourselves full-time for Steemit only, and support it 100% by posting daily, 365 days a year.
There were a moment in February and March when I was so active, posting few times a day, that my posting schedule was on the wall, working from early in the morning to late at night, non-stop.
Come to think of it, it was probably a little too much, but I used that momentum to become a better musician and blogger, reinvested the money right away in an office, computer, and recording software.
When the market started to dwindle I was still right behind Steemit, because we developed a network of like-minded individuals, and for me that was the reward I was focusing on when the monetary compensation was decreasing.
Today I am very thankful to have met you Steemit, you educated me in ways I couldn't have never expected, my purpose today is not to be just a musician, I consider myself a producer, curator ( for @artzone) , a day trader, and a visionary.
I had the chance to go to Steemfest thanks to @artzone and @surfyogi, it was actually a dream come true to meet for the first time these people that felt already like friends, I was so honored to be there, and to spread the artzone gospel, performing there, meeting more talents, that's more that I would have hoped for...
I finally had the chance to meet @prc in Krakow and thank him for creating @dsound and supporting my work, with 500 other musicians, and changing people's lives.We actually share the same vision about music on the blockchain, and will probably keep on collaborating for years ahead.
I would like to thank @heimindanger for creating @dtube, and supporting my work too, we didn't have the chance to meet in person, but he's always answered all my messages on Discord and has been very helpful, even when I was just bitching about not getting paid.
Now there's a whole lot more people that I want to thank, I hope that I am not forgetting anyone, If I do just slap me in the face...
Special Thanks to:
@rolandp @ablaze @addempsea @adetorrent @afrinsultana @angelica7 @antminer @apolymask @arhaynez @artzanolino @artzone.curators @asonintrigue @atomcollector @avesa @bashadow @blocktrades @bloghound @bitcoinparadise @bluntsmasha @briancourteau @corbettreport @c-squared @cannaqueen @chiama @charisma777 @cryptokingz @d-vine @dandays @danieldyemusic @darrenclaxton @davemccoy @davenavarro @davidfar @deirdyweirdy @digitalopus @djlethalskillz @dougkarr @drumoperator @drocobama @elainefaye @elbrujo @enginewitty @ftlob @funkmedia @fun2learn @gvand @gbija @gmichelbkk @grant-vegra @grizzle @harrisonmir @heaterville @hedac @imusify @infamousit @ivan.atman @isaria @jeffandhisguitar @julietisrael @joseacabrerav @junkfeathers @katrina-ariel @krazypoet @laposchepoetry @laritheghost @life-on-earth @lionmom @lorenzopistolesi @lynncoyle1 @matteopaints @melissakellie @melbookermusic @mrbreeziewrites @movement19 @musicoin @musicvoter @misslasvegas @nakedverse @nathanmars @newenx @nmalove @onetin84 @offgridlife @ofildutemps @onelovedtube @outofafrica @petrajordan @puravidaville @saffisara @scottychams @seveaux @shookriya @silentzen @stevee @surfermarly @surfyogi @taphophilia @tcpolymath @termitemusic @testing123 @theomgbrand @theturtleproject @tontin @tygertyger @twirble @ura-soul @vachemorte @vandigital @verbaldancing @wafrica @wolfnworbeikood @yidneth
The Lesson
If I had to resume what I've learnt on Steemit this year, I had the chance to shine with my art, and being compensated for it.
What a dream...I worked more on my music that any other year, recording more than 200 songs (cover/original) and experiencing the internet in a brand new way.
I know that we are not supposed to focus on the monetary side, but it's that very same incentive that pushed me to do more everyday.
I now value my work, and use my time very wisely, I make sure that I am learning something useful once a day, and "increase my value on the market" by honing my skills.
Maybe I am foolish, but I don't think there's as too many wrong things on Steemit as we led to believe, the free market comes with its lot of people trying to rape the pool, circle jerking, bid bots, but If you stick around long enough, you might see something else: Friendships and a network on the blockchain.