Wow, I can't believe its been 2 months since I joined Steemit. I feel like I have learned so much in the last 60 days! Steemit comes with a huge learning curve and I feel that I have a long way to go before I feel confident that I know how this whole ecosystem works.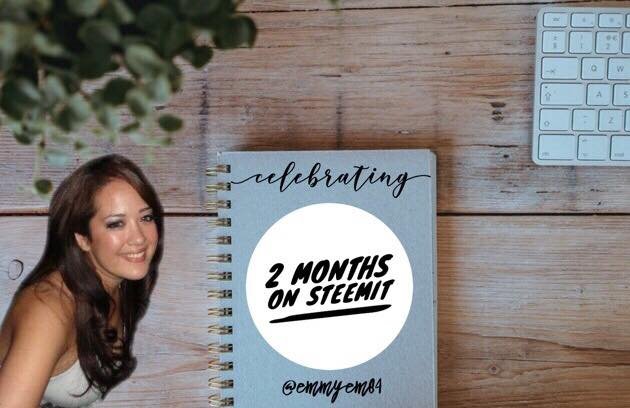 Original Image Source
In this post I will be going over what I have achieved so far, and some tips for people that are new!
What I have achieved so far: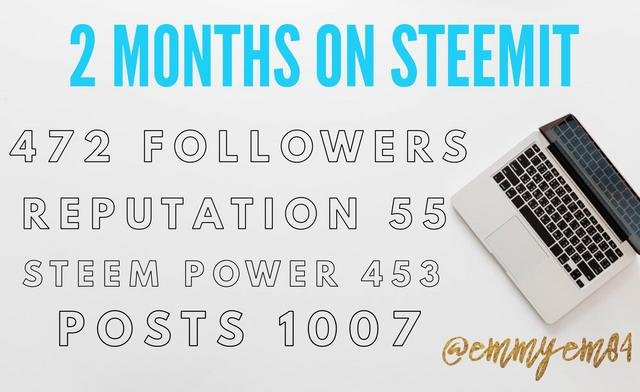 Original Image Source
Followers: 472
I am grateful to all of my real followers who comment on my posts! I love the interaction and I have to say that all of my interactions so far on Steemit have been very pleasant and I hope it stays that way! I always upvote thoughtful comments and I reply as well.
To new Steemians: Always engage with your followers! If someone takes the time to write a thought out comment you should upvote and reply! If someone asks you for help (other than an upvote obviously) help them out as much as you can or direct them to where they can get help. This is a small community now, but as people come on here they will be needing guidance and its up to all of us to create a warm atmosphere to keep people around.
Reputation: 55
I was lucky to have my reputation rise pretty fast. I attribute that to the massive amount of commenting I did the first couple weeks I did on Steemit. I know that it will get considerably harder to raise my reputation now. I am really looking forward to the 56 rep as I have been sitting at 55 for some time!
To new Steemians: Your reputation goes up when people who have higher reputation than you upvotes your posts/comments. If someone flags you your reputation will go down. In order to earn a good reputation you should always put effort in your comments and posts. It seems obvious but there are still a lot of new Steemians who spam comments looking for upvotes. That will not work here. You will get flagged. Make an effort, be yourself, make friends...that's the only way to grow here.
Steem Power: 453
I initially set a goal of obtaining 1000 SP by August, which will be my 6 month anniversary on Steemit. I did not earn all of my Steem Power by posting. I also bought a small amount of STEEM when I could afford it and powered up. Of course I wish I would have waited until the price plummeted because the first time I bought STEEM it was over $6! I do have confidence that in the end, it won't matter. (I think the price of STEEM will rise significantly this year) I am almost half way to my goal with 4 months left...not too shabby!
To the new Steemians: If you really want to be successful here and show that you are in it for the long haul you should invest at least a little money into buying STEEM, especially at these super low prices! As the price of STEEM goes up, it will become less affordable. Most people will not spend any of their own money and will try to rely on posting to gain Steem Power. I have to say, I think that thats a mistake. When you buy STEEM and power up you make a commitment to yourself, and to the platform.
If Steemit becomes more popular and you invest into Steem Power you will be ahead of 90% of all users already. Imagine if a million active users come on to Steemit in the next year and the price of Steem goes to $10. You know that you go around looking for others to follow with Steem Power, and that will be the same with every user that comes after you.
Is it possible to be successful on Steemit with no personal investment into SP? I don't know. But what I do know is that it will be significantly harder if you don't buy at least a little STEEM and power up as much as you can.
That being said, only invest what you can comfortably lose, like me. I am only putting in what I can afford to. I do constantly struggle with FOMO with all cryptocurrency so thats been tough...I want to buy more!
Posts: 1007
I have to admit that initially I thought that this number would be higher by now. I went crazy when I started here on Steemit, commenting and posting as much as I could. I was spending about 40 hours a week on here the first month. That has tapered off a bit as I have had to focus on my business which I rely on the income to pay my bills the last couple weeks. That's life I guess! I would really like to improve on these numbers in the upcoming weeks.
To the new Steemians: Try to read, upvote and comment on at least 10 posts a day in the beginning. I have said this before, and i'll say it again...the most important thing you can do if you want to earn anything on here is to engage in the community by reading other peoples posts.
I have written past posts about quality comments but I will recap the important points again:
Always read the post that you are commenting on. The author can tell when you don't.
If you are going to comment on a post, upvote the post. It's just good manners on Steemit.
If you only have 2-3 words to say, don't say anything at all. (Don't write nice post, beautiful post, etc)
Do not ask for an upvote or a follow for follow. It doesn't work. It might get you flagged.
Has My View of Steemit Changed Since I Started 2 Months Ago?
Kind of. I think I am a little more realistic about all of this now. I realize that mass adoption is further out than I thought when I originally started here. Also, the massive amounts of negative posts about Steemit did get me down for a little while. The whale wars certainly put a black cloud over the whole thing.
But listen, that doesn't mean that we should not continue on here. I am going to and I think everyone here that has a voice and that cares about the future of decentralized social media should take part in this. If Steemit is successful then all of us will be the people that win. If Steemit isn't successful then we all will know what does and doesn't work for the future. The future is decentralized. If Steemit doesn't work out, another decentralized platform will. The chances of Steemit working out though are good, they have the mover's advantage, they have a dedicated community and they have the chance to really make this the leading decentralized social media platform.
I am really looking forward to the implementation of Communities on Steemit. For new Steemians: the implementation of "communities" would be something like sub-Reddits on Reddit, where you could join any kind of group you like based on hobbies, interests, regions and anything else you can think of. I think it's a game changer for Steemit. I REALLY hope that they are planning to release it soon.
Anyways, that pretty much sums it up. I hope that in another month I will be able to officially call myself a minnow.....(I am still a plankton as of right now!)
Emily
What are your goals on Steemit? Are you buying Steem Power at these super low prices? I hope to hear from you in the comments section and I look forward to connecting with you here on Steemit! Steem on!