I am so happy! I just realized that I am no longer a plankton, I'm officially a minnow!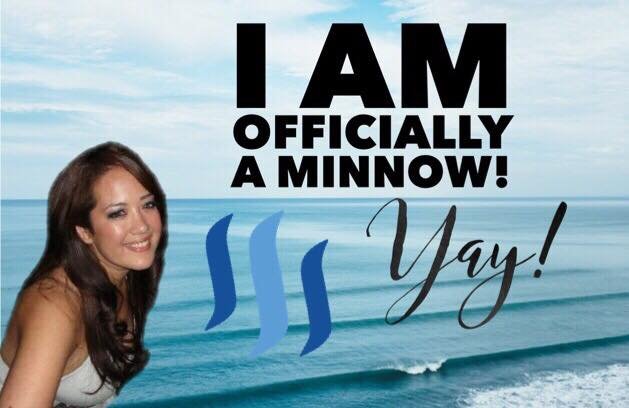 Original Image Source
When I started here on Steemit I had a goal of reaching 1000 SP by August. It seems like a lofty goal but I told myself that I could also buy STEEM when I could afford it in addition to my earnings here on Steemit.
I remember when I started on here, I remember thinking that everyone started out as a minnow. When I realized that you needed to have 500 SP and up to be considered a minnow I remember feeling so sad, haha. I was not a minnow...I was a plankton!
In the beginning I was posting every day and I got to 1000 total comments/posts pretty fast. As the price of STEEM started to decline I found myself reading hours and hours of negative posts about all the issues here on Steemit and I have to say it got to me after a while and I stopped posting everyday.
I figured that it was imminent that the crypto market would rebound soon to the prices before Mid January, and theoretically as the price of STEEM started to rise back up I would once again be motivated to continue posting as much as I did in Mid February. Of course, the market hasnt rebounded.... (yet?) so I was wrong.
But I was thinking last night that I promised myself I would try to write at least 3-4 posts a week and comment and reply everyday for a year to see if this whole thing could work for me, and I have decided that I need to keep that promise to myself.
Then I saw that I had more than 500 SP and I felt rejuvenated again! Now I am halfway to my goal! I really feel like I have made some "Steemit friends" on here and they will be the reason I stay and continue as this platform grows. Anyways! yay for me! :)
Emily
How are all of your goals on Steemit coming along? Are you seeing any progress? Anything else going on? I am always happy to read your comments in the comments section below. Steem on!