Is it bad to have high expectations when we start on Steemit? My thoughts on this lazy Sunday afternoon...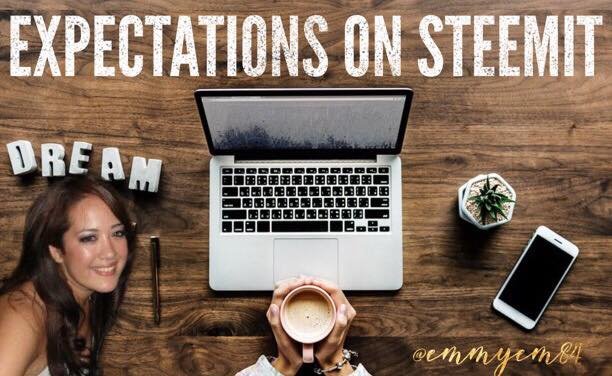 Original Image Source
It seems like once every couple days I get sucked into a vortex here on Steemit reading hours of negative posts. Posts complaining about bots, raping the reward pool, the constant garbage on trending, and complaints about lack of upvotes.
There are people who are for bots, there are people who hate them. There are people that are for the whale wars, and there are people who think that it's a waste of time because this is how Steemit was originally intended to operate and so the system is fine. We have super high expectations of Steemit and it's future.
People join this site with crazy dreams of how they are going to make hundreds of dollars on a post, even though they've never written content before. I never wrote content before I started here 2 months ago, and I wouldn't even consider what I write "content" exactly, its just whatever pops into my head at the moment.
This ecosystem has a unique "hurdle" at its core, and it's why people get disappointed and give up so easily. The incentive to join here is solely based on greed. It says it right on the sign up page.
Your Voice is Worth Something
What makes Steemit special? The fact that you can supposedly make money by posting good content, finding content and discussing that content in the comments section. This concept is new to the world. When you sign up on Instagram, or Facebook no one promises you jack sh*t. No one who is new to Instagram assumes that they will ever make a cent from it. You might think your opinion or the photo of your dog is important enough to share with the people that you know. You just don't assume it has value in a monetary sense.
It's quite possible that Facebook and Instagram do have something to do with the high expectations people have when they join here. For years we have all been sharing moments from our mundane lives for free. If someone usually gets 10-20 likes on Facebook on average and then comes to Steemit they might assume they will get that amount of attention too. We are so used to sharing every thought and opinion that we have on Facebook, we assume that inherently our thoughts matter....when they really don't, and if they do, its to a tiny group of people that care about you. So when they land on the Steemit page they think "You are right, my thought's do have value! My Aunt on Facebook likes all my stuff, why won't everyone on here too?"
Maybe Steemit should change their motto to something more...realistic?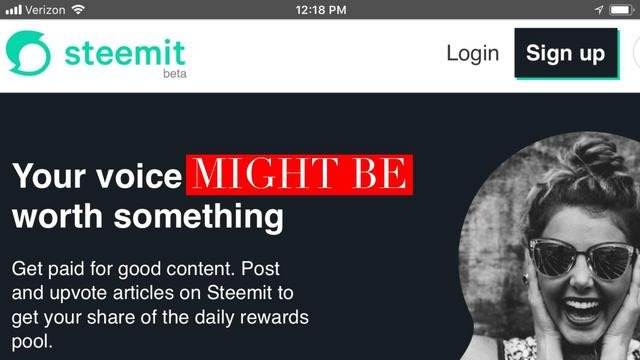 Your Voice Might Be Worth Something
Steemit is a blogging platform, or at least that's the way it was supposed to be. But most people (including me) are not bloggers! In fact, I learned how to do basic Markdown and HTML specifically for Steemit. Most people don't want to learn anything new. Most people don't even write well.
We have been giving details of our lives away for free on Social Media for years and then all of a sudden we land on the homepage of Steemit and read one line that says "our voice is worth something" and assume we will make money.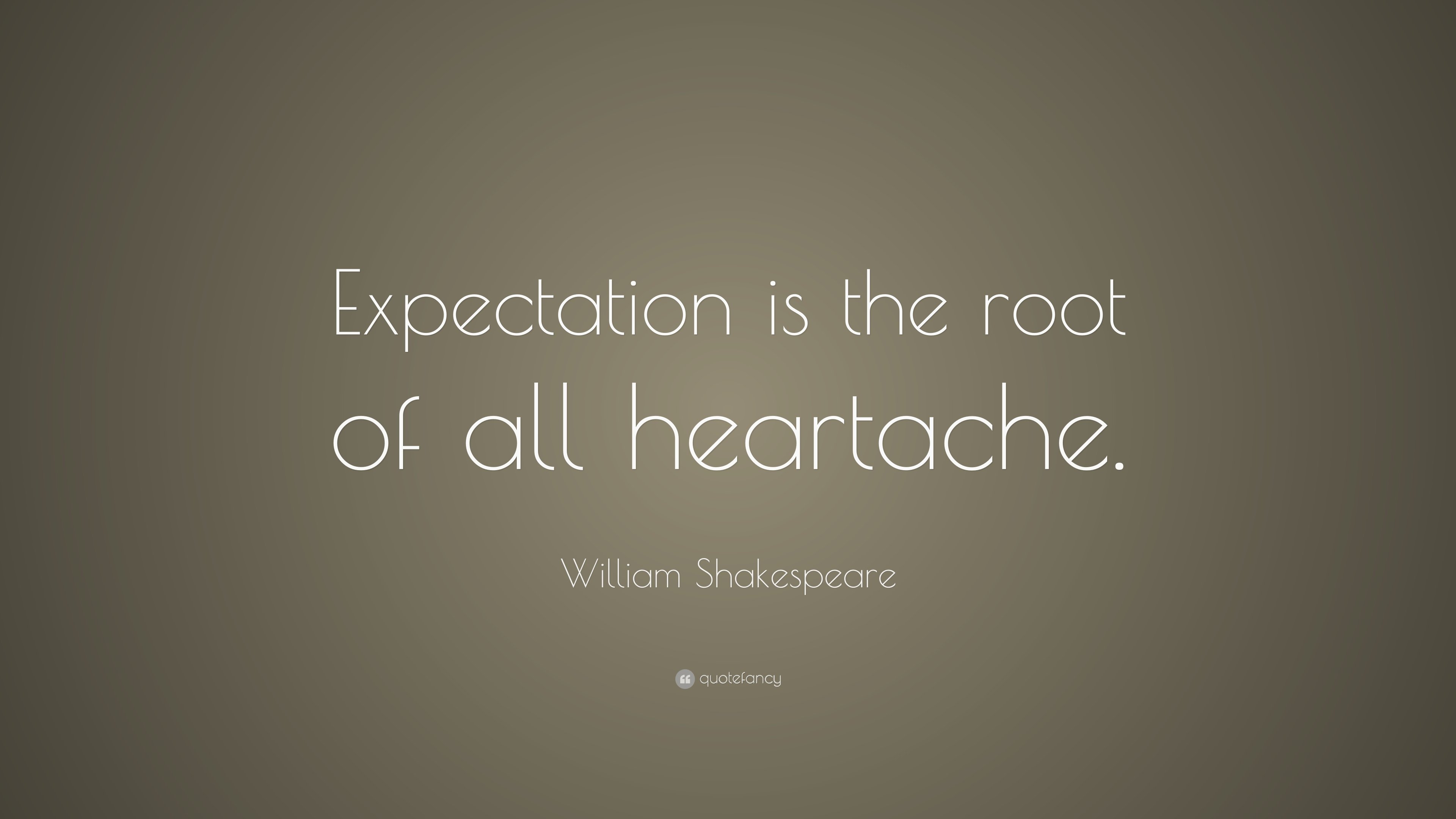 Source
Maybe We Need To Lower Our Expectations
When I started here two months ago I was blown away by the money people were "making" on their posts and for a millisecond I thought I might be able to as well. Then I started to dig deeper to find my dose of reality. I read for about 48 hours straight before I posted a single comment. In that time I went from "I will make money on Steemit!" to "I might make a little money on Steemit, someday...possibly."
I no longer assumed I would be successful here, but I did know one thing... I knew that Steemit was a revolutionary concept, and if they were successful... anyone who took part in Steemit during this early stage would benefit massively from it down the road. I still feel this way now.
I made myself a promise. I promised that I would try my best on Steemit for exactly one year, and re-evaluate after that. It's been 2 months since I made myself that promise, and so far its working out well! I am not disappointed with Steemit, in fact..I still really like it here regardless of all the "problems" it has.
We Might Have a Warped Mindset From The Start
Most of us found Steemit because we are interested in cryptocurrency. Cryptocurrency/decentralization/blockchain is highly intriguing to everyone who believes in it. We have the unique problem of being able to see into the future and know how all of this will change the world, and at the same time we are the most impatient, eager investors EVER! We want the moon, and we want it now...but not literally right now because we need to buy more crypto before it does moon.
Do you see where I am going with this? Steemit is new, sure the website just celebrated it's 2nd birthday a couple day ago, but the concept is new! We want the most perfect version of Steemit now. We cannot understand why its taking so long to make changes to this ecosystem. Everything is going to Hell on Steemit at all times because progress isn't happening fast enough. We are all too "invested" even though 90% of us won't spend a cent on Steem Power. And while most people wont "invest" monetarily, they are emotionally invested. Because of crypto we all dream way too big.
We do not know what the future holds for Steemit. A year from now the entire thing could be completely revamped, but I am sure that we still won't be satisfied with it. A new "issue" will bother us. And round and round we go.
I have made my promise to stay here and meet new people. I am going to keep that promise. If Steemit is successful, by that time I will have bought and maybe earned a decent amount of Steem Power. Enough to be ahead of the rest of the population if they join here.
And that's all I can do. I am not technologically advanced. I cannot change the way Steemit works. All I can do is keep trying to make connections on here, and write the best "content" I can. And if Steemit collapses into nothing, at least I can tell myself that I gave it my best shot. When I had my doubts about starting here at all before I signed up I asked myself "Would I regret not taking this chance if Steemit does become wildly successful?" and the answer is, yes I would....forever.
Emily
Do you think we would all be happier if we lowered our expectations a bit? I am always looking forward to connecting with you in the comments section below! Thanks so much for reading my post! Steem on!