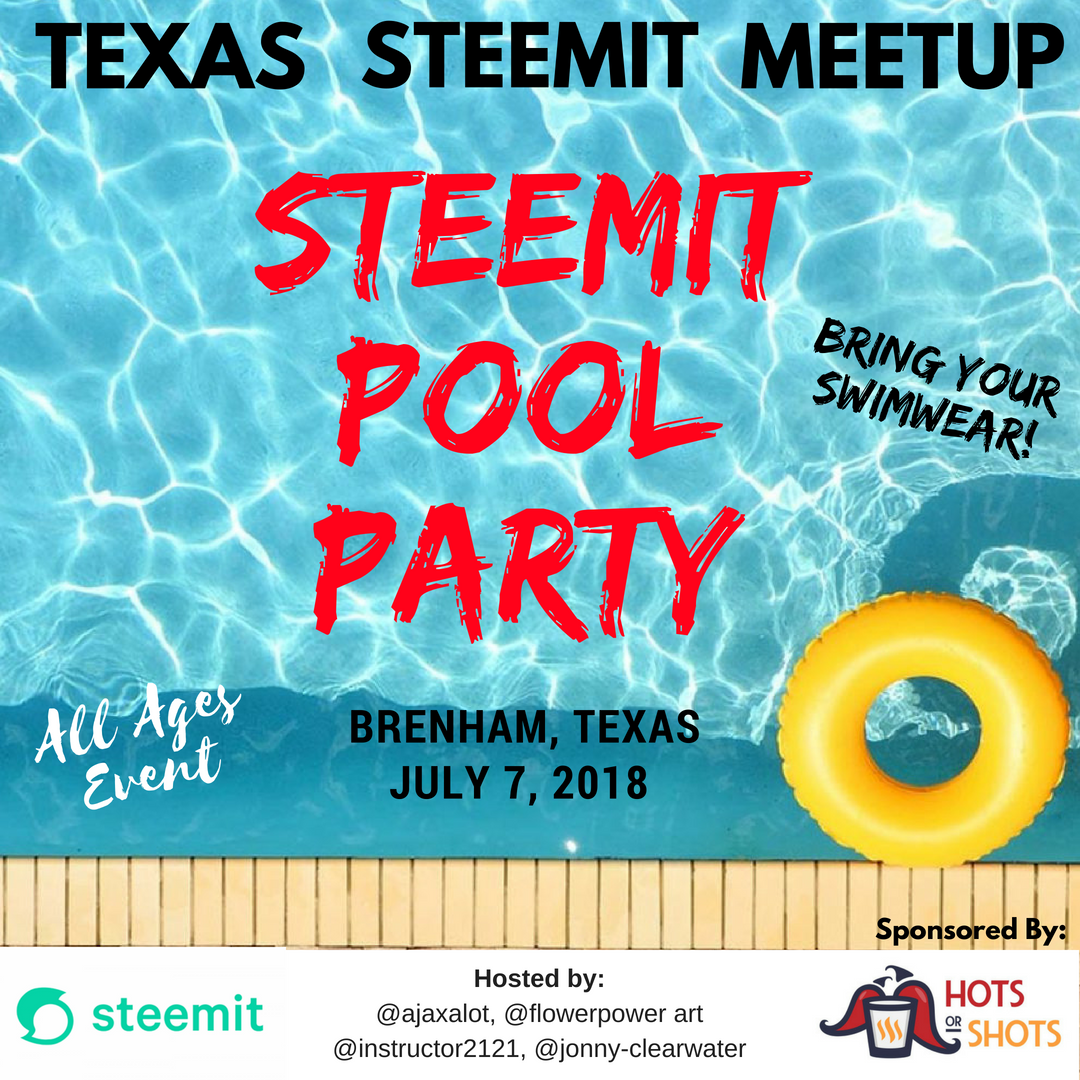 ---
Texas Steemit Meetup Pool Party
---
When is it?
On July 7th we will be hanging out all day, but the meeting portion is planned from 6 pm - 8 pm.
Where is it?
The Airbnb home is located in Brenahm, TX. The exact location will be provided to those who RSVP for the meetup. The home is being rented by our gracious hosts
@jonny-clearwater
(Hots or Shots host),
@flowerpowerart
, and
@instructor2121
I want to give a big thank you to them for helping make this meetup possible!
What is Hots or Shots?
Why read about it when you can watch it? Check out the latest episode with
@papa-pepper
HERE (
https://steemit.com/steemit/@jonny-clearwater/hots-or-shots-mid-season-finale-with-special-guest-papa-pepper
). We are also planning on recording an episode live with yours truly at the meetup.
Who's invited?
Everyone who can make it is welcome to come! Guests are encourage to bring friends and family including kids. This will be a family friendly event!
What do I need to do?
RSVP on the Meetup page - HERE (
https://www.meetup.com/Austin-Steemit-Meetup/events/251625837/
)
-If you would like to present on a topic reach out to me through Steemit or Discord.
-Show up and have a great time!
-If you are planning on swimming bring a swimsuit and towel.
-Food and drinks will be provided, but if you would like to bring anything to share your are welcome to.
-You are also welcome to bring a personal supply of food and drinks if you have any dietary restrictions.
What will we discuss?
Currently we are leaning towards open discussion with newcomers since this meetup will be aimed at introducing new users to Steemit. We will update this list as we receive volunteers who have a specific topic they would like to discuss.
---
Cheers, hope to see you guys there. Look forward to meeting all of you