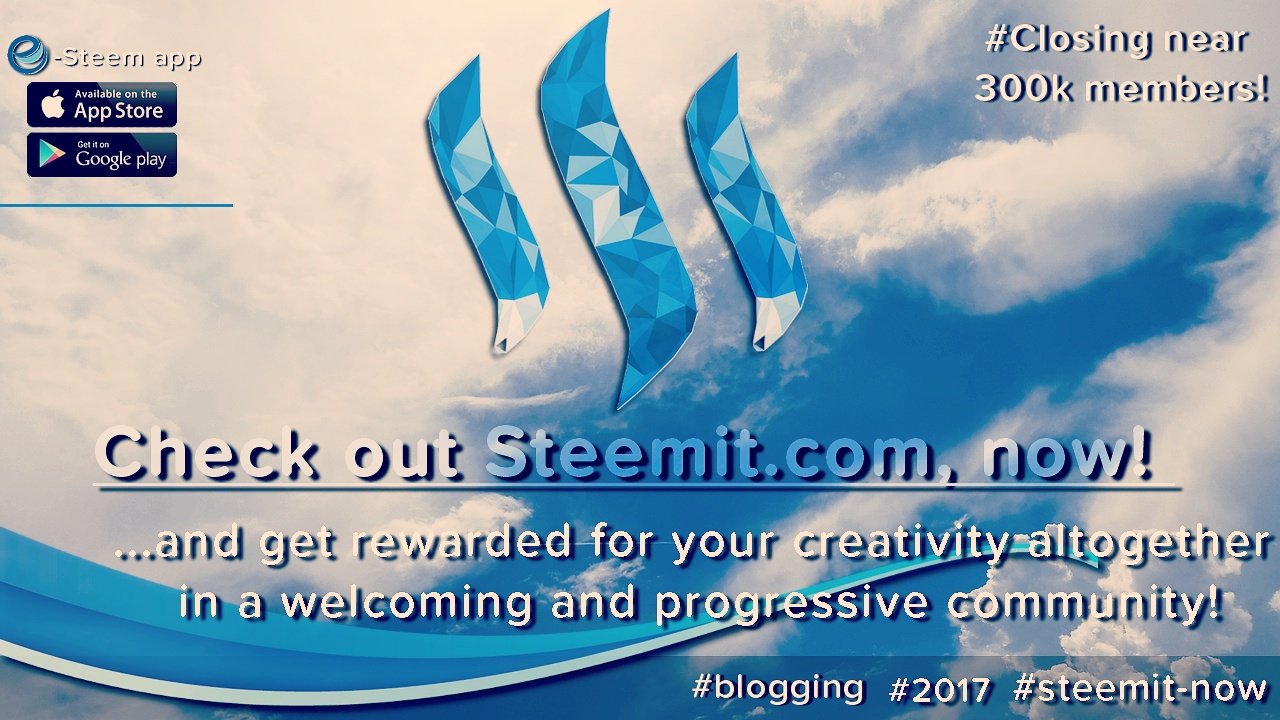 Hello Steemians of all Earth's timezones, how much are you being lazy today on a scale 1-10? 10, oh me too. Both lazy , come on, who's going to cook, a yet unborn couple asks themselves? :)

---
Original logo of this Steem-logo design was made by @rubenalexander about a year ago and mentioned in his article. The rest was taken from Pixabay and edited by @freedomnation, my humble self.
https://steemit.com/steem/@rubenalexander/steemit-logo-low-poly-x-rocky-ocean-shore#@freedomnation/re-rubenalexander-steemit-logo-low-poly-x-rocky-ocean-shore-20170730t070930680z
Many of you have heard of me last couple of days because of my bad rep gained in arguments with some influental people on the chain. Well, not that we boxed. They did something they shouldn't have done, I did too. Guess we're even, even though in some cases it's their burden.
---
However, I started "switching to a bunch of other networks where I will promote Steemit under hashtag #steemit-now. Facebook gaming page campaign is starting too very soon, and this is from my just made Flickr account:

---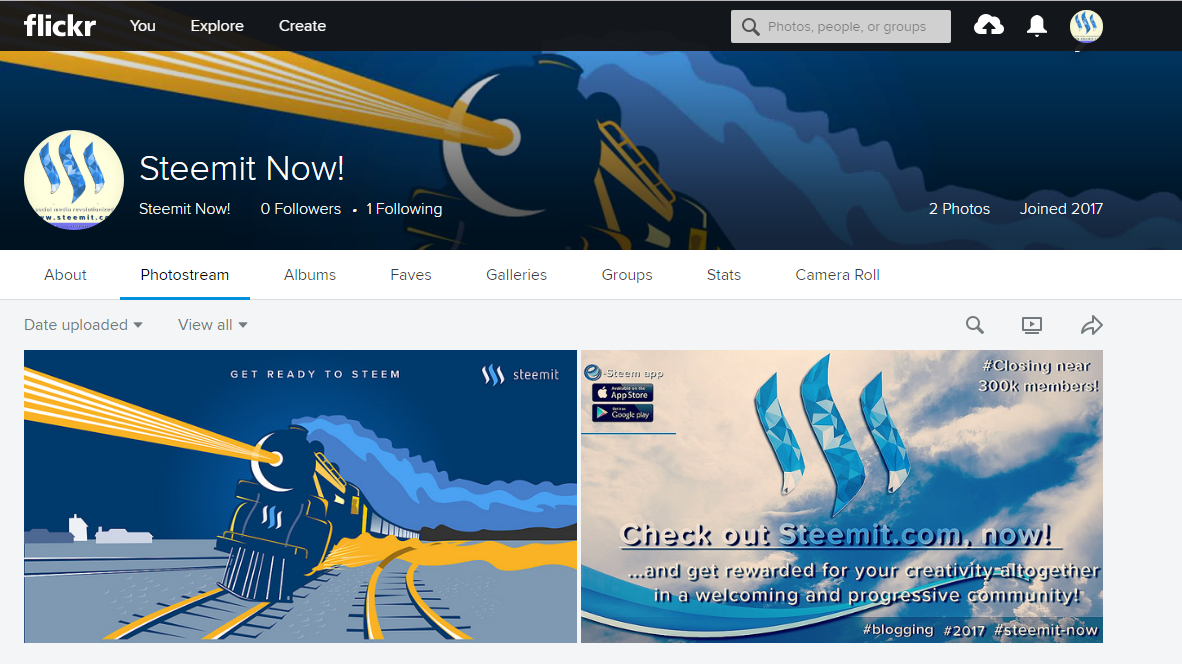 ---
For you these facts and news might sound usual and like yunking, but to huge portions of creative people, on the streets, in some envrioments where animals rarely can survive, gaining a chance to play a song for Steemit, earn from it would give them immerse happiness. I give that example not just because of "quantity of money" a person poses. But a quantity of reason to deal with the situation and cope with crisis. It's so easy to discriminate. I have yet to find easier example for discrimination on any basis. Some have "read", some content that's not even mine, made long-time ago, and they immidiately excommunicated me from being in Steemiworld.
Some of my country neighbors, who speak the same language as I do, wrote a 15 or more blogs on the non-sense spoken in 1 or 2 sentence by me here or the Discord chat. Those texts look like a PhD thesis, and some titles may suggest that I'm the topic of somone's PhD. Lol. And I tought I was too serious. It's nearly 70-80k words or much more not counting those unincluded in the posts. What are they trying to prove me? That it's an imprivileged position to write long articles? Or that they need time and practice and knowledge, lot's of it. Believe it's the second but their behavior in each case leaves different impression about what they are going to do next. I hope Steemit doesn't undervalue the system of of true humanitarian rewards, libertarianism, support and trust.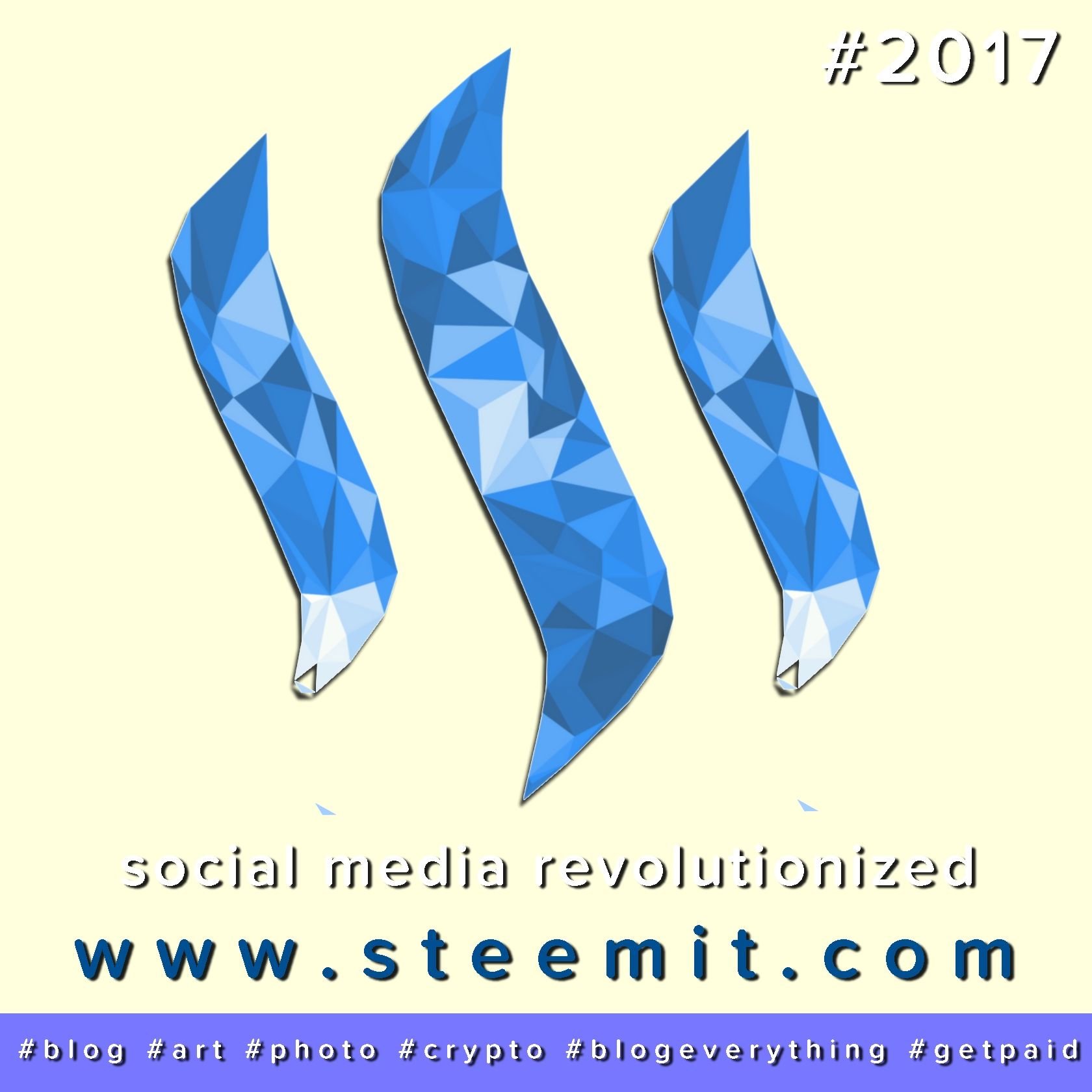 Not exactly blog about everything, but you know that Einstein quote....What questiontakingit?....Ummm, not that, the other one, do you? :) (runs)
---
Thank you so freaking much for reading this, enjoy the day!
Upvote, Resteem, Follow if you can. If you don't, it's your Freedom!

---
VERY IMPORTANT DISCLAIMER: I'm not a freaking writer, philosopher, magician, politician, lawyer, political activist, don't belong to any governmental or non-govermental organisation, I'm not in the senate. I'm BLOGGING here some of my toughts, which might experience a needed change from blog to blog, because I interact with many differently politically, morally, religiously oriented people. Many clever people, indeed. Both in IRL and here. So, don't take them as some scientific delusionist thesis on which you the smart one are here to take some points by proving them wrong. Come to talk to me, not gossip me.