Companies like Google invest into centralized systems that cost millions, and sometimes even billions of dollars to operate. Seeing as things cost so much money, one would typically expect these centralized systems would work a lot better than decentralized systems costing many thousands of times less. Surprising as this may be to some, this is the furthest assumption separated from the truth.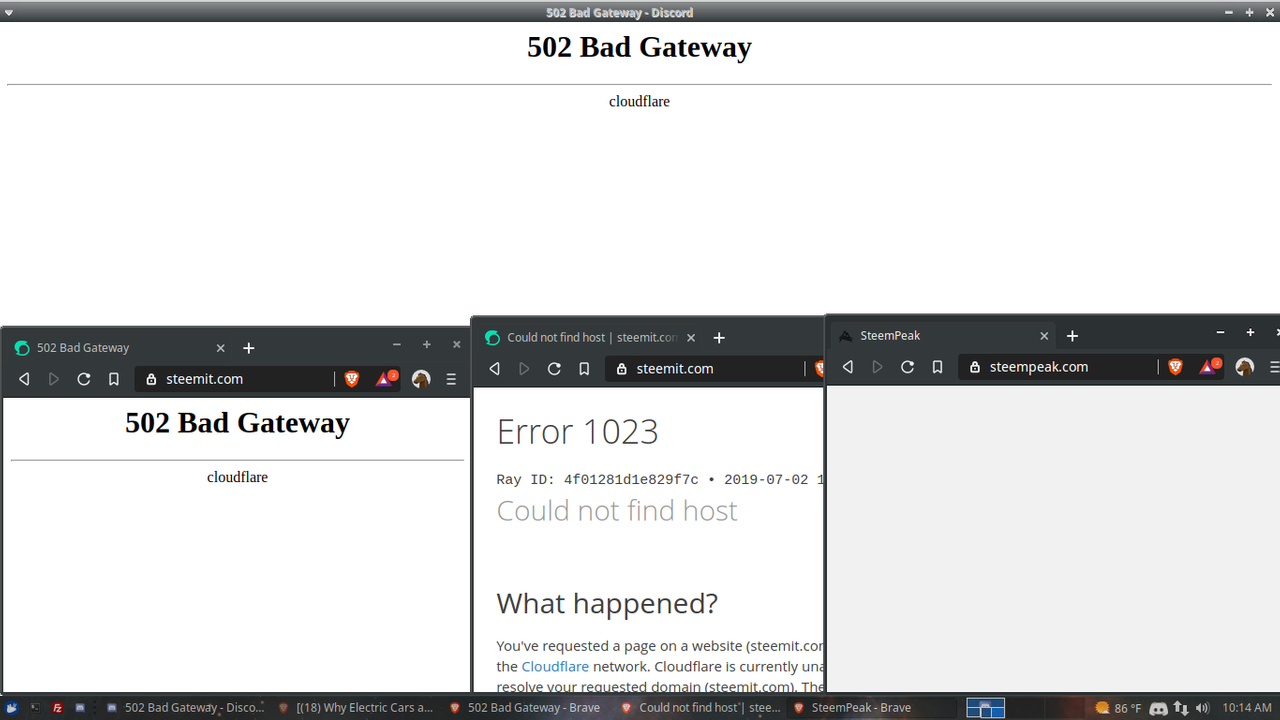 Many in the Steem blockchain ecosystem continue to be confused about centralized costs as these developers have never been a part of a team that deployed fully decentralized applications. Some are so confused they even think it's cheaper to build with centralization (Impossible). Peer to Peer technology is more efficient from a physics standpoint. It's really hard (or impossible) to bend or break the laws of physics, meaning our decentralized technology wins the cost efficiency race every single time.
Steemit Inc sends Amazon (the largest company in the world) 10s of thousands of dollars just so it's 2700 current daily users can use the blockchain. Who's idea was this? Websites, even Steem Blockchain "dapps" supposed to be decentralized away from steemit.com use the same company (amazon) , the same hosting, and face the same failures at the same times.
We all suffer the same downtime (because of our current centralized ecosystem) and this is the specific kind of downtime that makes Cryptocurrency investors run away from our network and dump Steem. When investors cannot reach wallets or money on a supposed "decentralized" network they tend to conclude that the network isn't really decentralized. Remember these investors are comparing Steem blockchain directly to the legacy Bitcoin blockchain, as they could always access the money though the Bitcoin full stack wallet. (A Fully decentralized application)
Steemit Inc could (and I hope will) stop wasting tons of money and start building actual decentralized applications that bring real large-scale investment in. In January the community had a large-scale debate/discussion and we considered removing Steemit Inc from the equation via a top 20 witness consensus fork. This was decided against to keep the blockchain pure and give Steemit one last chance to be a success. Ned seized this opportunity, and being the clever innovator he is, he went and moved / hid all the ninja mine stake coins into different exchanges and other secret wallets, so it's now extremely difficult or impossible to remove Steemit stake and keep Steem's ledger somewhat clean.
Because of the decision Steem's community made, we can do absolutely nothing about this problem (selling off of Steemit's stake) except wait for Steemit to dump the rest of their Steem on the markets (as they have been doing since 2016). The problem with the waiting game, is if we continue to wait around for Steemit Inc to build these applications (Steemit haven't even started on them/still focused on the wrong things), we could all run out of money buying their Steem. Then it becomes a matter of if the markets even exist in the same capacity going forward as liquidity is already suffering today, less and less whales want to pick up Steemit Inc bags.
I believe in the Steem blockchain. This is why I write about what I see as our flaws. Even with all our problems and harmful centralization causing downtime for users, we still have the best blockchain on the planet. Our blockchain enables platforms to be built with true online freedom of speech. These freedom based values are built deep inside the Steem blockchain. I have come to really appreciate these newfound freedoms only enabled inside the Steem Blockchain.