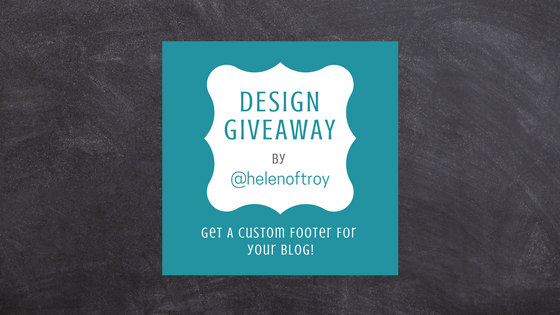 Wow! I can't believe it's been 3 weeks since I did the last giveaway. I hadn't planned on waiting that long, but time just slipped away.
This is part of my "taking Steemit seriously" initiative. It's also a way that I hope to make this community a better place ... by encouraging generosity and modeling it! I wrote about this in a recent post, "Want To Know How To Make It Big And Become A Whale?"
Giveaway
For the first 5 comments, I'll design a custom footer for you! No need to even upvote, just comment!

Details you need to include in your comment:
The link to your intro blog or other content so I can learn more about you.
Three adjectives that describe your Steemit persona or your blog.
A picture (that belongs to you), logo, avatar, etc. that you want included in the footer (optional).
The hex color codes for your favorite colors and neutrals, so I can make sure they're exact.

That's it! I'll design a custom footer for you!
Click HERE to see the designs from last round.

Disclaimer


Because this is a giveaway, here are a couple things you should know:
If there's something you really hate about it, I can edit it once for you. If you still don't like it, you don't have to use it :)
It'll come with a discreet attribution on it that says: designed by @helenoftroy. Hopefully you'll like it so much, you'll want to send others my way for future giveaways!
Keep in mind, it's the first five who get their very own CUSTOM BLOG FOOTER.

And if you miss out, don't worry! I plan on doing this later on too.

Date & Method of Delivery


Right now, I can't guarantee how long the designs will take. Last time it took me a week to complete them.

Your custom footer will appear in a future blog and I'll tag your profile (if you have Ginabot or Steemify, then you should receive a notification there depending on your settings). I'll also reply to your comment below so you can check your Steemit replies list.

Okay, I think that's it! Don't forget to include all FOUR things that I need to make your unique brand image!

---




And don't worry the next segment in the twin blog will be back on Sunday!