The Bots are the "Robots" of the Internet, computer software programmed to perform specific and repetitive tasks on Internet sites, which would be very tedious or complex for a person.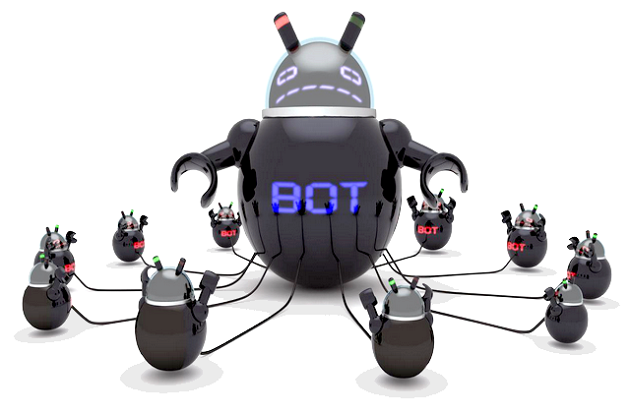 Source
Here in Steemit there are hundreds of Bots with very diverse functions, ranging from those that verify that your content is "original", up to the Bots that give "upvotes" in exchange for payments in SBD or Steem. The latter are the most popular and controversial, there are as many people who support them as those who reject them, the truth is that it can not be denied that they represent a powerful tool to promote content and make themselves known, especially for new users.
There is a good part of Bots that work within "Discord" for Steemit; Discord is a chat platform, a VoIP application multiplataform that offers a lot of functions, among them and in some way allows to host Bots ...

The following are the Bots that I know so far:

This is an automatic bot; take the text of each new publication, find it and compare it with Internet sites and if it finds a comment in the Steemit post with the link to the Internet publication, it also gives the author a positive vote. This bot is useful to know if the Steemit publications are an Original or a "copy and paste".

---

The operation of this bot is similar to that of @cheetah, with the difference that it is necessary to make a call in the comments of the publication by writing @originalworks or! Originalworks, if the bot does not find similar content on the internet, it makes a comment and give your vote to the author. Currently this bot is being reconfigured so it is temporarily paused.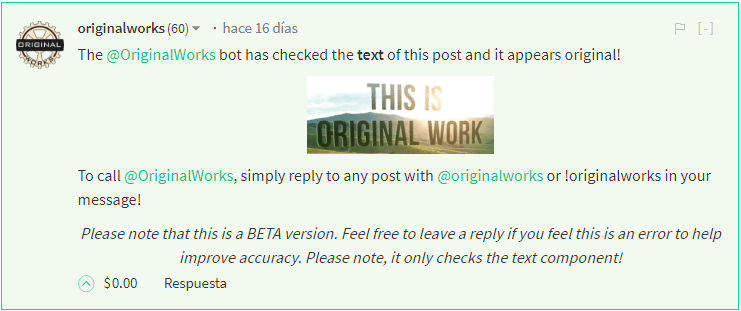 ---
Resteemable can be considered a paid bot, offers to vote and share your publication in exchange for 0.500 SBD following a few simple steps; for my part and until now I have obtained the vote of the bot without getting to pay.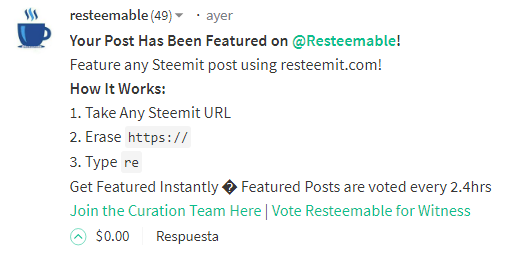 ---
Bid Bots (Pay4Vote)

These Bots are the most numerous, there are many of them with different rules regarding the minimum payment and time of publication. Fortunately there is a website that allows us to see a summary of the statistics of all of them, it is about Steem Bot Tracker, It is an useful tool to compare the different payment bots, among the most popular are:
Basically, the operation of these bots is proportionally distribute their voting power among users who pay, giving double the payment made to the publications voted, although it must be taken into account that not all the amount reflected in a Steemit publication goes to its author, so you should have certain considerations when choosing the bot that gives better results.
---
Free Votes Bots

This category is comprised of large communities that provide support to users, promoting good content and proper use of the Steemit platform. They work in Discord, they have a series of rules and regulations to guarantee the good functioning of the community.
- PAL (Peace, Abundance, & Liberty)

It is a large community that has the support of several Witness and Whales from Steemit. makes use of the account @minnowsupport for the votes, these only can be requested every 24 hours and for it it is necessary a simple registration process ...


- Dinero con Opcion

@dineroconopcion is another great community that offers its support to users through a Bot called Trinity, unlike the rest of the bots, it uses the voting power of all registered users in its database to give votes, for what a bot with a lot of potential


- SteemDunk

@steemdunk works in a similar way to @minnowsupport, offers a vote every day under certain conditions, this bot is automatic, that is, it is not necessary to request the vote. Unlike the rest, @steemdunk has a payment method with greater benefits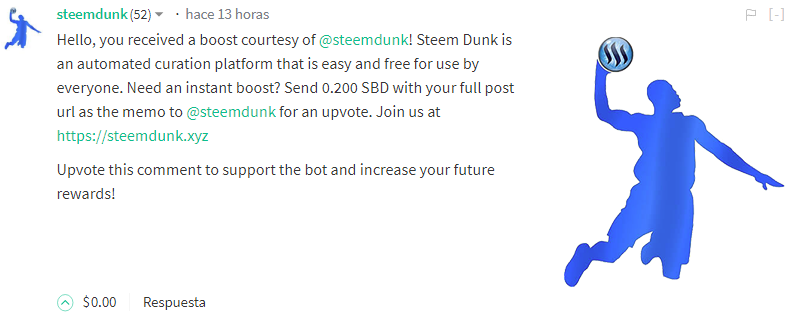 Other Bots and Communities
There are many other Bots, projects, platforms and communities that make use of Bots or _ Steemit accounts with great power of Voto_ (Whales = Whales) to give votes to users and encourage them to publish content within these or under certain characteristics ... Among the most popular are:
Among others....
I hope all this information is very useful. soon I would like to be able to share tutorials, experiences or recommendations for each of the tools mentioned in this post ...
Until next time! :D