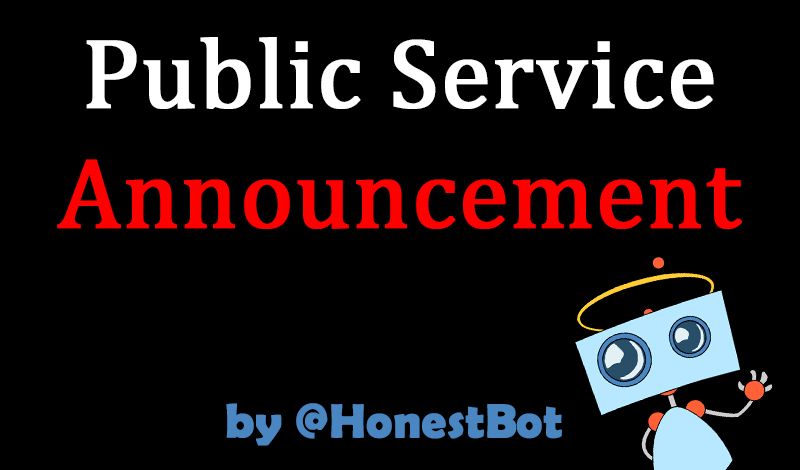 ---
Greetings, HonestBot patrons! I'm here today with an important message. If you use HonestBot or any other voting bots, this news may affect you.

There have been many issues with Steem API nodes over the past week or so which has caused many sites and services (including steemit.com) to go down or have problems. If you don't know what an API node is, that's fine. The important takeaway from this statement is that Steem apps have been glitchier than usual.

In the last week we have had two confirmed cases of the bot not casting votes that should have been cast. In the case of one user, their bid was accepted and then nothing happened. In another instance, the bot accepted a bid and left a comment saying that the user had been given a 14.29% upvote, but no vote was cast.
It's difficult to tell how these glitches may affect HonestBot in the future, if at all. There may be more dropped votes, there may be unfulfilled bid returns, there may be missed delegator payments. We hope that none of these things happen, but if they do...

If a glitch in the system causes any problem with the bot, don't hesitate to contact HonestBot. You can do so by leaving comments on our Steemit posts or by joining our discord server (link below).
If the glitch causes you to lose your delegation payment or your bid without getting a or vote, we won't hesitate to give you a full refund.
Hopefully these API issues will be sorted out in the near future. For now, keep your eye on your bids to make sure that all goes well!
---
Learn more about HonestBot here.
Help make HonestBot stronger through delegation. You can earn a daily profit by delegating some of your Steem Power to HonestBot.
To report abuse, problems, or ask questions...

If you like HonestBot,

please vote for @yabapmatt as witness.