Jesus loves me this I know,
For the bible tells me so,
Little ones to Him belong,
They are weak but He is strong.
Yes Jesus loves me,
Yes Jesus loves me,
Yes Jesus loves me,
For the bible tells me so.
Source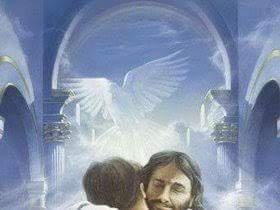 I sang this song through kindergarten all the way to my high school days and it only Just made sense to me very recently, I was at a very low point where I thought everything was going against me and no one could understand or help me out.
I was encouraged to give myself to prayer oh I did passionately,then I realized Jesus had always been there helping me in every situation but I wasn't connected in the spirit to listen to His voice leading me,comforting me.
Christ said in the scriptures that "He'll never leave nor forsake us" this words are true today He's lead me off drugs and all manner of harmful living I was indulging in, without therapy I've lost the desire. Jesus is always there in your weakness He remains strong...
If you were blessed by my testimony follow @igweezeh for more about Jesus
Also feel free to upvote this post.
God bless you richly..