Since they won't do a PR about it, I figure the more posts we do about it, the better!
Steemit,Inc recently released their financials...
https://steemit.com/steemit/@elipowell/steemit-inc-financial-update
Well sort of, they didn't release everything as it pertains to salaries, nor should they.
However, they did release the information surrounding the revenue being generated from the newly implemented advertisements.
And it was a very welcome number.
According to Steemit,Inc the most recent month yielded something close to $100k in revenue.
That is a very nice number. Especially when combined with the dramatic reduction in costs as well.
Check out the revenue vs. costs: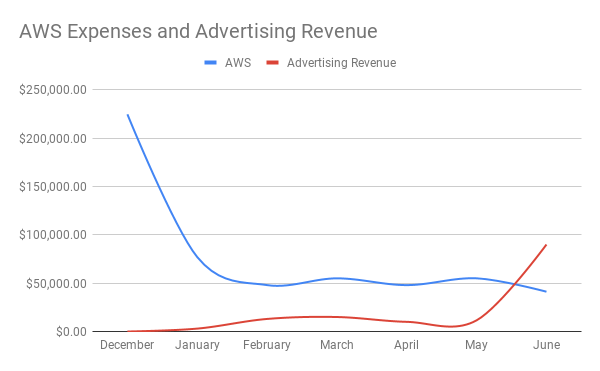 If that were a chart of moving averages it would be very bullish!
A faster moving average crossing over a slower moving average to the uspide, signalling a likely change in trend!
It gets better...
Even better was this nice little quote from their post:
"The only real variable is the advertising revenue. In order to not programmatically sell Steem each month, we need to bring in enough ad dollars to not only cover expenses, but make enough profit to ensure future stability. Obviously the sooner this happens the better so we can slow down the programmatic selling and ultimately stop it altogether. That has always been the plan and like I said, we are working hard every day to make this happen."
Not sure about you, but that was very nice to read!
I think this was the first time I have seen them say they are planning on stopping the selling at some point...
As an investor, that is exactly what I want to hear!
What's more, they also said they think they can continue to tweak some things and bump up that ad revenue even more.
Plus imagine if were to get some more traffic flowing through steemit.com, those numbers will keep going up and up.
How to really juice things...
What would really get things cooking is if steemit,inc made an announcement something along the lines of...
"As we continue to generate more and more revenue we anticipate in the very near future that we will be able to start paying out a portion of that revenue to qualified bloggers"
A statement like that would really get this place cooking!
It would also likely help the price of steem reverse it's current price trajectory, especially if that announcement was combined with a stop in the continued steem selling...
Stay informed my friends.
-Doc