The Steem blockchain and platform operates as a free market. Anything that is voluntarily done and engaged in by anyone is by default permissible. Until it can be shown to have negative consequences, people will engage in whatever behavior they want because they can.
That is the argument for why paying for votes is acceptable. Only until paying for votes can be causally demonstrated to have negative consequences on the platform will it be recognized as a negative. Until such a time, the default position for many is that this behavior is a positive.
Ok. Let's play the free market "game" then and see what we causally create with our aggregate behaviors.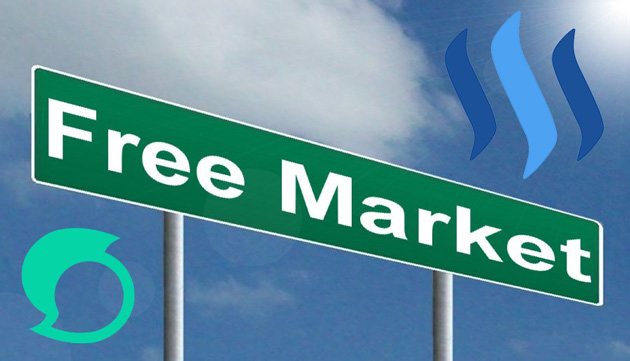 Vote buying is done so that people can get more rewards on their posts. Let's look at voting and rewards a bit.
Needing More SP
As a user of the platform, in order to vote and allocate rewards, you need more SP which is the power on the platform.
Without buying STEEM to get more SP, you need more votes on your posts or comments, or more curation rewards from voters voting after you in order to get SP. But not just any votes: high SP account votes on posts give you more rewards as a content producer, and as a curator when you vote before high SP accounts vote.
SP, Popularity and Visibility
People seem to be attracted to vote on posts that become popular. Once someone is recognized as getting recurring high SP votes on their posts, more people vote on posts from that user in order to get more curation rewards.
The more popular posts are easier to see from the trending page. The trending page is the default page for anyone visiting steemit.com for the first time. The higher visibility on the trending page gives more "eye balls" on a post, potentially gaining more votes since more people see it, and therefore more popularly for that post, leading to potentially more rewards from more votes being given.
Essentially, the more votes you get from high SP accounts, the more rewards you will get. It can snowball due to high SP votes giving more visibility and therefore more potential votes from others who want curation rewards, etc.
Whale Votes are the High SP Accounts
Whales can choose to vote freely as a way to reward the content they value or an author they want to support; or they can choose to sell their votes for anyone to get rewarded regardless of evaluating or valuing the content itself. Maybe there are other reasons whale accounts vote, but those are the main ones I can see.
This applies not only to whales, as anyone can choose how to use their SP, since there is no community consensus on the acceptability of voting behavior. But non-whale accounts have less influence to allocate rewards and give high payouts for posts.
---
Questions to Ask Ourselves as Users of Steem
What is the Steem platform/blockchain? (for simplicity you can think of Steemit to reflect what it is)

Is it social media?

Is social media about evaluating content in order to appreciate it and gain value form it?

Is social media about not evaluating content, and simply rewarding content no matter what it is by buying votes to get higher rewards?

If Steem is not about evaluating the content to rewards it, then what is Steem about with respect to the content on the blockchain?

How does buying votes work out in the real world -- in any system, be it a free market or not?

Does buying votes produce an honest reflection and outcome of what is being voted on -- in any system that allows it?

What is the message or value of a platform that generates high visibility posts and high rewards, not by the evaluation of content itself, but by the buying of votes to get such visibility and rewards?

What image does this reflect and project about how the platform functions, and how content is rewarded?

What is the value of the content when it doesn't need to be evaluated by others to get rewards?

What do rewards on content measure, when the rewards are not being allocated based on evaluating the content?

What is the value and integrity of a platform that doesn't actually evaluate the content in order to produce high rewards for said content?
---
Content Rewarded vs. Buying Rewards
With vote buying, high rewards on a post then, are not a measure of the appreciation or value of the content of a post that earn those rewards, but instead reflect an ability to buy votes rather than earn them through the content itself.
Does this type of vote buying platform seem to have issues or problems in how it is operating?
Does the vote buying behavior seem problematic for the platforms success in the long-term?
Does this behavior seem like a negative thing at all?
Causally Demonstrating the Effect of Vote Buying on Steem/STEEM
Many people will never accept that buying votes is detrimental to Steem/STEEM unless it is proven through hard facts like the falling price of the STEEM token, or loss of active users on the Steem platform, etc.
Something causal has to demonstrate that paying for votes is a negative, is bad, etc. Otherwise, we will all continue to argue, some with the position that buying votes isn't doing anything to harm Steem/STEEM, but is instead helping Steem/STEEM. The free market will have to tell us in the end, in order to resolve this lack of consensus in the community.
Since many people support arguments for a causal free market response to determine if this -- or any other -- behavior is valid and optimal for the platform and it's success, let's play out the causality and free market feedback to demonstrate how valid this behavior is.
Let the Causality of the Free Market Show Us
Let's see if vote buying makes things better, or worse. Let's do it across the platform to show what it does.
What that means is, everyone should start to play this game of paying for votes. This will causally demonstrate how viable the behavioral model of paying for votes is. It would be best demonstrated if no one gave free votes anymore, and only paid votes were given on the platform. This would expedite a causal response of how successful or detrimental this behavior is for the Steem platform and for the STEEM token.
If the paying of votes is good for Steem and STEEM, then the price will go up. If the paying of votes is bad for Steem and STEEM, then the price will go down. The free market and causality will let us know if there is a problem by showing a declining price of STEEM. If there is no problem, then STEEM will continue to rise.
This is the only way I see how we can get everyone to understand if there is an issue, or if there is no issue. This is how we will form a consensus to agree on what not to do here.
The free market will tell us if this behavior is bad or not for STEEM. If it's acceptable by people, then STEEM will prosper. If people don't accept it, then STEEM will stagnate and falter.
Either way, those who can afford to pay get more SP, and those who receive payment for their votes get more SP. The rest of the user-base get less of the distribution of STEEM and have to struggle to eventually get SBD/STEEM to pay for votes.
Again, to demonstrate the viability of paying for votes as a successful behavior on the platform in the quickest way to see how it affects the platform and token, is if that's the only method to get upvotes, which I doubt will be the case. I am not expecting this to happen at all. I'm just saying that this is the quickest way to see the effects and results of the behavior.
We will have to wait and see how long before positive or negative effects are demonstrable as more and more people pay for votes to get rewarded for whatever posts they put out.
The less people that do it, the less effect it will have on the overall platform. The more people that do it, the greater effect it will have on the overall platform. This is how causality will show us how buying votes affects the platform and token for better or worse.
We will just have to face the consequences if it doesn't work out, and live with a low STEEM value if that's what happens. So be it, at least we will know. And maybe the opposite will happen...
---
Have your say, let me know what you think!
What do you think of this proposal for how to demonstrate if paying for votes works out for Steem?
Do you think we can agree on a consensus about paying for votes without a causal demonstration of the positive or negative effects it creates for the platform?
Do you think paying for votes will have a long-term positive or negative effect for the Steem platform or the STEEM token?
---
Thank you for your time and attention. Peace.
---
If you appreciate and value the content, please consider: Upvoting, Sharing or Reblogging below.


me for more content to come!
---
My goal is to share knowledge, truth and moral understanding in order to help change the world for the better. If you appreciate and value what I do, please consider supporting me as a Steem Witness by voting for me at the bottom of the Witness page; or just click on the upvote button if I am in the top 50.