https://kryptogamers.com/dice
We proudly present to you KryptoGamers, a provably fair and transparent gaming platform with a minimal house-edge (1% for dice) powered by the STEEM Blockchain. Inspired by gambling platforms such as EOSBet, TRONBet and Magicdice, we are here to offer you more exciting games with much more simpler and soothing gaming experience to satisfy the KryptoGamer in you.
The most popular Dice Game is already live on our platform and you can start playing dice without any login through Steemconnect or by installing the Steem Keychain browser extension for a smooth playing experience.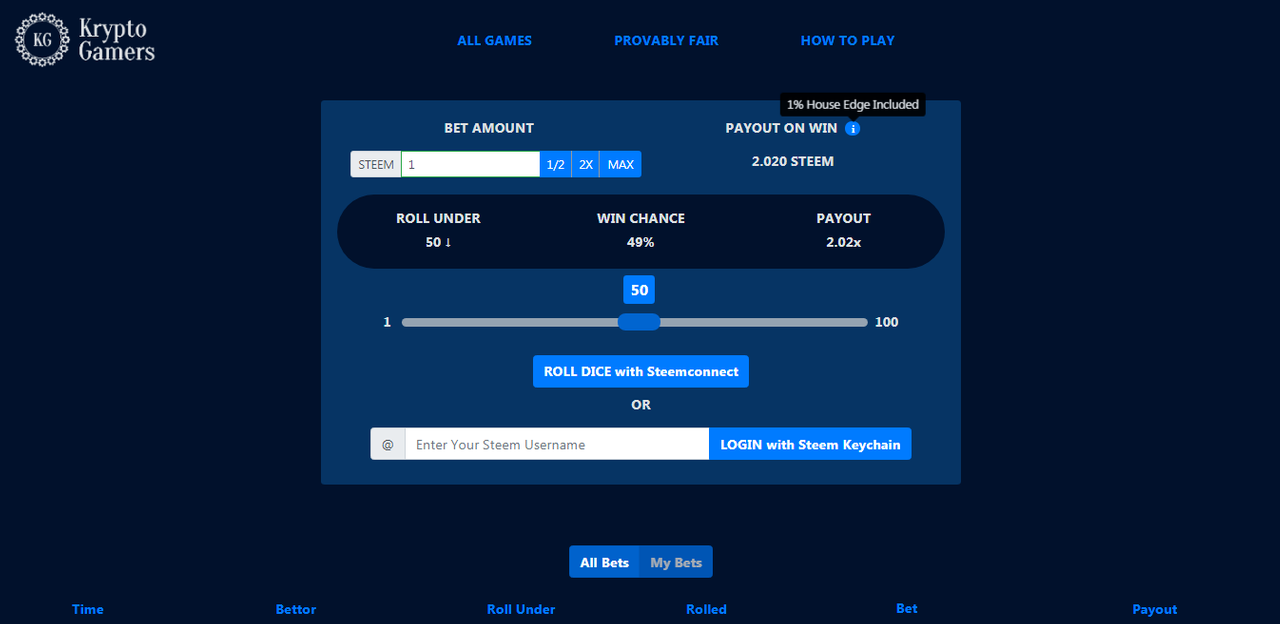 ---
Provable Fairness and Transparency
Using a combination of a client seed chosen by you and a secure server seed randomly generated by us, we make sure that it is impossible for you to play an unfair game on our platform. We disclose the server seed hash at all times before every bet so that you can easily verify the integrity of the rolled number. Moreover, any player can verify the result of any bet just by entering the steemit transaction ID of that bet in the provably Fair section on our website OR in the "My Bets" section after logging in. The final rolled number is generated by the following script:
result_hash = createHmac('SHA256',[client_seed+trx_id.substring(0,10)]).update([server_seed]).digest('hex');
result_number = (parseInt(result_hash.substring(0,10),16)%100) + 1

---
Betting Limits
Minimum Bet is 0.1 STEEM and Maximum bet is 100 STEEM which may change as per our available funds. We have the least house edge of 1% just so that the odds are stacked more in your favour as compared to other platforms. The winnings will be transferred instantly and should show up within the next 1 minute in your wallet.
Future Plans
We intend to provide the best possible gaming experience to our krypto-gamers. Apart from improving our current game, more features and more games are coming up soon. Meanwhile, play a game of dice and let us know any feature/suggestion or report any bugs/queries in our discord channel: https://discordapp.com/invite/KpFUZh2

https://kryptogamers.com/dice
Responsible Gambling
Gambling should be for entertainment purpose only as uncontrolled gambling may severely affect your finances, relationships and health. We discourage all kinds of gambling addiction and encourage you to set time and money limits. Good Luck!