We are excited to launch the daily leaderboard rewards giving away 3 Million GAMER Tokens everyday till 27th May 2019. Become a part of our platform and reap the maximum portion of profits i.e. 70% of profits as dividends forever. Thanks to all of you for more than 12 Million Steem has been wagered on our platform till now. And within less than 2 weeks, more than 13000 Steem has been distributed as dividends to our esteemed token holders.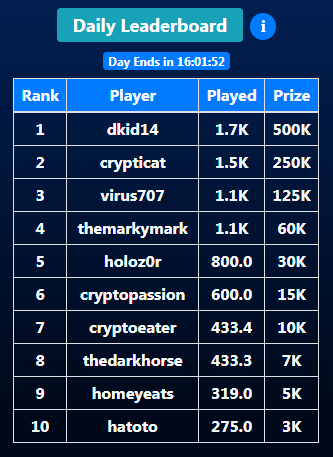 kryptogamers.com
For those who have missed out early, this is a great opportunity to become a part of Kryptogamers family. A total of 3 Million GAMER Tokens will be rewarded daily to top 10 winners of each game.
New Features and Updates
Memo Bets Enabled For Dice
We have enabled the memo bets for dice through which a bet can be placed with a simple memo with the
format: Roll under <number between 2-95> <client_seed>
Stay Tuned for more exciting features and updates coming soon!
Thanks again for all your love and support.