Comment with the LOWEST number of upvotes wins the main prize!
"Now that is interesting. People could make a lot of money losing!"
This contest would not be possible without generous donation from @papa-pepper. Thanks!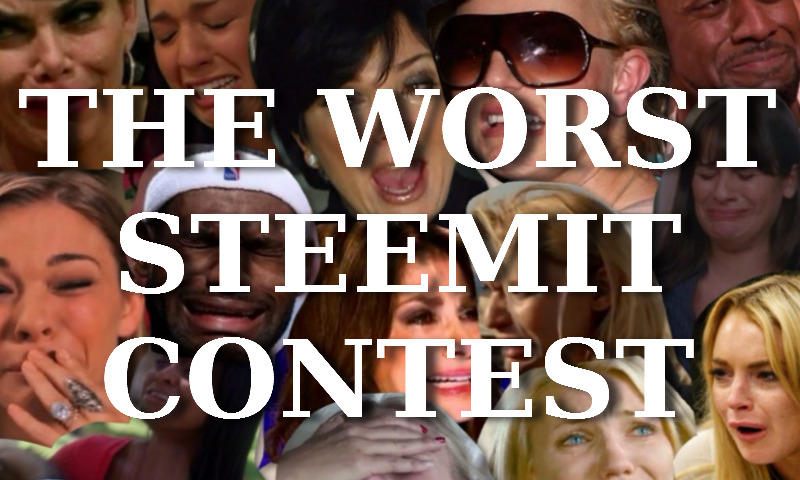 THE WORST STEEMIT CONTEST
This idea is very different from your usual Steemit contest. In this one the comment with the LOWEST NUMBER OF UPVOTES WINS the main prize! So you are basically trying to be the worst contestant ever :D
WTF? WORST COMMENT WINS?
Yes! This experiment can create an interesting upvoting game in which all the contestants will be upvoting their opponents comments to win the main prize. This way we can have fun and make money together! By upvoting your opponents you are basically forcing them to upvote you back. So just entering this contest with ANY comment should guarantee you some payout at the end. And if not... Congrats! You won the main prize!
RULES:
Write the worst joke in comments. (stupid, corny, offensive, unfunny, whatever:)
Upvote and Resteem this post.
Start upvoting your opponents comments so you can win!
DEADLINES:
You can only enter this competition in first three days. Then you have 3 more days for up-voting. I had to create this rule otherwise the competition would simply be won by last post. Now you can choose your own strategy. Posting later could slightly better your chance to win the main prize. Posting sooner can give you higher payout on your comment.
ENTER UNTIL: Monday (2017/6/19) - 22:00 GMP (+00:00)
(I will not count entries posted after this time.)
COMPETITION ENDS: Thursday (2017/6/22) - 22:00 GMP (+00:00)
(At that time I will download the whole post in .pdf so I can see who had the lowest number of votes at that exact moment. Counting just one first post from each user.)
You can check your time difference here:
https://greenwichmeantime.com/timepiece/world-clock/world/
PRIZES
WINNER: 50 SBD +20% SBD payout from this post
1st RUNNER-UP: 10% SBD payout from this post
2nd RUNNER-UP: 10% SBD payout from this post
Hope you will enjoy the game. May the WORST player win!
@lepton