Hello steemians, I posted my first introduceyourself post on steemit platform, I got actively involved reading, analyzing the trending posts and I came across posts of how to support and help steem get listed on Niffler. Co exchange from @brayan, @hungrypb, @jaraumoses etc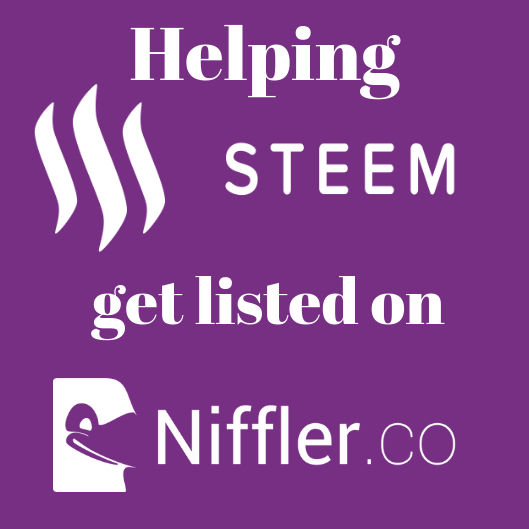 I got interested in the topic and starting reading, researching and analyzing more on the Niffler. Co exchange ….. I came to know that Niffler.co platform gives new users the ability to have a prior knowledge of crypto currency trading with the risk of losing their money
I got back to my experts on the steemit platform...I call them my teachers @brayan and @jona12 who explained to me the broad view of on what happens when we support steem get listed on Niffler.co exchange
These are some of the reasons for what happens when steem gets listed on Niffler.co exchange
Increase in the steem price over time
More investments shall be attracted
Increased publicity of steem etc..
Let us come together as the steem community and show our support and get steem get listed on Niffler.co exchange
We can only do this by registering on Niffler.co exchange until we reach the 5000 benchmark then we get steem added to the Niffler.Co exchange!
Steps to get registered with Niffler.co exchange
FOR STEP ONE--- This is the link https://niffler.co/goal/steem
FOR STEP TWO---Signup by entering your details including your email and password then proceed by clicking create account. If you have a Gmail account just simply click the signup with Google and follow the prompts
FOR STEP 3--- Follow 3 traders by clicking on the "follow" option of any traders of your choice out ones displayed to you then proceed by clicking on "proceed to platform" option.
That is all and finally you get registered
"REMEMBER WE NEED ONLY 5000 PEOPLE FOR STEEM TO GET LISTED ON NIFFLER.CO EXCHANGE"
Thanks ….regards