Hi, Steemheads!
I hope you all are having a great mid-week. I am quite busy with life but I am still here steeming everyday because I am committed to doing this with some friends. I have delegators that believe in what I do. I was surprised because I now have 17 delegators. I decided to show the roster here so, I make sure they are aware that I have them counted in and let them know that profit sharing for the second week will be done tomorrow and I am excited!
Here is the roster of Delegators, awesome people on Steemit!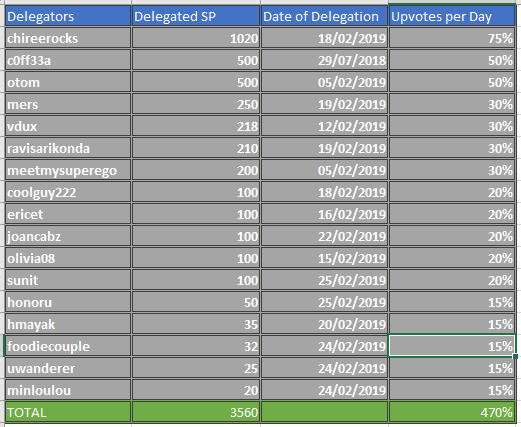 One of my inactive Steemit friend @uwanderer delegated even if he is not steeming because he wants to let his acccount earn passively, he also wants to help me in my projects and guess what, he also will be helping other delegators because there won't be upvotes for him so the VP for him will be more votes for others.
If you have inactive Steemit friends and you think they will be interested in earning more than bidbots or any other profit sharing services here in Steemit, please let them know about us here. I can guarantee you, we share more than most services out there. You can do the Math.
For reference, here was our last report for week 1:
Daily Profit Sharing Report of Mermaidvampire Account Delegators - Day 8 (Feb 20, 2019 Payout)


PS:
Not all of the people in the list will get profit shares tomorrow because I can only give profits after 7 days of the date of delegation. I hope you understand and thanks for your patience.
About the upvotes per day, I may give you that exact amount in one vote or I could do it in a sum of 3 votes or I could double that value, it all depends on how my VP is. I might not be able to vote you some days but I am sure to back track and give you that missed vote and also I might give it to posts and comments or both.
You want to earn more without doing much, then delegate to @mermaidvampire. Any help, helps. Any amount of SP can earn.
Tagging delegators for attention:
@chireerocks
@c0ff33a
@otom
@mers
@vdux
@ravisarikonda
@meetmysuperego
@coolguy222
@ericet
@joancabz
@olivia08
@sunit
@honoru
@hmayak
@foodiecouple
@uwanderer
@minloulou
Let me know questions or suggestions in the comments. Thanks!
Love and Peace,