Numerai is a hedge fund company which is powered by a network of data scientists, machine learning experts anywhere around the globe.
The data scientists get weekly encrypted data about some financial assets and they are tasked to provide predictions before the next round begins. They are not expected to know anything about the financial asset. Everyone is invited to participate in the competition. You are not expected to provide your intellectual property - you keep your code or whatever strategy you employ in making predictions. The only thing Numerai needs from you are predictions from the weekly tournament data set.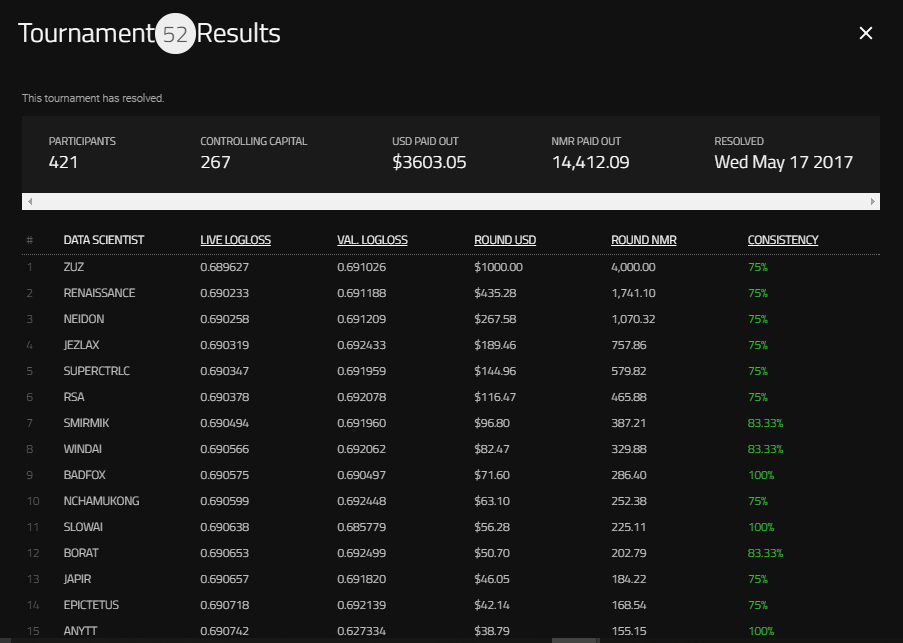 Your predictions will be scored on live data after the week's competition has ended. Depending on the performance of your predictive model(s), you will be paid in both USD (which you can cash out as bitcoins) and in Numeraire token (NMR).
NMR are ERC20 Ethereum token. As you probably know, Ethereum tokens are represented as smart contracts that are executed on the Ethereum blockchain. One of the developers (Xander) just communicated that NMR will be very valuable assets on the slack channel.

There are lots of request for someone wanting to buy prior to its release date. What do you think 1 NMR will be worth?
Some Insights On Numeraire Token
New NMR are only released by participation in the weekly challenge. The best 100 ranked models / participants earned NMR.
About 14,400 NMR are released per weekly challenge. Imply an issuance of about 750,000 per year will be released.
Data scientists can use NMR to express how confident they are about their predictions.
Numeraire is expected to be traded as from the 20th of June, 2017. What do you think 1 NMR will be worth?
Happy Steeming!