If you've been on steem long enough -not that we've been here all that long to begin with- then you would have notice that there has always been a heated discussion about vote buying and whether it's good or bad for the steem economy. But one thing people often overlook, is how essential it has become to proving steem's functional. And as they always said, the proof is in the pudding. If you read through below, I hint at some other topics that may or may not interest you. If you want to hear more, comment below and it'll be one of my next posts.
when given a chance, there will always be someone to take it
Earlier this year, Steem was over $10 and the rewards pool grew along in value. The number of vote buying services exploded as the demand for vote buying increased. Why? Profit of course! Why post good content if you can post terrible content and make the same amount of money?
I'd be a hypocrite if I said I didn't do it myself, as a matter of fact, this post was bumped in value by buying an upvote. But vote buying has its limitations as the blockchain grows. If you want me to talk about this, then post down below because I've got a lot to say about the future of steem, I just don't know if anyone is interested and if I should put it on paper.
why vote buying is popular
It's a no brainer, steem is one of the few cryptocurrencies that allow you to earn it by posting content. The problem is that the overwhelming amount of users here have almost nothing to offer in terms of good content (and yes I'm fully aware that "good content" is subjective!) and I blame that on a combination of not knowing your audience and poor writing skills.
What you end up with is this environment which models anarchy at its deepest levels. People end up doing everything that is possible to make a buck. Hence the poor content by people who buy upvotes and call it "investing in myself", or the "I'm doing this because I deserve the money".
Let's just be honest. At the time being, if you have money, you can make a shit ton of it on Steem. It's no hidden secret, and it isn't even a dirty little secret. IT'S THE SLOGAN OF THE WEBSITE.
That's why buying an upvote is popular. ITS FREE MONEY.
yet, vote buying creates an economy!
An economy is one that is driven by playing the game of filling the demands with a supply of something. Currency is the language of the economy. On the steemit economy, the language is STEEM and the game is upvotes. Theres a huge demand for it, and there simply isn't enough supply.
The good thing is that the money of the internet is treated in our human minds, the same way the money of reality shifts. The faster it exchanges hands, the BETTER it is for the economy. People aren't using steem or sbd to hold as investments like gold and bullion. The second SBD touches your hands, you think of only TWO Things.
"How can I use it to make more"
"How do I earn more of it?"
When users think this way, then got yourself one golden economy.
Simply put, the more users there are, the more demand vote buying will be, but since SP will begin to dry up without outside investments, the two may very well be the catalyst that turns STEEM into a flame thrower driving its value into the top 5 cryptos of all time. You can quote me on that.
But where does the money go?
When vote buying started, it was a simple person to person transaction.
Shortly thereafter, automated scripts appeared and the first user created bot hit the scene. Overtime, this collection grew and services such as minnowbooster, buildawhale and many other highly funded bots came into existence, many of them have survived because of SP delegations provided by whales and users looking for a chunk of the upvote pie.
Right now, the BIGGEST winner will simply be the upvote services that returns the MOST to their investors. Its an automated version of what steem was originally intended to do! It just manifest itself into a way that aligns MOST with human interests. If you want me to elaborate on this, then comment below and I'll go more in depth with this concept!
That's where smartsteem got it right @therealwolf along with others had the brilliant idea to give the most back to the users, and he has been rewarded handsomely in how he executed it through smartsteem as opposed to his competitors.
what would steem look like without vote buying?
If vote buying wasn't a thing, we would see a sizeable reduction in the number of "transactions" on steem right now. People would be less interested in posting to earn money because of the difficulty in gaining traction and the even bigger circle jerk among whales there would be. Think about it, if there were no other option for whales to sell their votes, why would they ever comment on anything unless it interested them?
In fact, whales would have ZERO reason to bring outside money into steem because there would be no minnows to feed of buying their upvotes.
what's the next demand for steem and sbd?
The short answer is that we really don't know. But the long answer is far more complex. With smt's being released hopefully this year, and communities feature launching (also hopefully this year), we'll likely find that the steem blockchain will replace ethereum as the defacto base coin to which all other coins will be created off of. When that happens, all I can say is that we are going to be in for a wild ride.
PHOTO OF THE DAY!
Some of you guys know of the project where this photo was taken. Its a balcony repair project that I've posted photos up of before. In this particular photo, I just came down from another rig and walking by another rig on its way up. These are L shaped, 3 motor rigs which are notoriously floppy in the wind. Yes, this is my job, and sometimes it isn't cool, especially when its freezing and windy outside!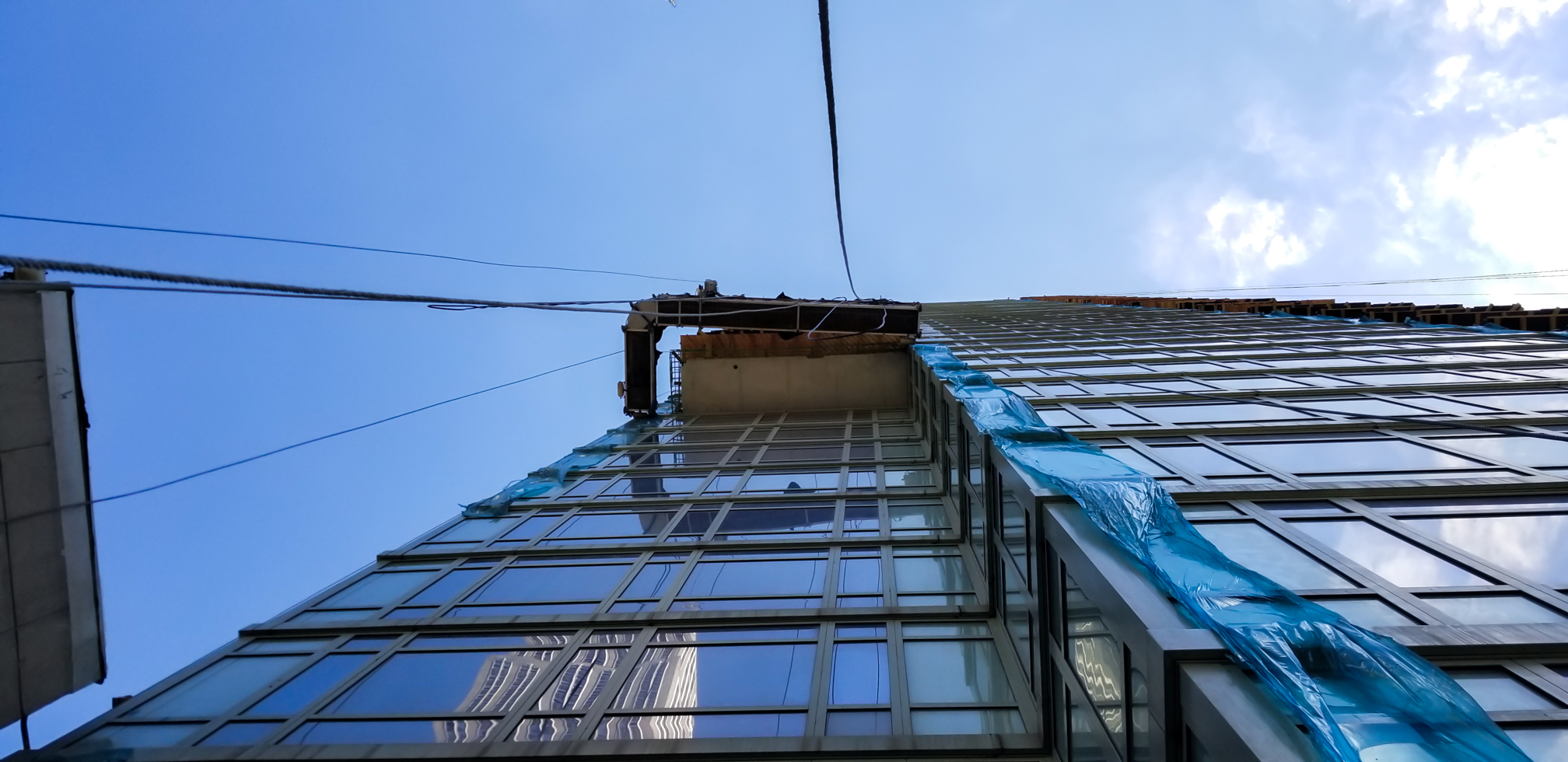 the above photo is the same one shown here:
CONTEST: to the first person who does the following:
find where this photo came from and post the link, along with a photo of themselves with their username WRITTEN on a piece of paper with today's date and time gets an upvote from me. If I like what you are doing with your page, it will be a 100%. If I don't it'll be 25%