The Darkness 一片黑暗
x
@ned, @dan, @dantheman, I believe you created Steemit to safeguard the freedom of speech and prevent censorship and dictatorship as shown in Steem Whitepaper: Steem is committed to enabling free speech and building a free society.
After I posted an article to reveal firepower, an account with the reputation of 69, was spamming Steemit with comments, I got retaliated from firepower. He and @s4s came to downvote me repeatedly, curse me, harass me, and threaten me publicly on the blockchain.
Later, firepower confessed that he banned some accounts who supported me at Steemit.chat
SteemFest² will be hold at Lisbon in November. I hope somebody can bring this topic to the conference so the steemians wouldn't be afraid of threatening, censorship, and dictatorship.
Evidence of the Spamming
I believe I already listed enough evidence in my original post to show firepower used bot to spamming Steemit with comments.
If the above evidence still cannot convince you that firepower was a spammer, I can give you more details. I downloaded firepower's comments on Oct 7, 2017 from SteemSQL. According to SteemSQL, he posted 300 comments on that day.
I sorted the comments by the content, and the following screenshot shows 30 comments, 1/10 of the comments he posted on that day: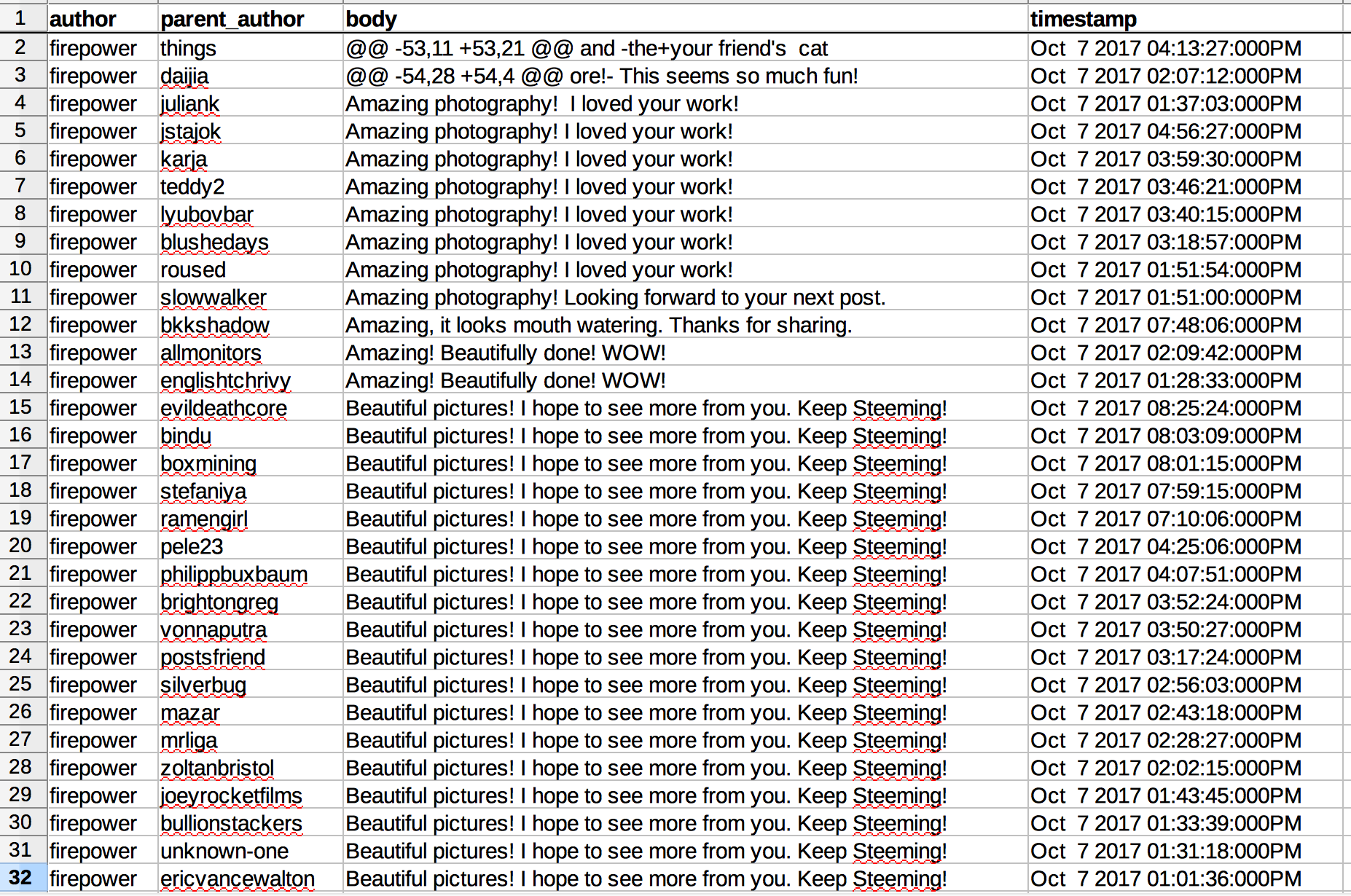 Sort the comments by time, we can find that he bursted 31 comments in 44 minutes.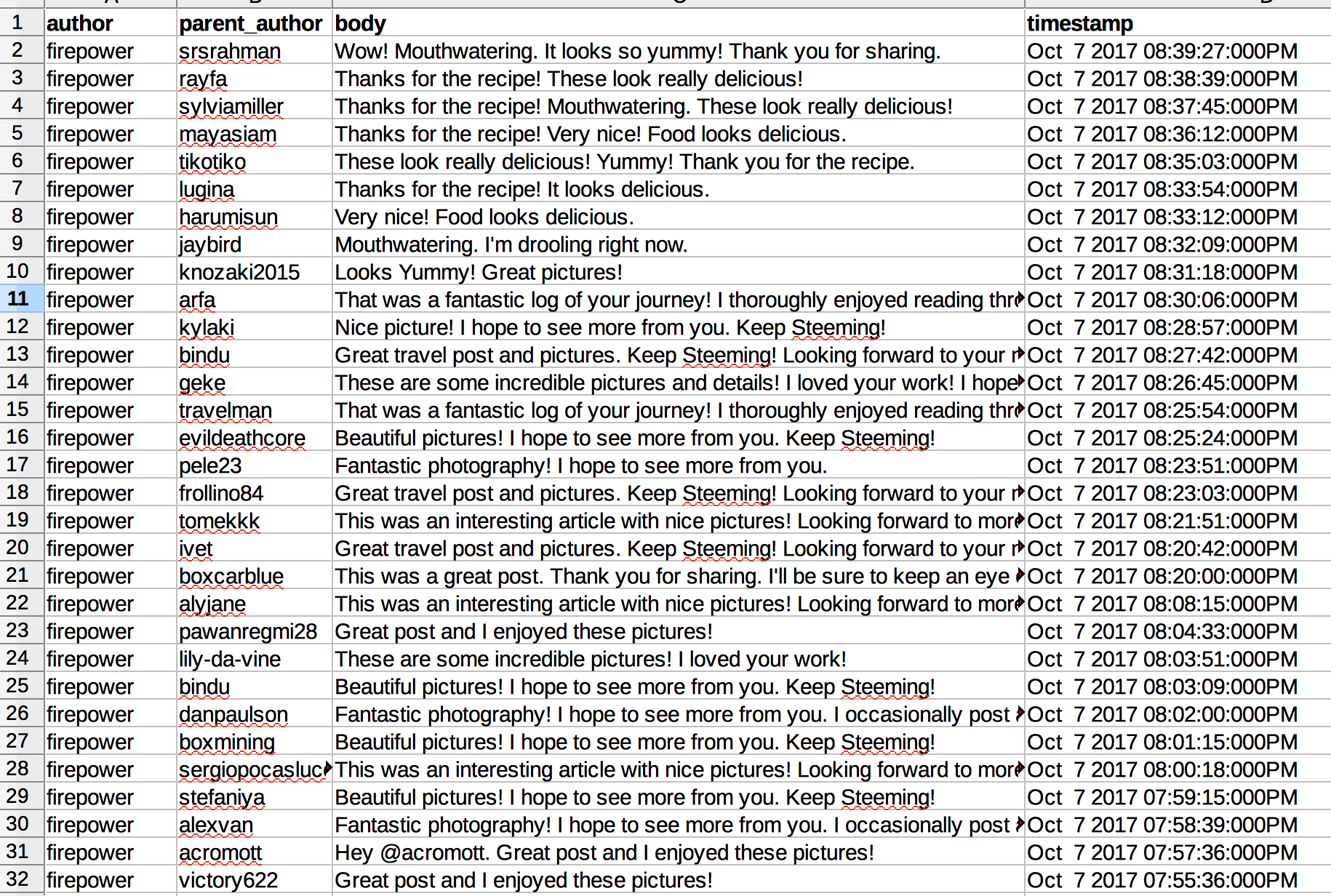 On the day of Oct 7, 2017, he posted 300 comments in a single day. He would need to spend 5 hours to post all the comments, if he posts one comment per minute. On some other days, he posted more than 300 comments.
If the above is still not enough for you, you can check which comments he deleted:


He deleted the above encouraging comment to this post, a post about dabbers. Do you know why he deleted it? I don't know.
Why Did I Report firepower
There are many accounts that use bots to send out comments. I am not bothered too much by that because the commenters do not hide the truth that they are bots.
Also there are some new users with low reputation who send out spams. I can simply mute them and normally these users cannot go too far before they are flagged by other users or the cleaners.
When a spammer has the reputation of 69 and claims himself to be the admin of Steemit.chat and member of @steemcleaners and uses a bot to mimic a real person's comments, I cannot ignore it. As a member of Steemit, I have the responsibility to report it. Because a spammer with high reputation is much more harmful than a spammer with low reputation.
I reported firepower because I love Steemit. I don't want it to be ruined by spammers. Somebody adviced me not to fight with a spammer that has the power because the powerful spammer can ruin my account. I would like to ask: Why do I need this account if a spammer has power at Steemit?
Retaliation from firepower
After I posted my article, firepower and @s4s came to downvote me: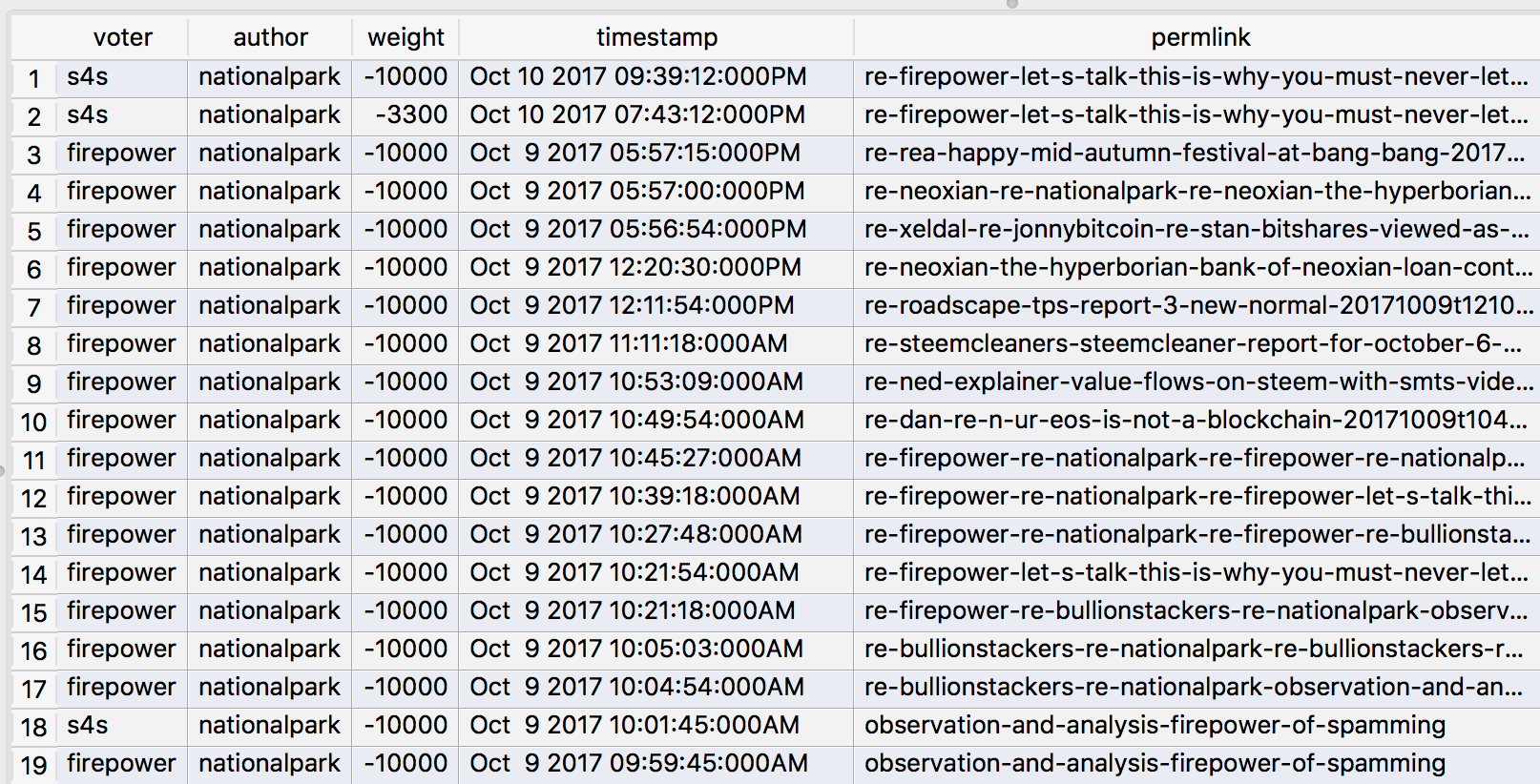 Other whales also came to downvote me:


@donkeypong, @analisa, and @kevinwong downvoted my post in a roll. Fortunately, these 3 whales removed the downvotes 2 hours later. I do not know who triggered the downvotes from these 3 whales. I do not know what is firepower's role in it.
That's not enough, firepower came to curse me, harass me, and threaten me publicly on the blockchain:



Screenshot of firepower's comment to my post 1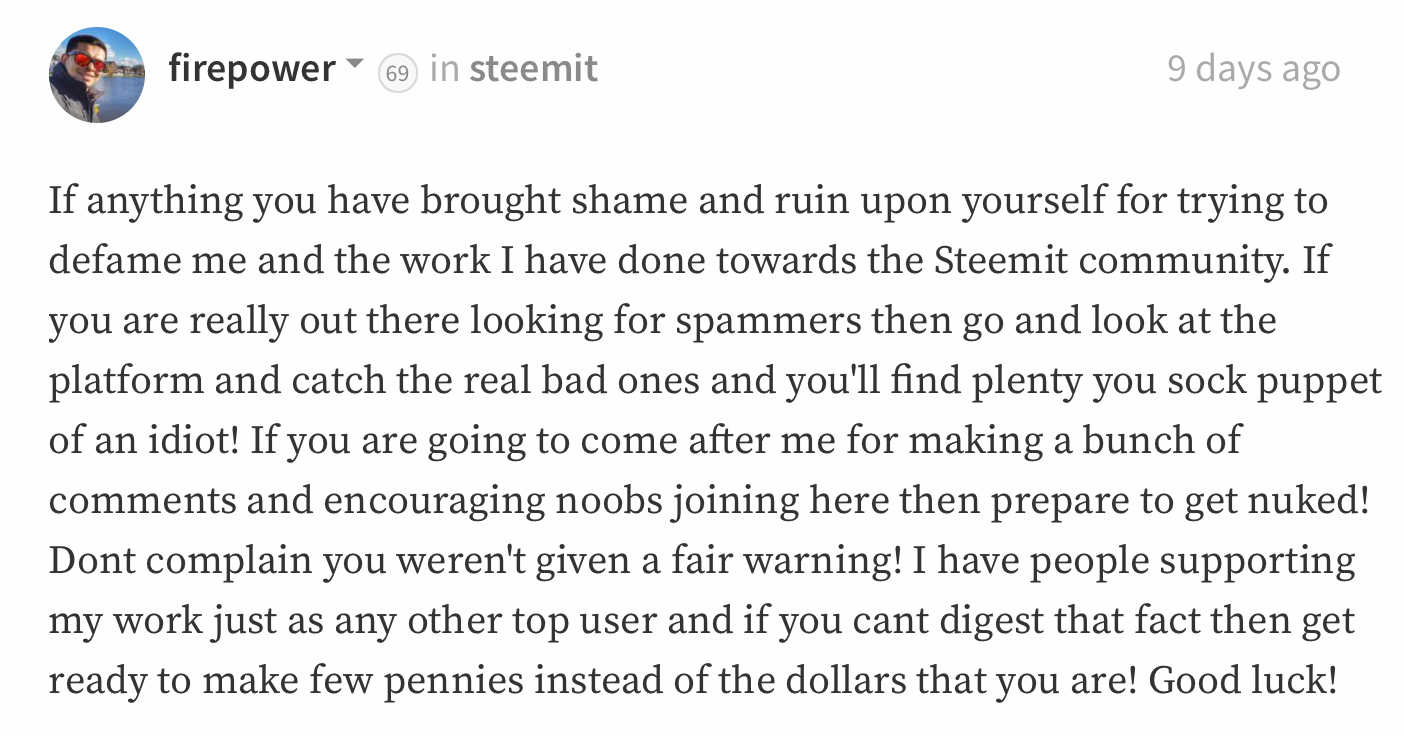 Screenshot of firepower's comment to my post 2


Screenshot of firepower's comment to my post 3


Screenshot of firepower's comment
My post and comments were downvoted by firepower and @s4s for 19 times in 2 days. Looks like firepower can control @s4s. But who is @s4s?
@s4s was created in May 2017. It has 175K SP delegated from other people. It has no post and no comment. Actually, it wrote 2 comments on 8/23/2017 and 9/5/2017, respectively, probably by accident. These comments were deleted later. I found some clues from these deleted comments, but don't want to discuss these today.
@s4s delegated SP from @neoxian in June 2017. I asked @neoxian. @neoxian told me that the SP was rented and now the SP was returned.
Now @s4s has 60k SP delegated from @xeldal and 110k SP delegated from @roadscape. Both @roadscape and @xeldal are witnesses. @roadscape is also the owner of the famous steemd. I sent message to @roadscape and @xeldal and ask them why they allow @s4s to downvote me, but did not get any response from them.
Let's have a look at @s4s's voting history of September 2017: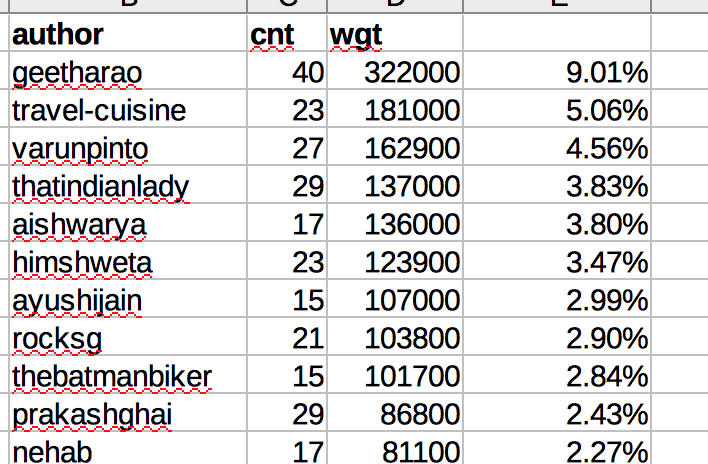 In September, @s4s voted @geetharao 40 times and the total weight of these votes is 322,000. @s4s gave 9% of its all upvote weights to @geetharao, who must be @s4s's favorite author. Who is @geetharao? She is firepower's mother.
I also checked who are the top voters of @geetharao, they are:
firepower
I reported the spamming of firepower to @steemcleaners. Ms. @patrice, a member of @steemcleaners, replied me.
According to Ms. @patrice, firepower was a former member of @steemcleaners. Apparently, they know each other. According to Ms. @patrice, sending comments with robot is grey area and @steemcleaners usually doesn't flag it. Because @steemcleaners have other high priority tasks, my understanding is that sending 200 comments to other users every day with a robot can be tolerated by @steemcleaners.
Anyway, Ms. @patrice does not admit Mr. firepower's action is spamming.
Then I wrote an article for a proposal to send out 200 comments with a bot and pretend to be from a real person. The article is just for fun. I just want to let Ms. @patrice to find out whether this action is spam or not.
Bot & Copy/Paste comments: If you don't like it - flag it. If it flags back let us know. If you're afraid of being flagged back - report it. We'll notify the curator or comment and maybe downvote a comment or two.
The role of @steemcleaners in most cases here is to warn the user and maybe flag a couple of comments to get the users attention.
We all know spam comments are annoying and a source of block chain bloat. Unless they are high volume or are followed by a voting trail just to drain the reward pool they are more annoying than harmful.
Users posting plagiarism, copy/paste, identity theft/deception, high frequency spam or multiple account abuse is a bigger priority.
Ms. @patrice posted the above rules as reply in my article about the bot. I replied her comments and told her I have obligation to report Mr. firepower again, because he flagged me even I never flagged him and I am afraid of being flagged back. No reply from Ms. @patrice after that.
@steemcleaners, @pfunk, @anyx, @adm, I believe you guy are also the members of @steemcleaners. Thank you very much for your contributions to Steemit.
Do you agree with Ms. @patrice's conclusion? Do you believe Mr. firepower's action is not spamming?
Banned by Steemit.chat
After I posted the article to reveal the spammer, I was not able to login steemit.chat. I have one account at steemit.chat. My user id is nationalpark, same as Steemit. I don't have any other accounts there.
Some friends told me somebody posted my article at steemit.chat. Later, I was also told that somebody who posted my article were kicked out from steemit.chat.
Then, firepower came to my post to confess he banned those accounts at steemit.chat:


In a thread of comments of my post @riverhead mentioned he is the host of steemit.chat. Because @riverhead is a witness, I trust what he says. So I sent a message to @riverhead and asked why I cannot login steemit.chat. Still waiting for reply from him.
Also I noticed that @riverhead delegated nearly 700k SP to @kpine and @kpine is the top voter for firepower. Therefore, I want to ask @riverhead and @kpine to reconsider his support to firepower.
Why Steemit.chat Matters?
I don't use steemit.chat very often. Normally, I do not need steemit.chat at all.
However, steemit.chat is important for steemians because it's the channel to appeal the abuse and other issues.
Now steemit.chat is controlled by firepower, a spammer and abuser. This is dictatorship and censorship of Steemit.
Therefore, I would suggest
Steemit finds another channel for appeal
Owner of steemit.chat to explain why I was banned
Anybody who will go to SteemFest² can help me to raise this issue to the whales at the conference? Thanks in advance.
Words to firepower
I noticed you stopped spamming recently. I am very proud of you! You will be a good steemian once you stop spamming, cursing, and threatening.
You are welcome to apologize to me and compensate for the downvotes you did.
You claimed that I have many alt accounts at steemit.chat. Prove it! If you cannot prove it, take your words back and apologize!
---
我因为举报firepower发送垃圾评论的行为被他报复、狂踩、谩骂、骚扰、威胁。
他用自己的三万SP的号和十七万多的s4s号来踩我多次。
我向steemcleaners汇报。steemcleaners的patrice女士答复了我。他们认识。patrice说机器发回复一天二百条他们一般不管。而且她不承认这是发垃圾。
于是我写了一篇文告诉大家可以用机器人每天发二百条评论假装真人,反正cleaners不管。然后patrice到我的文里贴规章制度。我按照规章制度再次举报firepower,patrice没再理。
s4s的六月份借过SP。我问了SP的主人,主人说是租的,后来还了。现在s4s的十七万SP主要来自roadscape和xeldal。两位都是见证人。我发消息问过两位见证人为什么允许s4s踩我,没有得到答复。
s4s主要负责赞geetharao,九月份把9%的赞给了她。这个号是firepower他妈。另外两个常赞他妈的是steemaccess和firepower他自己。
有些不相识的朋友在steemit.chat帮我转发我的帖子,结果被chat封禁。我自己也不能登录chat。后来firepower主动坦白这些号都是他封的,还说都是我的小号,让我坦白从宽交代所有小号。我告诉他,你发垃圾是一个问题,现在怎么又开始撒谎了?有证据你拿出证据,没有证据把这谎话收回去。
riverhead在我的帖子一个回复里留言说他是chat的主人。riverhead是见证人,他的话我相信。我问riverhead为什么chat封我,没有答复。
riverhead借了几十万sp给kpine。kpine是firepower最主要的点赞者。我想让riverhead和kpine重新考虑一下是否应该支持firepower。
chat我很少用。但是chat是投诉的地方,有点像上诉法庭。假如一个被告在上诉法庭看门不让被告进门,你说这还有天理吗?
---
加勒比海系列
---
更多系列游记
---
数据、观察、分析系列
---
技术系列
---
© Copyright 所有照片与文字皆为 @nationalpark原创。All photos taken by @nationalpark. All rights reserved.