Is it a good time to invest in Steem Dollars (SBD)?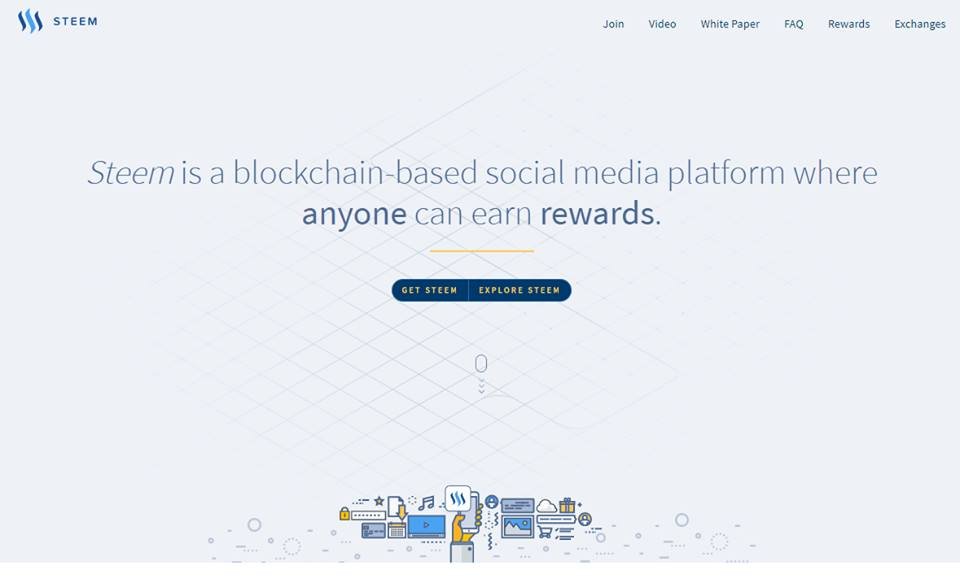 The answer is: yes
Currently the currency (SBD) is on the rise, and has provided very high points so alone in one day. Making this currency a unique opportunity for investors, that is, those who do trading.
Certain factors are necessary to consider:
It is a stable currency (for the good acceptance that has had its project)
Currently raising its value
It has already gone through a strong fall, which can "assure" that will go up a time.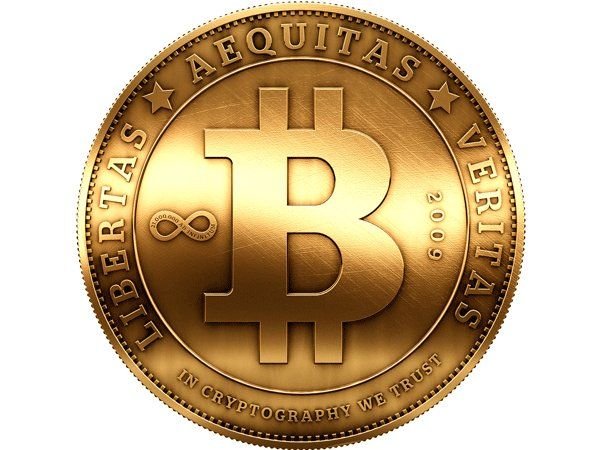 ---
Do you really know the project?
Ready?
---
Well, now we can project all this to graphs using Bittrex
(BY PREFERENCE)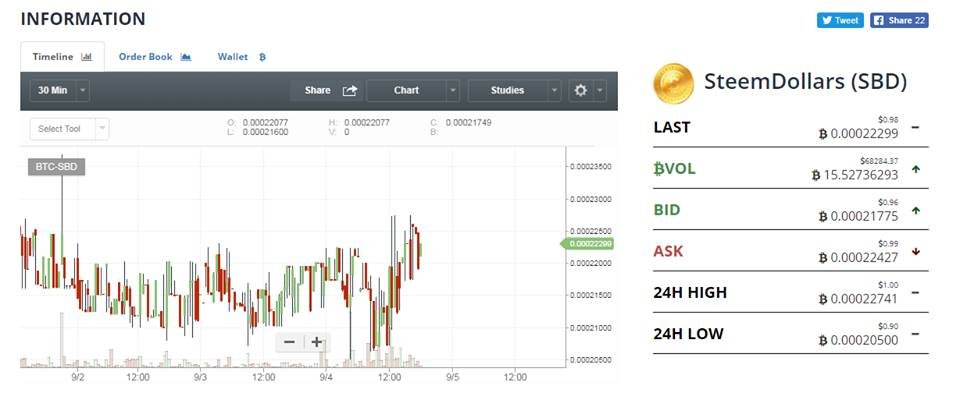 SBD has managed to reach 0.00039000 BTC increases in a single day. If these increases are multiplied by the number of currencies we have available, we can win a lot in a moment.
---
Let's do a brief review, using a very useful tool CoinMarketcap (Where we can see the different information in current cryptones)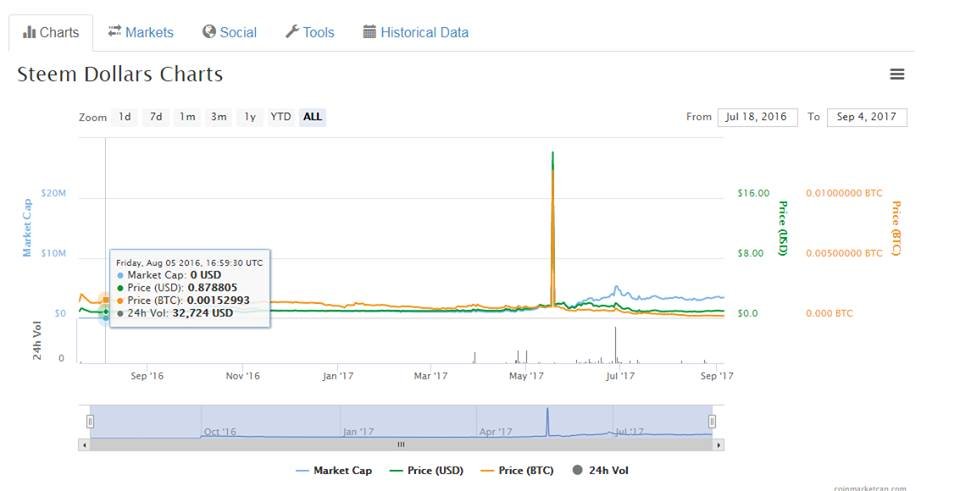 I think one of the factors with which we can have security when we are going to invest is to know that currency is moving in different Exchange, because this means that more people are working with this currency (buying and selling) .

You can see how Poloniex and Bittrex lead the standings, and this is positive because these two platforms give us great security in the currencies they offer, for simple reasons:
- Legitimacy of the currency
- Cost effectiveness
- Periods of change in price
AND THIS IS A GOOD NEWS!
---
So, encourage you to invest in SBD since you can multiply your money in the short or medium term. Always with the security that this coin is backed by a great project that every day takes more position

Spanish Version
¿Es buen momento para invertir en Steem Dollars (SBD)?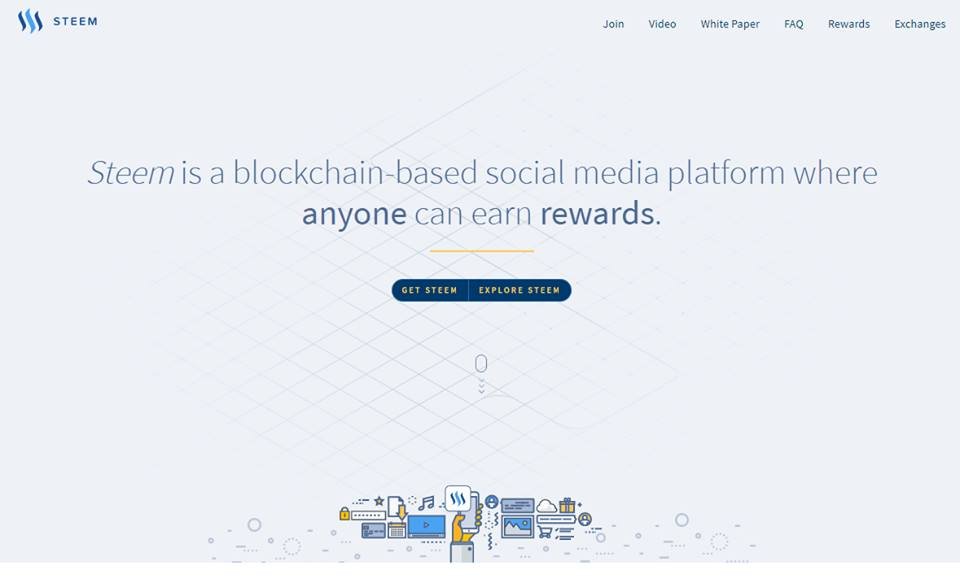 Si, la respuesta es: si.
Actualmente la criptomoneda SBD esta en alza, y ha proporcionado puntos muy altos tan solos en un día. Haciendo de esta moneda una oportunidad única para inversionistas, es decir, aquellos que que hacen trading.
Ciertos factores son necesarios considerar:
Es una moneda estable (por la buena aceptación que ha tenido su proyecto)
Actualmente esta subiendo su valor
Ya ha pasado por una fuerte caída, lo cual puede "asegurarnos" que irá en alza un tiempo.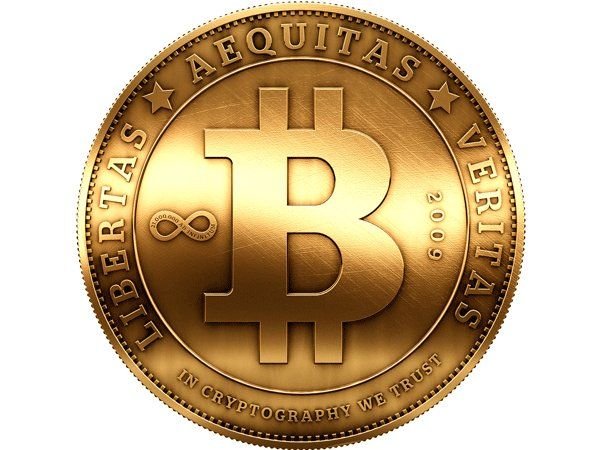 ---
¿Conoces realmente el proyecto?
¿Listo?
---
Bien, ahora podemos proyectar todo esto a gráficas utilizando Bittrex
(POR PREFERENCIA)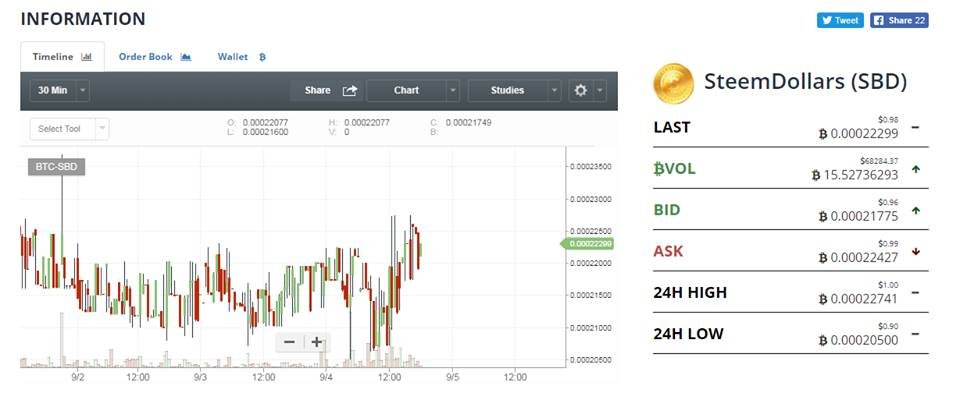 SBD ha llegado a alcanzar subidas de 0.00039000 BTC, en un solo día. Si estos aumentos los multiplicamos por la cantidad de monedas que tengamos a disposición, podemos ganar mucho en un momento.
---
Hagamos un breve repaso, usando una herramienta muy útil CoinMarketcap (Donde podemos ver la diferente información en criptomonedas actuales)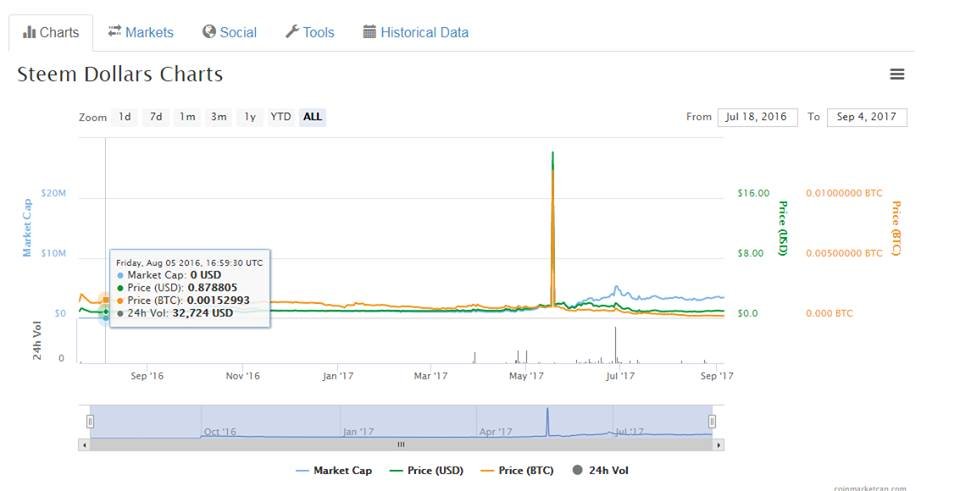 Creo que uno de los factores con los que podemos tener una seguridad cuando vamos a invertir es saber que dicha moneda se mueve en diferentes Exchange, porque esto quiere decir que es mayor la cantidad de personas que están trabajando con esta moneda (comprando y vendiendo).

Se puede observar como Poloniex y Bittrex lideran la tabla de posiciones, y esto es positivo porque estas dos plataformas nos brindan una gran seguridad en las monedas que ofrecen, por simples razones:
- Legitimidad de la moneda
- Rentabilidad
- Periodos de cambios en su precio
¡Y ESTO ES UNA BUENA NOTICIA!
---
Así que, animate a invertir en SBD ya que puedes multiplicar tu dinero en corto o mediano plazo. Siempre con la seguridad que esta moneda esta respaldada por un gran proyecto que cada día toma más posición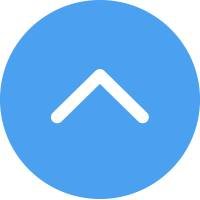 ---