Reasons to Celebrate
Today I had lunch with Cryptocoin. (Actually it was with Chris) but you get where this is going? It was the successful completion of an experiment I started a while ago to buy something with cryptocurrency, I had earned and I am going to share with you how I did it. It's only a token amount, but I had promised a friend of mine; Chris, (who is a bit cynical about crypto) that I would take him for lunch once I had it all in place. Here is the proof ! A photo of the receipt, dated TODAY with the matching card number underneath and of course the delicious food nearly finished.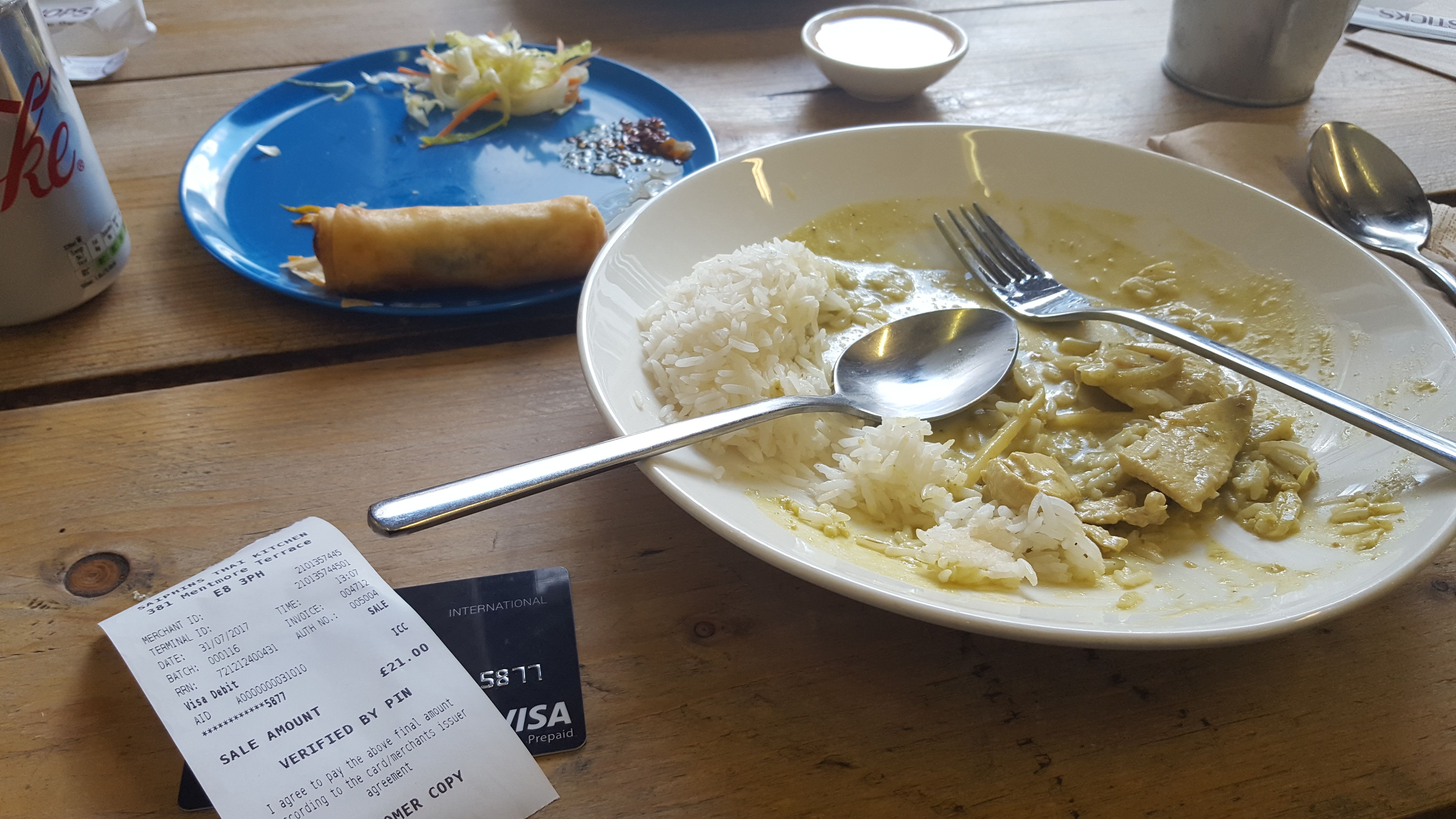 How did I do it ?
There are various ways to turn crypto-currency into spendable fiat but if it was that simple, it wouldn't be very interesting. What is interesting (to me) is that by posting content on Steemit and having it upvoted by the community, I have been able to buy lunch. That's quite incredible because I have proved that virtual currency has both a real financial value and is actually spendable on things in the real, not virtual world.
Although I don't intend to start powering down my hard earned Steem Power in order to do so again tomorrow, I feel it is an important step in the chain towards a new economic future, not just for me, but for people in places where perhaps Steem could actually provide a living wage of sorts. That's a pretty powerful effect and it's one of the things that attracted me to crypto in the first place.
Where did I Start ?
Post some high quality content, earn some Steem Dollars. Ok, that's a step 1 we can all take. I'm lucky because I have a natural interest in Photography, which is popular and a curious analytical interest in all things crypto. It's not easy from a cold start (as you all know), and I wasn't going to buy my way in to the Steemit Wallet. That would be cheating because my aim was to make virtual currency as fruit from my own toil then, take the virtual money out and convert it into real world items, preferably something edible! It took me a while to earn enough Steem to buy lunch for 2 people in trendy Hackney, East London (£21) GBP or $27.70 in USD at today's exchange rate = / 29.68 SBD
How Did I get Here ?
Following other people, working out what Steemit was all about and then commenting with time and some insight on other people's posts. Upvoting a lot of content when my vote was worth much less than a penny and re-steeming the really good stuff, I was lucky enough to come across. I suppose you could say I hit it lucky, (but I believe that you get luckier the more you practice.) I won 35 SBD in steemitphotochallenge week #40 on my first go, so that would have been enough to buy today's lunch, but that's not the point. 2,000+ posts is a lot of work as you experienced Steemians know. To make Steemolians you've got to work hard.
A long Journey
Of course it's been a long time since I started in May 2017 and 2147 posts later with 692 followers and 501.377 steem power in my wallet, I sit here with a satisfying after taste of an excellently cooked Green Thai Chicken Curry from the excellent ROSA's restaurant. Even better than that, the place I went to is the head kitchen which supplies Rosa's ten or so restaurants with their amazing sauces and bases, so it couldn't have been much fresher.
Method
Set up an account with a Bitcoin Debit Card provider. There are various operators with different offerings & a range of fees which may suit your own needs, dependent on your location and how you plan to use the card. You have to do some research as not all cards with all features will be available in all countries. There are also some new operators entering the market who intend to streamline the process. Someone asked me about availability of this type of card in Cape Town, South Africa recently and they were surprised to find a local operator. It seems that over the next year or two, everyone including some 2 billion unbanked people will be able to access money through crypto, for the first time ever without a bank account !!
Wirex
After conducting some research and a few different application procedures, I can recommend Wirex for their low fees, transparent operation, easy to understand / and use account, plus their ability to order a card for you without prior verification and denominate the local currency of the card in either GBP, USD or EURO.
Chip & Pin
Once you have your actual physical chip and pin card, you activate it which can be easily done online by entering the card number into your wirex dashboard. In their case the bank providing the actual card is an offshore Gilbralta based bank so you will receive an international pre-paid VISA backed chip and pin card, which can be used in most if not all merchants for buying goods & services.
Transfer some Steem Dollars from your Steemit wallet to an exchange like bittrex / kraken / yobit. From there, sell the SBD for bitcoin, then send the bitcoin to an account like wirex. Once you have loaded some Bitcoin onto a wirex account you can then exchange it for the locally denominated currency of your card. Bearing in mind we have now incurred 2 transfer fees, one from the bitcoin exchange and one from the currency exchange there are newer, easier and potentially cheaper ways to do this coming out as we speak. Anyway not to worry
The Proof is in the Pudding
As arranged, we went for lunch today at Saiphin's Kitchen & as mentioned - lo and behold we ate lunch with virtually originated cash. I told the guy on the till that it was the end of a very long experiment and the payment might not go through.. It went through. We enjoyed a very nice lunch time meal and I felt very lucky thinking that If I was living in developing economy today's lunch might have just bought a couple of week's shopping ! That's the Economic Revolution right there. We're just experimenting at the moment ;) Long Love Crypto and it's many proponents.