It is well known that paid voting bots take a large part out of the reward pool every day. We, as a community, probably have different opinions on whether voting bots are good or bad for Steem, but without having an opinion, I just wanted to know how big these voting services actually are.
It is of course possible to simply add up all the Steem Power of the bots so let's do this first...
The combined voting value of all voting bots listed on steembottracker.com is currently $2,244.27 taking into account the current feed price of $2.313. But these are only the bid-based voting bots and voting services such as @minnowbooster and @smartmarket are not included. The bid-based voting services use their voting power 10 times a day so they take $22,442.70 out of the reward pool per day.
Voting services such as @minnowbooster and @smartmarket often do not upvote themselves, but use other people's accounts to deliver the paid upvotes. To include these voting services as well I calculated how much SBD and STEEM is sent to these services on a daily basis. The result is shown in the chart below.
An important note I have to make is that not all transfers are used to upvote a post. Some transfers may have been invalid and have therefore been returned. @smartmarket, for example, often uses part of the amount to upvote a post and returns the part that was not used. I had no way to calculate the total amount of invalid transfers so these are not substracted in the chart below.
Daily SBD + STEEM Transfers to all voting services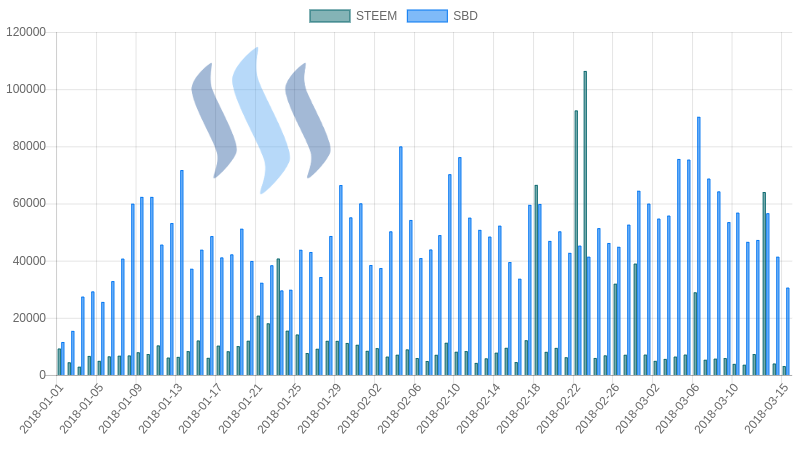 | Date | SBD | STEEM |
| --- | --- | --- |
| 2018-03-15 | 30,590 SBD | 3,115 STEEM |
| 2018-03-14 | 41,399 SBD | 4,028 STEEM |
| 2018-03-13 | 56,602 SBD | 64,012 STEEM |
| 2018-03-12 | 47,245 SBD | 7,328 STEEM |
| 2018-03-11 | 46,584 SBD | 3,600 STEEM |
| 2018-03-10 | 56,815 SBD | 3,895 STEEM |
| 2018-03-09 | 53,491 SBD | 5,909 STEEM |

Since 1 SBD is worth over $2 us dollar the total value being sent to all voting services is over $100,000 us dollar per day. How much money are we actually making collectively every day?
The STEEM supply grows by approximately 50,000 STEEM per day, but I'm not exactly sure how much SBD we are 'printing' per day. Who can elaborate this?
---
Visit my websites:
SteemBlockExplorer.com - SteemNow.com - CoinMarkets.today
¯\___(ツ)____/¯ Follow me @penguinpablo