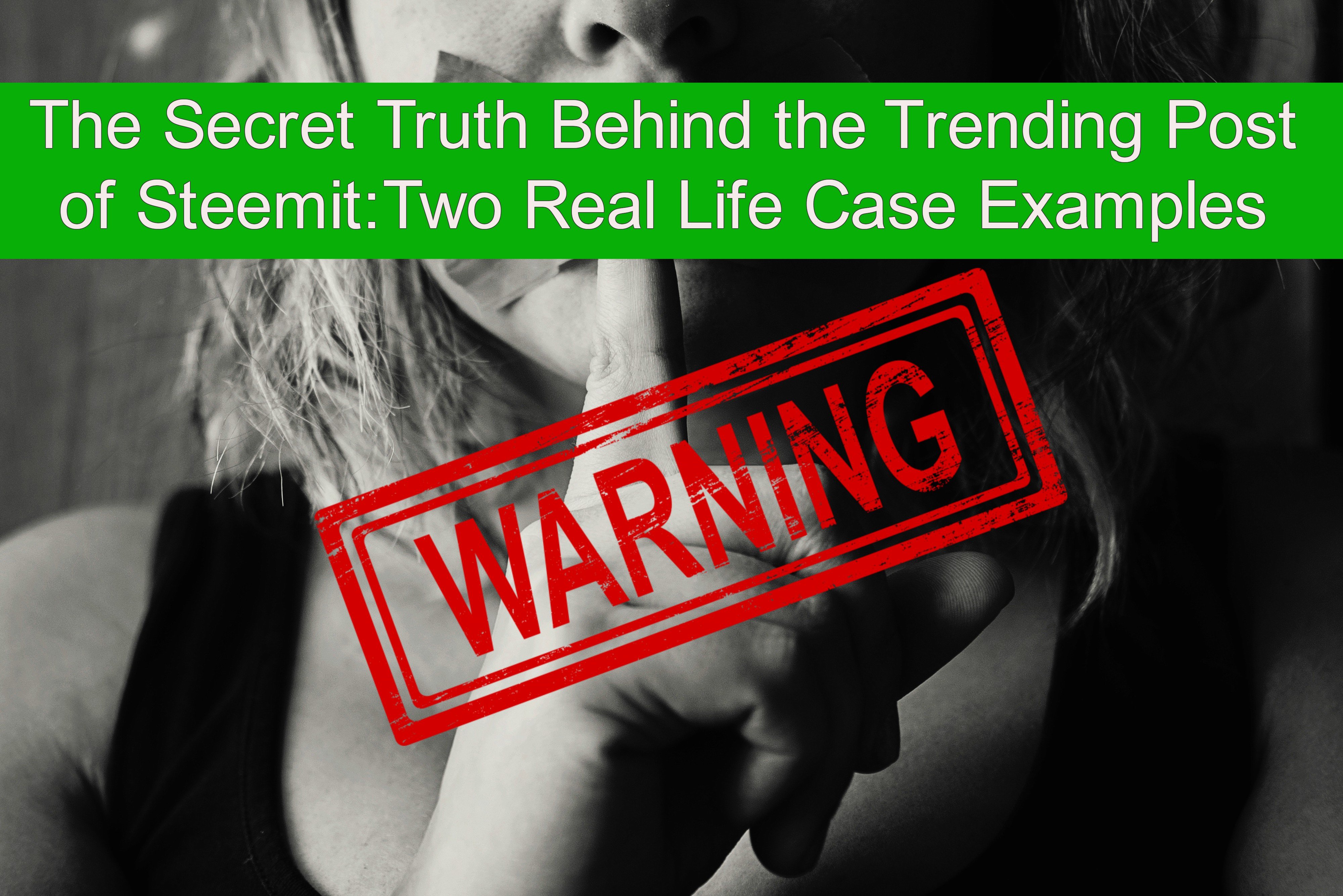 "All that glitters is not Gold"
A post you must read to find out the secrets behind the trending post of steemit:
The proverb mentioned above is very true in real life and in the context of steemit it is the accurate.
During my first two months and several days in steemit, I used to think that these people are some kind of magicians. Anything they publish makes a place in the trending list. I had seen them earning more than $500 while I was struggling to earn a single cent. Many of my post from the beginning earned $0.00 reward money.
In a situation like this, I used to get frustrated until I established a connection with many good people in this platform. I have learned a lot for them, so today I realize the hidden truth behind all the trending post in our platform.
Therefore, I am writing this post to show you what I have learned about those posts. I am going to show you how to put your post in the trending list and I am going to give you two real life case examples about how some people do that in steemit.
So my friends feel free to bookmark, share and resteem this post, so that you and the others can learn the things which I am trying to teach you here.
How to make a post trending-The way it works
No it isn't quality, it is just pure promotion which matters the most when you want to put a post in the trending list. I know a lot of people will try to argue at this point saying that:
"Quality is the one that matters, create great content and the reward will come"
It is partially true that quality matters but only quality can't put a post in the trending list and earn a huge amount of reward. I have created quality post too because of which I have been rewarded but that reward was nothing close to the reward that you get from a trending post.
So there is no point of talking about quality anymore. Now let's talk about how to place a post in the trending list:
In order to put a post in the trending list, you have to spend a lot of money on promoting your post. It is because this is the way steemit works. Unlike, Medium or some other social blogging platform, steemit don't use any manual review panel to create its trending list.
Steemit place the blog posts in the trending list based on the amount of reward money they earn. For this reason, quality is never a major fact to keep a post trending. Anyone with any kinds of low quality content can put their post in the trending list.
Yeah, it is possible and I have seen it many times. Still, I know that some of you will argue, so I have gathered my proof this time. Here in this post, I will show you two posts which are in the current trending list, so that you can go and see for yourself.

Case Example-1(Good)
This post is fresh out of the oven and it is still hot, take a look at it before I go to a further explanation:
Earn alot STEEM & BTC on gamesforsteemians UPDATE | offerwalls | upvotes | games | BETA |
Do you find anything wrong about this post? I don't know maybe you do or maybe you don't.
But I do, I can tell that this post is very short and written only for promotional purpose. Then how come this post has earned more than $330? I mean how is this even possible? So let's take a look at the screenshot below.
I went to investigate the transaction history of @brothermic,the author of this post, and I have found that the following transfers have been made to push this post forward.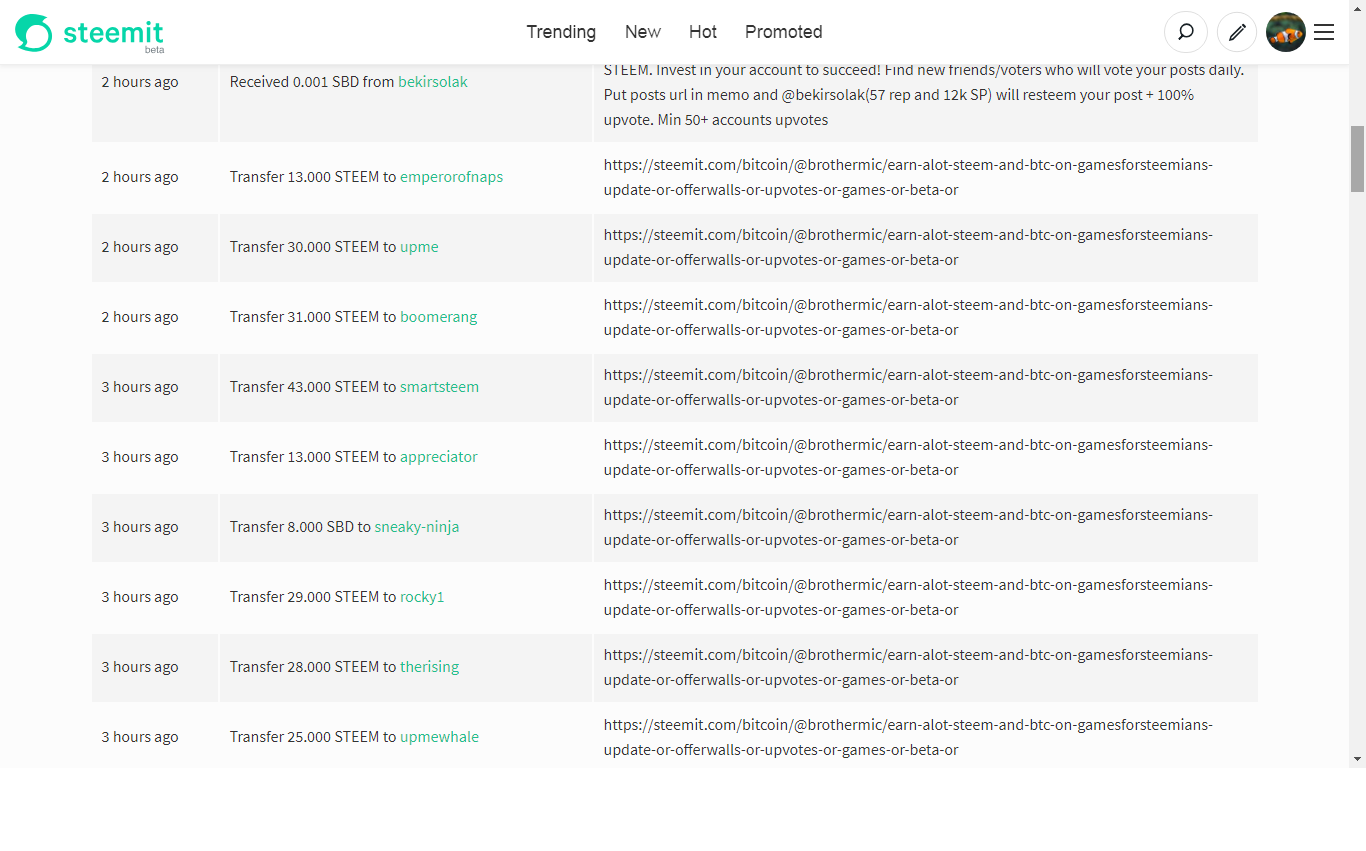 Total:212 STEEM and 8 SBD spent for promotion
After running some big transfers to promote his blog, he has managed to earn more than $330 worth of reward. He spent 212 Steem and 8 SBD in total to promore this post according to the transaction details I have gathered from his wallet.
I think he became able to collect a good return of his investment that he spent for promoting his post. Even after deducting the curation rewards, he is supposed to make more or less at least $50-$70 till now. His post is not even one day old, so I think he is going to earn more from it.
The way @brothermic promoted his post is fair. I took a look at his profile and saw that he is really working hard to go forward. It is difficult to reach anywhere in this platform without strategy and promotion. He is spending some money so that his blog get noticed by people.
His blog maybe short but it is original. He is not plagiarizing or trying to deceive people. I went to his post and even left a comment on it.
Still, I won't encourage you to follow the way he put his post in the trending list. It is because sometimes you may not get lucky and lose some of your money by trying to promote your post.
Case Example-2(Bad)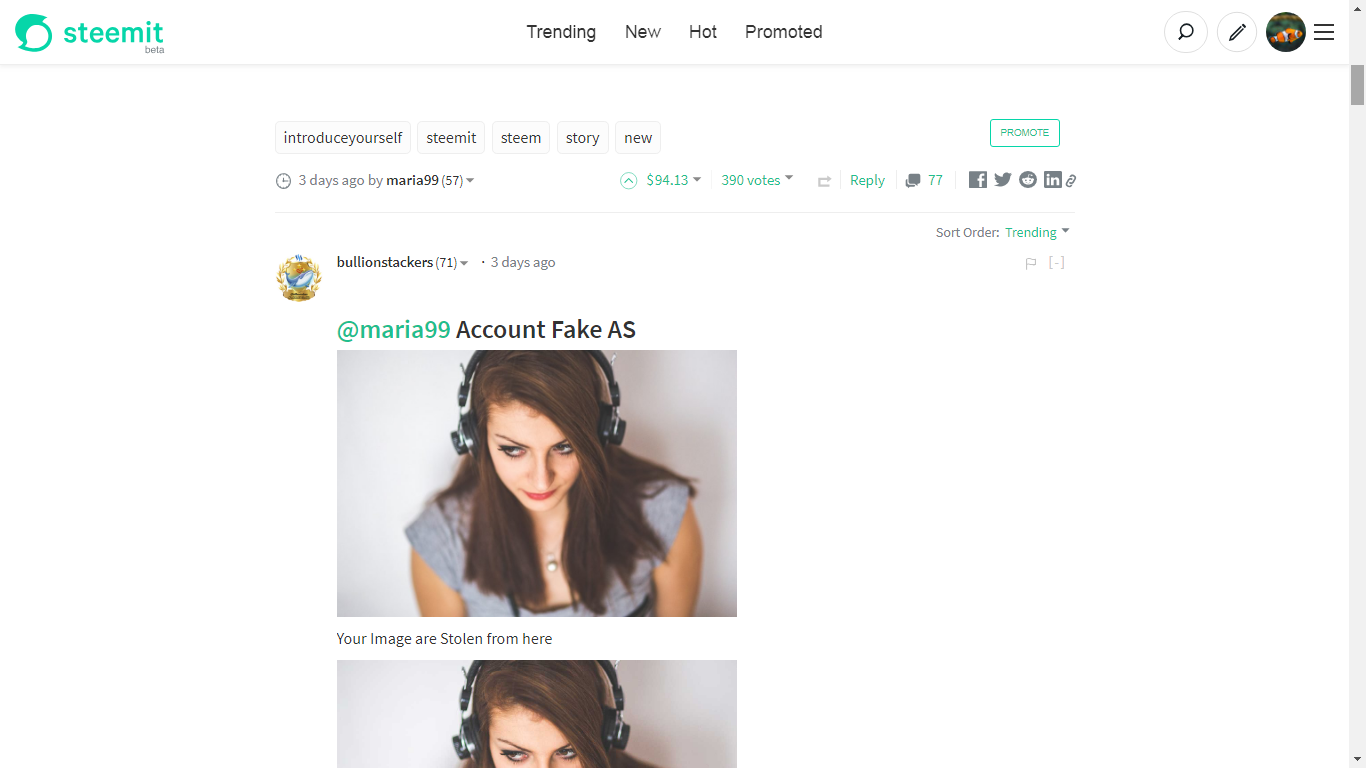 A concerned member of our community @bullionstackers,instantly decided to take steps against this post
This is a whole messed up post that you can understand by taking a look at it. It's a shame that we still can't take it down. I have already done what I had to do. I have flagged it and the rest is up to you.
Know about my 1 month experience & increasing reputation 25 to 56

This one @maria99 has used a stock image, fake personality and bid based promotion service to make this super fake #introduceyourself post trending. See what people wrote in the comment section of this post and you will realize what is happening in steemit.
I guess this post has been flagged by many users of steemit but still we can't take it down. I don't want to let this fraud get away with a huge amount of reward money from our reward pool.
This kind of abuse of steemit account shouldn't go unpunished. So all of you who are reading this post, please come forward to flag it down.

What could be solution in this situation?
I believe that we see this kind of posts in the trending list because most of us don't care about the quality of the post that we read. We are not playing an active role to make steemit a better platform. We are voting without consideration and only concerned about our sole interest.
To make this platform a better place we all have to work hand in hand. We need to be united against the abuse of bid based promotion service.I believe that every promotion service should have a maximum limit of return like @minnowbooster have.
There is nothing wrong with promoting your post, as long as you do it for promotional purpose but not to make a fool out of people.
---
Thank you for reading.Support me by upvote,comment and resteem on this post.
---